Galaxy Note 20 Ultra comes with a big 4500 mAh battery. On the surface, that might seem like a lot, but factor in the massive 6.9-inch super-bright, QHD (120 Hz) display and powerful internals, and you will get a very different picture. While the Galaxy Note 20 Ultra will comfortably last you a day, it won't go more than that. And if you are a frequent traveler or a heavy gamer, that's not enough. That's why I suggest that you always carry a power bank with you. To help you select the right option, we have listed the 7 best power banks for Samsung Galaxy Note 20 Ultra that you can buy.
Best Power Banks for Samsung Galaxy Note 20 Ultra in 2020
In this article, we have mentioned power banks with different capacities at different price points. Some power banks even offer extra features to get an edge over the competition. So check them out and choose the one that meets your needs. Below are the quick links to all the power banks mentioned in this article.
Note: We have already covered cases and covers for Galaxy Note 20 Ultra along with Galaxy Note 20 Ultra screen protectors. Check them out if you want to protect your brand new phone.
1. Anker PowerCore 26800
One rarely talks about power banks without mentioning Anker in the same sentence. Anker has become synonymous with power banks, and that's because the company has made exceptional products year-after-year. Anker makes power banks at many different capacities, and the one we are featuring here has a capacity of 26800 mAh.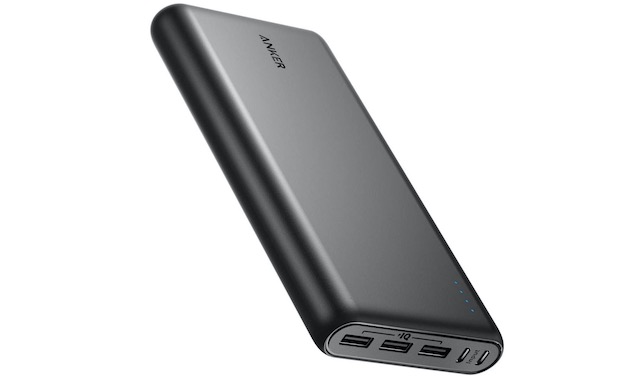 The Note 20 Ultra already comes with a big battery, so it makes sense to invest in a power bank that can charge it a few times over. With this one, you will be able to charge your Note 20 Ultra at least five times before the power bank needs juicing up. The best part of Anker PowerCore is that it supports fast charging for all three USB ports.
All the 3 USB output ports are equipped with Anker's PowerIQ and Voltage Boost technology which ensure high-speed charging for three devices — simultaneously. Also, the power bank itself supports 20W fast charging so you can top it up at quick speed. It's one of the best power banks that you can buy for Samsung Galaxy Note 20 Ultra.
Buy from Amazon: $59.99
2. mophie 4061_PWR-BOOST
Another good power bank for the Samsung Galaxy Note 20 Ultra is the mophie 4061_PWR-BOOST. Despite its odd name, the mophie power-bank ticks all the right checkmarks, and it's considerably cheaper than the Anker PowerCore. That makes it a great budget option for people who don't want to spend too much money on a power bank.
The mophie 4061_PWR-BOOST has a capacity of 20,800 mAh. It means it can comfortably charge your Galaxy Note 20 Ultra four times over. There are two USB-A charging ports that deliver simultaneous fast charging. There's also an LED power-indicator that gives you a general idea of the charge left in the power bank. This is a good feature as it ensures you are not carrying around an empty power bank.
Finally, the battery used in the power bank is triple-tested to ensure peak performance and safe operation. I also love the compact design of the power bank. If you like what you read, you should check it out.
Buy from Amazon: $29.99
3. RAVPower 26800mAh 30W PD
The RAVPower 26800mAh 30W PD is a powerhouse and a great option for anyone who wants the fastest charging possible in a power bank. As the name suggests, the power bank has a capacity of 26800 mAh and supports 30W power delivery fast charging. That means not only you can charge your Galaxy Note 20 Ultra quickly, but can also use it to charge your tablets and USB-C powered laptop if need be.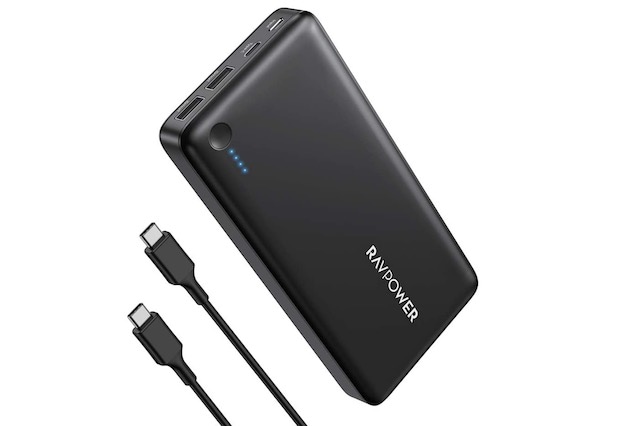 Another good feature of the RAVPower power bank is that it supports fast charging for its battery. Instead of taking 12-14 hours that normal power banks do, it can replenish itself from 0 – 100% in under 5 hours. This makes it great for travelers who don't stay at a single location for more than a few hours.
Besides the power, the power bank is also smart. It has built-in iSmart 2.0 technology that automatically detects a device and adjusts the charging current to obtain the fastest charging without damaging the battery. It also includes all the usual protections including overcharge, short circuit, and current surge protection.
Buy from Amazon: $59.99
4. Samsung 2-in-1 Portable Fast Charge Wireless Charger
If you prefer looks and convince over raw capacity, this is the portable charger for you. The Samsung 2-in-1 portable charger has a capacity of 10,000 mAh, so it can only charge your Galaxy Note 20 Ultra twice (that too with a difficulty). This is not a power bank for someone who is thinking of going for a long trip.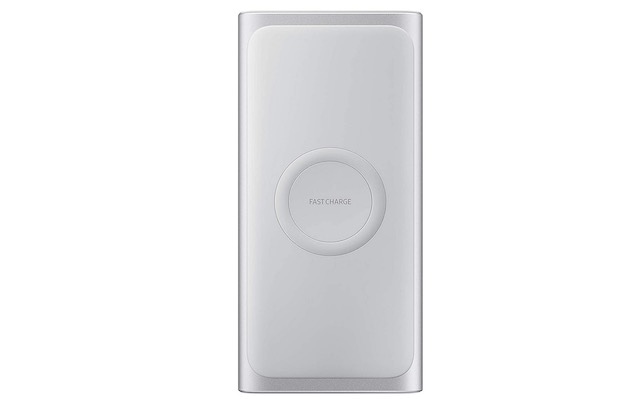 Rather this is for someone who prefers convenience and doesn't like to deal with cables. This power-bank has built-in wireless charging functionality that allows you to wirelessly charge your device. The best part is that it works as a normal wireless charger. So, you can leave it plugged in and use it as a normal wireless charger at home.
But when you are heading out, simply carry it with you, and you have an additional 10,000 mAh charge in your pocket. Plus, the power bank is compact, portable, and adorable. As I said, if you prefer form and convenience over raw battery capacity, this is one of the best power banks that you can buy for your Samsung Galaxy Note 20 Ultra.
Buy from Amazon: $44.11
5. Anker PowerCore 10000 Portable Charger
If you prefer portability over everything else and want something that is light-weight and can easily fit in your pockets, the Anker PowerCore 10000 portable charger is for you. This is one of the smallest and lightest power banks on the market, and it comes packed with all the safety technology that Anker's power banks are known for.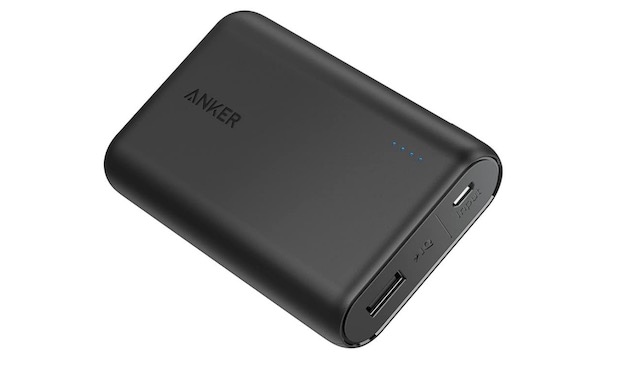 It features both PowerIQ and VoltageBoost technologies that combine to deliver the fastest possible charge for any device without hurting the battery. It also has an LED indicator for showing the charge. But remember, with the portability, you are losing on raw capacity. This only has a capacity of 10,000 mAh, which means, it can only charge your Note 20 Ultra twice.
It's not for power users who want multiple days of battery life. But if you are looking for something portable to take with you on a quick weekend gateway, this will fit right in.
Buy from Amazon: $19.99
6. MAXOAK 50,000mAh Power Bank
For every user who prefers portable power banks, there's a user out there who wants absolute monstrosity. And for them, I recommend the MAXOAK 50,000mAh power bank. Yes, you read it right. This power bank has a capacity of 50,000 mAh. But that high capacity comes with its set of pros and cons.
Talking about the advantages first, the MAXOAK power bank can charge your Samsung Galaxy Note 20 Ultra ten times over and still have juice left in it. It has all the usual features, like fast charging support, LED indicator for charge status, and 6 levels of built-in security protections to ensure that the power bank and devices remain safe while charging. Apart from phones, you can even use this to charge laptops.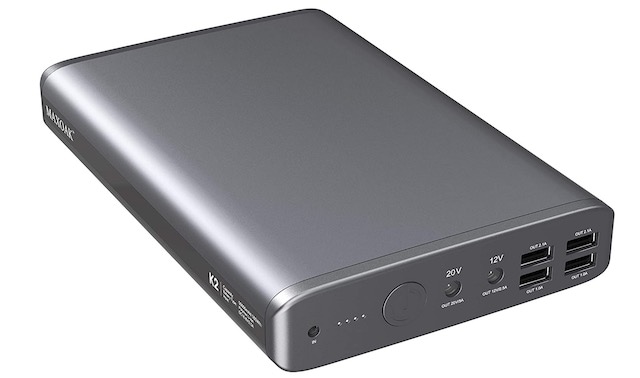 Now coming to the cons, thanks to its large capacity (185 Wh), it exceeds the TSA limit. So you cannot carry it on flights. Second, while it supports charging for laptops, you cannot charge USB-C powered laptops. And finally, it's bulky and not at all portable (2.77 lb).
The MAXOAK power bank might not be for everyone, but if you want high capacity for long trips, there's no better power bank for Galaxy Note 20 Ultra.
Buy from Amazon: $129.99
7. Solar Power Bank
The Solar Power Bank is for people who love to explore nature and go on long hikes or treks where they remain away from civilization and any source of power. While the capacity of the power bank is not astounding (10,000 mAh), what differs it from other power banks on the list is the integrated solar panels.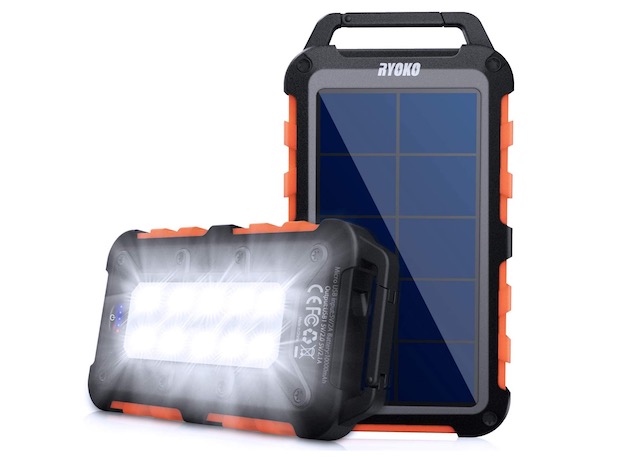 That means you can charge this power bank using sunlight. Yes, the process will be long and take time, but at least you will have a source of power that you can refill without a traditional outlet. The power bank is IPX4 water-resistant, so it can easily handle rains. It also has a built-in torch that can last for 55 hours.
Since this power bank is supposed to be used outdoors, it includes extra protection layers that can protect against dust and even handle some drops and impacts. This power bank is for a niche audience, and if you fall in that category, check it out.
Buy from Amazon: $27.99
Best Portable Chargers for Galaxy Note 20 Ultra
That ends our article on the best Samsung Galaxy Note 20 Ultra power banks that you can buy right now. I have included portable power banks, fast-charging power banks, absolute monster power banks, and the power banks that are made for outdoor usage.
I am confident that you will find a power bank that meets your needs on this list. Check it out, and let us know which power bank you chose for your brand new Galaxy Note 20 Ultra.