While Samsung Galaxy Note 20 Ultra might have stolen the spotlight at the Galaxy Unpacked, the regular Galaxy Note 20 is more than capable to be a nice pick for those willing to get a powerful phablet without having to breach the $1,000 price tag. If you are one of them, you are, most probably, also on the lookout for the best Samsung Galaxy Note 20 cases and covers to not only keep the phablet safeguarded against accidental damage, but also amp up the elegance quotient. And that's what we have you dished out in this extensive roundup!
Best Samsung Galaxy Note 20 Cases and Covers
In this lineup, we have picked out cases from several different categories, considering one set of designs don't fit everyone's style and preference. From sparkling clear case, super handy kickstand case, incredibly thin case to pretty grippy cover, we have listed it all.
Did I say, the roundup has also got high-quality leather cases that can get along nicely with your pro outing? Do note that we have already lined up the cases and screen protectors for Galaxy Note 20 Ultra. If you want them for the bigger sibling, check them out. With that said, it's time to explore the top cases designed for Galaxy Note 20.
1. Official Cases: Premium Suits for Galaxy Note 20
If you have set your sight on presenting your Galaxy Note 20 equally appealing cases, look no further than the official cases. They sport a modern-looking design and wrap around the 6.7″ phablet elegantly.
The ones that have caught my eyes are Smart LED Cover, which allows you to keep a tab on notifications without having to open the flap and Smart Clear View Cover that features a window and dedicated UX, letting you control your smartphone without even touching the screen.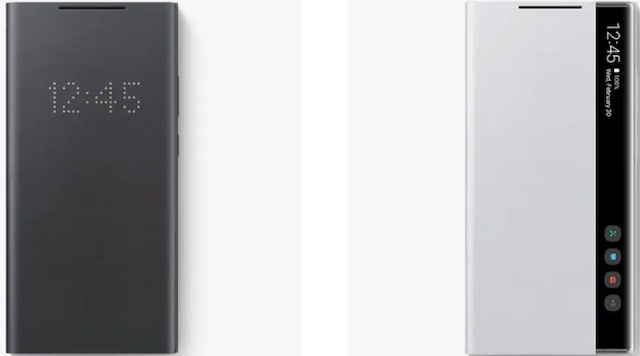 Not to mention, Smart Clear View Cover also features an antimicrobial technology that enures your Galaxy Note 20 remains away from germs. Just in case you are fond of a classy or a more professional design, Kvadrat Cover with high-quality textures would be a better choice for you. Besides, the luxurious leather cover with brushed aluminum buttons would also be a great pick.
Buy from Samsung: (price varies based on the case you choose)
2. ESR – A Top-Notch Metal Kickstand Case for Galaxy Note 20
A kickstand case comes in super handy when you want to watch movies or indulge in hands-free video calling comfortably. Not to mention, it's also quite useful in letting you play lighthearted games with the needed peace of mind. If that's what you are looking for, ESR metal kickstand case would be a fantastic companion for your smartphone.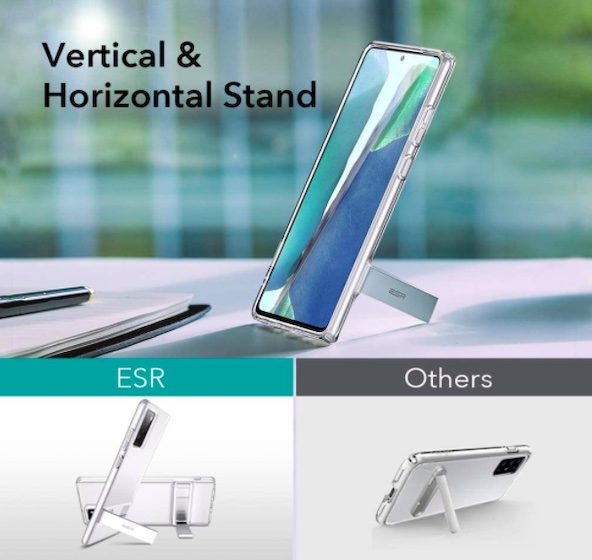 The case sports a pretty compact design that offers full-freedom to Note 20 to show off its profile. And with the metal stand, you can position your Note both horizontally and vertically to enhance viewing. Despite having a slim form-factor, ESR case is no pushover when it comes to resisting scratches and can even absorb minor impact.
With the inclusion of raised bezels, it safeguards both the 6.7″ inch display and triple camera setup. Considering these specs, it seems a safe bet at $19.
Buy from Amazon: $18.99
3. dbrand Grip Case: Thinnest Cover for Galaxy Note 20
When it comes to producing compact and grippy cases, dbrand stands out of the rest. And if you want a case that can offer much-improved gripping to ward off accidental drops, look no further than Grip case from dbrand.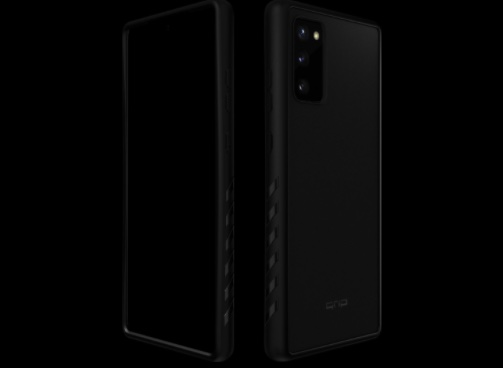 The case is made of high-quality polymer material that fits around the edges of the smartphone. At just 2mm thickness, it can easily stake the claim of being the thinnest case for Galaxy Note 20 in the market right now.
For all having an incredibly slim form-factor, dbrand Grip case offers a military-grade shield against impact. Furthermore, it's also up to the task as far as fighting out scuffs is concerned.
Buy from dbrand: $29.95
4. Spigen Liquid Air Armor: Anti-Slip Case for Galaxy Note 20
Featuring anti-slip texture, Spigen Liquid Air Armor is designed for the folks who have butterfingers! If that's you, do check out this slim case. Thanks to the grippy matte surface, your palm can comfortably hold the Galaxy Note 20. The case has a slim profile and fits snuggly around the 6.7″ phablet.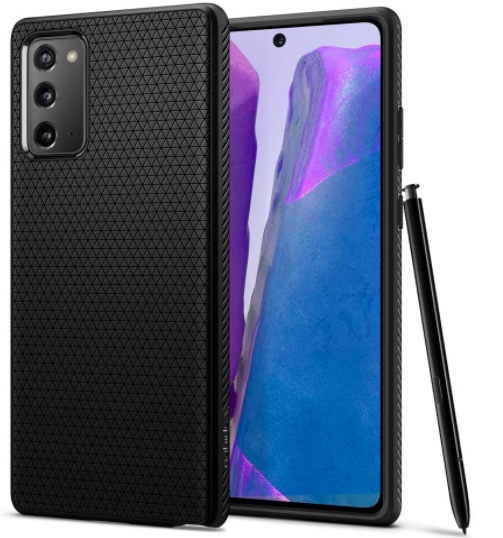 Just in case you think that Liquid Air Armor may be too delicate to endure shock, let me tell you that it delivers military-grade protection. With the air cushion technology, it's more than capable to fight out the impact.
Being fingerprint resistant, Liquid Air Armor retains a good-looking profile for long. Coming in at $12, it's a comparatively cheap yet impressive cover for Galaxy Note 20.
Buy from Amazon: $11.99
5. FYY – Genuine Leather Wallet Case for Galaxy Note 20
Going by the looks, FYY case appears to be a top-notch leather wallet case for Galaxy Note 20. Carved out of high-grade cowhide leather, the cover flaunts professional-look and feel. So, if you are hunting for a case that can make a great match with your executive outing, this one could be one of the better contenders out there.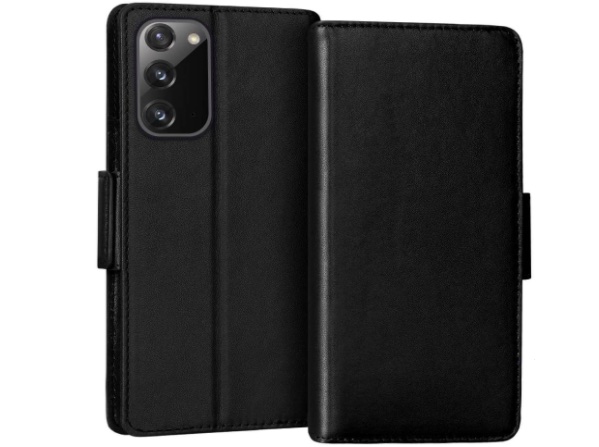 Moreover, the leather cover features multiple card slots and a big pocket where you can store your dollar bills securely. With the RFID blocking technology, it ensures the sensitive information of your credit/debit cards stays protected.
That's not all, FYY leather case also supports kickstand functionality. That means you can prop up your Galaxy Note 20 horizontally for a convenient media watching or video calling. Keeping in mind these impressive specs, it seems to be a reasonable deal at $26.
Buy from Amazon: $25.99
6. Caseology Parallax
Yet another case that bets big on ergonomic design is – Caseology Parallax. The highlight of this case is the 3D design that improves ergonomics, allowing your palm to hold the large-screen smartphone comfortably. Furthermore, this secure gripping also reduces the chance of accidental slip-offs.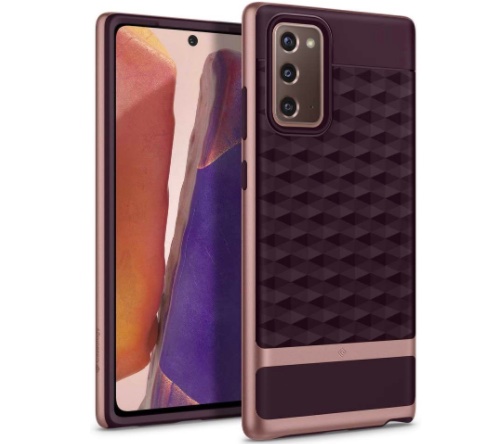 Another feature that makes Caseology Parallax a better suit for Galaxy Note 20 is the dual-layered casing. Due to the cushioned construction, the case delivers reliable military-grade protection.
With the incorporation of the raised lip, the 6.7″ screen remains safeguarded against scuffs. Notably, Caseology Parallax comes in multiple color variants including matte black, aqua green, burgundy, and midnight blue.
Buy from Amazon: $13.99
7. Ringke Fusion X – Protective Yet Stylish Case for Galaxy Note 20
If complete protection from impact is what you are after, give serious consideration to Ringke Fusion X. The case sports a rugged bumper designed to take on accidental drops with ease. Apart from strengthening the casing, the durable bumper also enhances gripping so that you can hold the 6.7″ large phablet comfortably.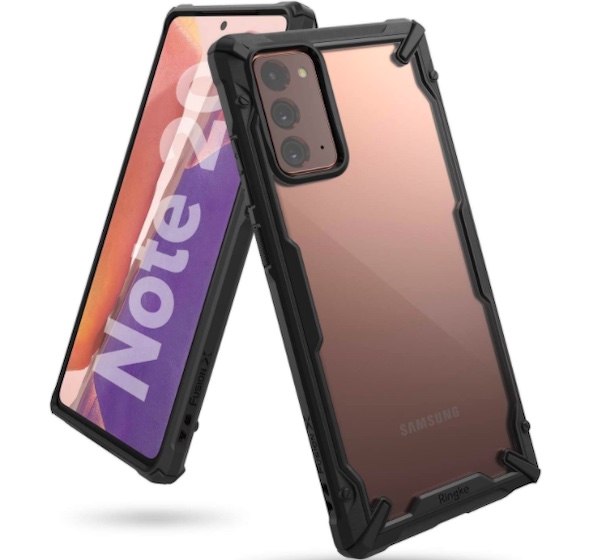 Additionally, the raised lips also ensure the display remains protected from scuffs. Thanks to the see-through design, Note 20 continues to show off its profile. As for cutouts, they look quite precise, allowing you to access all the ports without any problem.
Despite being a rugged case, it supports wireless charging which is a big plus. Priced at $13, Ringke Fusion X is available in two color variants such as black and camo black.
Buy from Amazon: $12.99
8. TORRAS – A Crystal Clear Case for Galaxy Note 20
Should you think of giving more liberty to your brand-new Galaxy Note 20 to showcase its famed design in full glory, this crystal clear case from Torras could be a clear winner. Made of soft TPU material, the case is incredibly sleek and flexible. And with the smooth texture on top, you will also have the needed gripping to hold the smartphone conveniently.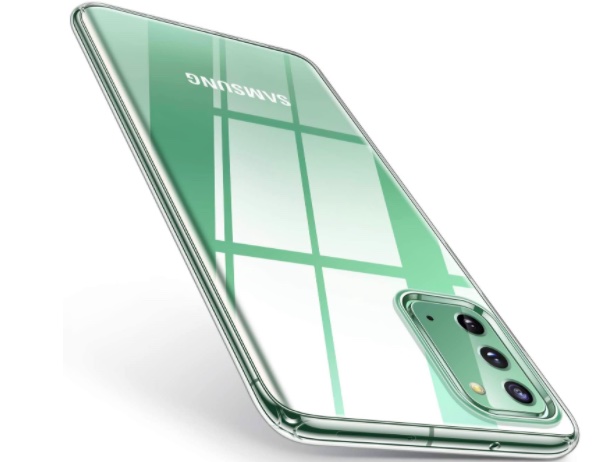 Slim profile aside, torras clear case can withstand minor impact. Thanks to the presence of elevated bezels on either side, it can also guard the beautiful display and the prominent camera bump against scratches.
As for buttons, they are quite smooth and responsive. Add to that the neat cutouts and Torras case leaves very little room for complaint.
Buy from Amazon: $16.99
9. Lamcase – Sparkling Case for Galaxy Note 20
If you are willing to add a bit of sparkle to your Galaxy Note 20 so that it can arrest eyeballs with ease, Lamcase is the one I would recommend you to take a look at. The case is made of soft TPU rubber and fits around the smartphone like a form-fitting glove. With the rubberized texture, it also feels pretty nice in the palm.
But what makes it an eye-grabber is the sparkling bling that looks pleasing. Beyond the glowing profile, the case can fight out low-volume impact and also keep scuffs away.
The elevated bezels help it protect the triple camera setup and display from scratches. Priced at $10.98, Lamcase glowing case comes in two colors such as clear glitter and life tree.
Buy from Amazon: $10.98
10. Arkour – Slim Leather Case for Galaxy Note 20
This offering from Arkour is a slim leather case for Galaxy Note 20. If you aren't a fan of a complete leather wallet case, it can easily appeal to your taste. Featuring soft PU leather construction, the case has a sophisticated form-factor. With the smooth exterior, it also fits snuggly in the palm.
In terms of protection, Arkour seems up to the market. The inclusion of TPU frame strengthens the casing. As a result, it can survive bumps with ease. Not to mention, it also offers extra protection to screen and camera thanks to the raised bezels.
That's not all, Arkour sleek leather case also comes in some nice-looking colors including brown, dark blue, saddle brown, and more.
Buy from Amazon: $15.99
Best Galaxy Note 20 Cases to Protect Your Phone
So, these are the top covers designed for the all-new Samsung Galaxy Note 20. With a range of cases from several different categories at hand, I guess your phablet has got a suitable case.
By the way which case have you chosen for your Galaxy device? Is it the one that excels in offering protection from impact or the one that provides much-improved gripping. Do let us know your pick.