Just like iOS, watchOS has also had a fair share of frustrating issues. Probably, the most annoying problem that many users have encountered at some point or the other is the one that causes the Apple Watch to get stuck on the Apple logo. The black screen of death completely renders the watch useless, thereby forcing you to look for the solution at the earliest. If you are, unfortunately, staring at this very situation, check out these best methods to fix Apple Watch stuck on the Apple logo issue.
9 Best Ways to Fix Apple Watch Stuck on Apple Logo (2022)
Whether you're using an old Apple Watch running watchOS 7, or an Apple Watch running the latest watchOS 8, we have included steps in our guide that apply to any Apple Watch out there. We have also arranged the troubleshooting steps in order from ways that are easy to use and won't cause any data loss, to ways that are outright factory resets of the Apple Watch.
As such, I would recommend that you follow this guide step-by-step. However, if you'd rather go ahead and try a method that seems most promising to you, you can use the table of contents below to navigate to it more easily.
1. Place Your Apple Watch on the Magnetic Charger
At times, all you need to do to get rid of the stuck Apple logo is to just place your Apple Watch on the magnetic charger. So, try this trick to check if the smartwatch boots up normally.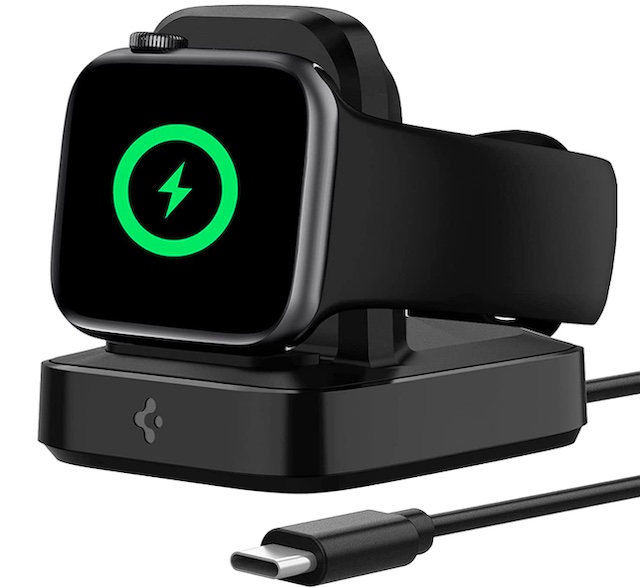 2. Give Software Update/Restore a Bit More Time to Complete
If you were installing a software update, chances are the watch isn't stuck on the Apple logo but is simply finishing up the update before booting up. In such a case, you should give the watch ample time to finish the update. If the Apple logo hasn't gone after an inordinate amount of time, however, you should consider using one of the steps below to try and sort things out.
3. Delete Software Update Files
If, after giving your watch plenty of time to finish updating, you're still looking at the Apple logo and nothing else is happening, you should try to delete the update files. You may not know about this, but you actually can delete the software update files from your Apple Watch. Here's how:
Open the 'Watch' app on your iPhone and head to the 'My Watch' section if it isn't open by default.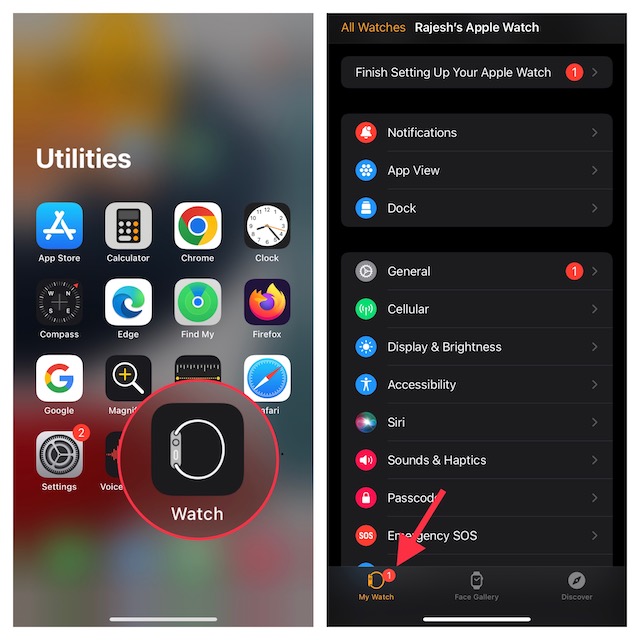 Now, go to General -> Storage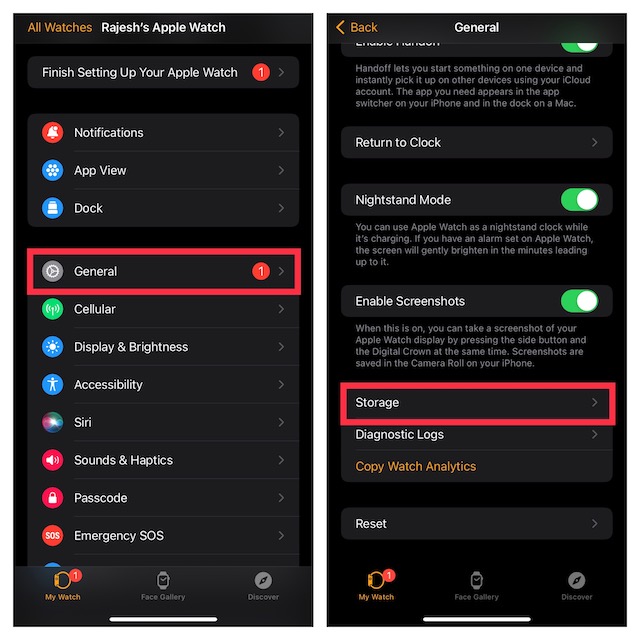 Tap Software Update and then Delete the Update File.
Now that you've deleted the software update file, try to reinstall the software update on your Apple Watch. Hopefully, this fixes things. If it doesn't it's time to try something else.
4. Restart Your Apple Watch
The old adage about 'did you turn it off and turn it back on again' is a cliche for a reason — it works a lot of the time. Therefore, the first thing you should try when facing random glitches and issues on your Apple watch, such as the watch being stuck on the Apple logo, is a quick restart.
On your Apple Watch, press and hold the side button until the power off slider shows up on the screen.
Now, drag the power off slider to shut down your Apple Watch.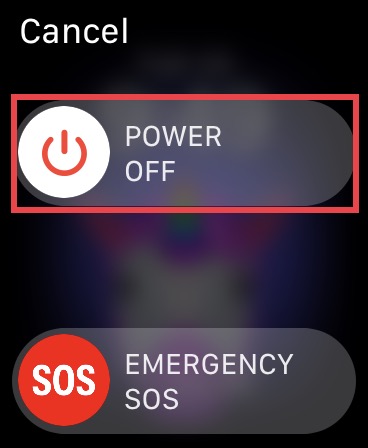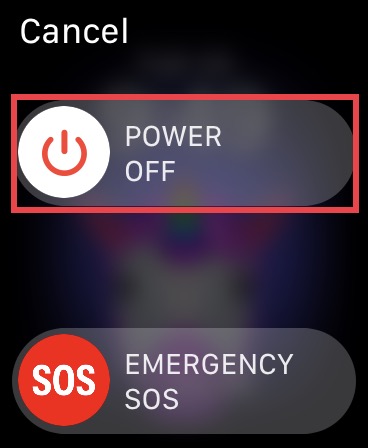 After waiting for a few seconds, press the side button again to restart your watch.
If your Apple Watch starts normally, you've overcome the issue. However, if the Apple Watch is stuck on Apple logo even now, it's time to try something else.
5. Use Find My to Fix Apple Watch Stuck on Apple Logo
The Find My app on your iPhone can be useful for more than just locating your loved ones and your connected devices. It can, sometimes, help you fix the Apple Watch stuck on Apple logo problem as well. True, this is rather unconventional, but many users have reported that it helped them solve the same issue, so why not give it a shot, right? Here's what you should do.
Open the Find My app on your iPhone and tap the Devices tab.
Now, you may need to pull up the Devices' handle to reveal all the connected devices. Then, tap your Apple Watch and hit Play Sound.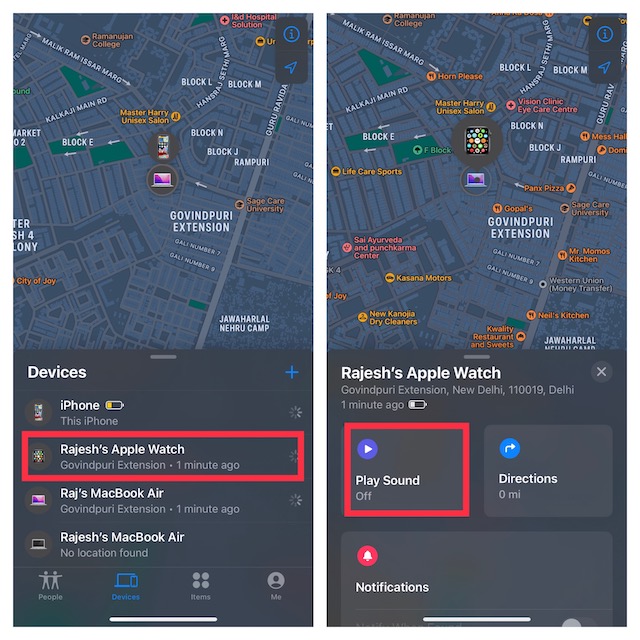 Often, when the command for playing a sound is sent to your Apple Watch, it 'unfreezes' and starts working normally. Even if this method doesn't work for you, though, don't worry because there are plenty of other fixes still. Keep reading.
Note:
With watchOS 8.5 or later and iOS 15.4 or higher, you can restore your bricked Apple Watch using your paired iPhone. Prior to the introduction of this handy self-repair feature, Apple Watch users had to visit an Apple repair center to get the watch repaired. If your Apple Watch seems to be dead, head over to the detailed guide to repairing the watch.
6. Hard Reset Your Watch
Hard reset (also known as force restart) is quite effective when it comes to fixing miscellaneous watchOS issues.
Hold down the Digital Crown and the Side button simultaneously for a few seconds until your Apple Watch boots up normally.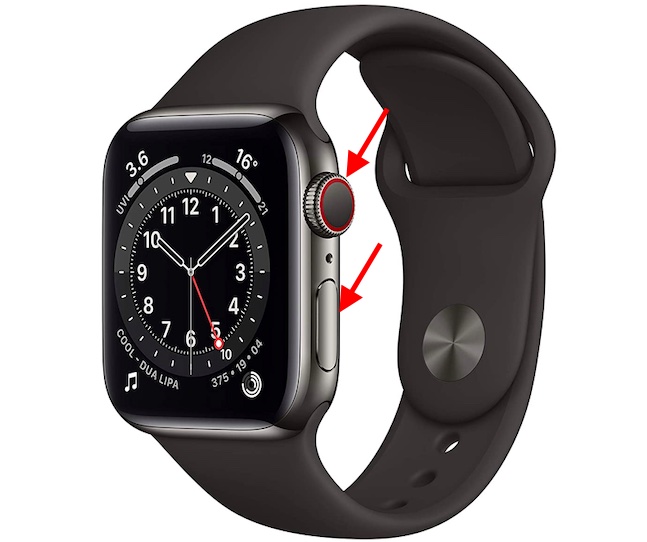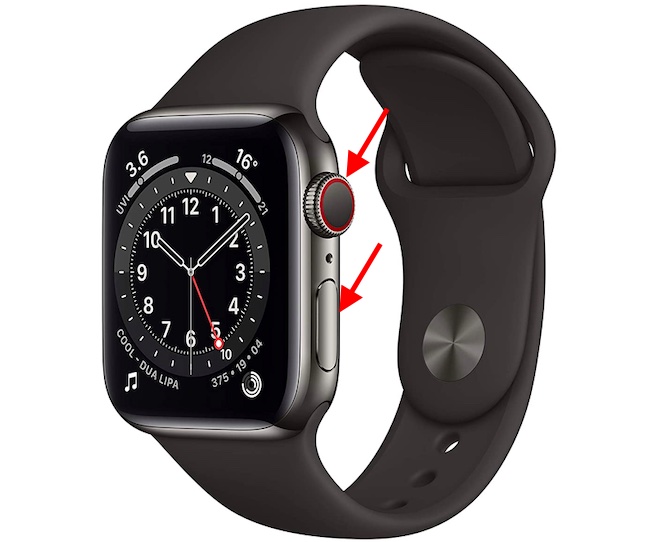 Once again, if your watch has now started working normally, you don't need to do anything else. Just breathe freely knowing you saved yourself considerable trouble, and carry on.
7. Update Software
If you've still been unsuccessful at fixing your Apple Watch stuck on Apple logo, it's time to check whether there are any pending software updates. Apple periodically releases watchOS updates with performance improvements, bug fixes, and security enhancements.
It's recommended that you install updates as soon as you can, but if you haven't, the update might help you get rid of any glitches that are causing your Apple Watch to be stuck in a boot loop.
Go to the Watch app on your paired iPhone and make sure the My Watch tab at the bottom left corner is selected. Now, tap General.
Next, tap Software Update and then download and install the latest version of the software.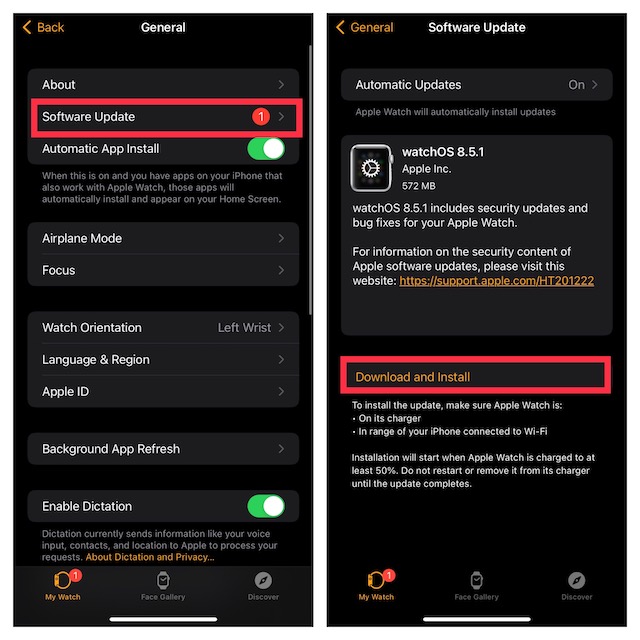 Note: It is possible to update your Apple Watch from within the Watch itself. However, since we're considering a situation where your Apple Watch is stuck on Apple logo, you won't be able to update it that way.
8. Erase Your Apple Watch
Tried everything else on the list but no joy? It may be time to factory reset your Apple Watch. This is a rather extreme solution, but it does usually fix almost any issue you might be facing. What's more, you don't even need to worry about backing up your Apple Watch because watchOS automatically backs up your data when you unpair Apple Watch.
On your paired iPhone, open the Watch app and tap General.
Scroll down and choose Reset. Then, tap Erase Apple Watch Content and Settings. Make sure to tap Erase All Content and Settings to confirm.
Once your Apple Watch has been erased, you will have to set up your Apple Watch again. Hopefully, this should fix the issue you were facing.
9. Contact Apple Support
If, after the factory reset, your Apple Watch is still stuck on the Apple logo, it's time to get help from Apple. Contact Apple Support (visit) immediately, and they should be able to guide you with troubleshooting steps, as well as for bringing in your watch for repair.
Easily Fix an Apple Watch Stuck on Apple Logo
Well those were the ways you can try to fix an Apple Watch stuck on Apple logo. Hopefully, you were able to get your smartwatch running perfectly using the fixes we have mentioned. If they did, let us know which method worked for you, and if not, tell us what Apple Support told you the issue was, and how they fixed it. Meanwhile, check out our article on the best Apple Watch tips, as well as the definitive guide to Apple Watch icons.