Smartphones usually come packed along with their own Email client and they aren't top notch for daily usage. Default Email apps vary from one mobile manufacturer to another and they aren't very reliable compared to the third-party Email applications available for Smartphones based on iOS and Android.
To supercharge your Email accessing on your Smartphone, below we will be taking a look at the top Email clients for both iphone and Android based smartphones. Each one of the app that we will be covering here take different approach to Email accessing on Smartphones and will help you cut through your clutter and achieve Inbox Zero.
So, without further ado, I will get started on the different alternatives to the stock Email application for iPhone and Android smartphones.
1. Mailbox (Free)
View it for Android | View it for iOS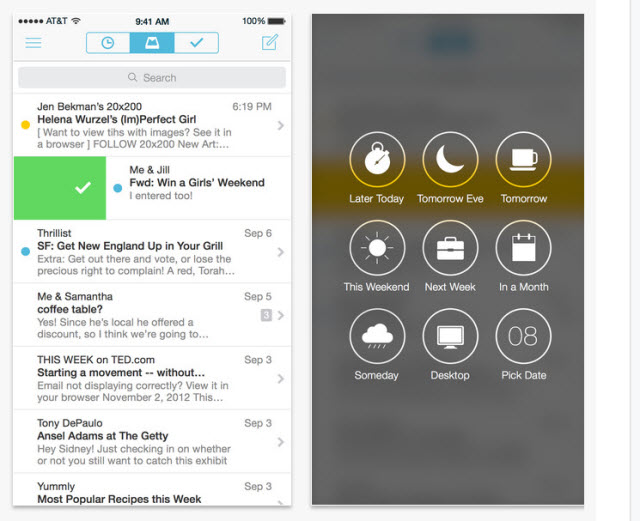 Mailbox, developed by Dropbox, syncs your Emails on the cloud and presents it in a clean and minimalistic fashion through their app. Mailbox is often taunted by many users as the best application to reach that elusive Inbox Zero. Available for both Android and iOS, With a swipe, you can archive, delete or snooze your Emails for making them appear at a later point of time in the day.
Currently supporting only Gmail and iCloud, support for other Email clients is on its way, according to the company.
Key Features: Auto-swipe, Mute conversations, Snooze messages, Smart UI for Inbox Zero.
Supported Platforms: Android and iOS.
2. Inbox Cube (Free)
View it for iOS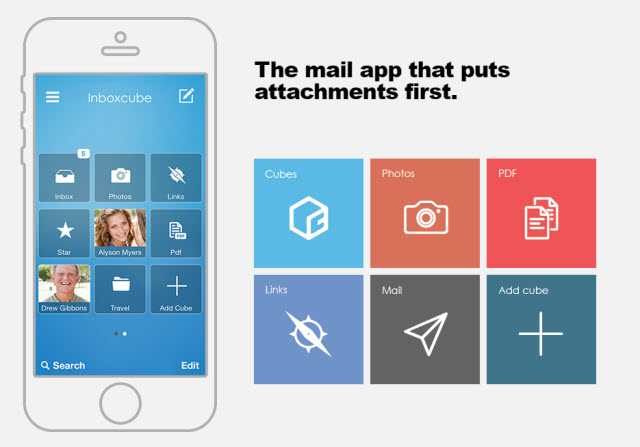 Inbox Cube is by far the most feature-rich and powerful Email app for iOS devices. With support for Gmail, Yahoo, iCloud and other IMAP clients, Inbox Cube is the most feature-rich Email app for your iPhone. The app organizes your Emails elegantly into different cubes and accessing images, links and attachments are made easier with Inbox Cube.
Key Features: Works with Gmail, Yahoo!, iCloud, Office365, Exchange and other IMAP-based providers, your emails are only stored on your devices, Themes, Gesture between Email Conversations, Real-time Push Notifications, In-App Browser and much more.
Supported Platforms: iOS.
3. Triage ($2.99)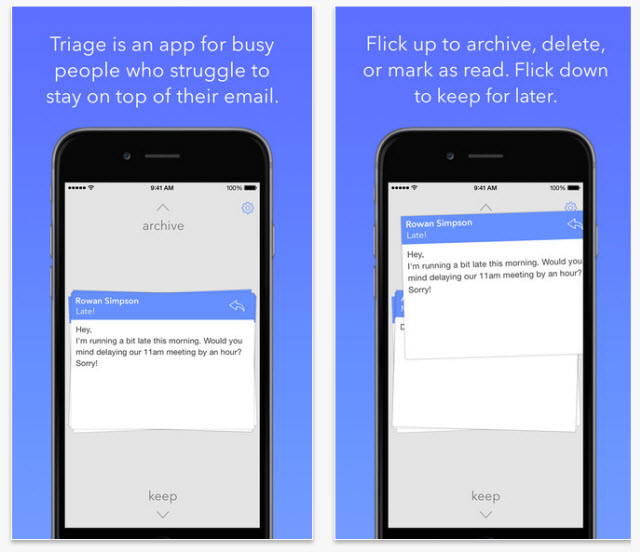 Triage is a clean and easy-to-use flick interface Email application for iOS. You can easily achieve Inbox Zero with this app by flicking up and down through your Emails. The app arranges your Emails into stack of cards and by flicking up, you can archive or delete them and by flicking down, you can keep it for later viewing. Email forwarding and instant reply are also possible with a single tap. The app isn't a full featured replacement for your Email client, but can get you reduce your Inbox on the go.
Key Features: Supports Gmail, Yahoo! Mail, iCloud Mail, and most IMAP providers, Easy flick interface to clear the clutter.
Supported Platforms: iOS
4. Dispatch ($4.99)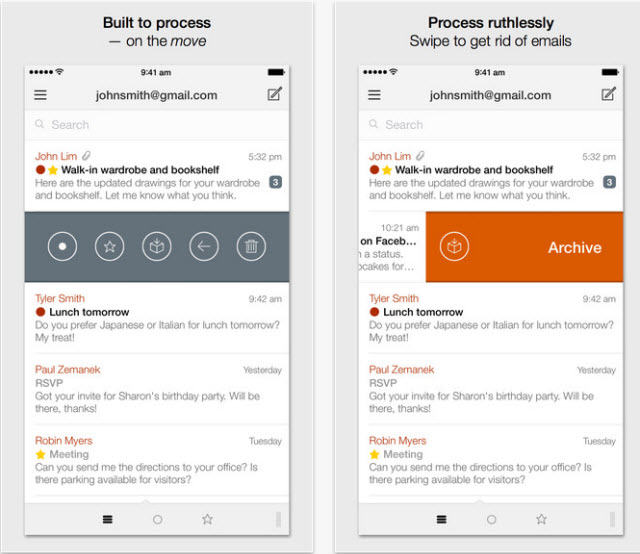 Dispatch is a paid Email app for iOS. With support for IMAP and POP accounts, its free flow interface and action-based Emails will help you de-clutter your Email Inbox. Dispatch also allows you to push your Emails forward to TextExpander, Pocket and Evernote. A myriad of Email accounts and Snippet feature make this app a well-fit for making it a part of your larger workflow.
Key Features: Supports TextExpander, Action based Email, Swipe-to-navigate, Auto salutation.
Supported Platforms: iOS
5. Apple Mail (Free)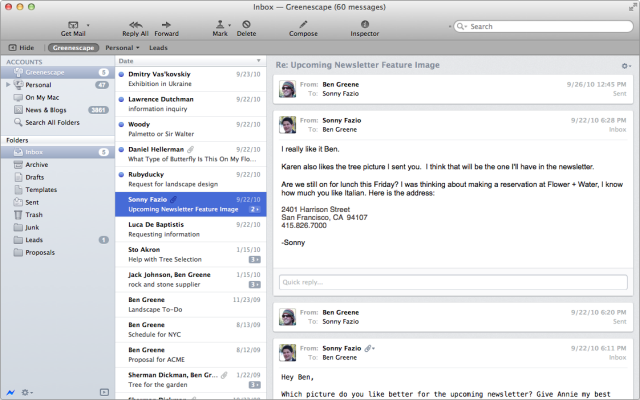 Apple Mail comes pre-installed in the latest versions of Mac OS X and iOS. This free Email app comes bundled with many features including the ability to search Emails by attachments and attachment types. With support for Microsoft Exchange accounts, Apple Mail does not provide support for other IMAP accounts.
Key Features: Comes pre-installed in Mavericks OS X and later, Search by attachments, natively supports Microsoft Exchange accounts.
Supported Platforms: iOS
6. Hop Email (Free)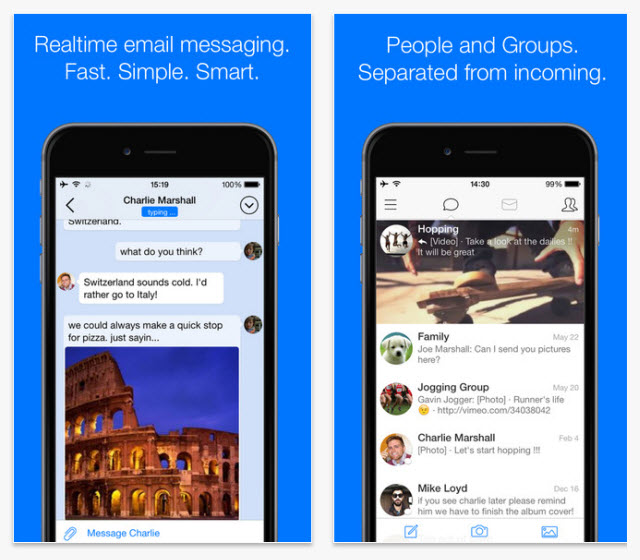 You can turn your Emails instantly into chat conversations with this free Email app for iPhone. Use this app to connect in real-time with friends and family already using Hop Email client and share videos, images, live chats and voice calls. Perfectly synced with desktop client, this free app uses cloud service to let you access your conversations from anywhere. Hop Groups allow you to easily collaborate with friends and fellow co-workers on different projects.
Key Features: Attach files from Dropbox or Google drive,Interactive Notifications, Faster voice messages, Hop Groups, Real time chat and audio calls with other hop users, Custom notifications.
Supported Platforms: iOS
7. CloudMagic (Free)
View it for Android | View it for iOS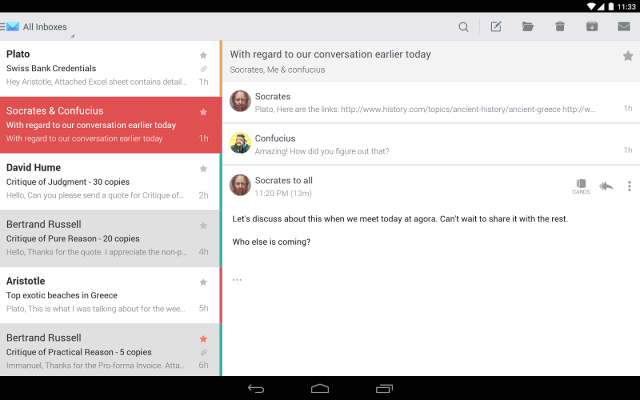 CloudMagic is one of the most widely supported Email app with support for many networks including Gmail, Yahoo! mail, Outlook, Office 365, AOL, Google Apps, iCloud and other IMAP accounts. With full integration support for Zendesk, Salesforce, Evernote, Todoist and Wunderlist, now you can get more work done right away from your Email client. Its search feature is one of the best out there and finding your Emails is easier than ever before through this app.
The app also has a Chrome web browser extension to access it right from your web browser.
KeyFeatures: Supports all types of Emails, Push notifications, Connect withTodoist, Evernote, Wunderlist and more.
Supported Platforms: Android, iOS and Chrome browser
8. Outlook (Free)
View it for Android | View it for iOS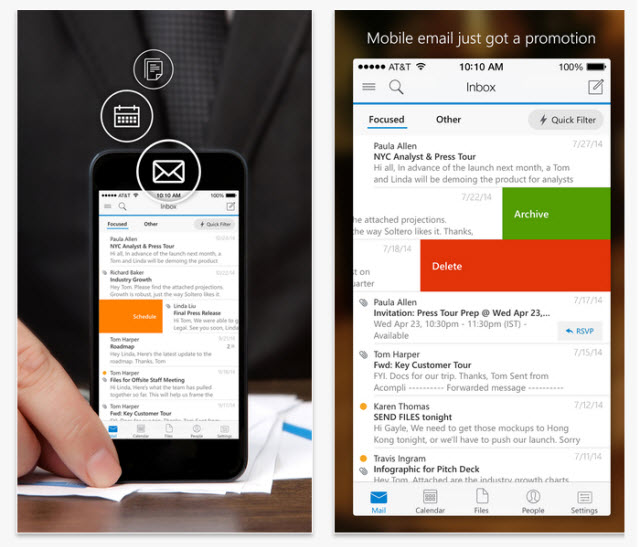 Microsoft's Outlook is now available for both Android and iOS based Smartphones and their Swipe access makes it easy to delete, archive, or schedule messages. Schedule your emails with Outlook and they will return to your inbox at a later time. Switching between your email and calendar apps is now made easy with even support for appointment reminders. Now filter your inbox to only show messages that are unread, flagged, or have attachments, with a single tap.
Key Features: Easy-to-use Swipe access of Emails, Finding Emails made easy, Easy integration with calender.
Supported Platforms: Android and iOS.
9. Inbox by Gmail (Free)
View it on Android | View it on iOS
Inbox by Gmail is a free invite-only Email app for iOS and Android devices. This free app from Google, makes it easy to sift through hordes of Emails which are bundled together based on their category. With support for Reminders, Snooze and Searching of past Emails, Inbox by Gmail is one good Email app for both Android and iOS devices.
Key Features: Similar messages bundled together, Highlights, Reminders, Snooze, Search and seamless integration with Gmail.
Supported Platforms: Android and iOS.
10. MailDroid (Free)
MailDroid is a free Email app for Android devices. With support for OpenPGP and S/MIME encryption, customized filtering rules and Dropbox integration, MailDroid is one useful Email application for Android based devices. Apart from Gmail, there is support for various IMAP and POP3 systems.
This feature rich Android Email application is also preferred by many businesses and individuals alike.
Key Features: Complete email re-write,IMAP Idle Push that support Hotmail, Outlook, Yahoo, Aol, FastMail, GMX and many more. Save/Download Attachments from email to SD card, Custom Mail Rules, Password Protection, Full WYSIWYG editor, etc.

Supported Platforms: Android.
SEE ALSO: How To Track Email Opens & Clicks in Gmail and Outlook
Did we miss out on any of your favorite Email app for iphone and android based smartphones? Feel free to share your thoughts and comments below.
Note: Above mentioned email apps will work best for the following devices.
| Brand | Model |
| --- | --- |
| iPhone | iPhone 5, iPhone 5c, iPhone 5s, iPhone 6, iPhone 6 plus |
| Nexus | Nexus 4, Nexus 5 Nexus 6, Nexus 7, Nexus 10 |
| Samsung | Samsung Note 4, Samsung Note 2, Samsung Note 3, Samsung Galaxy S5. Samsung Galaxy S3, Samsung Galaxy S2 |
| HTC | HTC One , HTC One m8, HTC One X, HTC Desire |
| Motorola | Moto x |