Google rolled out a complete redesign for Gmail with new privacy features last month. But, it looks like Google wasn't done and at Google I/O 2018 today announced Smart Compose, where Gmail will now help you draft your emails.
Like most new things announced at Google today, Smart Compose works with AI and machine learning and as it says, finishes emails for you simply by suggesting complete sentences when you're writing out a draft. You no longer have to spend time typing out the usual greeting at the start of your email, since Gmail will automatically suggest that now.
As you see in the GIF below, you can start composing the email as you would and Gmail will suggest you text to complete the sentence. You can then simply hit 'Tab' on your keyboard to enter the suggestion, and move on to the next line.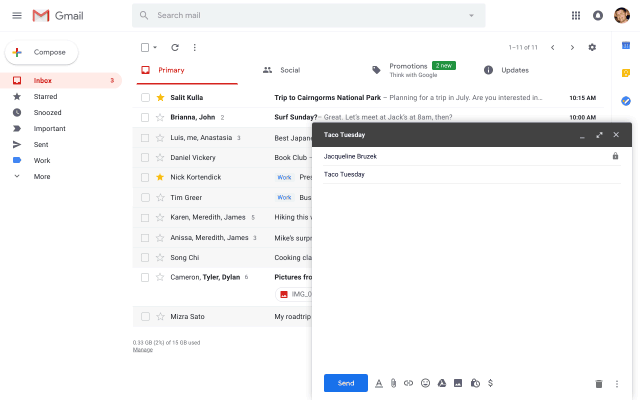 Google says that Smart Compose works in the background and would not hinder your drafting experience. It has primarily been designed to cut down on time spent on repetitive writing and reduce the chance of spelling and grammatical errors.
And if you didn't notice, Smart Compose is an extension of the Smart Reply feature that suggested you quick one-word or one-line replies for incoming emails. This feature is similar to auto-suggestions that you see in Google search everyday.
In addition, if you've already opted in to use the new Gmail update, then you'll not only see a cleaner interface (with material design elements) but also get access to features such as offline support, confidential mode, self-destructing mode and many more.
Smart Compose will start rolling out to consumers over the next few weeks but you'll need to navigate to the general tab in your settings and enable "experimental access" for your account.
Gmail is shaping up to be much more than just an email platform with the addition of new AI features and the visual changes that Google has been adding over the months. What are your views on Gmail's Smart Compose feature? Tell us in the comments down below.