A new 3DMark benchmark has been released! Called Solar Bay, it is a ray-tracing-focused benchmark for Android and desktop PCs. UL Solutions has released several benchmarking programs over the years, including the incredibly popular 3DMark benchmark for testing compute performance on high-end PCs, multi-GPU systems, and laptops. They also have some cross-platform benchmarks which work across different operating systems (Android, iOS, and Windows). But today, let's look at the details of the 3DMark Solar Bay ray tracing-focused benchmark.
3DMark Updated with New 'Solar Bay' Benchmark
3DMark has been updated with a new Solar Bay benchmark. Thanks to this addition, we now have another RT-focused benchmark to gauge the performance of our GPUs. Moreover, 3DMark has also made it a universally compatible, cross-platform benchmark. Because of this, it is possible to compare ray-tracing performance across different devices.
For example, Samsung announced the Exynos 2200 with an AMD RDNA 2 GPU and Ray Tracing. We can actually run this benchmark on that mobile SoC and compare it against older and newer GPUs.
The new test also works with older GPUs with a technique known as software ray-tracing. Previously, Port Royale was the only synthetic ray-tracing benchmark from 3DMark. With the addition of Solar Bay, 3DMark has added yet another RT-focused test, which will be quite helpful for GPU benchmarks. Solar Bay uses Vulkan 1.1 ray tracing and is a long test that can be used for testing a device's performance in an intensive ray-tracing workload.
Each section of Solar Bay's ray-tracing test increases in intensity. The benchmark has three stages in total and, with every new stage, the workload linearly increases by 100%. We will definitely be considering using this new benchmark to improve our testing methodology. In our RTX 4060 Ti review, we used 3DMark Port Royal to test its RT performance. By the way, we also have a tutorial below with step-by-step instructions on how to run the 3DMark Solar Bay benchmark.
How to Run 3DMark Solar Bay Benchmark on PC or Android
If you want to run the test on an Android phone, download the 3DMark app from the Google Play Store (Free). Then, get the Solar Bay add-on from within the app, and you'll be able to run the benchmark. For iOS devices, they have not released Solar Bay yet. Below are the steps to run the 3DMark Solar Bay Benchmark on your PC:
1. First, download Steam and install it if you haven't already. When done, make sure to sign in to the Steam client with an existing or new account, before proceeding further.
2. Next, download 3DMark on Steam. By the way, if you are downloading 3DMark for the first time, click the 'Download Demo' button. Some of 3DMark's tests are paid, but you can still run other benchmarks for free.
3. When you have 3DMark installed, go to the Steam page for 3DMark Solar Bay. Now, click on Download to install the add-on.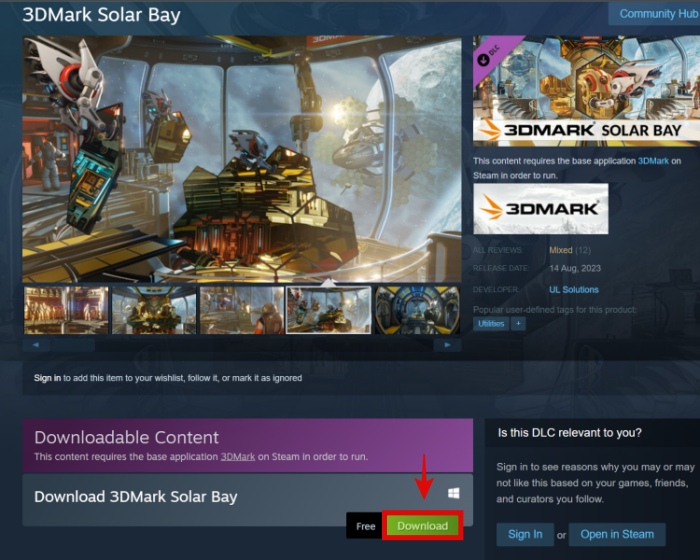 4. When everything above has been downloaded, proceed to launch 3DMark.
5. Then, navigate to the Benchmarks section. Here, find 3DMark Solar Bay and click on it.
6. Then, you need to click on Run to start the test.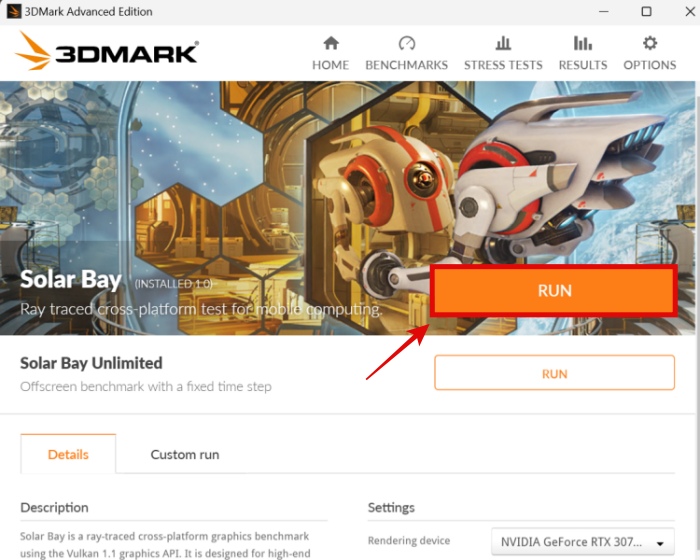 7. Voila! You are now benchmarking your PC with the 3DMark Solar Bay test. It is a long-form benchmark, so it will take some time. When done, you will get your scores which will also be uploaded to the 3DMark database.