Android Pie went official last year and brought with it a laundry list of new features such as a new Material Theme UI for many apps, gesture navigation, Digital Wellbeing, and more. All these features are great and will indeed come in handy in daily use, but there's one important functionality that has been removed from Android Pie i.e phone call recording.
Google has now made some changes and plugged the workaround that enabled the users to record calls using any third-party app without having to root their devices. The latest Android update though renders non-root call recording apps useless, thus, making it difficult for some users to record calls for security or privacy reasons. It could be related to the Android Pie security changes, which blocks apps in the background from accessing your microphone and camera.
Rooted apps still work, but if you are wary of voiding the warranty by rooting your phone, you are not alone. So here are a few nifty workarounds to overcome the Android P and now Android Q limitation on call recording.
A Brief Overview
Before I explain the workarounds, I would highly suggest you check whether your smartphone has a native call recording option. As far as I know, OnePlus comes with a native call recorder and you can record calls right from the dialer app without having to set up anything. It even works on Android 9 and 10.
Similarly, Xiaomi and Realme have built-in call recording options in India and other few regions. However, the feature is turned off by default. On Xiaomi phones running MIUI 10, MIUI 11, and older versions, open the default phone app -> tap on the hamburger menu -> Settings -> Call recording -> Enable both the toggles. You are done. Likewise on Realme devices, open Settings -> System Apps -> Call -> Call Recording -> Enable the toggle for "Record all calls". That's it. Now, you will find the "Record" button in the dialer app.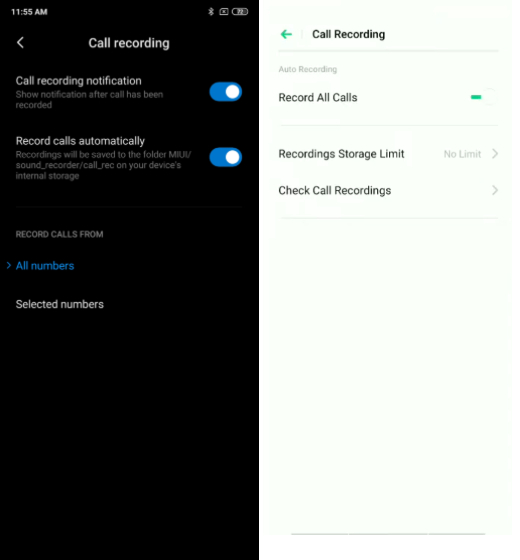 On the other hand, Samsung also has a native call recording option, but recently they removed this feature from many countries due to legal regulations. However, you can check if the option is available in your region. Open the Dialer app -> tap on the 3-dot menu -> Settings -> Call Recorder. Here, enable the "Auto record calls" option. In case, the dedicated setting is not showing up in your region then you will have to go through the workarounds. As for devices from other brands, if your smartphone doesn't ship with a built-in call recorder then follow the instructions that I have mentioned below.
As an aside, Google recently hinted that they are bringing call recording functionality on their stock dialer app as spotted by XDA on Pixel 4. What it means is that, in the future, all smartphones with Stock Android will have built-in call recording capability once the feature rolls out. Also, Xiaomi might ship Stock dialer on MIUI in the EU region so users from that particular region can enjoy native call recording as well. But again, there might be limitations in certain regions so keep that in mind.
Now that we have gone through the basics, let's find out how we can record calls on Android Pie and Q devices that don't have a built-in call recording option.
Record Calls on Android Pie and Q
1. Cube Recorder ACR
In our testing, we found out that Cube Recorder is one of the handful call recording apps that is able to record calls even on devices that don't have built-in call recorder and are running Android Pie or Q. We tested Cube ACR on Pixel 2 XL running Android 10 and it worked fine. Similarly, we tested it on Samsung S10e running One UI 2.0 based on Android 10 and it recorded calls without any issues. Sure, the audio was a bit mushy but it recorded both sides of the call nonetheless. So you can install Cube ACR on your Xiaomi, Realme, Nokia or any other smartphone and check if it's working or not. For the best recording experience, open the App Settings and select "Voice Recognition Software" as the input option.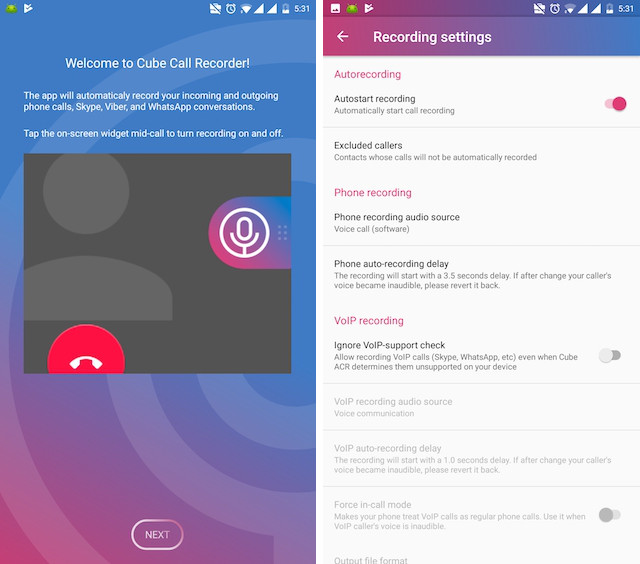 Download: Cube Call Recorder ACR by Catalina Group (Free)
2. Call Recorder – ACR
Call Recorder – ACR is another app that seems to be working on a lot of devices including Samsung Galaxy devices. However, the Play Store version of this app can't record calls unless your device is running Android Oreo. So you will have to download the unchained version of this app from APKMirror. Be assured, the app is genuine and developed by NLL– the company behind both the apps. Due to some Play Store policy, NLL is unable to host the app on the official Google Play Store. So all I would suggest is, download the APK from the below link and install it on your smartphone. After that, check if the app is recording both ends of your call. We did test this app on Mi A1 running Android Pie and on Samsung devices and it worked fine.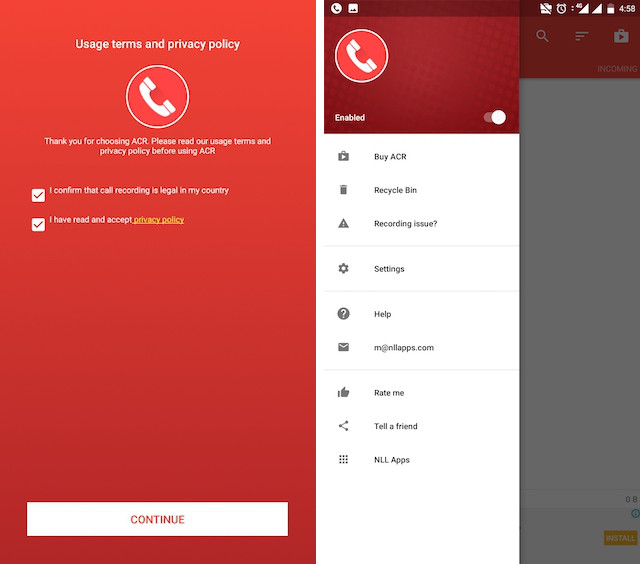 Download: ACR 32.9-unChained APK from APKMirror (Free)
3. Call Recorder by Boldbeast
Call Recorder by Boldbeast is the third and the last app in this list that is working great on Samsung, LG, Xiaomi, Nokia and devices from other major brands. Particularly, if you have the Samsung S10, Note 10, S9 and Note 9 then this app works out of the box. However, you will have to enable a few important permissions like the accessibility service for Boldbeast call recorder and other such settings. Apart from that, the developer has claimed that he is somehow able to bypass the Android Pie and Q restriction and maintains that it will work on a majority of devices. I did test this app on my OnePlus 7T running Android 10 in India and it worked quite well. So go ahead and install this app and check if the app is able to clearly record calls on your Android 9 or 10 device. In addition, there is also a root-method within this app so if you have root access, grant it so the app can record the conversation flawlessly.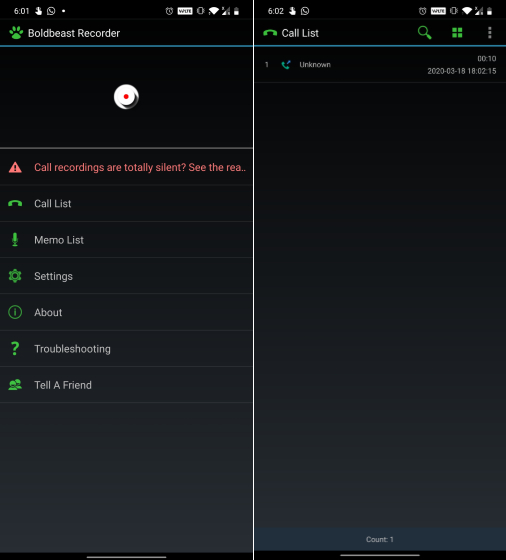 Download: Call Recorder by Boldbeast (Free, Offers in-app purchases)
Last Resort: Don't Update to Android Pie or Later
If you're someone who has to record calls for legal or records purposes and don't want to take calls on the speaker, the easiest alternative for you is to stick with a smartphone that runs an older flavor of Android. That's actually quite easy with the Android ecosystem, which is highly fragmented and only a few select devices will receive Android Pie or Q update.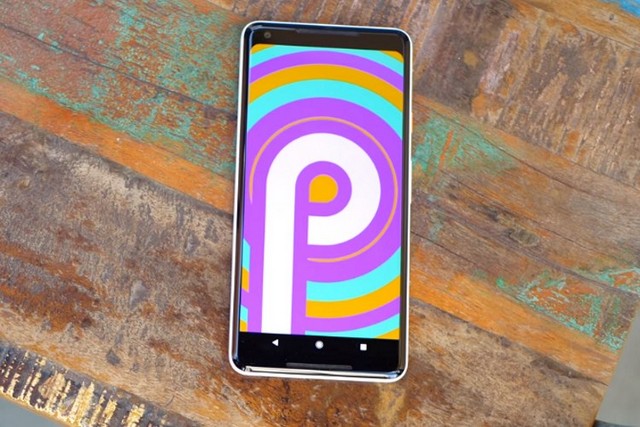 We hope at least one of the measures can come in handy for recording calls when you're using Android Pie or Q. Found another working solution for call recording on Android 9 or 10? Let us know how you made it work in the comments below, and we will surely include it as an update to this story.
---
Load More