I still remember my early years in Beebom when my Editor asked me to write a guide on setting up and using WhatsApp on iPad. Waiting as we were for an official WhatsApp app for iPad to launch, we knew it was probably a far cry to expect it anytime soon. We turned out to be right, as I waited year to year, hoping for an official WhatsApp app so I could finally use my iPad for something other than Netflix. That day is almost here, as WhatsApp has started testing its beta iPad app on TestFlight. Yeah, it's no longer a pipe dream. I was over the moon when I heard it, so I quickly snapped some creds from my Editor and installed it. After using it for a few odd hours, here are my first impressions of the WhatsApp for iPad app.
Note: We are using the WhatsApp version 2.23.19.74 on an 8th-generation iPad.
Setting Up WhatsApp for iPad: Linked Devices FTW!
The first thing I noticed after installing WhatsApp for the iPad is that it doesn't rely on a user's phone number to log in. Instead, the messenger uses its ever-reliant "Linked Devices" feature that the company started rolling out in 2022. As was expected, the onboarding was as simple as scanning a QR code and logging in automatically.
Since I didn't have to worry about carrying over my chats or media (or losing them in the transfer process), the experience turned out to be super smooth. However, a point to note is that since WhatsApp for iPad is still in testing, we could see more login options in the future. Nonetheless, I do hope logging in will remain this simple when it does roll out. Once done, I simply went ahead and began using WhatsApp.
Appearance and UI: Don't Fix What Isn't Broke
WhatsApp sticks to the basics for this one. The WhatsApp for iPad app capitalizes on the pad's large real estate. The app has a dual-pane design with a conversation view on the left and open chats on the right. While the design harkens back to the days of using WhatsApp via the browser, it naturally ditches the top and bottom bars and instead uses the whole screen.
The overall design of the app feels neatly organized. Unlike the web version, you have a minimalistic menu on the bottom bar that leads you to either Calls, Chats, or Settings. Interestingly enough, no Status or WhatsApp Channels tab is present in the iPad app, even though it has gone live on Android and iOS. I'm chalking it up to the testing state of the app, but I hope it is in the final one.
The settings page also hosts a similar design. Since the settings itself are so barebones, the display does feel a bit empty. However, as more features come out, I'm sure that extra space will be used.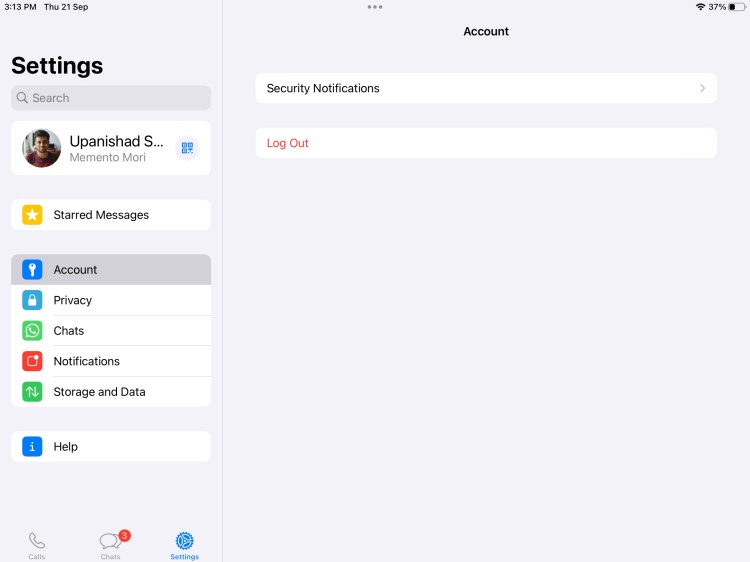 Nonetheless, WhatsApp for iPad has a design aesthetic that will appeal to anyone tired of clutter. With a flush yet large menu, rounded elements, and an overall clean vibe, the app's design will be easily welcomed by all.
iPad Multitasking Is Finally Possible
A bug that always used to vex me was WhatsApp Web's inability to adjust to the iPad's multitasking view modes. The chat view used to essentially break and hence could not be paired up with another app. The official WhatsApp for iPad app fixes this, as the view now auto-adjusts according to your view.
Instead of cutting it down through the middle, WhatsApp for iPad intelligently switches to a single-pane design. Clicking on a chat will still get you to it, but at the cost of losing your previous view. Furthermore, you can easily drag and drop files from one app to an ongoing chat without losing functionality. This is definitely a big plus and one that will make multitasking much easier for power users. Imagine if our parents could simply share memories and moments from their gallery on WhatsApp with ease! Love it!
WhatsApp for iPad: Performance and Daily Usage
While I have only used the official WhatsApp iPad app for less than a day, this is a refreshing change nonetheless. For the first time, chats on the iPad open up with lightning-fast speed. This is all the more important for users relying on the web version, which either takes eons to load or sometimes fails. Throughout my time with the app, I could quickly and easily engage in conversations and navigate through chats with little to no downtime. Conventional chat features like editing, deleting, and disappearing messages work too. Furthermore, you can start new chats or form groups with ease.
Attaching images and files, too, becomes easier with the native WhatsApp attachment menu instead of a scaled-down one. While the app menu buttons remain the same, the process is simpler and faster. Since the menu takes up the whole screen, you can manipulate it, including adding stickers whenever you wish. However, I did see the HD image option is missing, which was a downer. Learn how to send HD photos and videos in WhatsApp on Android and iOS via the linked guide.
However, one of the biggest requirements of an iPad app is that it works in landscape mode. It is safe to say WhatsApp for iPad works flawlessly in that area. The app switches over to the other orientation with ease and cuts no elements. Everything, from the chats to settings, is displayed correctly. As it was in portrait, you can multitask here, too. Experiencing all that, it's a relief WhatsApp worked on this.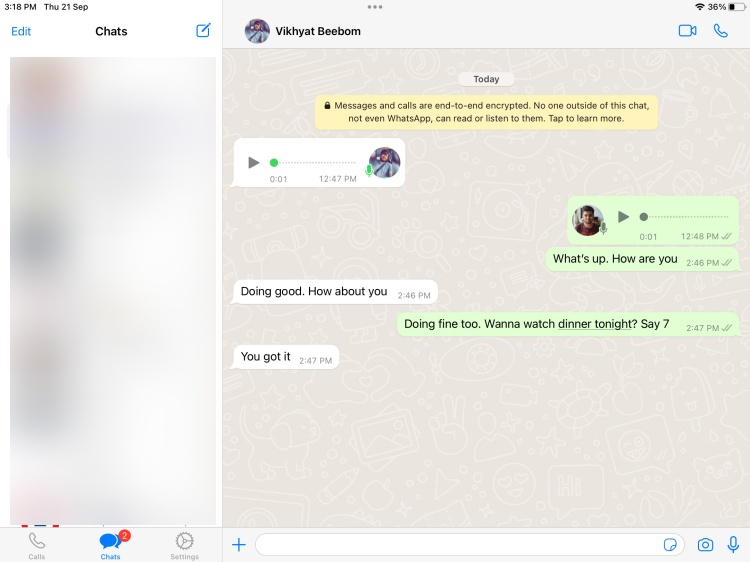 Calling on the iPad is as swift as messages. Simply tap the voice/video call option, and you end up on a call of your choice. As before, the call UI uses the whole screen, with the options menu sitting neatly at the bottom. Video calling on WhatsApp for iPad also allows you to add participants to make it a group conversation at any time. So, for the times when you are having a movie night with friends far away, you can now use video calling to connect with them remotely.
Since the official app piggybacks off the Linked Devices feature, it acts like an independent phone and hence can be used as such. So, on the off chance, if one finds themselves without their primary device, they can rely on the iPad. The pad works with the same speed, too, so that's all the more helpful.
Overall, I loved the general speed and performance gain I experienced using the official iPad app. Since other App Store solutions basically simulate the web version in a wrapper, they are not able to match this level of swiftness, making the WhatsApp iPad app a great addition to your workflow.
WhatsApp for iPad: The Missing Pieces
Even though WhatsApp for iPad right is mostly a complete experience, it is missing some features I've grown accustomed to. For starters, you cannot send instant video messages, that was rolled out recently. While you can receive them, the app lacks the former. Furthermore, as mentioned above, you also can't send HD photos, which will hamper conversations.
The linked devices mode also means most settings you would find on your primary device are also missing here. Another thing I noticed is that the stickers from my phone didn't carry over to the iPad. They were, however, present on the WhatsApp web version, which was odd.
At this point, we can see a pattern emerging. All the recent features rolled out to WhatsApp are missing from the iPad client. However, as pointed out above, the app is currently in TestFlight. This means it will undergo a variety of updates before the stable rollout. So even with all the missing features, the experience here is good.
WhatsApp for iPad: Give It to Me Right Now!
Even though WhatsApp for iPad has been a long time coming, its slow rollout in Testflight made me anxious to try it. It is now safe to say that I am impressed with the initial experience on offer. Instead of radically changing anything, the messenger relies on a tried and tested design. This not only puts the user at ease but ensures the work doesn't stop. While it does lack some features for now, I remain confident about its future inclusion.
However, combined with the efficient use of the screen, the multitasking, and the overall swiftness of it all make the official port an exciting one. I know a lot of tab buyers who were holding out on the iPad simply because of the lack of an official WhatsApp app. That problem will finally be addressed for millions around the globe very soon.
We don't really have a solid release date for when the WhatsApp for iPad app will reach everyone. But considering beta testing has already begun, it should be another few months before it is rolled out, and everyone can install it on their iPad.
---
Load More