Technology is going through a golden phase of sorts with some amazing innovations coming to the forefront. Things have changed a lot from the yesteryears. Phones have become way smarter, PC's have become more powerful & compact and even our watches have become a lot more productive. There are IoT (internet of things) devices that should make a big impact in our lives soon. Another appliance that has been a part of our lives for a long time is TV and even they have silently gone through some great innovation. The "idiot box" isn't really an idiot anymore.
Along with the fact that TVs have become slimmer and their displays have become a lot advanced and lifelike, there has been the rise of "Smart TV". If you are not well acquainted with Smart TVs, we are going to tell you everything about it. So, grab your popcorn and read on.
What is a Smart TV?
A Smart TV is a TV, which comes with support for internet connectivity and that can be either through WiFi or an ethernet cable. A Smart TV comes with its own OS platform and thanks to internet connectivity, you can get various apps to check out your social networks and stream content right on your TV without the need of a set-top box or anything. There are also various games that would be a lot more enjoyable on the huge screens these tubes offer. Most Smart TVs also come with a web browser, so you can surf the web on your TV itself.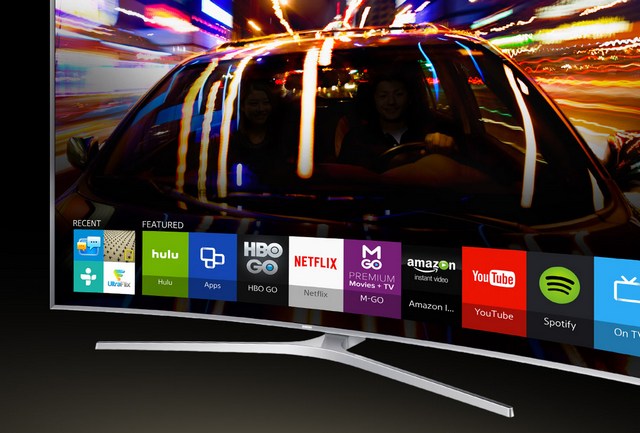 Generally, Smart TVs are remote controlled but some recent Smart TVs come with touchscreens and support for voice commands & motion gestures, so you can control your TV with your voice or movements. Smart TVs do make consuming content a lot easier. You can stream content or rent movies through online services like Netflix, Hulu Plus or Amazon Instant Video, whichever one you prefer. You can also check your social media feed, play games on the huge screen and more. Some Smart TVs also come with cameras, so you can even make a Skype call to your friends and family. Moreover, since these TVs are basically computers from the inside, manufacturers have the ability to add new features and services through regular updates. The possibilities are surely endless and with time, the list of features should grow further.
Unique Features of a Smart TV:
Smart TVs come with various popular video & music streaming apps like Netflix, Hulu Plus, Amazon Instant Video, Pandora, Spotify and more. Smart TV platforms/OS also come with their own app stores with various apps including the likes of Facebook and Twitter.
Most Smart TVs come with a web browser on-board and the experience is pretty decent, if you keep your expectations in check.
Since most Smart TV platforms come with app stores, there are a number of casual games available to download. While console-level games are missing, the casual games make up for a good pastime.
There are a number of great third party accessories available to enhance your Smart TV experience. There are kits to upgrade the hardware, wireless adapters, Skype certified external cameras, 3D glasses if your TV supports 3D, different types of remotes and more.
Smart TV Platforms & OS
Most Smart TV Manufacturers come with their own proprietary OS or platform, while some have started to use Android. So, here are the major Smart TV platforms & OSes: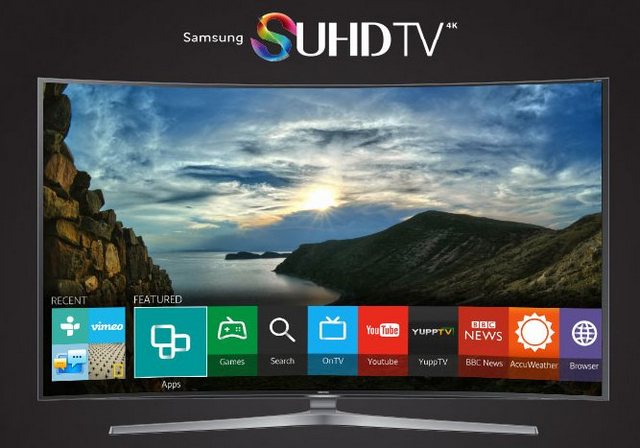 Samsung Smart TVs have been here for quite some time now and the South Korean giant recently switched from its Smart Hub platform to its very own Tizen OS for its Smart TVs. The platform is still budding and thus the low number of apps but Samsung has got the essentials covered. The platform packs in apps for both 2K and 4K TV displays. The platform supports remotes, voice as well as motion control. It also comes with a browser, which is decent enough. Overall, we can expect the Smart TV's Tizen OS to grow by leaps and bounds in the coming future, thanks to Samsung's backing.
Google has been trying to make an impact in the TV market since 2010 (Google TV, which was killed in 2013) but the company isn't giving up anytime soon. Presently, only Sony's Smart TVs come with the recently launched Android TV on-board but we expect more manufacturers to follow suit. Android TV has been praised for its clean UI and good apps and while the third party apps are limited in number, the popular ones are available. The OS supports remote & touchpads and you can also control a Sony Smart TV through the SideView Android app. Android TV supports Google Cast and it has two browsers to choose from: Google Chrome and Opera TV browser. With other TV makers like Sharp, Philips, TCL, Asus and Nvidia planning to bring Android based Smart TVs in the foreseeable future, the platform should grow soon.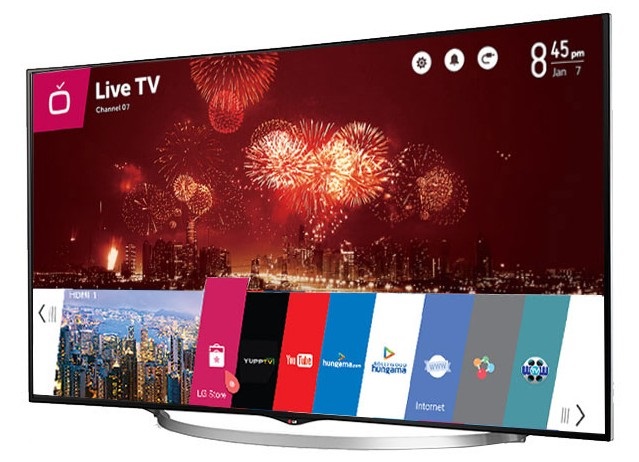 When LG acquired the dying WebOS platform, it did not really make any sense but now it does. LG uses the WebOS platform for its Smart TVs. The WebOS TV interface is sleek and it's arguably the most user friendly TV platform. The OS supports remote, voice control and motion control for navigating the interface. It has a good enough browser on-board as well. Moreover, LG's TV platform has the most number of apps presently. LG Smart TVs are really good and the beautifully designed platform certainly compliments those gorgeous 2K and 4K displays.
Panasonic Viera Life+Screen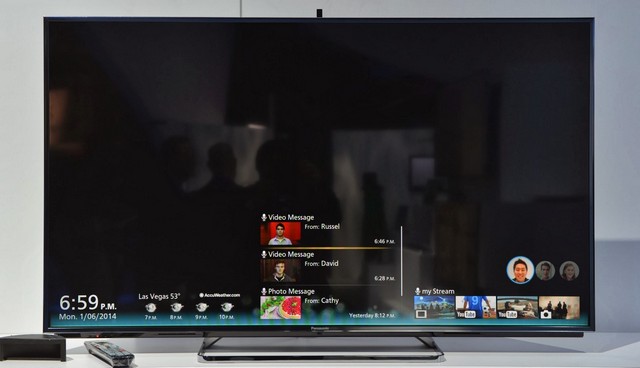 Panasonic used its Viera Connect & Cast platform for its older Smart TVs but the company is moving to its Life+Screen platform for its newer Smart TVs. Life+Screen is an advanced TV OS, which supports personalized voice recognition and facial recognition. The TV also will detect your motions and brings you news & weather or other relevant information if it detects you standing in front of the TV. It also shows personalized content based on the user. Since the platform is fairly new, it lacks in the number of apps but popular streaming apps are present. The company has also backed Firefox OS as a TV platform but we are yet to see the fruition of that partnership.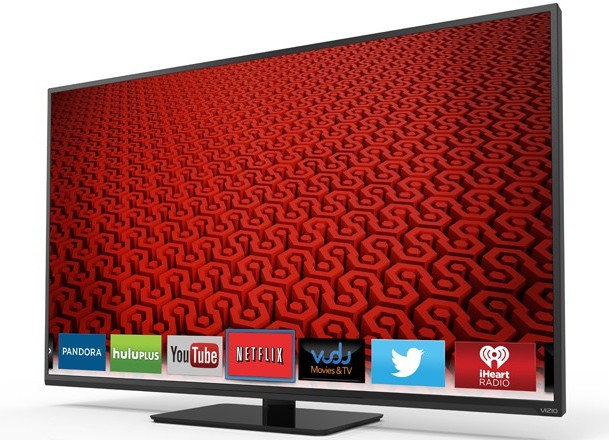 Vizio's Smart TV platform is not very feature rich but it gets the job done. Vizio's OS does not support voice or motion control but its remote does come with a QWERTY keyboard on the back. The remote also has buttons to launch Netflix or Amazon Instant Video directly. It comes with all the basic apps we know of including Netflix, Hulu Plus, YouTube and more. There are also some social media apps included. So, if you are looking for a simple Smart TV with not much fuss and just the essentials, Vizio TV should be good enough.
Common Questions/FAQs around Smart TVs
We are pretty sure you have your doubts regarding a Smart TV but don't worry, as we have answered all the questions you might be having. Here it goes:
What benefits do Smart TVs bring when compared to regular TVs?
As we mentioned, Smart TVs bring internet connectivity, apps, games among other features that make it smarter than a normal TV. But that's not all, a Smart TV brings the convenience of an all in one device, native access to popular streaming services and web browsing.
Are Smart TV browsers user friendly?
Most of the Smart TV platforms/OS include a web browser. Android running TVs come with Google Chrome and while some platforms come with support for Opera's TV browser, some have their own browser. Coming to the question, not all Smart TV browsers are user friendly but Samsung's offering, Android's Chrome and Opera TV Browser work great. All three aforementioned browsers support most major web standards and render most websites fine, even on huge displays.
Are Smart TV's internals upgradable?
While not every manufacturer lets you update the internal hardware of the Smart TVs, Samsung lets you do it through its "Evolution Kit". Samsung introduced the Evolution Kit in 2013 and it has since been bringing a new iteration of it every year. The 2015 Samsung Evolution Kit can be added to Samsung Smart TVs from 2013-14 and it brings an Octa-core processor, additional RAM, touch remote with pointer, One-connect box & cable, MHL 3.0, HDMI 2.0 ports with support for 4K, HDCP 2.2, MHL 3 and VP9 support. Along with internal upgrades, the kit also updates the software from Samsung's Smart Hub platform to Tizen OS.
What are the security & privacy risks involved with Smart TVs? How to stop such risks?
There are certain privacy and security risks involved with Smart TVs. Manufacturers have always been criticised for lacklustre security on their Smart TVs and shady privacy policies. Recently, Vizio has found itself in legal troubles owing to data logging practices through Smart TVs. Data logging is a very common practice and most major companies do it. Even in the Smart TV arena, it's not only Vizio but all TV makers collect your information.
Smart TV's collect information by detecting a user's usage, voice commands, web browsing and social media activities. While collection of some information to improve a user experience is acceptable, spreading that information to a third party is not. For instance, Samsung's privacy policy says,
"Please be aware that if your spoken words include personal or other sensitive information, that information will be among the data captured and transmitted to a third party through your use of Voice Recognition."
Not everyone has a problem with this and if you are just careful with your personal details, these data logging activities shouldn't be a problem. In fact, if you want to enjoy all the smart features on your TV, you will have to accept sending information. But if you are really concerned about your privacy, you can stop it. All the Smart TVs come with an option to disable data sending in their settings. In Vizio TVs, you just need to turn off the "Smart Interactive" feature to disable it. Samsung and LG don't have data logging enabled by default and when the OS asks you to enable it, you can deny it. You can also choose to use features like voice control a little carefully, so as to not spill your personal information.
Can a Smart TV be hacked?
Most Smart TV platforms like Tizen, WebOS and even Android have a Linux base and hackers are pretty well acquainted with the Linux platform. So, yes, Smart TVs can be hacked. According to researchers, hackers will be aiming to hack Smart TVs through radio transmitters. Hackers might also be able to get a user's personal details including social media information and bank details. We are pretty sure companies are already working hard to make sure that never happens but to be on the safe side, you can enter your details carefully and not pay any bills through your TV.
Is it legal to jailbreak or mod a Smart TV?
The U.S. government recently passed an exemption that makes it legal to tinker with your Smart TV. So, users can now jailbreak or mod their Smart TV and take total control of the software. Jailbreaking a Smart TV might be a little tricky but if it can be done easily then it would let you do a lot more with your TV. You will be able to install restricted software and apps, change the user interface to your liking, access permissions and much more.
Does a Smart TV hang or crash?
Smart TVs come with their own OS or platform and as with every other operating system, it's susceptible to hang ups and crashes. Yesteryear Smart TVs were panned for inconsistent performance but things have changed for the better. Smart TV platforms are now much more stable and polished but we obviously cannot rule out an occasional crash or hang up.
Do Smart TVs get regular updates? How long before a Smart TV gets outdated?
Not all Smart TVs receive regular software updates but some do. Samsung has been updating its older Smart TVs with its new Tizen software and even LG recently updated its older Smart TVs with WebOS 2.0. These updates not only bring new features, they keep the security & privacy settings up to date as well. Android TV is new, so there haven't been any updates yet but we can expect it to be updated from time to time.
While a Smart TV's "TV features" won't get outdated before 5 years or more, its "Smart features" should get outdated in 2 years. Manufacturers should update these Smart TVs with new features but we don't expect them to do so for more than a couple of years. Standalone or normal LED/LCD TVs on the other hand easily have a lifespan of 5 years or more. Keep in mind though that the lifespan of an LED/LCD TV also depends on their quality.
Should one buy a Smart TV or a cheaper TV with a set-top/OTT Box? Which is better?
Smart TV has its benefits but presently, a set-top or an over-the-top (OTT) box is a much better offering. While there's not much of a price difference between a smaller Smart TV and the combo of a TV with OTT box, the combo is a more reliable option. OTT boxes can be easily replaced when new features or services arrive while in the case of Smart TVs, replacing the TV when new services arrive is not a viable option and instead Smart TV owners will have to opt for OTT boxes when the "Smart" features become outdated.
There are a number of great OTT boxes like Roku, Amazon's Fire TV, Apple TV and more. All of them offer the features like music & video streaming services, voice control along with various exclusive features. Set-top boxes are easy to set up, user friendly and flexible. So, even if the features are outdated, you need to replace the box and not the TV.
What is the approximate price of a mid-range and high-end Smart TVs?
Smart TVs are slowly entering the mid and low-end of the TV market and you can get a 24-inch Smart TV for as low as $160.  The premium high-end offerings that pack in 4K resolutions and curved displays range from $800-3000 depending on the size. There are also some great offerings in the $500 range if you are okay with a 1080p display.
Conclusion
Things are a little rough for the Smart TV market with various privacy & security issues and scepticism over their performance but we still think Smart TVs can be the future. The idea of an all in one device with a great unified platform that syncs with your phone and other devices is simply too good to let go. As we mentioned, there are problems with Smart TVs but they are still pretty usable and they might even pleasantly surprise you. There are a number of great Smart TVs available currently on the market and you should definitely give them a try if you are okay with the cons and want the taste of latest technology.
SEE ALSO: The 8 Best Stick PCs on the Market
Well, that's all about the Smart TVs. Do let us know in the comments section below, if you have any questions regarding the same.