One of the most common buzzwords in technology circles right now is "Internet of Things" (IoT). People are talking about it all over the place, from the newspaper to tech blogs — but what, exactly, is the IoT? Well, in laymen terms, it refers to connected devices that can transfer data over a network without requiring any human input. This ability makes IoT devices accessible, convenient, and controllable. I know that it can be tough to wrap your head around any new technology without seeing examples of the use of said technology in action. So here are 15 examples of Internet of Things technology that are in use today.
Examples of Internet of Things Technology in Use 2020
Keeping in mind various requirements, we have handpicked a variety of items ranging from a smart thermostat to a pet feeder to the beautiful ceiling light. Oh yes, there are also some wildcards to keep you on the guessing game. In terms of compatibility, most of these smart home devices support iOS, Android, and of course web so that you can control and customize them regardless of the operating sytem. Plus, they also gel along nicely with popular virtual assistants like Alexa, Google Assistant, and Siri – so long as you know how to speak out the quick voice commands!
1. Nest Thermostat
To kickstart this extensive roundup on the right note, I would like to mention the Nest learning thermostat at the top. Probably, the best part about this smart thermostat is the ability to auto-schedule, so you won't have to do the programming manually. Besides, you can connect it to WiFi so that you will be able to fine-tune the temperature from your smartphone, tablet or laptop. One of my favorite features of this thermostat is that it works with most 24-volt heating and cooling systems such as heat pump, radiant, hot water, and more. Not to mention, it also automatically turns off when you are away to save energy. At $219.95, Nest offering seems to be a reasonable buy given the notable features. But if you find it a tad expensive for your budget, you can check out Honeywell Home RCHT8612WF T5 Plus ($98.99) and Emerson Sensi Wi-Fi Smart Thermostat ($96.97) as they are cheaper yet highly efficient alternatives.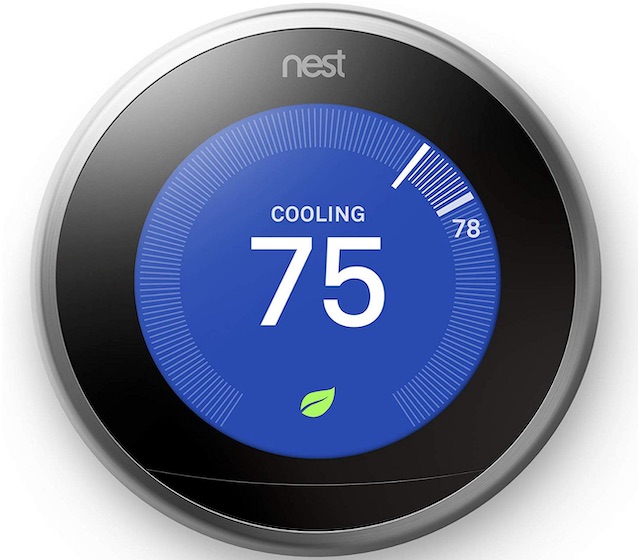 Buy from Amazon: $219.95
2. VeSync Smart Plug by Etekcity
Sporting a pretty compact form-factor, VeSync smart plug is what you need to power your devices with the utmost ease. For more flexibility, the plug works with both Alexa and Google Assistant. So, it doesn't matter which of the two popular virtual assistants you prefer, you can control it through quick voice commands. Moreover, it's also integrated with IFTTT (If This Then That) service for better remote control. Those looking for a way to reduce power consumption will find this smart plug quite helpful as it keeps a track of power usage for connected devices and also shows which devices consume more energy. Thus, it becomes straightforward to nab power-hungry devices.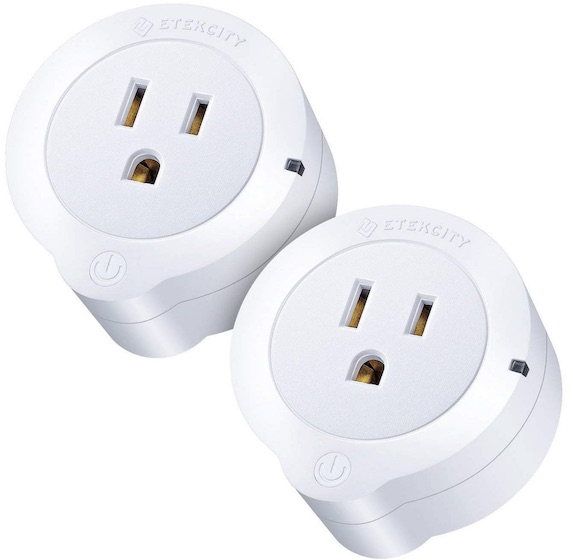 Buy from Amazon: $18.99
3. BERENNIS Smart Light Bulb
Should you want to deck up your beautiful home with smart light bulbs, Berennis' offerings would be worth checking out. They are highly energy-efficient and designed to work with Alexa, Google Assistant, and the versatile IFTTT. So, you can control the bulbs with the desired convenience. Besides, Berennis' official app allows you to control the bulbs individually or as a group – even when you are away from home. Another thing worth noting is that it lets you choose from a whopping 16 million colors and tons of white hues. Therefore, you have more freedom to customize the colors so that your abode would appear fascinating.
Buy from Amazon: $29.99 (pack of 3)
4. Gosund Smart Light Switch from TanTan
If there is a need to get a smart light switch you would be hard-pressed to find better alternative than this one. Yeah, you heard it right! At the time of writing this article, this light switch has received impressive 4.3 stars out of 5 from more than 6.5k ratings on Amazon. Beyond ratings, it's integrated with both Google Assistant and Amazon Alexa so that you can make the most of voice commands to control lights. That's not all, it also features timer and countdown to help you turn off the switches automatically at the scheduled time. And at $50.97 for 4 packs, they are among the cheapest smart light switches in the market.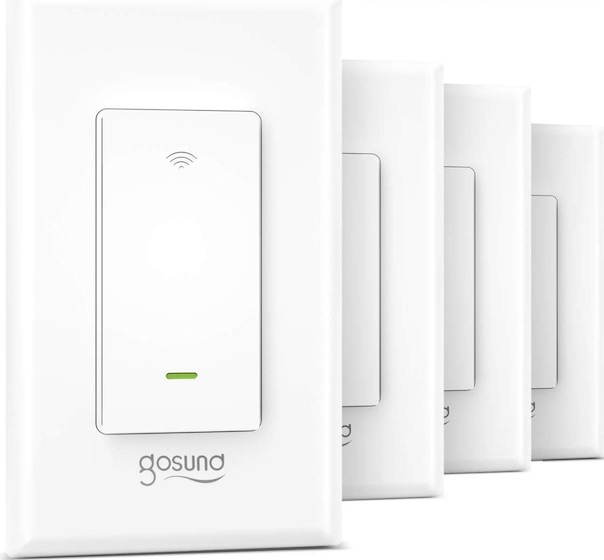 Buy from Amazon: $50.97 (pack of 4)
5. Smart Power Strip from HEYVALUE
For the folks hunting for an efficient power strip, this offering from Heyvalue appears to be the right way to go. Featuring 4 AC outlets and 4 USB ports, it provides you the needed flexibility to take control of your home appliances including water dispenser, light, electric pot, TV, and more. Depending on your needs, you can also schedule home appliances to turn off/on at a specific time. As they work with both Google Assistant and Alexa, controlling them shouldn't be a big deal. Better still, Heyvalue's power strip also offers a reliable safeguard against multiple threats like surge and overload.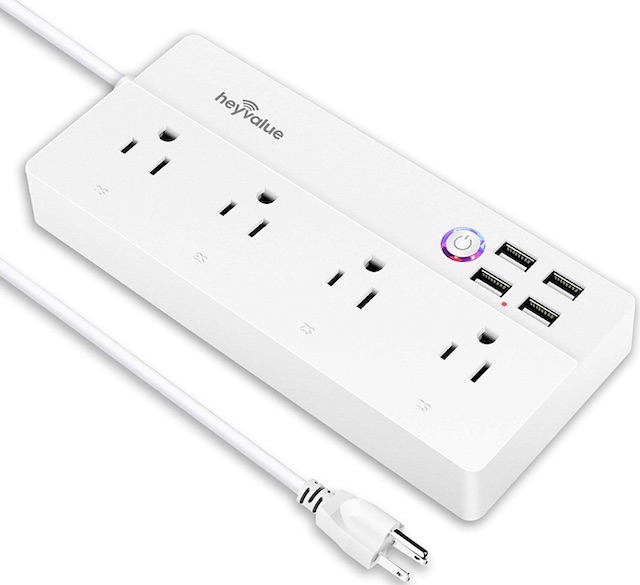 Buy from Amazon: $25.99
6. Sense Energy Monitor
If you have decided to reign in the unnecessary power usage, give serious consideration to Sense energy monitor as it can go a long way in cutting down the electricity usage. The smart energy monitor provides an in-depth insight into how energy is being used. Therefore, it becomes a tad easier for you to find out the areas where unnecessary power is used. Personally, it's my favorite example of internet of things technology. It automatically tracks the electricity usage and lets you know which devices are hogging up the power. I will admit that it is priced a tad high for most users. So, if you want to go for a cheaper alternative, I would suggest you try out Rainforest EAGLE-200 which comes at just $99.99.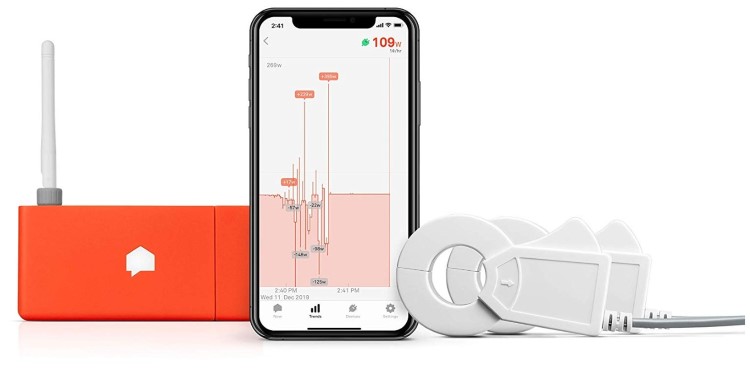 Buy from Amazon: $299
7. SmartDry Wireless Laundry Sensor
A super handy wireless laundry sensor like SmartDry could be very helpful for those who wish to track clothes dryer status right from the fingertips. Well, apart from keeping you in the loop about whether or not your clothes are dry, it can also play a crucial role in saving plenty of energy just in case you often forget to turn off clothes dryer. SmartDry works with any gas or electric clothes dryer. And with the timely alerts on your smartphone (supports both iOS and Android), it ensures you stay updated and know what's the right time to take out the clothes.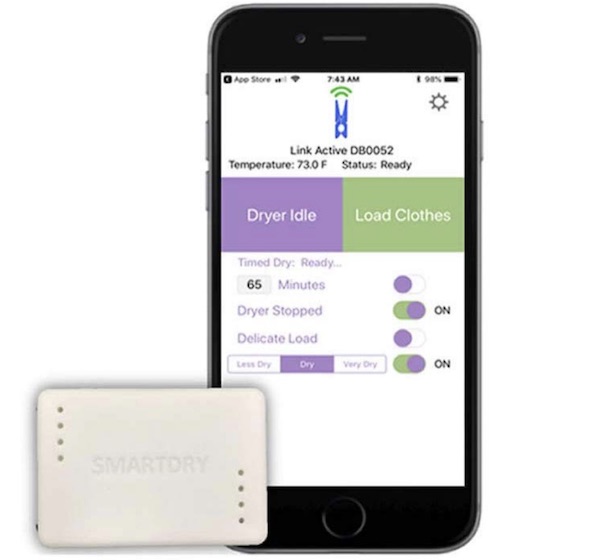 Buy from Amazon: $49.99
8. Taloya Smart Ceiling Light
How about giving a fascinating appearance to the ceiling light of your home? Taloya's smart ceiling light has looked nice to me for its pragmatic design and reliable performance. Just like any other modern smart devices, it also comes with a neat app that allows you to control the light conveniently. Plus, it also supports Alexa so that you can use the voice control to dim or brighten the light (front white and back RGB) using commands. As for pricing, Taloya comes at $89.99 which is a touch expensive. But if you are on the lookout for an affordable option, "Multifunctional Ceiling Light" ($59.99) would be a good bet.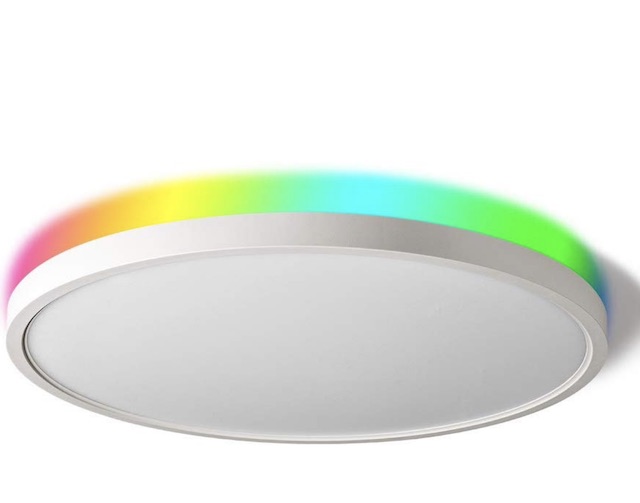 Buy from Amazon: $89.99
9. meross Smart Garage Door Opener Remote
Imagine a situation where you are rather busy in the kitchen cooking some delicious recipes. Suddenly, one of your friends arrive and call you to open the garage door to park the car. Wouldn't you find it a bit inconvenient to leave the kitchen? Most probably, you would. That's the reason why a smart garage door opener remote like meross would be quite helpful. Aside from offering an easy-to-use app for remote control, it also offers support for both Google Assistant and Amazon Alexa so that you can open and close the door of the garage without breaking any sweat.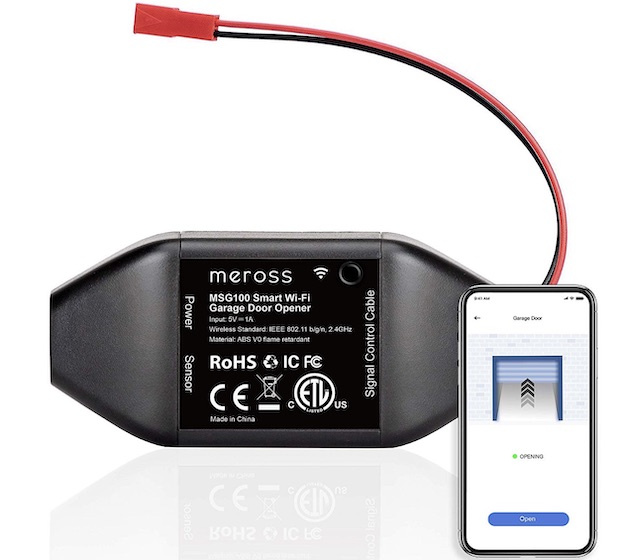 Buy from Amazon: $49.99
10. PetSafe Smart Feed Automatic Dog and Cat Feeder
Well, I have specifically saved "PetSafe" for pet lovers. And if you are one of them, you would love to have PetSafe at your disposal. The smart feeder works effectively with the companion app (iOS and Android) to let you feed your dog or cat. Furthermore, you can use it to schedule up to 12 meals (dry food only) for your pet. Not just that, you also have the option to dispense the meals in portions of 1/8 and 4 cups depending on the needs. Perfect for the times where you are away from home for a short trip, isn't it? Given these features, PetSafe appears to be a reasonable buy at $179.95. But if you after a little less expensive option, PETKIT ($159.99) would be a good contender. This is another great example of use of internet of things technology.
Buy from Amazon: $179.95
11. hornbill Smart Door Lock
In an age where an extra layer of safeguard for sensitive information has become the need of the hour, your home or office deserves a better lock that can provide it the require shield against theft. And for this purpose, I think hornbill's smart door lock appears to be a great pick for multiple reasons. First and foremost, the lock works with both iOS and Android, which is a plus from flexibility perspective. The second, it provides anti-peep passwords and auto-lock features (5-120s) to keep your home safe. And third, you also have the option to share the codes with your friends or guests for a limited time. As the price, hornbill's smart lock comes at $140.99 which is in the premium segment. However, if a little cheaper rival is what you are looking for, Wandwoo ($115.99) would be a fine bet.
Buy from Amazon: $140.99
12. Echo Smart Speaker
The most common example of use of interment of things technology is a smart speaker. Unless you are living in the rocks, you must be aware of Amazon's popular smart speaker. Powered by Alexa, it remains by far the most popular smart speaker in the market. What puts it ahead of the curve against the top rivals from Google, Apple and Sonos is its aggressive pricing and compatibility with a wide range of smart home devices. While Echo speakers may not have the best of sound, they offer more flexibility and ease of use than other alternatives. Moreover, it comes in multiple variants ( $34.99 for Echo Dot) to meet different demands and of course, budgets.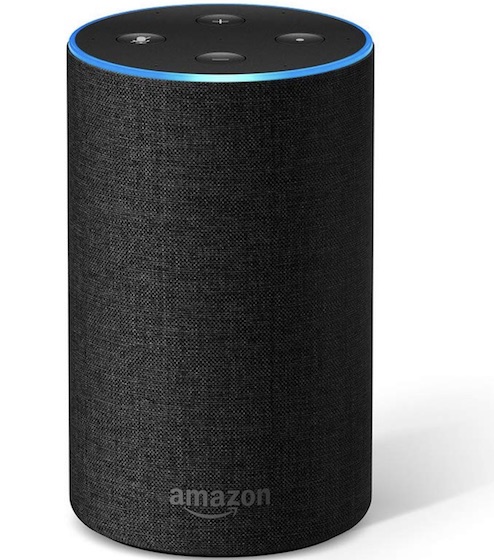 Buy from Amazon: $99.99
13. Graywind Motorized Roller Shade
Crafted with high-quality fabric, Graywind motorized shade is a premium offering. The professional-looking design is neatly complemented by the cloth texture which makes it more fade-resistant and durable. Being RoHS certified, it's also environment-friendly. The shade can be comfortably controlled by the companion app called Smart Life (iOS and Android). And yes, it also plays nicely with Google Assistant and Amazon Alexa so that you don't even need to use your device to control the shade.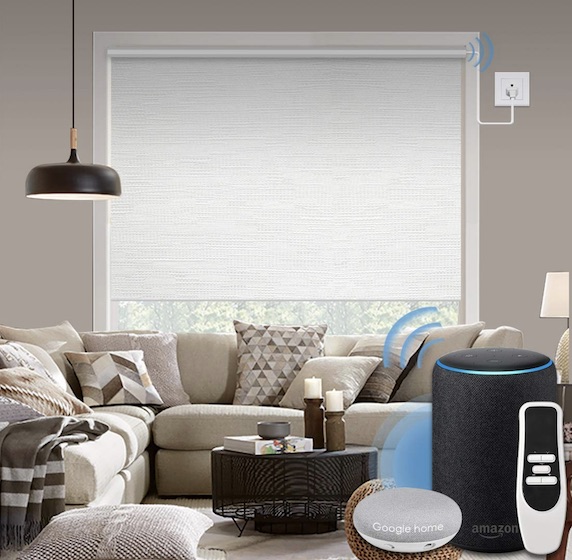 Buy from Amazon: $185.99
14. Soliom S90 Pro Security Camera
Wish to keep a track of your home or business from anywhere in the world? If yes, I would recommend you to keep Soliom's S90 Pro security camera in mind. The highlight of this camera is the built-in 10000mAh battery with 3 solar panels, which can fully power up the battery in 3-4 sunny days. Another feature worth taking note of is the 1080p full HD day time video quality. Featuring 5 layers of glasses lens along with handy LED lights, it's also up to the mark for recording fairly good quality video at night. And with the IP66 water-resistance it works even in rain. As far as pricing is concerned, Soliom's S90 Pro comes at $139 which is in the competitive category. But if you have set your eyes on a cheaper alternative, lZUMIMALL security camera ($79.99) would be one of the better contenders.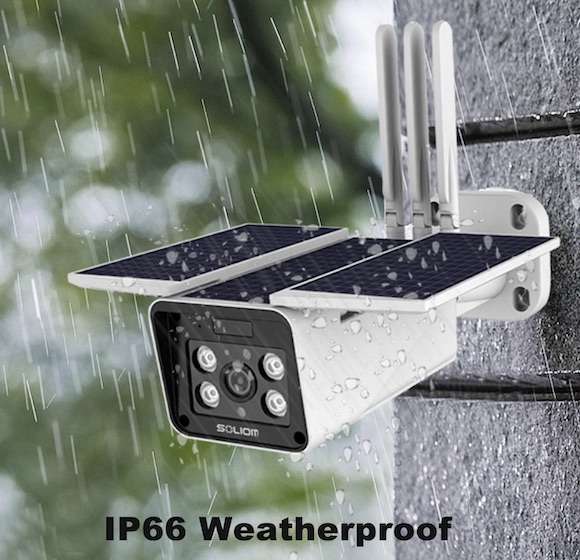 Buy from Amazon: $139
15. Philips Hue
While there is no dearth of smart light makers in the market, none can match the repertoire of Philips. And if you don't want to settle with anything less than the top-notch smart light, overlooking Hue wouldn't be wise. That's the reason why I couldn't miss out on this one. The hue white and color ambiance light requires Hue Hub (which is sold separately) and work with Amazon Alexa, Google Assistant, and Siri (via Apple HomeKit). One of my favorite features of this light is the aesthetic design that can adapt to any space. Plus, it boasts 16 million colors to make your room look dazzling.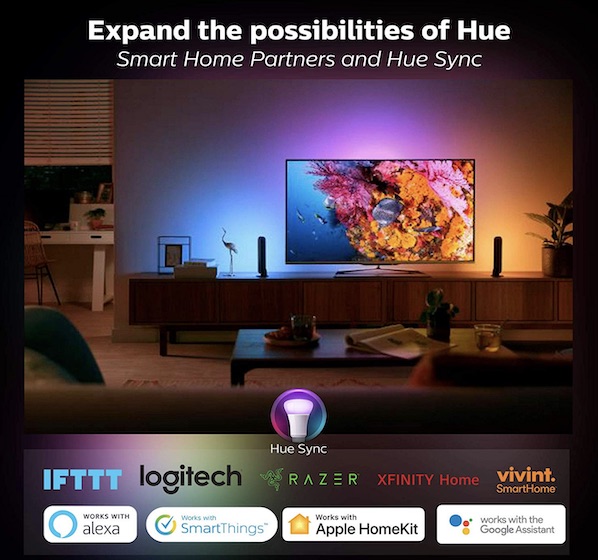 Buy from Amazon: $129.99 (pack of 2)
Examples of Internet of Things Technology
So, these are some of the vivid examples of the internet of things technology that exist today. I hope you have loved exploring them and also picked out some cool smart home devices to fully digitize your abode. But before you get entangled into daily chores, let me know your top technologies and what makes them so user-friendly. Also, tell us about the tech products that might be missing from this roundup.
---
Load More