The race to integrate AI (artificial intelligence) in everything is on. From having the best AI writing apps to Microsoft coming out with Bing AI, it's everywhere. Social media too, as it turns out, is not exempt. Snapchat is the first to join the race and has announced that it is rolling out its own AI chatbot, dubbed "My AI," capable of various things. So if you wish to take the AI experience everywhere with you, that's now possible. That said, let's learn everything there is to know about Snapchat's ChatGPT-powered My AI chatbot. So without delay, it's time to find out what the Snapchat AI chatbot is and what you can do with it.
Since we have covered a wide variety of topics regarding Snapchat's new AI, the information below is varied. Use the table below to sort it out and jump to the section that interests you.
What is Snapchat's ChatGPT 'My AI' Bot?
Called 'My AI', the new Snapchat chatbot is designed to bring the power of artificial intelligence to social media. This chatbot works like a chat companion. Snapchat users can use the new AI chatbot to talk about a variety of different things. However, it also contains additional features that lend it more power.
Snapchat My AI is based on OpenAI's GPT technology and likely uses the latest GPT 3.5 language model. Since it is based on the same technology, it works in similar ways to other ChatGPT-like apps. However, Snapchat mentions that the more the user interacts with the AI, the better it gets to know them. So yeah, the chatbot essentially evolves as you converse with it.
What Can Snapchat's 'My AI' Assistant Do?
Users can use the new Snapchat My AI bot as a conversation companion to pass their time. However, the new AI chatbot can do a variety of other things. My AI can plan trips, recommend birthday gift ideas, suggest recipes, write poems and haikus, etc. However, note that this is not a fully portable version of ChatGPT. Snapchat's My AI chatbot cannot write essays, blog posts, or do your homework for you. Since Snapchat AI is a like a companion, you can give it a custom name and even customize its chat wallpaper.
Moreover, it's also worth noting that Snapchat has made it clear that My AI is not perfect and very prone to errors. As the company puts it, the Snapchat My AI chatbot is "prone to hallucination and can be tricked into saying just about anything." This means you cannot rely on this bot as a primary means for information and should take its answers with a grain of salt.
How to Use Snapchat 'My AI' Chatbot on iOS & Android
The new Snapchat AI chatbot was initially available as an experimental feature to Snapchat Plus subscribers in the U.S. Users could sign up for Snapchat+ for as low as $3.99/ month. Snapchatters in other countries had to wait, but the company has now rolled out My AI bot access to everyone for free. You don't even need a Snapchat+ subscription to talk to the AI bot, which has already been deemed really annoying and creepy.
You will see "My AI" pinned under the app's "Chat" tab by default, right above your conversations with friends. To access My AI, simply swipe right from the "Camera" tab to access the "Chat" tab and try it out. The bot is currently in the experimental stages, and some of the features are only limited to Snapchat Plus subscribers.
How to Remove Snapchat 'My AI' From Your Chat Feed
If you're among a lot of users who are not interested in using Snapchat My AI, you can go ahead and disable the chatbot. You can unpin its chat and even remove it entirely. We already have a guide in place on how to get rid of Snapchat's My AiI bot from the chat feed. But, we've briefly explained how to remove the "My AI" conversation from your chat feed altogether here.
1. First, tap on your profile icon (or Bitmoji) in the top left corner. Then, tap on the "Settings" cog in the top right.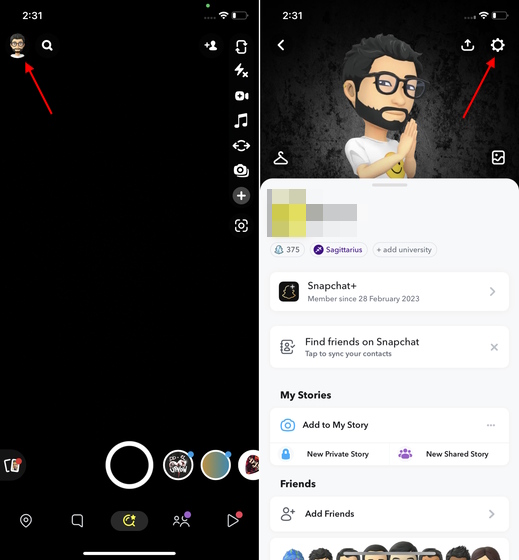 2. Scroll down to the "Privacy Controls" settings and tap on "Clear Data." Then, tap on "Clear Conversations" on the next page.
3. On the Clear Conversations page, tap on the "X" icon next to "My AI" to remove the chatbot from your chat feed. Note, the screenshot below is for your reference.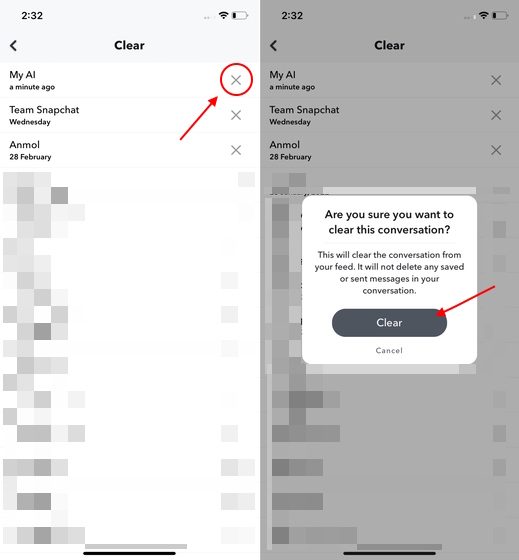 While initially limited, Snapchat Plus users across the world received access to this chatbot first. It is now widely available to all Snapchat users for free. It is interesting to see how Snapchat My AI is faring against some of the best ChatGPT alternatives. Well, what do you think about Snapchat adding an AI chatbot to its Gen Z messaging app? Drop your thoughts in the comments below.
Frequently Asked Questions
Does the Snapchat AI Chatbot Store Conversations?
Snapchat My AI does store your conversations in the chat tab. The records remain there until you delete them. While this might seem like a privacy concern, Snapchat servers are generally safe and your data should remain safe. Nonetheless, if you're not okay with this, you can follow the steps above to remove the Snapchat AI chatbot from your feed.
What Other Data Can It Access?
While Snapchat stores your interactions, it also stores your city-level location. The company claims this data will be used to improve the AI chatbot. This will also be used to improve the company's products and provide a more personalized advertising experience.
---
Load More