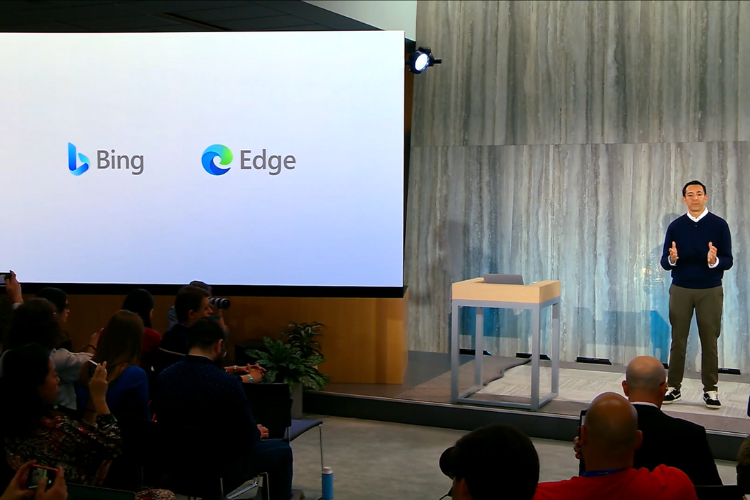 It's the season of AI. After Google introduced Bard as a ChatGPT rival, Microsoft finally revealed the new Bing-powered by ChatGPT and an elevated Edge experience. With the power of AI goodness added to the search engine, Bing will now receive a lot of added features; making life easier for everyone. Let's check out the details below.
MS Bing with ChatGPT Makes It a Co-Pilot for Web
Aimed at making the journey of Internet discovery easier, Microsoft has leveled up its search engine Bing by adding a next-generation language model. Speaking at a press event last night, the company claims that the new Bing is all set to become the user's "AI-powered copilot for the web." The new Bing is powered by a model more powerful than ChatGPT (GPT-3) and has been optimized for search. The company calls this combination of technologies its new "Prometheus model." This new search engine has been constructed with four different pillars to empower it which are 'Search, Answer, Chat & Create'.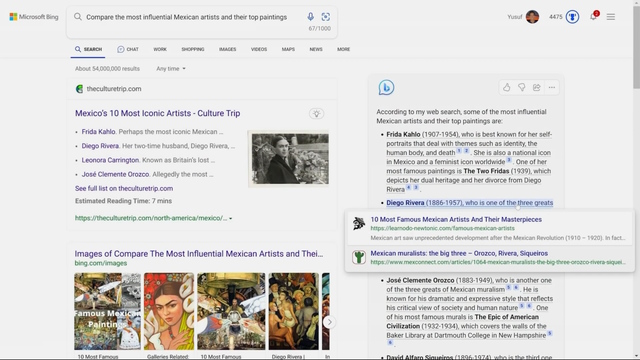 Microsoft has leveraged the power of AI and combined search with real-time AI results. The result is that now MS Bing will now have more relevant and up-to-date results with proper AI annotations. MS showcased the same when it displayed normal search results side by side with AI outputs with annotations. As can be seen, the ChatGPT integration adds the level of AI personalization users might have seen while talking to the bot.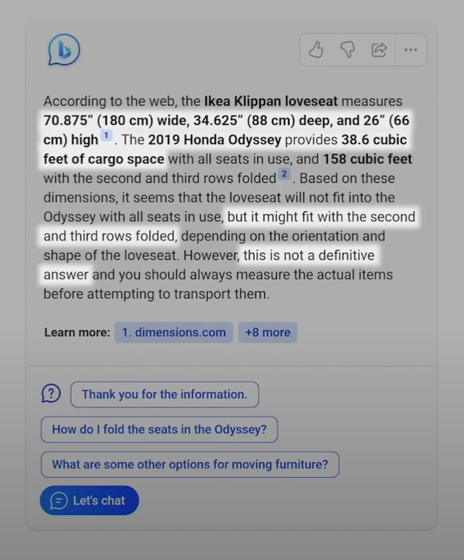 In Microsoft's presentation, this worked across a variety of search results; even in those where Bing wasn't sure of the answers. Since the new Bing AI naturally crawls the web, it was able to pull up accurate data and display results. However, since it wasn't sure of the answer, Bing also mentioned that the result might not be accurate. So, it would be wise to fact-check the answers you get from Bing AI.
Bing Chat Refines Queries for More Fine-Tuned Results
Besides the general search results being livened up, Microsoft has also released a dedicated "Chat" scope for the times you're unsure about Bing's answers or want even more precise results. Once the user searches for a query, they can click "Chat" and the AI results are moved to that window. Here, the user can chat with Bing to further discuss the results and input up to 2,000 characters.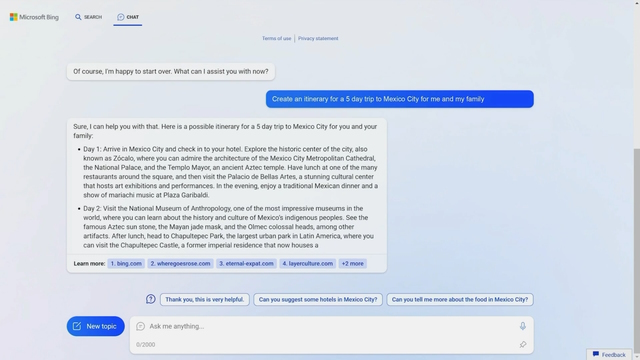 However, besides fine-tuning, Bing Chat can draw up well-researched and contextual AI results in almost every query. In the prompts we saw in Microsoft's demo, the chat feature managed to successfully plan trip itineraries, travel tips, and even workout schedules. The "Bing Create" feature can use the output information and tailor it to your requirements. With a few prompts, the new Bing will summarize the information in a concise manner for users to share with families, add relevant information, and get it ready.
Microsoft Edge Gets a Few Tweaks
While MS Bing has powered up with the help of ChatGPT, Edge hasn't been left behind in the dust. The ever-popular browser is also getting AI capabilities called Chat and Compose, which will be embedded into its sidebar.
The Chat feature will allow users to quickly summarize the webpage or document they're viewing and ask for information based on it. Edge Compose on the other hand will let users quickly generate text from a few selected prompts to write things like e-mails and posts.
MS Bing in Limited Preview; Will Come to All Users Soon
While fully announced, MS Bing is currently only available in a limited preview on desktop. However, users who want to join the hype and test out the new AI chat feature in Bing can join the waitlist right here. With Microsoft Bing soon to be out and Google Bard with its own AI, the race for the AI throne is surely heating up. It's only a matter of time before we see all the companies' products released and getting into a full-scale AI battle.
---