Adding on to its line of premium mid-range smartphones, Samsung recently launched the Galaxy A7 in India. Priced starting at Rs. 23,990, the all-new Galaxy A7 is the first smartphone from the company to feature a triple camera setup on the back which includes an 8MP 120-degree ultra-wide angle lens, another first for Samsung.
Compared to all the other mid-rangers Samsung launched this year, the Galaxy A7 definitely stands out, not only because of its triple camera setup, but also because of subtle design changes and its uniquely placed fingerprint scanner. The smartphone also packs a more powerful Exynos 7885 SoC, along with 4/6GB of RAM and 64/128GB of internal storage which can be expanded up to 512GB using the dedicated microSD card slot.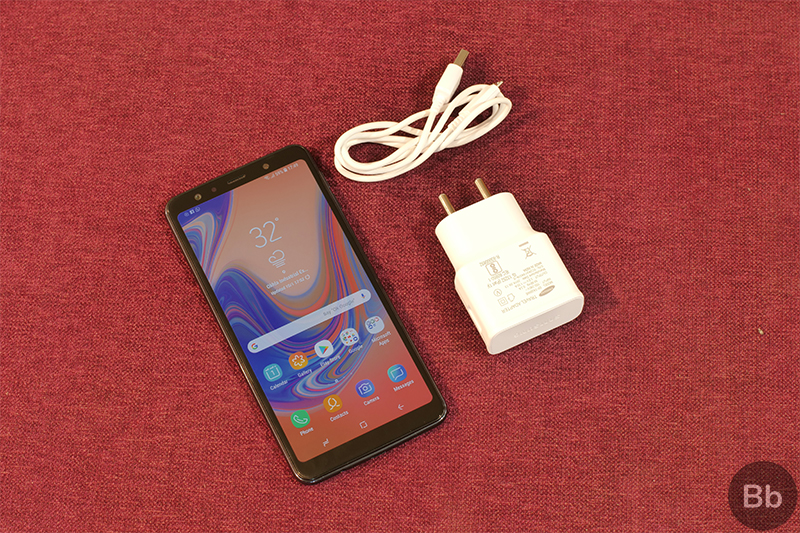 Powering the device is a respectable 3,300mAh battery, which isn't quite as large as the batteries found on the Poco F1 or the likes of Motorola One Power, but should offer enough battery backup to last through a full day of use. In order to find out exactly how the device performs when it comes to battery life, we put the Galaxy A7 to the test and here's what we found:
Charging Test
If you've been keeping up with our coverage of the Galaxy A7, you'd already know that the smartphone ships with a 5V/1.55A charging brick in the box which supplies power to the device using a USB Type-A to microUSB cable. Samsung hasn't clarified if the device supports fast charging and looking at the included charging brick we can easily assume that the device won't charge as fast as its competitors.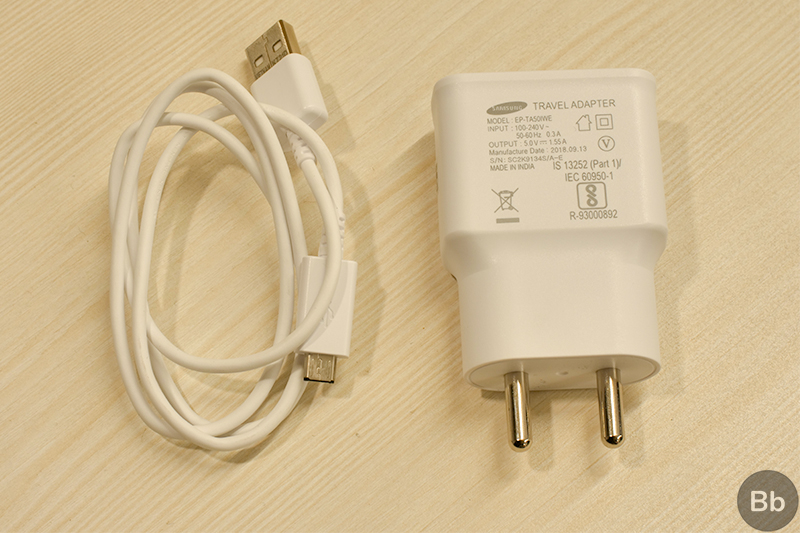 In our testing, the bundled 5V/1.55A charger managed to charge up the device from 10 percent to 50 percent in around 50 minutes, while taking a total of around 2 hours and 10 minutes to charge the device up to 100 percent. Compared to the Vivo V11 Pro, which has a similar sized battery, the device took over 40 minutes more to charge up to full, while taking around 30 minutes more to charge up to 50 percent.
I also tried to charge the device using the fast charger that comes with the Galaxy S9 Plus and I didn't notice any difference in charging times, which leads me to believe that the smartphone doesn't support fast charging.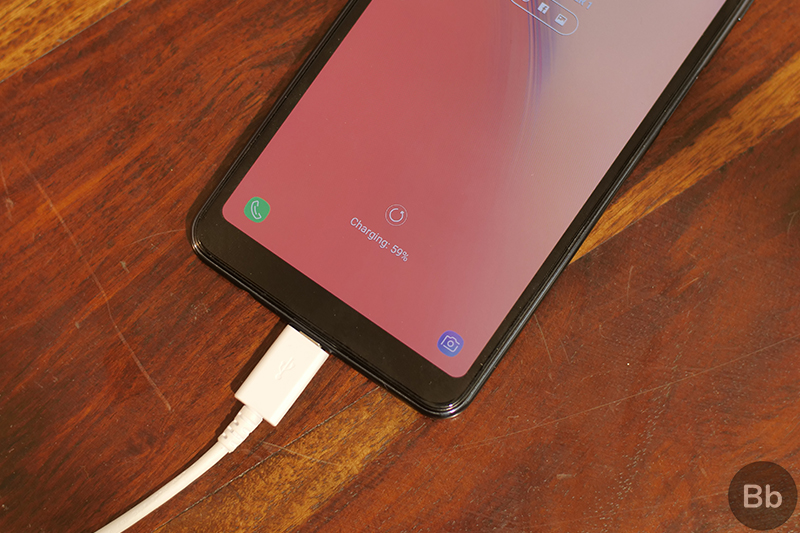 This brings us to the conclusion that the Galaxy A7 isn't as good as its competition when it comes to charging times and won't be a suitable buy for anyone who prefers short top ups throughout the day, instead of charging up the full battery in one go.
Battery Life
Talking about the battery life, the Samsung Galaxy A7 fared quite well in our testing, thanks to the more battery friendly Super AMOLED display and decent software optimizations. In order to get a more accurate idea of the Galaxy A7's battery life, we put the device through two different use case scenarios – one with a normal workload and one with intensive use. Here's what we found:
Normal Workload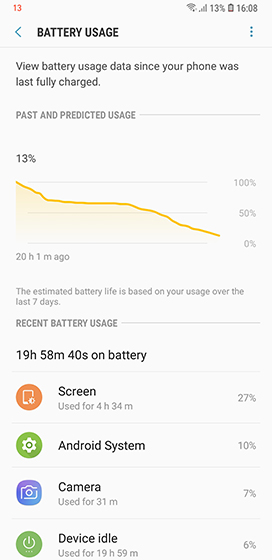 With a normal workload, which consisted of some light web browsing, listening to music, playing a game or two and the usual calling and texting, the Galaxy A7 comfortably managed to last a full day. The device managed to muster up a screen-on time of around 4 hours and 30 minutes with around 13 percent battery left at the end of the day. The device lasted a total of 20 hours from the beginning to the end of our testing. While the numbers may not seem as impressive as those posted by smartphones packing a 4,000mAh battery, the Galaxy A7's battery performance isn't bad by any means and it'll definitely last you a full day without requiring you to top it off periodically.
Intensive Workload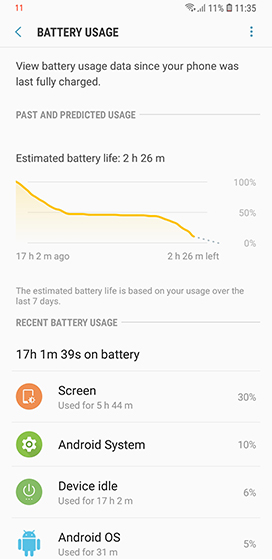 Under an intensive workload, which included running several benchmarking apps, watching a whole lot of videos and playing several matches of PUBG Mobile, the Galaxy A7's 3,300mAh battery fared quite well. The device was able to manage a screen-on time of 5 hours and 44 minutes, with about 11 percent battery remaining at the end of the day. The device lasted a total of 17 hours from the beginning to the end of our testing. In comparison with the Vivo V11 Pro, which has a slightly larger 3,400mAh battery, the Galaxy A7 managed to deliver around 45 minutes more screen time. I was quite impressed with the Galaxy A7's battery performance and would definitely recommend it to anyone looking for a device that offers great battery life.
Samsung Galaxy A7 Battery Life and Charging Test: Great Battery Life But No Fast Charging
In conclusion, the Samsung Galaxy A7's 3,300mAh battery is quite substantial for any kind of workload and if you've been meaning to buy the device you should definitely go ahead without worrying about any battery related issues. However, do keep in mind that the Galaxy A7 doesn't include fast charging support and the included 5V/1.55A power brick won't be able to charge up the device as quickly as you might want it to. In case you still think that the 3,300mAh battery on the Galaxy A7 just isn't enough, you can also opt for the Poco F1 which packs in a larger 4,000mAh battery or perhaps the ZenFone Max Pro M1 or Motorola One Power, which pack in a massive 5,000mAh battery.
Buy from Flipkart (Rs. 23,990)
---
Load More