Chinese smartphone manufacturer Vivo's latest mid-ranger, the Vivo V11 Pro (Rs. 25,990), has just been released in India. The device packs in a Qualcomm Snapdragon 660 SoC, coupled with 6GB of RAM and 64GB of internal storage. However, unlike other mid-range devices in the market, the Vivo V11 Pro packs a few features that are usually limited to flagship devices. The V11 Pro features a 6.41-inch Super AMOLED display, an in-display fingerprint scanner and IR-assisted face unlock, which distinguish from every other mid-ranger in the market.
The Vivo V11 Pro is backed by a respectable 3,400mAh battery, which isn't quite as large as the batteries found on the Poco F1 and the Redmi Note 5 Pro, but offers significantly more battery backup than the Nokia 6.1 Plus and the Xiaomi Mi A2. So, in order to find out exactly how the device performs when it comes to battery life, we put the Vivo V11 Pro to the test. Here's how the device performed in our testing:
Charging Test
The Vivo V11 Pro comes with support for Vivo's Dual-Engine fast charging technology and comes with a 9V/2A fast charger in the box. In our Vivo Nex review we found that the company's Dual-Engine fast charging technology seems gimmicky but works quite well. So we were quite hopeful with the implementation in the Vivo V11 Pro as well.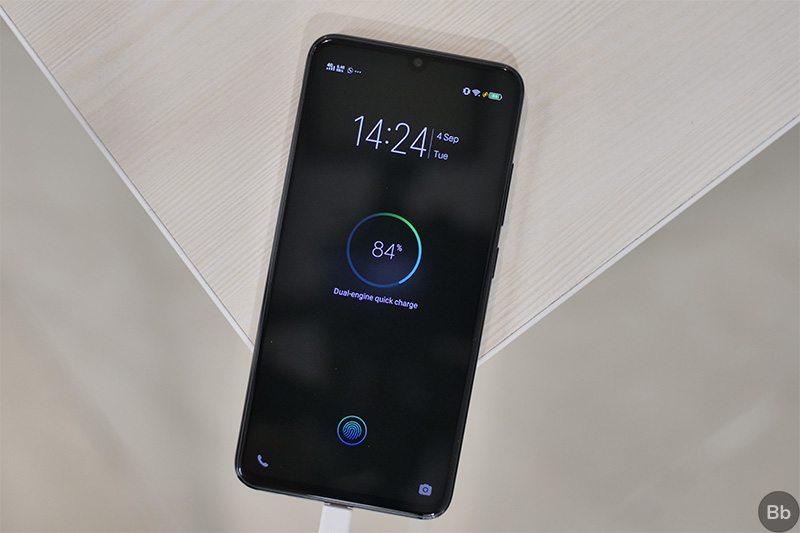 In our testing, the bundled 9V/2A charging brick took just 1 hour and 30 minutes to charge up the device from 15 percent to 100 percent and just 21 minutes to charge it up to 50 percent, which is honestly quite impressive. While Vivo's fast charging technology may not be as fast as something like OnePlus' Dash Charge, it's still quite fast and will definitely come in handy in case you need to quickly top up the battery in an emergency.
Battery Life
Talking about the battery life, the Vivo V11 Pro fares quite well in our testing and nearly outperforms other mid-range devices with larger batteries. That is a result of the smartphone's exceptional standby time, as the device aggressively conserves battery while it's not in use. In order to get a fair idea of the Vivo V11 Pro's battery life, we put the device through two different use case scenarios – one with a normal workload and one with intensive use. Here's the Vivo V11 Pro performed:
Normal Workload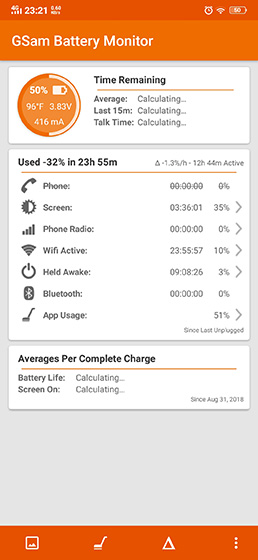 With a normal workload, which included some web surfing, listening to music, playing a game or two and the usual calling and texting, the Vivo V11 Pro comfortably managed to last a full day, with enough charge left to last another half work day. The device managed to deliver just over 3 hours and 30 minutes of screen-on time with a normal workload and it still have 50 percent battery remaining at the end of the day. Combined with the power-sipping Super AMOLED display, Vivo's aggressive battery conservation optimizations result in great battery life. I was quite impressed by the device's performance under a normal workload.
Intensive Workload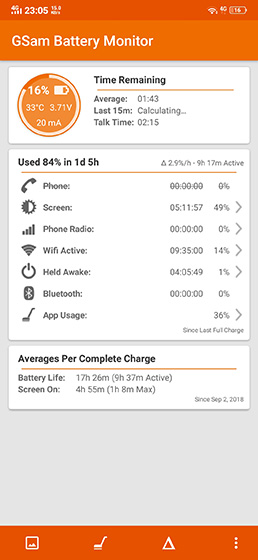 Under an intensive workload as well, which included running several benchmarking apps, watching a whole lot of videos and playing several games of PUBG, the Vivo V11 Pro's 3,400mAh battery fared quite well. The device was able to manage a screen-on time of just over 5 hours, with about 16 percent battery remaining at the end of the day. This time around, since I didn't give the device any breathing room to enter the doze mode, it wasn't able to keep up with its performance under a normal workload. However, I was still quite impressed with the battery life and I would definitely recommend the Vivo V11 Pro to anyone looking for a device that offers great battery life.
SEE ALSO: Vivo V11 Pro Camera Review: Impressive Portrait Mode Capabilities

Vivo V11 Pro Battery Test: Good Battery Life with Great Standby Time
In conclusion, the Vivo V11 Pro's 3,400mAh battery is quite substantial for any kind of workload. The device can easily last a full day under heavy workload and you wouldn't face any problems with the device's battery life, even if you're on the phone all the time. However, if you still feel that the 3,400mAh battery isn't enough for you, you can check out the Poco F1 which packs in a larger 4,000mAh battery or the ZenFone Max Pro M1 which packs in a massive 5,000mAh battery.
Buy from Amazon: (Rs. 25,990)
---
Load More