Motorola has pulled up its sleeves to compete in the highly competitive mid-range segment in India and the newly launched Motorola One Power is what the company thinks will grab the attention of the users drooling over performance and longevity. The massive battery on the Motorola One Power, which besides Android One affiliation also gives the device its title, is set to generate sufficient attention for the brand and also help former Motorola enthusiasts and users live up to their love for the brand. So, is the new Motorola One Power, priced at Rs. 15,999 worth buying? Is the smartphone that will bring Motorola back to the fore in the Indian market? Let's find out in our Motorola One Power review.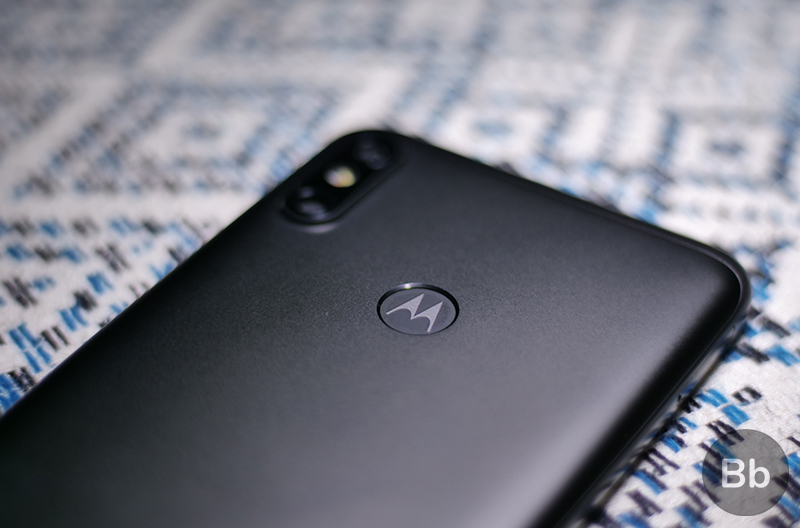 We shall see in the forthcoming sections whether the Motorola One Power lives up to these claims and the phonemaker's confidence or not, so let me start with the specifications of the smartphone.
Motorola One Power Specifications
On paper, the Motorola One Power appears to house some solid specifications, including the tried-and-tested combination of the Snapdragon 636 along with 4GB RAM which is preferred by many other manufacturers. Here's what the device offers in terms of its hardware:
| | |
| --- | --- |
| Dimensions | 156 x 76 x 8.98 mm |
| Weight | 205 gm |
| Display | 6.2-inch FHD+ LCD with notch |
| Processor | Qualcomm Snapdragon 636 |
| GPU | Adreno 509 |
| RAM | 4GB |
| Storage | 64GB |
| Primary Camera | 16MP f/1.8 + 5MP f/2.2 with PDAF |
| Secondary Camera | 12MP f/2.0 |
| Battery | 5,000mAh |
| Operating System | Android 8.1 Oreo (Android One) |
| Sensors | Fingerprint sensor (rear mounted), accelerometer, gyro, proximity, compass and e-compass |
| Connectivity | 802.11 a/b/g/n/ac WiFi, Bluetooth 5.0 EDR, A-GPS, GLONASS, and Galileo |
What's in the Box?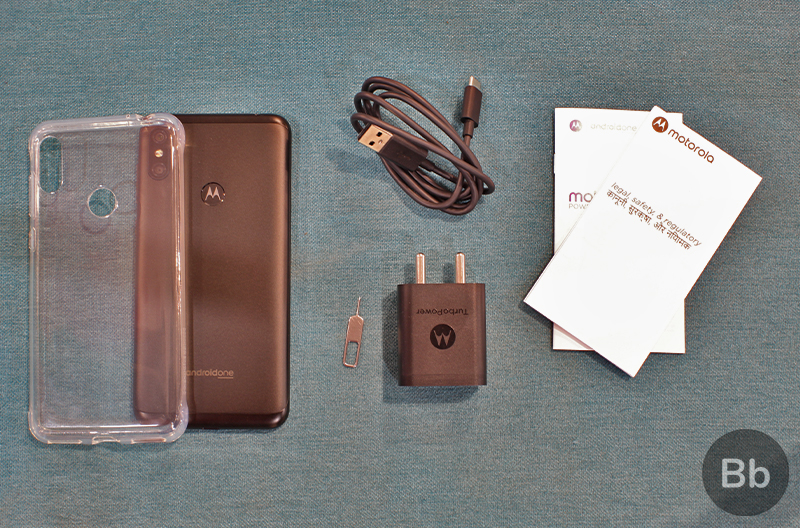 Inside the box, the Motorola One Power comes neatly rested, already clad in a protective TPU case. Besides the amazing quality of the cover, there's nothing extraordinary in the package and this is what it contains:
Motorola One Power handset
18W TurboPower charging brick
USB-C cable
SIM ejector
Protective TPU case
User manuals and warranty literature
Design and Build
In a bid to revive its lost popularity, Motorola has attempted to check all the essential boxes and a good build quality is one of them. The device feels very durable and solidly built, with its metal casing promises a trustworthy design. But with that said, the design has been kept very minimal – presumably to keep the manufacturing woes away. Initially, the Motorola One Power feels noticeably heavier than most devices in its vicinity if you consider the price. However, over time that is something, you'll get used to.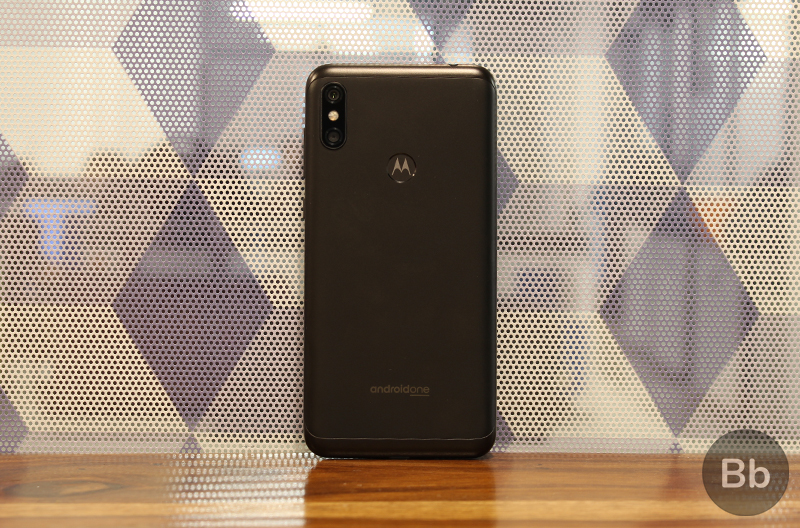 A plastic band runs along the edges and masks the upper and lower ends of the back side and this is probably to ensure that the signal strength is good. The volume rocker and the power button are placed on the right edge of the phone and feel like they're almost flushed within the surface. These buttons have a shallow travel and while they're clickly and tactile when you press them mindfully, they feel somewhat troublesome in normal usage. This experience might deteriorate further if you use a case or cover.
Motorola One Power does not attempt to be flashy and it does that very well. On the back, there's a 16MP+5MP setup with a design that has been ruthlessly imitated form the iPhone X. The iconic Moto logo is printed over the rear-mounted fingerprint sensor, which sits next to the camera. Much lower, you'd find an Android One branding.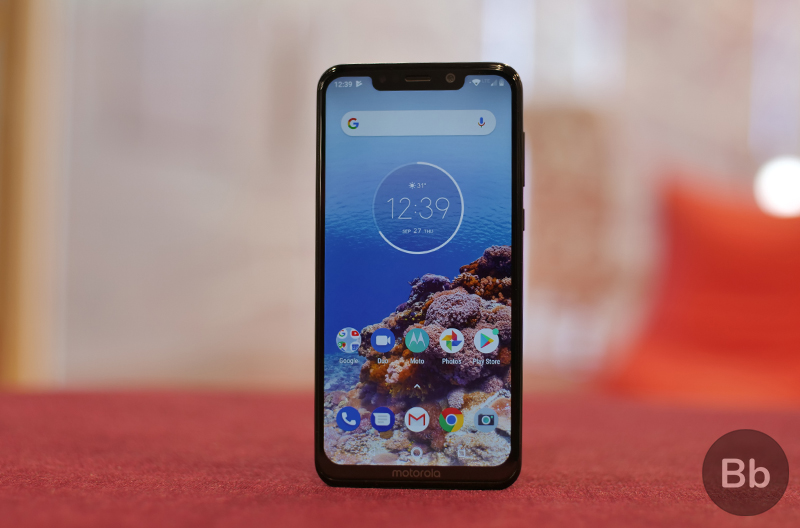 On the front, there's a 6.2-inch display with curved corners that remind me of the edges on the Poco F1. Yes, you get a notch too which is almost as wide as the Mi 8 or the Poco because Motorola used the space to add a selfie flash. To protect the display, the company has covered the display under Gorilla Glass 3. Further, the edges of this display are not chamfered and the tapering end is curved to give an easy grip within the palm. The fact that Motorola has paid attention to small details like these reaffirms my faith in the brand.
The bottom edge houses a single speaker – although there are two grilles – along with the USB type-C jack. The addition of USB-C is a welcome addition at this price point. On the top, you get a noise-canceling microphone and Motorola has ensured complete user-friendliness by keeping the headphone jack. Lastly, on the left side, you get a three-slot SIM Tray which can accommodate two SIM cards and a Micro SD chip, all at once.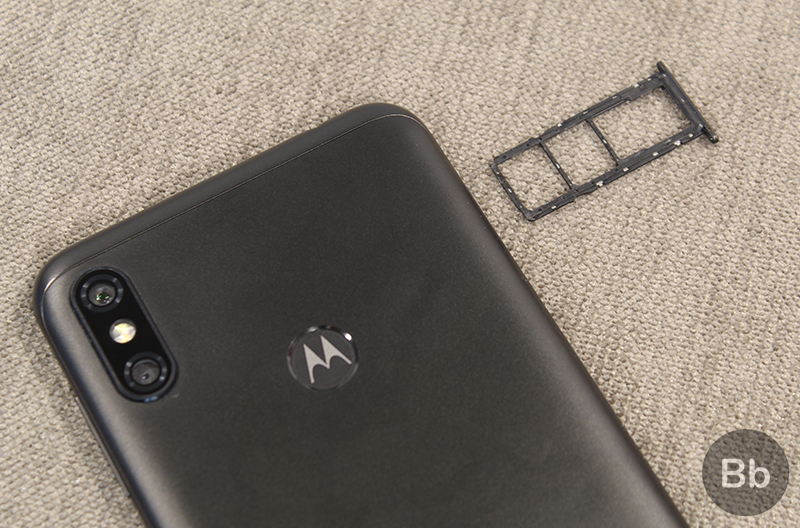 Motorola has attempted to check all the essential boxes and a good build quality is one of them.
Motorola One Power lacks NFC and Wireless charging but that is not expected for this price either. Overall, the smartphone's minimal and sturdy design adds a sense of durability and gives you assurance about its long life. The weight of the smartphone that is something that might batter down the experience for a few users but over the last one week of its usage, I've gotten much used to it.
Display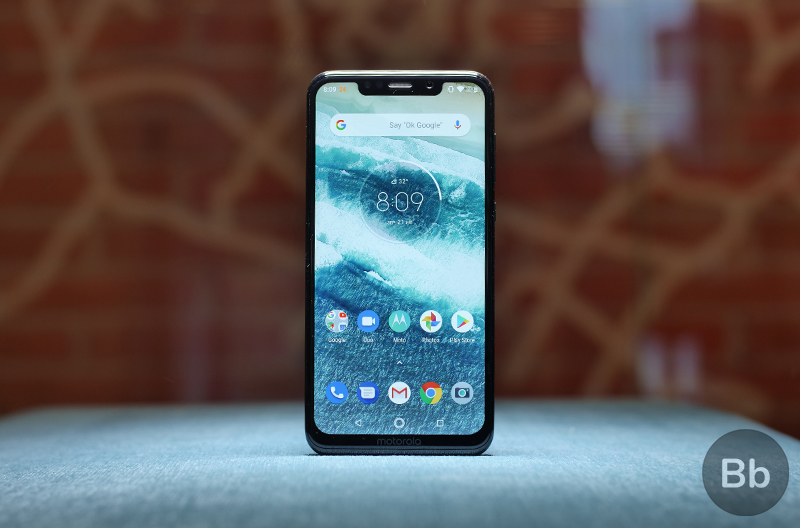 With the 6.2-inch Full HD+ display, Motorola has taken a leap over the smartphones it released earlier this year, including the Moto G6 series. This is because Motorola One Power is the first device from the company which comes with a notch and it's great to see Moto start the trend with the budget segment itself.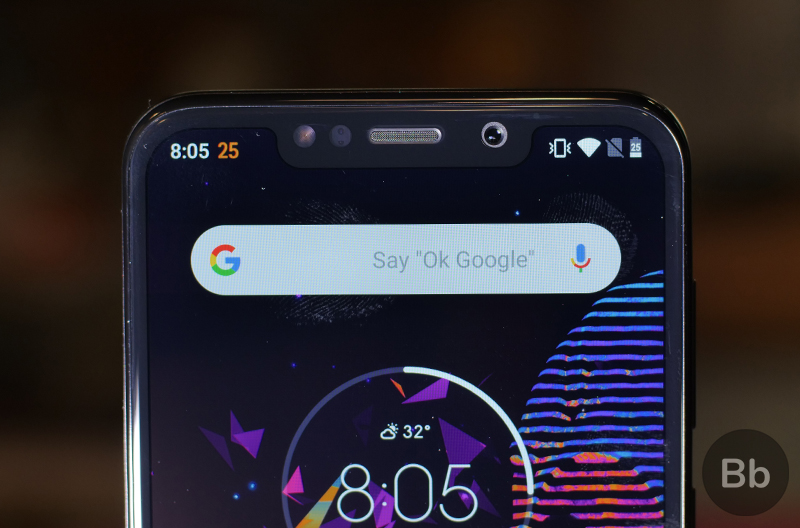 The display gets a resolution of 2246 x 1080 pixels, leading to a pixel density of 404ppi. The display is crisp to read without any visible signs of distortion. The colors on the display are pretty much accurate – although there is a bluish tint which gives a cool color texture and decent contrast. Within settings, you can choose if you want the colors to be warmer or cooler and also boost the contrast. Under bright sunlight too, the display is very easily readable but the coating over the display makes it reflective when looking from slanting angles.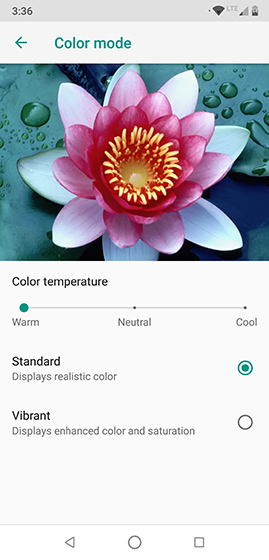 The display is fairly responsive but one can easily observe the screen bleeding along the edges, as we see with other LCD and the recent culprit of this issue was the Poco F1.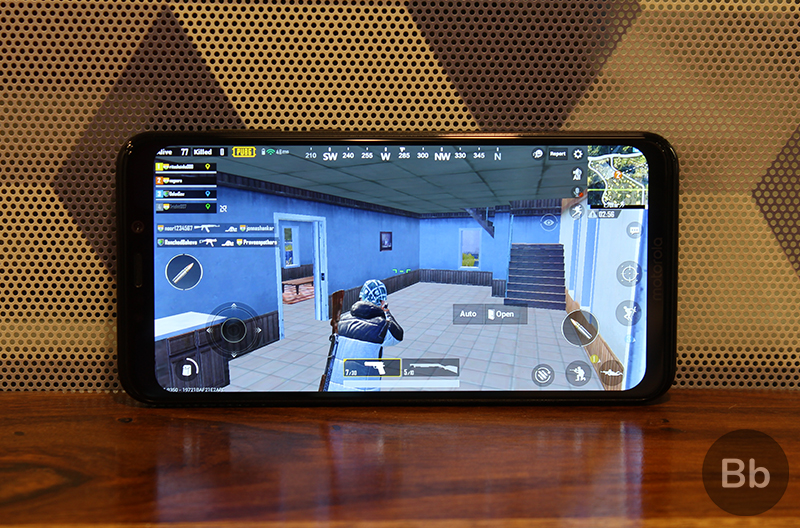 Overall, the screen makes up for a palatable experience and I enjoy the large display over those on the Nokia 6.1 Plus and the archaic-looking Mi A2. I am not too fond of the super round corners but Motorola has done an appreciable job of optimizing the upper edge to cohere with the lower one and appear absolutely symmetric while gaming or watching videos.
Performance
The Motorola One Power draws its vigor from a Snapdragon 636 which is paired to 4GB of RAM. This setup is a common sight in the price segment and has been battered a lot of manufacturers by especially Xiaomi. This is also because the 636 is one of the chipsets which offer a balance between performance and power consumption with four high-frequency and four low-frequency cores. We've seen the same setup on many of this device's competitors including Nokia 6.1 Plus, Redmi Note 5 Pro, and Asus Zenfone Max Pro M1.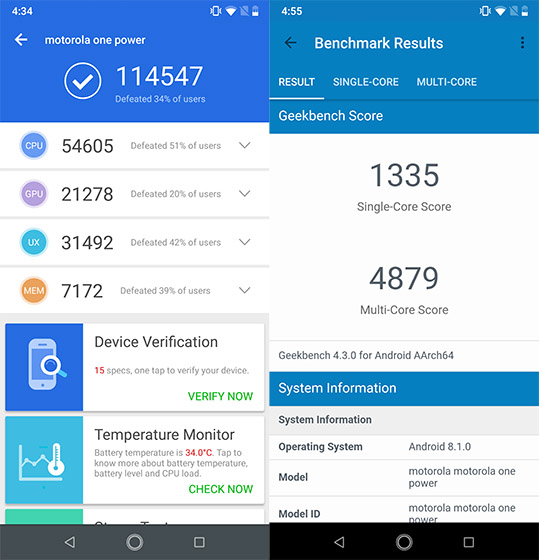 In terms of benchmarks, Motorola One Power does have average scores and nothing more can actually be expected from the device at this price. Both AnTuTu and Geekbench scores are close to its closest rival spec-wise i.e. Redmi Note 5 Pro. Notably, the utilization of stock Android does not make any observable difference but I expect Android Pie update to improve these numbers.
In terms of gaming, there's nothing exceptional either. I was able to play moderately heavy games such as SBK16, Dead Trigger 2, Guns of Boom, War Wings, Nitro Nation 6 etc. without facing any lag. On graphics-heavy games such as Asphalt 9, the visuals take a hit because of the Adreno 509 GPU.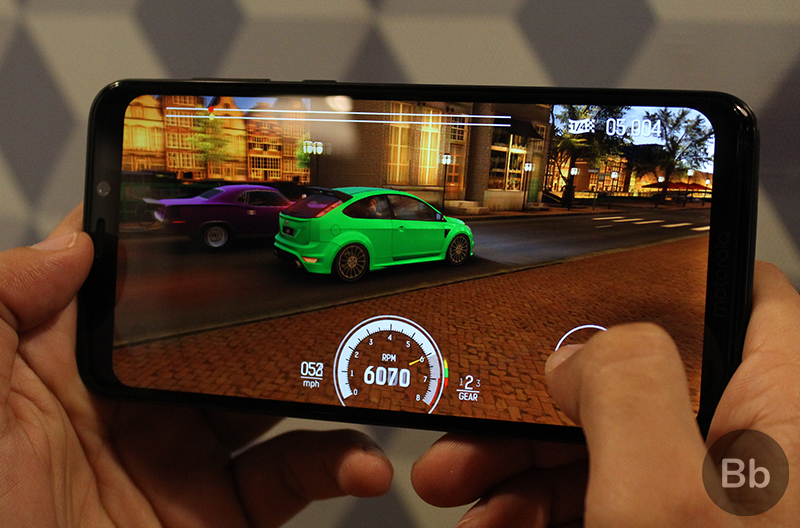 On PUBG Mobile, the default graphics are set to Low, but the game runs fine without any observable frame drop on Medium graphics. There is no option to choose higher graphics and honestly, you would anyway regret trying that on a device which packs in Snapdragon 636.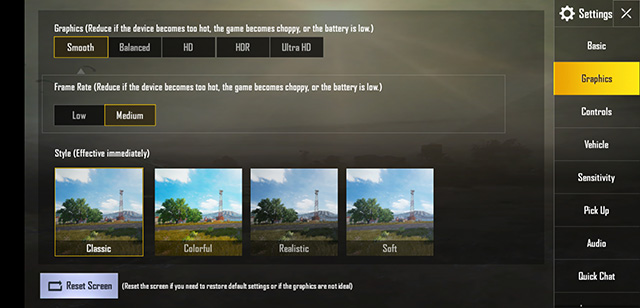 Overall, I see no UI lag during daily operations or launching apps. However, there is a visible lag when unlocking the smartphone using the fingerprint and this raises a false alarm of misalignment with the sensor. This issue holds true only when you the display is not already on and the fingerprint unlocking is rather quicker when you're on the lock screen. While I could not figure out the exact reason behind the issue, I was assured by the company's Product Manager that this will be ironed out via an update.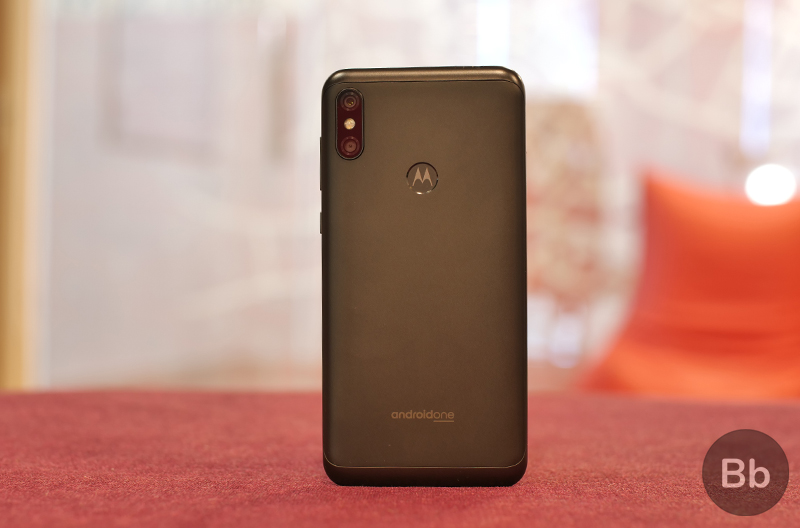 Even though facial authentication at this price point is not very reliable, it is a handy feature and is becoming fairly popular among manufacturers making devices for this segment. For instance, Realme 1 came without a fingerprint scanner but it had face unlocking. However, Motorola has chosen to skip the face unlock option and this could be because it wants to maintain a nearly stock experience – although rival Mi A2 also has the feature despite also being on Android One program.
Motorola One Power packs in an impressively loud bottom-firing speaker. Using the speaker on full inside public transport could earn you loathing if not a penalty. But its loudness will also allow you to be the center of attention for any party. Besides the loud speaker unit, the One Power also features a headphone jack over which the quality is good enough.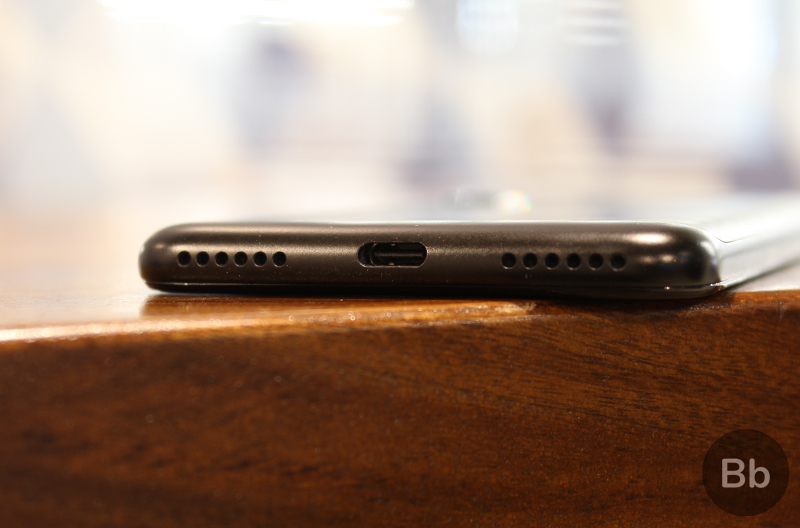 Surprisingly, the USB-C port does not support audio playback but there's Bluetooth 5.0 which means you can get better connectivity. However, the smartphone neither supports the option to connect two Bluetooth audio devices at once.
Motorola took note of the issue that caused severe criticism for the Poco F1, especially in countries where over-the-top video watching is more popular in India. Since the Motorola One Power is certified for Widevine L1, which means you will be able to watch HD videos on apps like Netflix, Hulu, Amazon Prime Video, Google Play Movies, and other subscription-based services. This wasn't expected from Motorola considering the price and the addition comes as a pleasant surprise.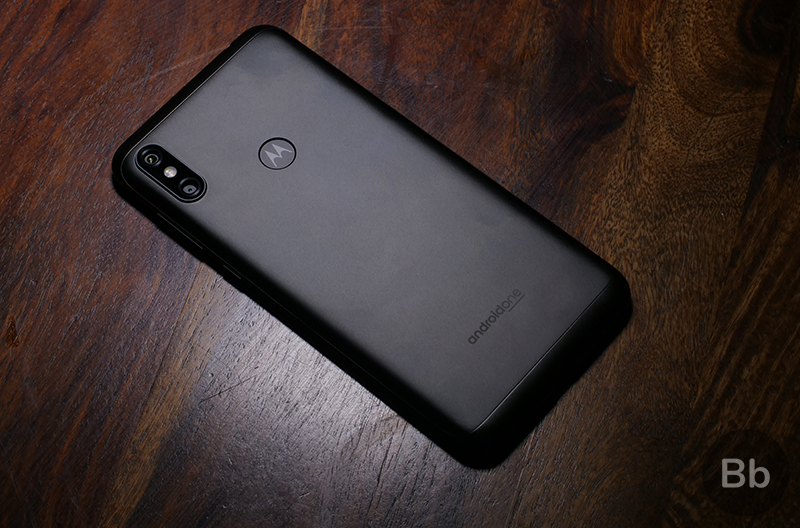 Overall, I find the Motorola One Power living up to the expectations in terms of performance, looking at the price. I'm able to use most apps and play common games without any cutbacks in the entertainment experience. This is also because the notch is optimized for games and the only issue I wish Motorola would – and has promised to – fix is the speed of the fingerprint scanner.
Cameras
The Motorola One Power has been blessed with a dual camera setup which packs in 16MP and 5MP primary and secondary sensors, respectively. On the front, there lies a 12MP sensor and to illuminate selfies in low-light, you also get a selfie flash. After fiddling with the camera for almost a week, I've come to have some affection for the Motorola One Power's camera but not very pleased with its low-light performance and the bokeh mode.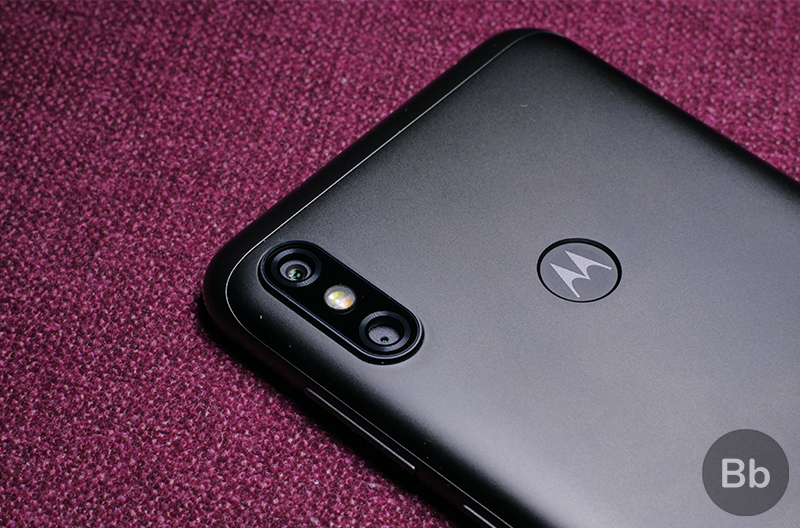 In conditions of sufficient lights, the Motorola One Power picks up good colors and most often keeps them close to the natural shades. There a good balance between the details and the amount of exposure in the pictures when they're snapped under daylight and this is even true when the weather is not very sunny. Here's a look at the performance of the camera.
When it comes to HDR, the images turn warmer and closer to a yellow tint without any significant loss in the detailing of the image. The warmth also results in higher saturation in the images.
If you're planning to invite the Motorola One Power back home for a coffee, beware to not be fooled by its macho image. While in under sufficient lighting indoor, the camera does pretty well but as the light falling on the sensor decreases, the image quality reduced significantly as well.
While the One Power does better than peers under strong lighting indoors, it's ability to focus cripples with the fall in exposure, to the point that some shots are just okay-ish. So if you're someone who likes to share every moment of their lives on social media, take note that the Motorola One Power can disappoint you with its night photography capabilities. Selective shots, however, come out to be fine.
If you're buying a phone primarily for images with DSLR-like bokeh effect, the Motorola One Power is not for you. This is due to the smartphone's limited capacity of reading edges accurately – although the details are more or less retained. When clicked in low light, portrait shots are usually overblown with exposure and faces often turn out redder than usual skin tone.
While I'm not very confident, I hope Motorola takes a serious look at the issue and fixes it.
The Motorola One Power is surely a delightful proposition for those embracing self-love. Under daylight or sufficient indoor ambiance, selfies have good details and are mostly clear. If you look closely, however, you would be able to catch signs of noise which would not stop you from Instagramming these selfies.
The same low-light treatment can also be seen on selfies with a moderate amount of details and a lot of noise. To beat that you can try using the selfie flash which actually works as a flash and not as a torch.
You can also capture bokeh selfies but just like the portrait mode in the rear camera, the bokeh shots using the one on the front are not very appealing, especially because of poor detection of edges.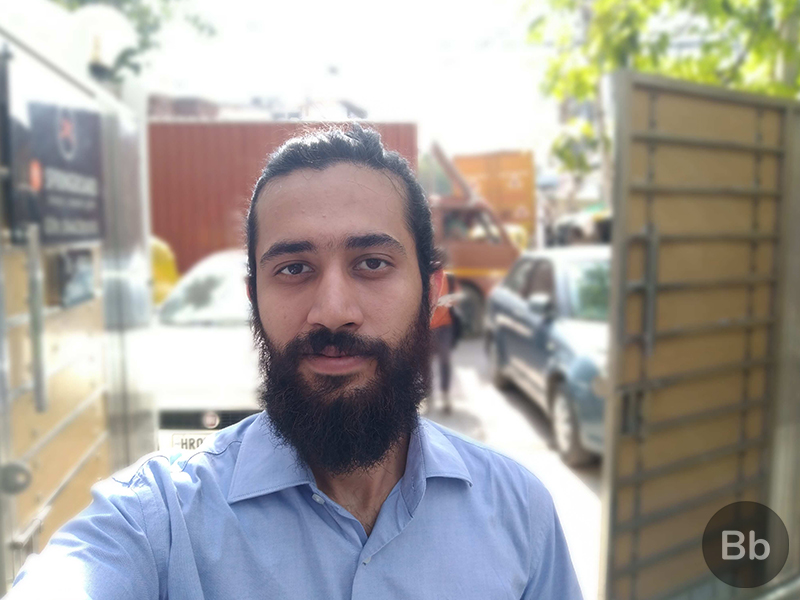 With the ability to capture videos at up to 4K resolution, capturing 30 frames every second, the Motorola One Power joins the league of mid-rangers with this facility. However, the lack of any form of image stabilization means that your 4K experience will be shaky. The colors are usually good but you might have trouble focusing on moving objects or have a shaky video if you're moving. Motorola also gives you a post-record stabilization feature but it does not change things very much.
Here are two sample 4K videos captured with the Motorola One Power without and with the stabilization applied:
Comparison with Mi A2 and Redmi Note 5 Pro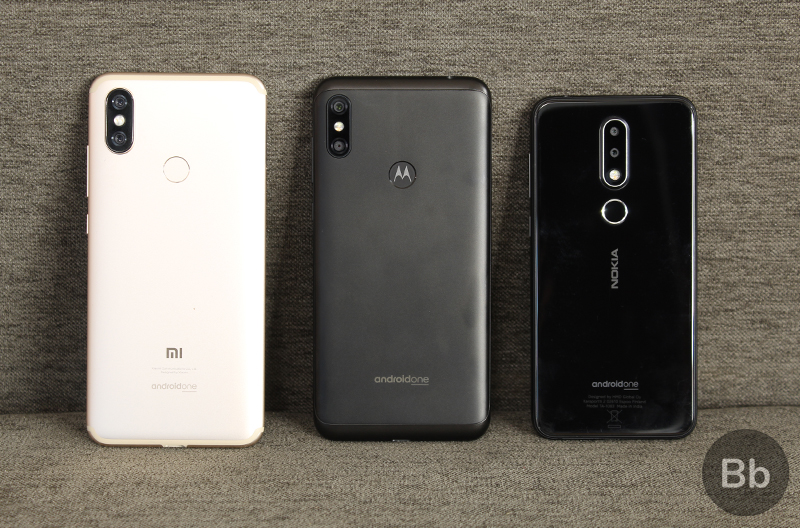 I took the three smartphones for a trip to a nearby to capture the true colors of nature and found the Mi A2 to be outweighing the Motorola One Power and naturally, the Redmi Note 5 Pro.
However, Motorola clicks more accurate shots indoors in terms of the reproduction of colors.
Motorola takes a marginal lead in terms of the details in a portrait shot but the Mi A2 snatches it back in terms of the overall quality of the images.
The One Power also suffers when taking portrait shots in low-light with the Mi A2 making a much more compelling case.
Coming to selfies, Mi A2 is the leader here too with better details and crisper bokeh shots. While the Motorola One Power is better than the Redmi Note 5 Pro, it does not stand a chance against Mi A2.
You can learn more in our detailed camera review and comparison for Motorola One Power.
Software
As the first device under Google's Android One affiliation program, the Motorola One Power get a fresh and bloat-free version of stock Android. The device flaunts Android Oreo 8.1 with the security patch from August. The only over-the-top software that I found on this device is for Moto's popular gestures for the flashlight and the camera – doing a chopping gesture twice toggles the flashlight and twisting your wrist twice can open the camera.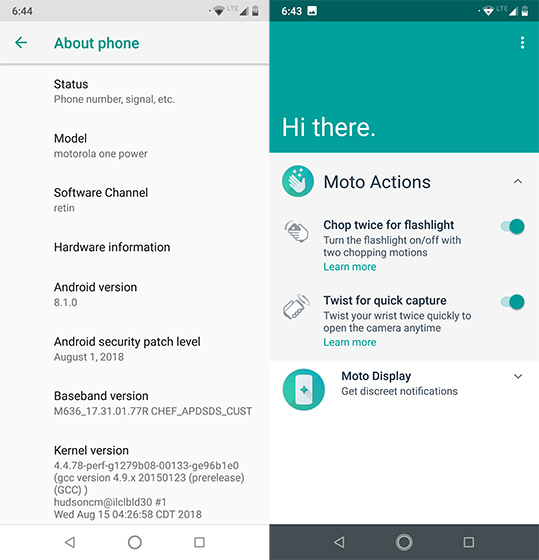 Besides this, there's also a feature to enable the Moto Display which is a highly optimized version of ambient display and Motorola provides on all of its smartphones irrespective of the technology used for the display. The feature also allows Moto to rid away with the notifications LED and is very interactive and user-friendly.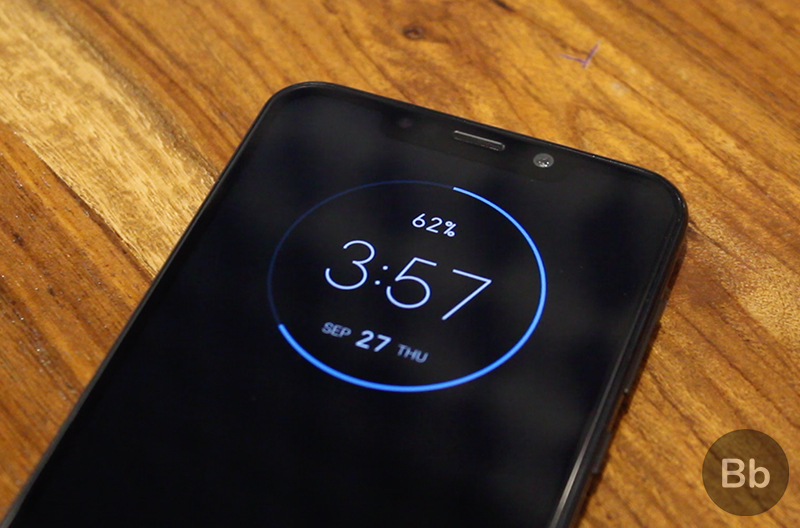 Lastly, Motorola has promised that Android Pie will arrive later this year while an Android Q update is awaited to come next year. Besides this, users will receive Google security patches regularly for the next three years and get unlimited access to Google Photos cloud storage.
Battery
The battery on the Motorola One Power is among its leading highlights and has actually left a very good impression on me. With a 5,000mAh capacity, the battery can easily endure through the toughest and meanest of treatments and still manage to last longer than a day and a half, after being used strenuously.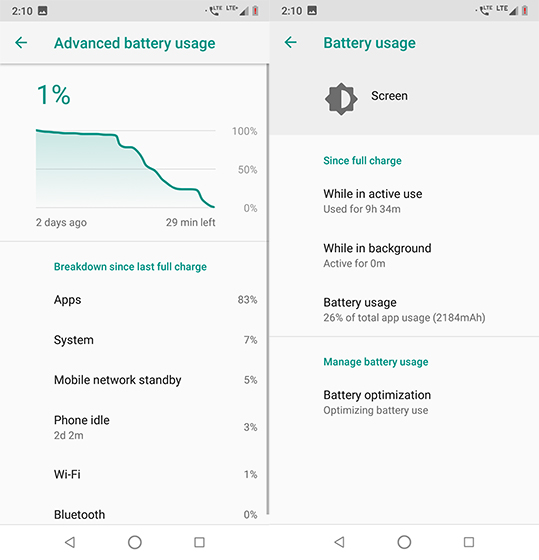 On moderate usage, the Motorola One Power lasts well over two days with over nine hours of screen-on-time (SOT). By straining the device slightly more, I could easily get over 12 hours of SOT and a backup of overall 34 hours on a single charge. Lastly, after continuously hunting for a chicken dinner in PUBG Mobile for three hours, the battery dipped only 23% which means that the phone should easily last for more than 12 hours of intense mobile gaming.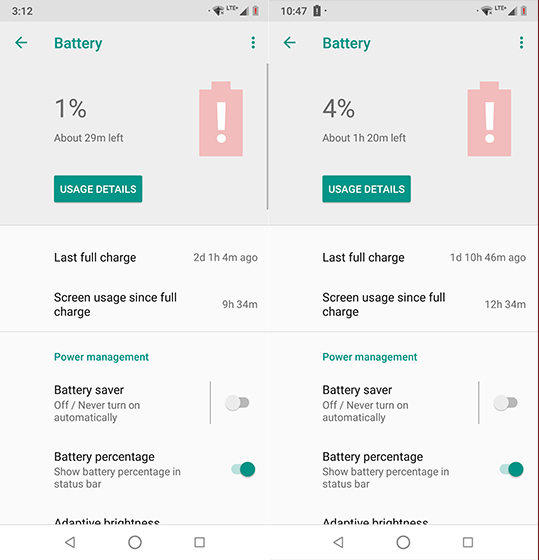 What makes this proposition even better is the 18W Turbo charger bundled with the Motorola One Power. As we noted in our extensive battery test of the Motorola One Power, the charger takes slightly over two hours to charge the large battery fully and even 45 minutes of charge can give you a day's worth of mileage.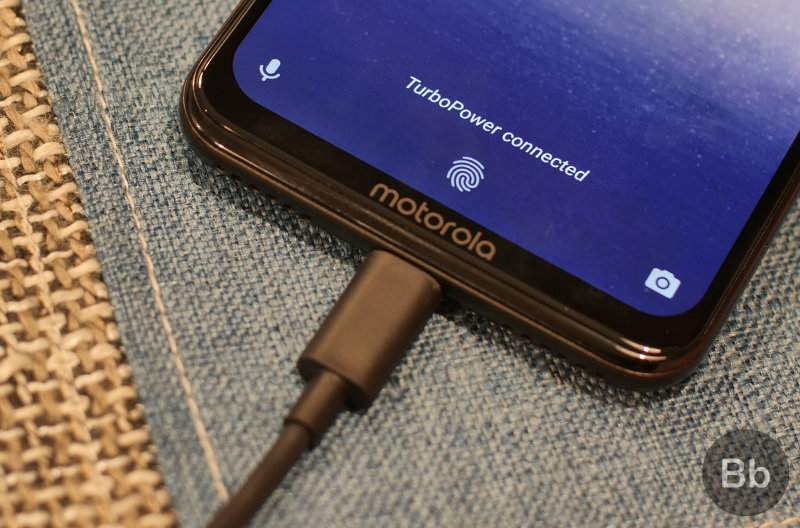 Overall, this backup is far from average and is totally the compelling point for me to buy this device and the Turbo charging makes it even more attractive. If you travel a lot or have to visit remote areas frequently or are just too lazy to bend over and grab the charger, this is undoubtedly a device which you should consider buying – if you're looking for flagship grade gameplay or performance.
Connectivity
In terms of ease of connectivity, the Motorola One Power is just decently powerful. It comes with Bluetooth 5.0, Wi-Fi, and VoLTE, but the only interesting bit for me is the USB-C port, predominantly because I'm a Mac user. If you're looking for multiple speaker support via Bluetooth or dual VoLTE, you'll be disappointed.
In fact, the Motorola One Power cannot allow two SIM cards to have an active 4G connection simultaneously, which got me a little disappointed. For the same reason, fidgeting to find connectivity by switching SIMs in areas of poor network can be a hassle or a tiring task. This, however, helps when a bad 4G network is sabotaging your calls by coercing VoLTE on you, something that most of us have experienced.
Update: We were told by Motorola that dual 4G support is currently being tested and will be added in the Android Pie update. With this, users will also be able to receive VoLTE calls on both SIM cards simultaneously or use 4G data on one while being on call over the other.
Motorola One Power: Pros and Cons
The Motorola One Power is surely one device that has gotten me hooked, and this is primarily because of its impressive battery. Having said that, here are all the advantages and disadvantages I feel a user would have to deal with, with the Motorola One Power:
Pros
Solid and reliable build quality
Promise of updates up to Android Q
Great mono speaker
Widevine L1 certification for on-demand HD playback
Actual flash for selfies
Mind-blowing battery and Turbo charging
Notch optimized for games and apps
Cons
Heavier than most smartphones
Crampy side buttons
Poor portrait shots
Laggy fingerprint (to be fixed in future updates)
No face unlock
No dual 4G or dual VoLTE
Cannot turn the notch off
Motorola One Power: Should You Buy it?
Now, coming to the all important questions. Should you buy the Motorola One Power? Is this the phone that will bring Motorola back into the limelight? Answering the first question, let me talk about the positives first. The Motorola One Power brings a decent display, decent cameras, great performance and some amazing battery life. So, it's obvious that the One Power has a lot of things going for it, but there are a few things that the Motorola One Power doesn't quite get right. There's the bulky design, the mushy, cheap feeling buttons, the slowish fingerprint scanner, no dual 4G VoLTE support and the lack of features like face unlock and gestures.


Well, if you can look past these issues, the Motorola One Power at Rs. 15,999 is a decent smartphone to get. However, there are other great too options too. The ZenFone Max Pro is feature packed and brings the same amazing battery at a lower price, although it doesn't have the best cameras. There's the Redmi Note 5 Pro, which brings all the features, decent cameras and good battery life. Then, there's the Mi A2, which has the best cameras in this price range although it too has its flaws. Lastly, there's the new Realme 2 Pro, which brings a much nicer design, some decent cameras and great performance at a lower price.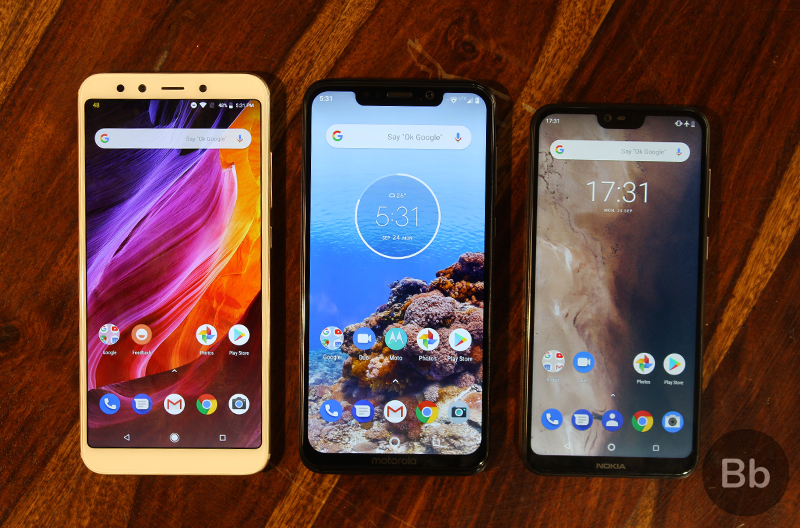 Look, the Motorola One Power is designed to give power to an average consumer – especially those who might be switching to a new device after using their old phone for a couple of years – and ensure them long-term usage. Literally, besides the nitpicked disadvantages noted above, I did not find any flaws in the device which might dampen your experience.
Buy the Motorola One Power on Flipkart (Rs 15,999)
REVIEW OVERVIEW

SUMMARY

Overall, the Motorola One Power is a mixed bag. It's got a nice display, a huge battery, decent cameras and great performance. However, it lacks some of the modern-day features we have come to expect from smartphones, like face unlock, dual 4G VoLTE, and more. Plus, the bulky design, the slow fingerprint scanner and crappy buttons dampen its cause.