It must have happened that you searched for a shoe on a shopping app and the next thing you encounter is the exact same ad on your Facebook feed. This is not sorcery but a deep integration between apps and services that allow Facebook to learn about your preferences from your activity on other apps. Basically, companies like Spotify, Zomato, Airbnb, et al include Facebook SDK in their apps and report your activity history to Facebook — your music preferences, food choices, location information, etc.
Facebook calls these data "Off-Facebook Activity" and targets users with personalized ads and services by utilizing it. If you want to stop Facebook from accessing your activity history collected from other apps then you have come to the right place. Here, we are going to show you how to remove your Off-Facebook Activity and disable the feature permanently. So, let's now go through the guide.
Remove Your Off-Facebook Activity
On Android and iOS Devices
1. Open the Facebook app on your Android or iOS device and move to the hamburger menu at the top-right corner. Here, expand "Settings and Privacy" and open "Settings".
2. Now, scroll down to "Your Facebook information" section. Tap on "Off-Facebook Activity".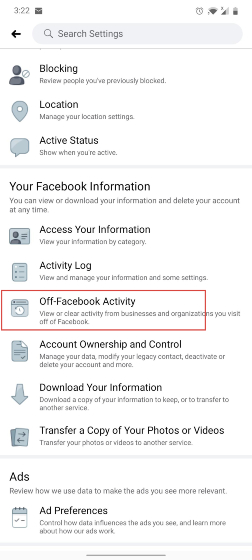 3. Once you are here, tap on "Manage Your Off-Facebook Activity". On the next page, you will find all the third-party apps that have reported your activity history to Facebook. Now, tap on "Clear History" and it will remove all your Off-Facebook activity collected from other apps.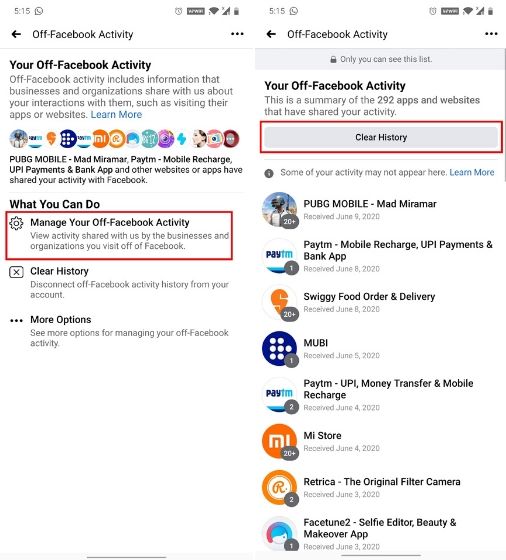 4. In case, you want to permanently stop Facebook from using data collected from third-party apps for any purpose then tap on "More Options" and open "Manage Future Activity".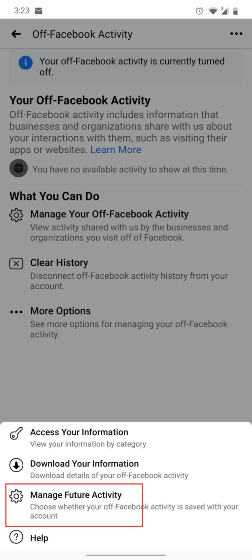 5. Now, disable the toggle for "Future Off-Facebook Activity". That's it. Keep in mind, while this stops Facebook from using your data for ad personalization and other purposes, third-party apps will still report your activity to Facebook.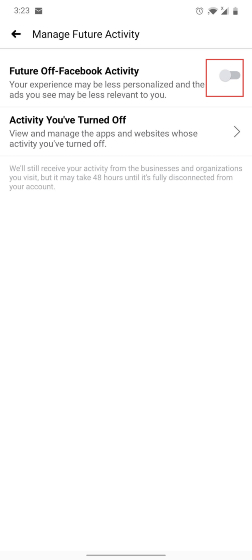 1. If you use Facebook on the web then you can simply open the Off-Facebook Activity page by clicking on the link. After that, click on "Manage Your Off-Facebook Activity".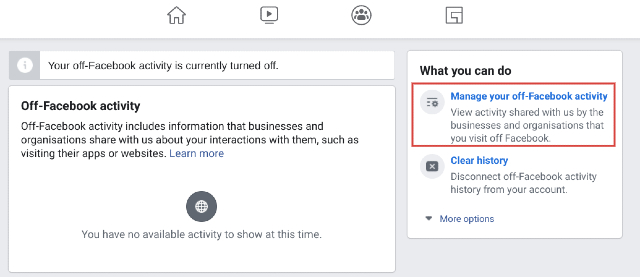 2. On the next page, click on the "Clear History" button and you are done. It will delete all your off-Facebook activity collected from third-party apps.

3. You can also click on "Manage Future Activity" and turn off the toggle to permanently disable Facebook from using third-party data.
Stop Facebook from Collecting Your Activity History from Third-party Apps
So that is how you can remove your Off-Facebook activity and prevent Facebook from utilizing your personal preferences. For me, it's appalling that so many major apps regularly send activity data of their users to Facebook without active consent. I hope someday companies will remove Facebook SDK altogether from their apps. Anyway, that is all from us. If you found the article helpful then do comment down below and let us know. And for more such information, you can go through our article on the best Facebook tips and tricks.
---
Load More