Facebook is the most popular social media platform out there and even though there has been a rise of other social networks such as Twitter, Facebook has retained its numero uno position. You might love it or hate it but chances are, you use it a lot and that means, a few tricks should always come in handy. So, if you are an avid Facebook user or even if you are not, here are 16 Facebook tricks that should definitely come to good use:
1. Check How Much Time You Spend on Facebook
If you're concerned with how much time you're spending on Facebook, you'll be glad to know that instead of relying on third party apps, or waiting for your phone to get Digital Wellbeing or Screen Time features, you can use the Facebook app to check how much time you're spending on it. Facebook shows a handy bar graph of your usage of the app over the last week along with your average usage time.
It's pretty handy, and if you want to use it, here's how to check how much time you spend on Facebook.
2. Limit Your Facebook Usage
If you used the last trick to figure out how much time you're spending on Facebook and were surprised to see a very high number there, well, rest easy because you can try and limit your usage of Facebook as well. There are a bunch of ways to do that actually.
From the Facebook App:
Where you see the time you're spending on Facebook, there's an option to set a reminder after which the app will inform you that you've spent enough time on Facebook. That can be handy, but it can also be easily bypassed.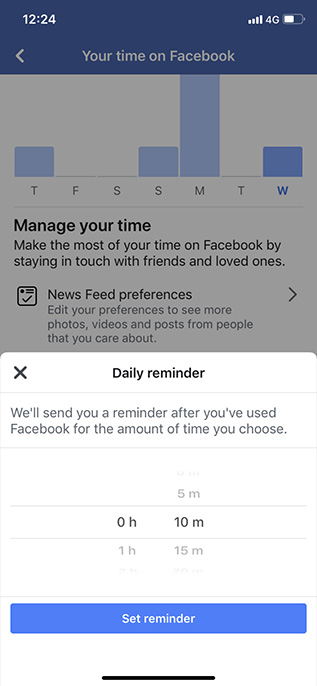 Use Digital Wellbeing or Screen Time to Limit Facebook Usage:
If you want to implement a more strict time limit on your Facebook usage, you can use either Screen Time (if you're on iOS), or Digital Wellbeing (if you're on a supported Android Pie device) to do this. Both of these features allow users to set time limits on specific apps which should definitely help you limit your Facebook usage. You can check out our articles on how to set time limits on individual apps in Screen Time and Digital Wellbeing to get started.
3. Bulk Delete Third Party Apps from Your Account
A lot of websites, online games, and apps offer the ability to log in with your Facebook account, and while you may have done that a bunch of times without putting too much thought into it, if you're worried about such apps stealing or misusing your data, well you can delete them from your account. What's better is that you don't have to delete every app individually; you can actually select all the third party apps you want to delete, and get rid of them in a single click. It's pretty easy and you can check out our article on bulk deleting third party apps from a Facebook account if you need help.
4. Control Notifications Like a Pro (Android Only)
With Android Oreo, Google started rolling out Notification Categories allowing app developers to put more notification controls in the hands of the users. Facebook adopted this back in August and if you're using an Android phone running Oreo or higher, you can make use of these notification categories to control what kind of Facebook notifications you receive and even control their priorities. There are notification categories for birthdays, people you may know, groups, videos, and a lot more. You can check out our article to learn how to use Notification Channels for Facebook to ensure you only receive notifications that actually matter to you.
5. Add Reaction Packs
Facebook recently introduced cool new "reactions" that you can use instead of the same old "like" button and thanks to some cool browser extensions, you can give it a twist. The Reaction Packs extension available on Chrome & Firefox lets you replace the usual Facebook reactions to anything you like. From Donald Trump faces to Game of Thrones characters and more. You can even go ahead and add your very own reaction pack.
To use it, install the extension and go to Reaction Packs' official website and select a pack you like. Then, refresh your Facebook tab and you should see the reaction pack in effect.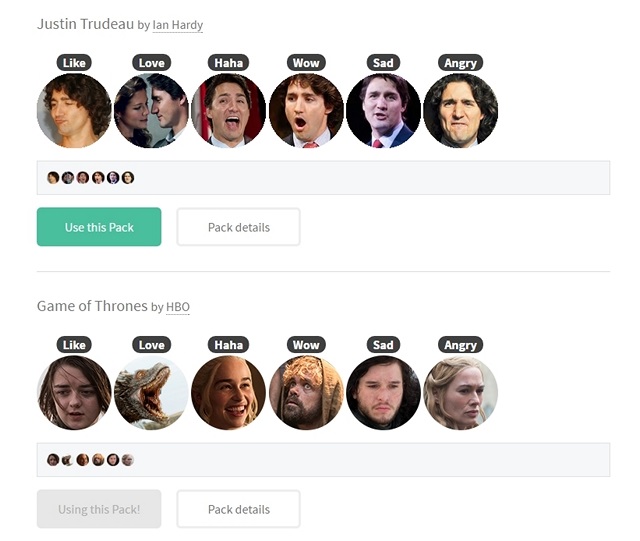 6. Disable "Seen" feature or typing indicator for Facebook messages
When you open a message on Facebook, the sender automatically gets notified with a "Seen" message. While this is convenient, it can be an annoyance, if you want to open a message but don't want to respond immediately. Thankfully, there are browser extensions that let you disable the "Seen" feature.
All you need to do is install the Unseen extension on Chrome and turn on the option to block the "Seen" feature. Once done, you can easily read messages without people knowing you have read their message. Firefox users can install the Facebook Message Seen Disable extension to disable "Seen" on Facebook.

7. Download your Facebook data
If you have been using Facebook for a number of years now, your account must pack-in tons of your personal data like photos, videos, posts, messages, info and more. And the good thing is Facebook lets you download all of your profile data.
To do it, just head over to Facebook Settings and in the "General" tab, you should see an option at the bottom saying "Download a copy of your Facebook data".

Then, click "Start My Archive", after which Facebook will prompt you to enter your password again, as a security measure. Facebook will then gather all your data and send you an email once the download is ready.
8. Auto-post or schedule birthday wishes on Facebook
Posting a birthday wish for acquaintances on Facebook can be a daily hassle and we do miss out quite a few times, so why not schedule it? Well, that's what BirthdayFB aka BithdayPilot lets you do. You can use BirthdayFB to schedule b'day wishes for all the upcoming Facebook birthdays. Here's how to do it:
Go to BirthdayFB webpage and sign up using your Facebook account and grant it permission to post on your friend's timeline. Then, you will have to copy the "Birthdays" link from the Facebook events page and paste it on the BirthdayFB page and click "Import Friends".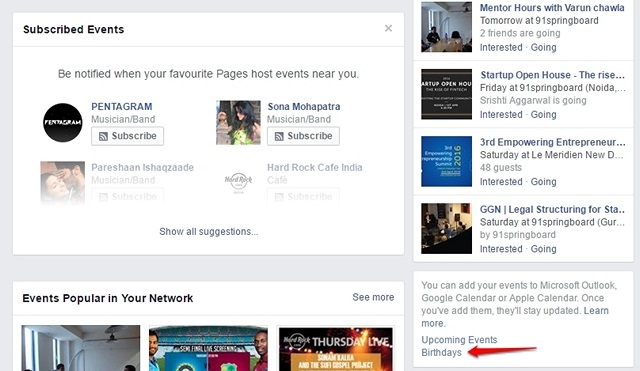 Then, select the country you are residing in and click "Save". Your Facebook friends will be then imported in the background, while you can enter your default birthday message and the time at which you want the message to be posted on your friend's timeline.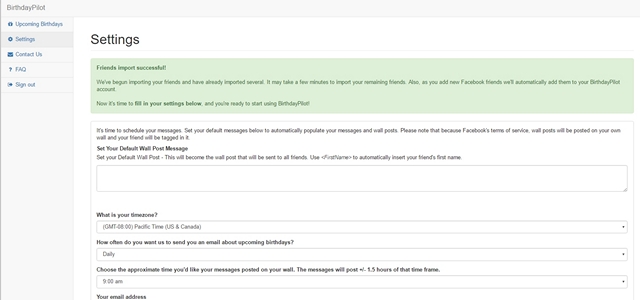 Once done, you will see all the upcoming Facebook birthdays and you can quickly schedule messages for all of them.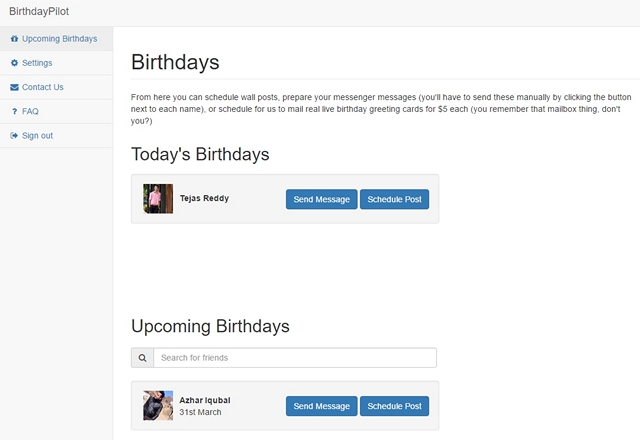 9. Zoom Images on Facebook without clicking them
Clicking to view each and every image on Facebook to get a larger view is not the most user friendly way and that's why the Photo Zoom browser extension for Facebook is so popular. The extension integrates a feature onto the Facebook that lets you view a larger size of images when you hover over it.
All you need to do is install the Photo Zoom extension on Chrome or Firefox and open up Facebook. Then, hover around a picture and you should see the image in a larger view.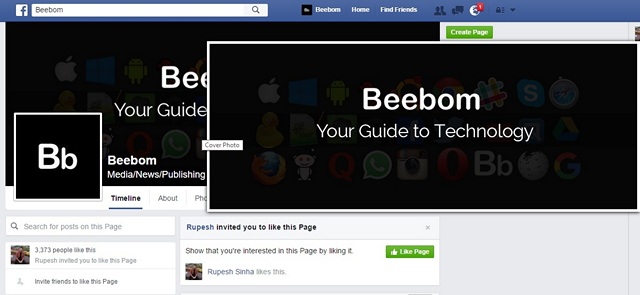 10. Invite all your Facebook friends to Like a page at once
Have you ever tried inviting your friends to like your cool new Facebook page? Inviting them one by one can be a daunting task. Thankfully, a cool browser extension dubbed "Facebook Invite All" lets you invite all your friends to like a page at once.
To do it, install the extension on Chrome or Firefox and then go to the page where you want to invite people. Click on the "Invite friends to like this page" and a pop-up should open up.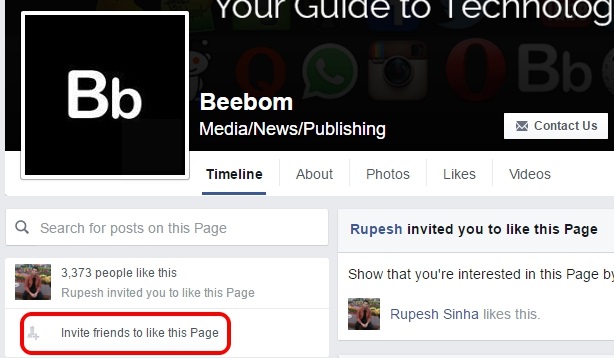 Then, just click on the extension icon at the top right and all the friends will be automatically invited. It's important to note that the process may take longer if you have a lot of friends.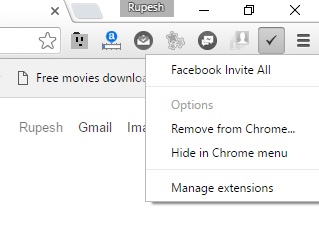 11. Stop autoplay videos on Facebook (Web and Android/iOS Apps)
Autoplay videos on Facebook can be very annoying, especially when you are simply scrolling through the news feed. The good news is Facebook lets you turn them off natively on the web, as well as on its Android and iOS apps. Check out our post on how to stop autoplay videos on Facebook to do it easily.
12. Post updates in multiple languages
If you have a Facebook page that caters to people from diverse countries, you would want your posts to connect with people in their native language. While Facebook has a built-in translation feature, it does not work as well as you would like. Thankfully, Facebook recently introduced the ability for Pages to post in multiple languages manually. The feature is currently only available for Pages but we hope it comes to Profiles as well in the future.
Before you start posting updates in multiple languages on Facebook, you will have to first enable the feature. To do that, go to Page Settings->General tab and scroll down and turn on "Post in Multiple Languages".
After you have enabled the feature, you will see a small option saying "Write post in another language" when you write an update from your page.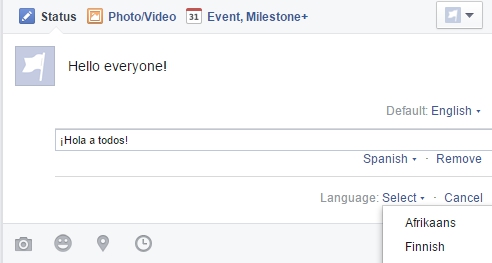 13. Check active sessions and log out of devices remotely
There are times when we log into our Facebook account from various different devices but forget to log out. Well, Facebook lets you check the devices you have logged in from along with the ability to remotely log out from those devices.
To check active sessions, go to your Facebook Settings->Security->Where You're Logged In. Here, you will see all your active sessions, be it on a PC or a mobile device. You can simply tap "End activity" to log out from one of these devices or "End all activity" to log out of all devices.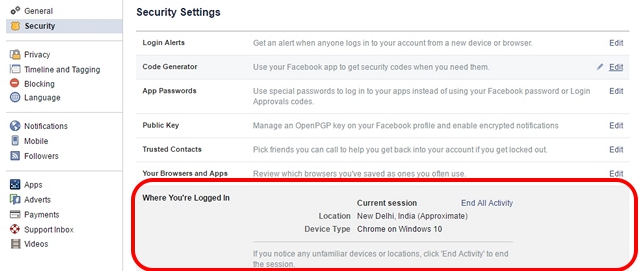 14. Legacy Contact
Accept it or not, you might have thought about what would happen to your Facebook account if something happens to you. Well, Facebook has your back. Facebook lets you add a "Legacy Contact", who will manage your account in the case of an emergency. The contact will be able to pin posts to your timeline, change profile picture, reply to comments. However, he/she won't be able to see your message or post as you. There's also an option to automatically delete your account if you pass away.
To add a legacy contact, go to Facebook Settings->Security->Legacy Contact. Once you have added a legacy contact, you can give the contact the ability to download your Facebook data as well.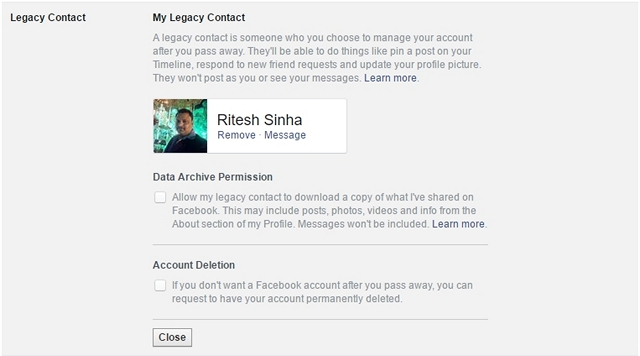 Note: Facebook will only come to know about any unfortunate event when a friend of yours reports it. 
15. Use Messenger on Web
If you are accustomed to using the Facebook Messenger app on your smartphone or tablet, the messaging experience on the web can be jarring. Thankfully, you can use a web version of Facebook Messenger with ease. Simply go to Messenger.com and you will be presented with the same blue and white interface you are used to. However, don't expect all the features from the mobile app.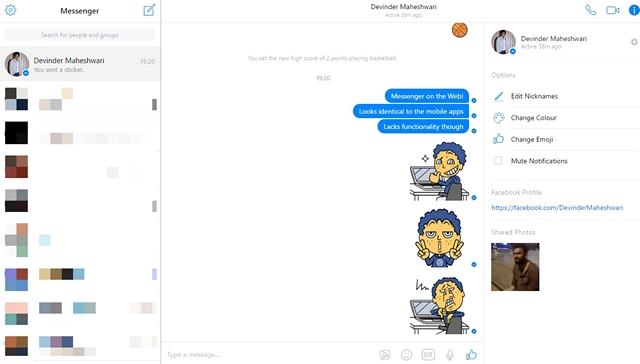 16. Check out nearby people and places (App only)
The Facebook app on Android and iOS lets you see friends who are near to your location along with cool places near you. To check out friends that are nearby, go to the last tab in the app, which looks like a hamburger menu and tap "Nearby Friends". If you are using it for the first time, you might get a prompt to turn on Nearby Friends. Select "Turn on" and you should see friends that are near you, along with details about their distance from you.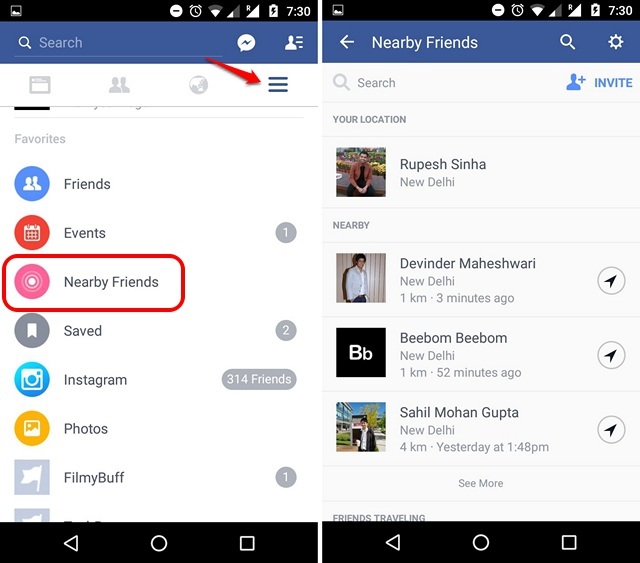 You can also check out cool "Nearby Places" in the Facebook app in the same tab. You can then search for restaurants, coffee shops, hotels, shopping places and more happening places based on your location.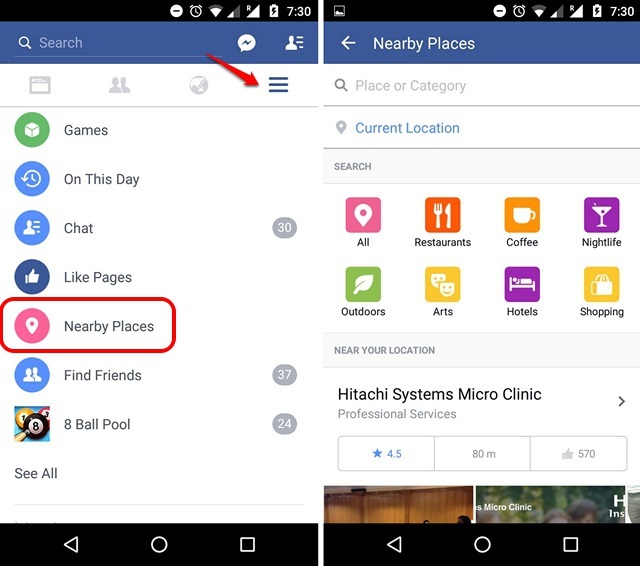 SEE ALSO: Top 3 Facebook Messenger Alternatives That Actually Work
Ready to try out these Facebook tricks?
We are all well versed with Facebook but these are some tricks we were oblivious to. These are certainly very cool tricks that should come handy in different situations. So, check them out and do let us know if you have a cool Facebook trick of your own that we might have missed out on. Sound off in the comments section below.