Other than catering to viewers on desktops and laptops, Netflix has become one of the prime content-provider choices for mobile users in the recent past. With a growing userbase on mobile platforms, Netflix introduced a cheaper mobile-only plan for India a couple of years ago and has dominated the OTT market in the mobile department. So, if you are someone who consumes the best Netflix movies and TV series primarily on your mobile or tablet device, here are useful tips and tricks you can use to enhance your Netflix mobile viewing experience.
Netflix Mobile Tips and Tricks (November 2021)
1) Adjust Brightness Level During Playback
While watching content on Netflix on your mobile device, the brightness level of your screen might fluctuate if the surrounding lighting conditions keep changing continuously. So, if you are someone who hates adjusting the brightness level manually while streaming Netflix, we have a nifty tip for you. You can use the brightness bar integrated on the video playback screen on Netflix for this task.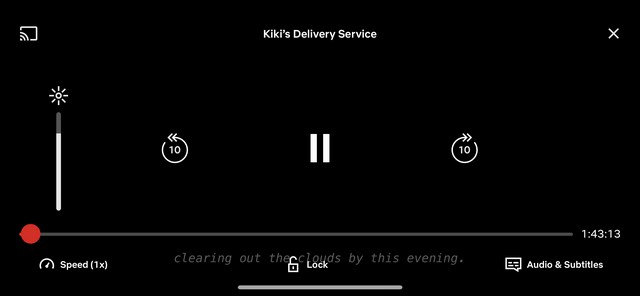 So, while watching a movie or a TV show on the Netflix mobile app, you can tap on the screen to bring up the brightness slider on the left, along with the other playback controls. Slide up your finger on it to increase the brightness or slide down to reduce it.
2) Picture-in-Picture Mode
When you are in the middle of a thrilling movie or TV show, it might become tough to pause or leave the Netflix app to interact or reply to an urgent work email. Now, if you already didn't know, the Netflix mobile app supports picture-in-picture (PiP) mode on both iOS and Android. It lets you play a Netflix movie or TV show in an interactive floating window while you type your reply or search for a song playing in the background of the content.
However, before you can start using PiP mode on your device, you need to enable it on the settings page. On an Android device, go to the Privacy Protection page in the Settings app and turn on Picture-in-Picture from the "Special App Access" option. On iOS devices, you can go to Settings -> General and enable Picture-in-Picture for apps.
3) Stay Up to Date with "Coming Soon"
After binging an exciting season of a TV series, it's natural for someone to eagerly wait for the next season to release on the platform. So, for those who want to keep an eye out for new movies or a TV series on Netflix as soon as it releases, Netflix has a dedicated 'Coming Soon' tab on its mobile app.
You can move to the Coming Soon tab to see a list of newly added movies and TV series, as well as content arriving on Netflix soon. You can choose to turn on notifications for upcoming movies and TV series right from the system notifications panel. The Coming Soon tab updates daily and is personalized for each user profile in Netflix.
4) Download for Offline Viewing
If you are someone who travels frequently and doesn't want to feel stuck with no content due to an unstable network connection, you must use Netflix's offline download feature. It enables you to save your favorite content locally on your mobile device and watch them without a data connection. The downloaded content is accessible from the "Downloads" tab, even when you don't have stable internet connectivity.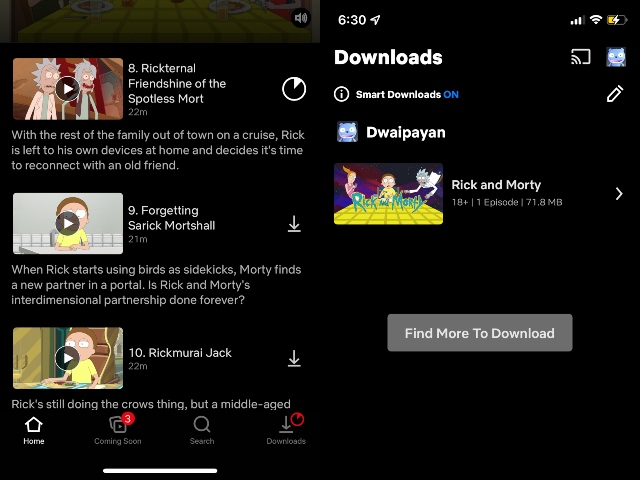 Moreover, you can also turn on Smart Downloads on the Netflix mobile app to better manage your offline content. This feature will automatically delete an already-watched episode and download the next one on connecting to a stable Wi-Fi network. However, it is worth mentioning that the Smart Downloads feature only works on Wi-Fi.
5) Fast Laughs – Stories in Netflix!?
Citing the popularity of vertical-scrolling short-form content on Instagram Reels and TikTok, Netflix introduced the Fast Laughs tab on its mobile app earlier this year. The feature essentially sees the user scroll through a plethora of funny clips from comedy sitcoms, movies, and TV series from Netflix's massive content library. You can see an example of a Fast Laughs clip from NBC's popular comedy sitcom Brooklyn Nine-Nine right here: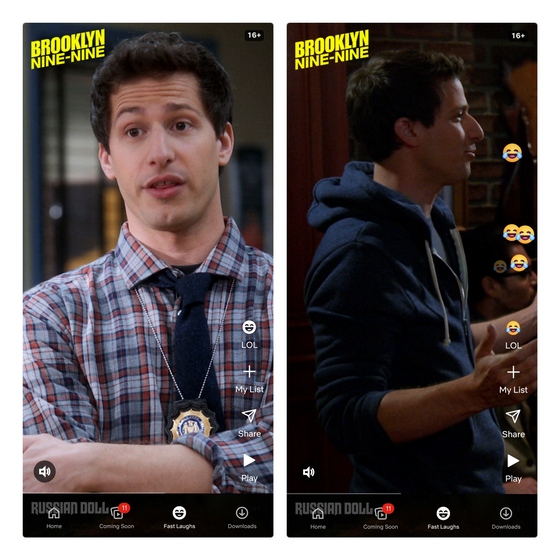 So, if you are someone who enjoys scrolling through short videos, Fast Laughs on Netflix's mobile app could be the go-to option for you. The app lets you react to clips using a LOL emoji, share the clip with friends or on social media, and add the movie, comedy special, or TV show from which the clip was taken to your watch list. You can then return to your watch list and start streaming it immediately on your mobile device with the tap of a button.
6) Cast Your Screen to Smart TV
If you are tired of watching content on your mobile's small screen and have a smart TV at home, you can use Netflix's cast feature (available across the Basic, Standard, and Premium plans) to mirror the content on the big TV display. You just need to tap the cast icon beside your profile icon at the top right corner to start using the feature.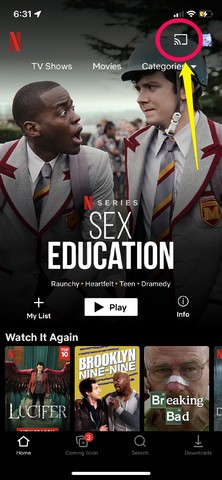 Moreover, even if you do not have a smart TV, the feature is compatible with various casting devices such as Amazon Fire TV Stick (vs the Android TV Stick), Google Chromecast, and Airtel Xstream stick. Once connected, you can control the media functions from the Netflix mobile app while the content streams on your TV.
7) Use Screen Lock to Prevent Accidental Taps
To prevent accidental touches that could hamper the viewing experience of mobile users, the Netflix app offers a nifty screen lock feature. It essentially locks the screen and hides the media control buttons while streaming content on the app. That means you won't accidentally skip to another section of a movie or jump to the next episode of a TV series on the Netflix app.
So, users can lock their screen using the "Lock" button that appears at the bottom of the screen when streaming content. They can then unlock the screen by tapping the dedicated unlock button.
8) Access Info Page of Movies and TV Shows
If you ever wish to get information about a movie's or TV show's cast, director, or maturity rating on the Netflix mobile app, you can do that easily. To access the information page, exit the full-screen playback mode and tap the "more" text next to the name of the cast members of a movie or TV show you are watching.
Tapping the "more" button will bring up a pop-up card, showing the names of the actors, directors, and other crew members involved in the production of the movie or TV show. Moreover, it also shows the maturity rating and genre of the content.
9) Control Playback Speed During Playback
While watching a lengthy movie or TV series episode on the Netflix mobile app, you can control the playback speed of the stream. Just tap the "Speed (1X)" button from the media controls bar while watching a piece of content to bring up the playback speed options.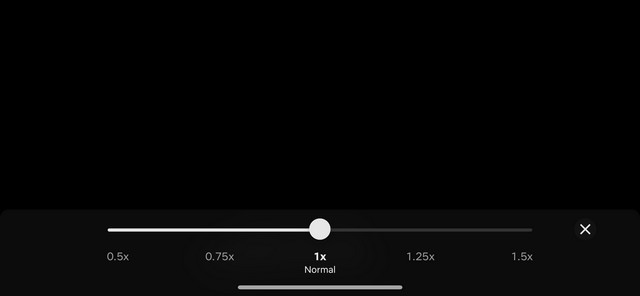 While the default speed remains at 1x, you can use the on-screen slider to increase the payback speed to up to 1.25x or 1.5x times. Also, you move the slider to the left to decrease the playback speed up to 0.75x or 0.5x. While directors and producers are against the idea of allowing users to control the speed of playback, as it breaks trust and destroys the essence of the content, many have welcomed this helpful feature with open arms.
10) Get an Immersive Experience with Spatial Audio
As for the last tip, I would like to mention beforehand that it is exclusive to iOS users who own a pair of AirPods Pro or AirPods Max. So, for these users, Netflix has added support for Apple's 3D audio technology – Spatial Audio on its iPhone and iPad app. It delivers an immersive audio experience to the users.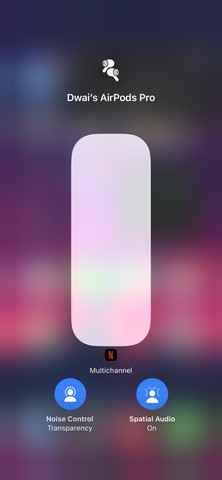 You can turn on Spatial Audio from the Control Center on your iOS 15 or iPadOS 15 devices while watching a movie or TV show using the Netflix app. It will enable you to get a theater-like 3D audio experience on the Netflix app for iOS.
Enhance Your Netflix Mobile Experience Right Now!
These are 10 of the most useful tips and tricks you can use to get the best out of your Netflix mobile app. Moreover, earlier this year, Netflix announced a new Rs 299 mobile-only plan to offer Full-HD support to mobile users. So, if you want to upgrade from SD quality content to HD quality on your mobile, we recommend you get the new mobile plan right away. Otherwise, you can check out our in-depth story on the best Netflix plans you can get in India to make an informed decision. With that said, are there any other tips and tricks you use on mobile to enhance your Netflix viewing experience? Let us know in the comments below.