With a massive subscriber base of over 200 million users, Netflix is one of the biggest streaming platforms in the world. The company has offered its services in India for a long time but has undergone several changes and subscription offerings to stand where it does today. We considered Netflix as one of the most expensive OTT platforms in India, as the likes of Disney+ Hotstar offered a yearly subscription for a fraction of the cost. However, that changed last year when Netflix updated its India subscription plans, which now start at a reasonable Rs 149/ month and go up to Rs 649/ month. So, if you're planning to buy a Netflix subscription or want to upgrade/ downgrade your current plan, we have you covered. We have detailed what each Netflix plan available in India has to offer, including device support, video quality, and more. So you will have a better picture of which Netflix subscription plan is best for you to get in India by the end of this article.
Which Netflix Subscription Plan Is Best for You in India?
So, in this article, you will find details about all the subscription plans that Netflix offers in India and choose the one that best suits your needs.
Netflix India Mobile Plan
SD resolution, 1 screen
watch only on mobile or tablet
suitable for mobile-first users
If you are always on the move and your go-to device for your entertainment needs is a smartphone, Netflix offers a dedicated mobile-only subscription plan for you, and it's pretty affordable. The Rs 149 Netflix plan in India will allow you to watch the best TV series and movies on Netflix in standard definition (SD) or 480p quality.
Using this plan, you can stream Netflix only on your mobile phone or tablet. You can't lay back and enjoy content on your TV or laptop on this plan. That means you will have to compromise on video resolution and sound quality with this plan. But, you gaining access to the complete Netflix content library for just Rs 149/month, well, that is a steal deal.
Netflix India Basic Plan
HD resolution, 1 screen support
watch on mobile, laptop, or TV
plan not suitable for families
Moving on, there was another Mobile+ subscription plan that the company was testing in India last year. It was an experimental tier that allowed users to stream Netflix on their smartphones as well as laptops – minus TV support However, it was later scrapped and gave birth to the Netflix Basic plan we know today. So let's look at what it has to offer.
The Netflix Basic plan is for those who use multiple devices to consume their daily dose of content. This subscription plan is priced at Rs 199/ month and allows you to stream Netflix not only on a smartphone but on other devices like laptops and smart TVs as well. Not only that, but you also get a video quality bump to 720p (HD) resolution by paying an additional Rs 50 every month, which is amazing.
So imagine you are watching a new episode of your favorite show on a smart TV, and you suddenly remember you have to be somewhere in a jiffy. No problem, as you can use your travel time to continue the episode right where you left off on your smartphone. This plan supports one screen at a time, though, so two people cannot use the account at the same time. So this is not the ideal plan for couples or families.
Netflix India Standard Plan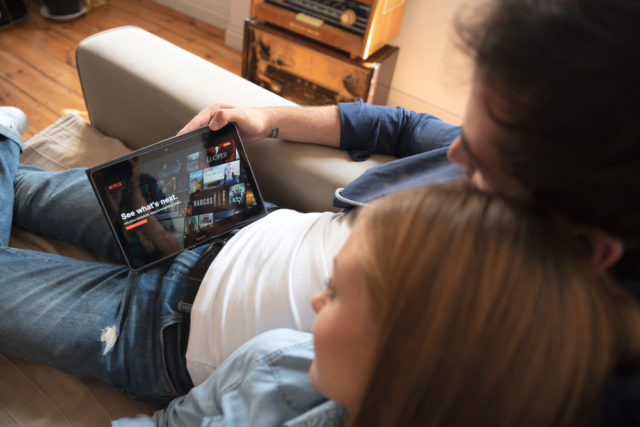 Full HD resolution, 2 screens
watch on mobile, laptop, or TV
best suited for couples, siblings
Now, if you are not alone and live with your partner, or maybe, have a roommate, or just want to share your Netflix account with someone, the Netflix Standard plan should float your boat.
This subscription plan will allow you to stream content on two different internet-connected devices simultaneously. Also, this plan offers Full HD (1080p resolution) streaming for every TV show and movie on the platform. Moreover, you can make two profiles and not get your personalized recommendations mixed up.
Since you are getting more benefits with the Netflix standard plan, you need to spend more moolah. This subscription plan is priced at Rs 499/ month in India. Though it's still more expensive than its rivals, the ease of use, feature set, and massive movie, TV show, and anime catalog make it worth the money.
Netflix India Premium Plan
4K resolution + HDR, 4 screens
watch on mobile, laptop, or TV
best suited for family sharing
Coming to the top-tier subscription plan for Netflix in India, the Premium plan is priced at Rs 649 per month. This subscription plan offers various benefits such as four-screen support, 4K streaming, and Dolby Vision/ Atmos support on compatible devices.
So if you are a family man or live in a dorm, the Netflix Premium plan should be the perfect choice for you. You can create multiple profiles for your kids or parents, with personalized content and recommendations based on their watch history. It also allows you to keep your own profile separate, as you can lock profiles using PIN codes on Netflix. This feature comes in handy to keep a close check on your kids viewing activity and usage.
Moreover, with this subscription plan, you can watch shows on your 4K smart TV in the highest resolution from the comfort of your living room. The Rs 649 per month Netflix plan is suitable for families and users who plan on sharing their subscriptions. However, fair warning, Netflix has confirmed its plans to crack down on account sharing in early 2023. So you will need to pay extra for password sharing or get a new account and transfer your Netflix profile to the same, the steps for which are linked here.
Netflix India Subscription Plans: Comparison
With the basics out of the way, here's how all the different Netflix subscription plans in India compare to each other:
| Features | Mobile Plan | Basic Plan | Standard Plan | Premium Plan |
| --- | --- | --- | --- | --- |
| Monthly Cost | Rs 149 | Rs 199 | Rs 499 | Rs 649 |
| Yearly Cost | Rs 1,788 | Rs 2,388 | Rs 5,988 | Rs 7,788 |
| Number of Screens | 1 | 1 | 2 | 4 |
| Streaming Quality | SD (480p) | HD (720p) | Full-HD (1080p) | UHD (4K) + HDR |
| Data consumption (best video quality) | up to 300MB/ hour | up to 700MB/ hour | up to 3GB/ hour | up to 7GB/ hour |
| Ad supported | No | No | No | No |
| Watch on mobile or tablet | Yes | Yes | Yes | Yes |
| Watch on laptop or PC | No | Yes | Yes | Yes |
Pick the Right Netflix Subscription Plan
So, these are all the subscription plans that Netflix currently offers in India. Now that you know all the details, you can assess your needs and pick the right plan for you. Then, you can purchase the Netflix subscription plan that best suits your needs to enjoy the best animated series, the best Hindi movies on Netflix, and award-winning movies from Netflix's massive digital library. So, which Netflix plan did you choose and why? Let us know your opinion in the comments below.