Earlier, in our comparison between Android and Smart TV, we had concluded that smart TVs are more user-friendly than Android TVs and offer nearly all the mainstream apps. Now in a similar fashion, we pit Android TV vs Amazon Fire TV Stick to find out what are the unique features of both platforms. In this comparison, we also discuss the pricing of corresponding devices at similar price points so you get a better idea about which one is more value for money. So on that note, let's go ahead and unpack the article.
Android TV vs Amazon Fire TV Stick: A Comprehensive Comparison (2021)
In this article, we have discussed several aspects including hardware, software, user interface, and gaming support. You can click on the link below to move to the relevant part.
Hardware
If you are looking at Android TV then there are several options featuring a variety of internal specs at different price points. From $40 to $200 and TVs that come with Android TV OS pre-installed, you can pick any one of them based on your budget. You can also buy an Android TV Box to convert a non-smart TV into an Android TV.
For example, the new Google TV dongle — the successor to Android TV — features a brand new UI and packs in 2GB of RAM, 8GB of storage, a 1.9GHz processor. All of this just costs $49.99. Similarly, Mi Box S ($66) which is an Android TV Box offers 2GB of RAM, 8GB of internal storage, and a decent A53-based processor.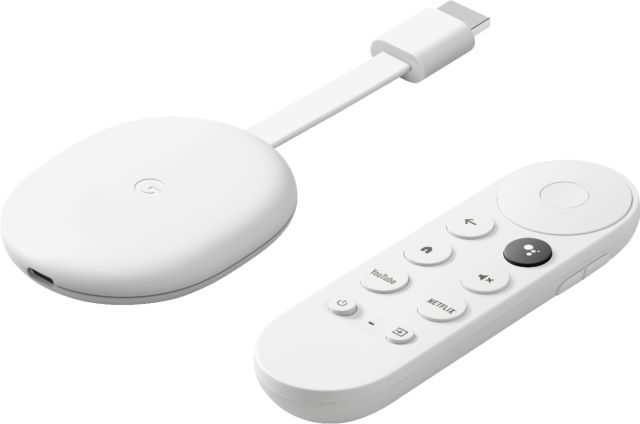 Next, you have the pricey NVIDIA Shield TV that starts at $129 and goes up to $179. It has a powerful Tegra X1+ processor, 256-core GPU, 2/3GB RAM, and 8/16GB internal storage. Lastly, you have TVs with built-in Android TV OS that have decent specs like Mi Box S which start around $150 and the premium ones go as high as $1000. Basically, on the Android TV side, you have multiple choices both in terms of pricing and hardware.
Talking about Amazon Fire TV Stick, well, it mainly offers separate hardware dongles, but recently, some TV manufacturers like Onida and Toshiba have shipped TVs with Fire OS pre-installed. That said, in this article, we will mainly compare Fire TV dongles against Android TV.
There are several variants of Amazon Fire TV such as Fire TV Stick Lite ($29.99), Fire TV Stick ($39.99), Fire TV Stick 4K ($49.99), and Fire TV Cube ($119.99). Most of them have a quad-core 1.7GHz processor, 8GB of storage, and 1GB of RAM, except for Cube that has 16GB storage, 2GB RAM, and a Hexa-core processor. The 4K variant also has an increased RAM of 1.5GB.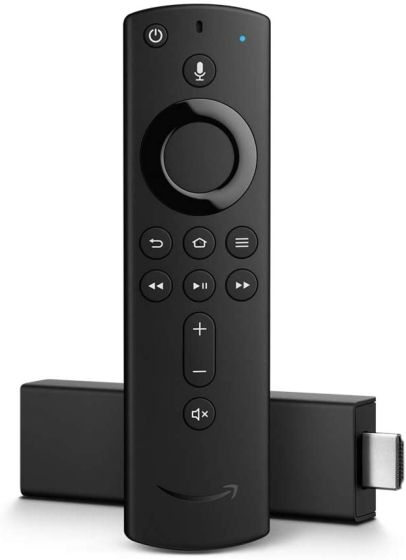 In tandem, all the variants are almost the same with some minor improvements one has over the other. If you compare Amazon Fire TV Stick with Android TV then it becomes clear that both have specs and pricing on similar lines. And that reflects in real-world tests too.
In my testing, Fire TV Stick and Android TV took nearly the same time to boot and the app opening time was also neck and neck. Of course, Prime Video was faster on Fire TV Stick, so was YouTube on Android TV. All in all, in terms of hardware offering, both are value propositions offering products at very low-cost and featuring decent internals.
Software
Starting with Android TV, it runs Android TV OS which is developed by Google and has support for Google Play Store, among many other things. You have access to thousands of Android apps on your Android TV and the apps are optimized for the larger screen. From mainstream apps such as Netflix, Prime Video, YouTube, HBO Max, Disney+, etc. to niche apps like MUBI and Crackle, you are covered from all sides. It's said that currently, Android TV enjoys more than 6500 apps on the TV platform.
Apart from that, another highlight feature of Android TV is Google Assistant integration. You can perform almost all the actions with just a voice command either with a remote or your smartphone. It's no secret that Google Assistant is better than Amazon's Alexa or any other voice assistants in the market. I tested both voice assistants on my TV and found they performed really well. However, Google was able to recognize my voice commands, even when my voice was unintelligible.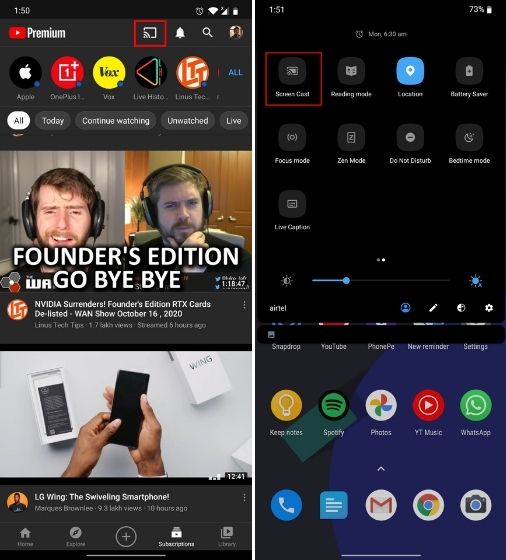 Next, Android TV has the Chromecast feature which seamlessly works across Android and iOS devices. You can mirror your smartphone screen onto the TV in high resolution with voice output and orientation support.
Coming to Fire TV Stick, it also runs Android under the hood, but Amazon has forked it and added Amazon-related services on top to create their own Fire OS. Instead of Google Play Store, you get Amazon Appstore. It does not have an app library as huge as Play Store, but you do get all the major streaming apps including Prime Video, YouTube, Netflix, HBO Max, Disney+, Hulu, and more.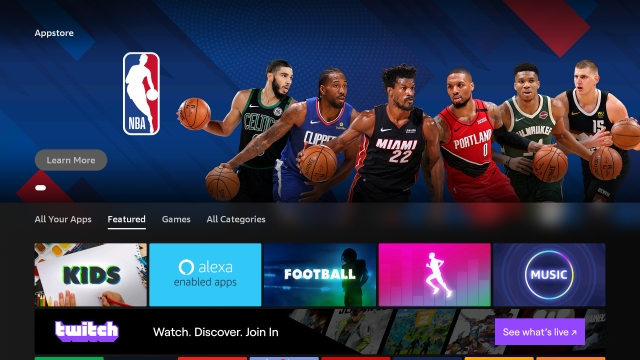 One thing to note here is that Fire TV Stick has already got support for the Apple TV app, but Android TV is yet to receive it. So if you have rented movies and shows from Apple services then Fire TV Stick will be a better choice than Android TV.
Having said all of that, keep in mind, Fire TV Stick does not support seamless casting like Android TV. It uses something called Miracast (wireless display) which is a WiFi standard but some devices have the support and some don't. You will be able to mirror the screen, but the quality will be greatly reduced. Also, remember, the Miracast setup is not as seamless as Chromecast's one-tap action. So in terms of smartphone casting, Android TV clearly has an upper hand against Amazon Fire TV Stick.
User Interface
Having talked about hardware and software, let's now compare the UI of Android TV and Amazon Fire TV Stick and how user-friendly their UI is. In terms of customizations, Android TV offers you more options than Fire TV Stick. You can move apps to the front row, customize the "Play Next" row, personalize the discoverability of content, and much more.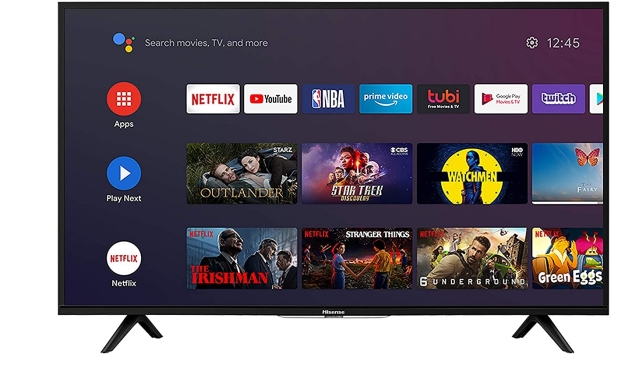 In case, you are unaware, Android TV is being transitioned to a brand new Google TV UI which is much more personalized, has a polished UI, and offers a streamlined experience than Android TV. You can save movies and shows by tapping on "Watch Later" on Google and it will show up on your Android TV. Basically, in terms of user experience, Android TV is pretty good and the new Google TV is going to make it even better. You can learn how to install Google TV on your existing Android TV.
Moving to Amazon Fire TV Stick, the user interface is not bad at all. In fact, it's simple to use and anyone can navigate through the apps and content. The only issue I found on Fire TV Stick is that it's too colorful and vibrant on the homepage.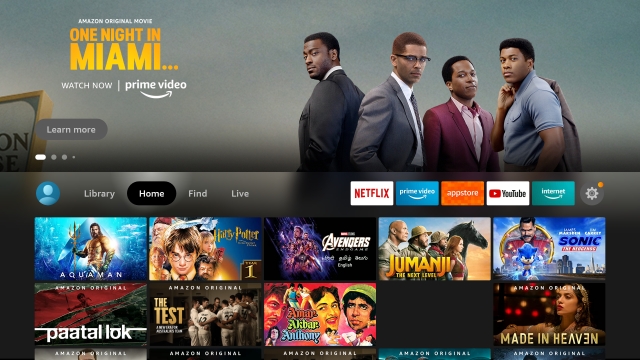 On top of that, Prime Video is given more preference than other streaming apps and the whole recommendation system feels like an intrusive ad. But these are just my thoughts. If you are fine with these nitpicks then you can very well pick Fire TV Stick over Android TV.
Gaming
As the internals are not powerful on both these devices, you can't play intensive games on a larger screen. You do have some light games on Android TVs such as Crossy Road and Orbia, but other than that the gaming option is limited. On Amazon Fire TV Stick, the gaming situation is even scant. You can play games like SNES and Badland, but that's about it.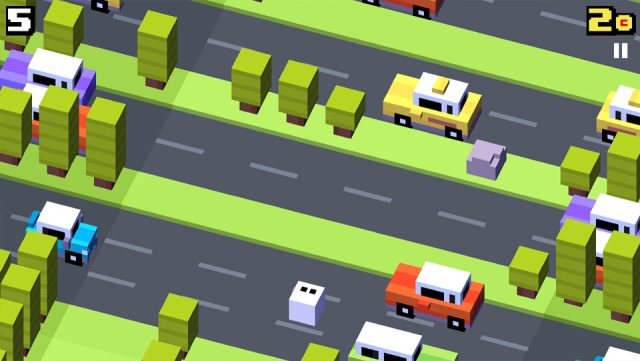 However, there is something that has come to the rescue for gamers wanting to play on larger screens and that is cloud gaming. With GeForce Now, you can play a number of desktop titles on your Android TV. We have already written a detailed guide on how to install GeForce Now on Android TV so go through that. Android TV users also have the option to use Google Stadia to play intensive games on their TV.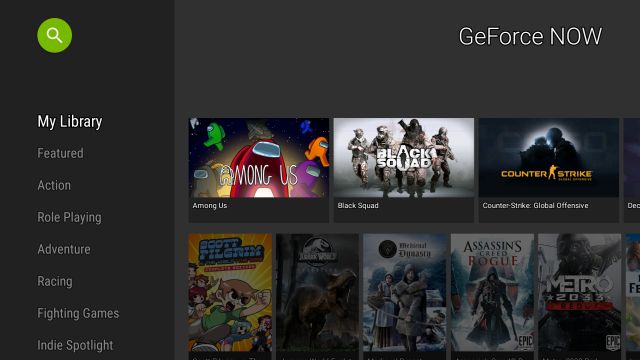 As for Amazon Fire TV Stick, it's essentially running Android under the hood so just follow the guide above and you will have GeForce Now running on your Fire TV.
Android TV vs Amazon Fire TV Stick: Who Wins This Round?
As we went through the article, it's clear that Android TV and Amazon Fire TV Stick are similar in many ways, just like Tizen OS and webOS. The only significant difference is in the software department where one prioritizes Google services and the other utilizes Amazon's services. It's up to you which ecosystem you want to be invested in.
Apart from that, Android TV has a much larger collection of apps, supports seamless casting and the voice assistant is a notch better than Amazon's Alexa. I would say, Android TV is overall a well-rounded product with support for all the essentials and more. However, Fire TV Stick does not lack any essential features either and brings almost everything to consumers. So by considering all the points, you can pick a TV platform of your choice.