With millions of players, the Minecraft community and the buzz around it are ever-growing. But even after spending hours beating adventure maps or exploring the best Minecraft seeds, you still can't take it home. As soon as you close the game, its amazing biomes and the fun experience hide behind a dark screen. But not anymore. With our list of some of the best Minecraft toys, you can bring your favorite game to life. From lego sets to miniature mobs, there is a lot for you to unbox. Whether you are a Minecraft Java or Bedrock player, these toys are sure to set aside any differences. There are a lot of cute, unique, and amazing items for you to discover. So, let's not waste a minute more and start discovering the best Minecraft toys you can get in 2023.
Best Minecraft Toys (2023)
Our selection of these toys is based on an attempt to include diversity while maintaining quality. They are all sourced from reliable brands backed by positive user reviews. As Toy Story writers say, "all toys are equal for us" so we have not ranked the list in any way. You can use the table below to explore them at your convenience.
1. LEGO The Abandoned Mine
The first toy on our list is a LEGO set which feels like an extension of the Minecraft world. With flowing lava and water blocks, you can recreate the genuine mining experience of the game. The set is in a multi-floor arrangement just like the caves from the 1.18 update. Players also get a zombie, a spider, a living slime, and Steve in this collection.
In terms of tools, we get torches, a pickaxe, a shovel, and a crafting table from Minecraft. Not to forget, as is the case with all LEGO collections, the scenic setup of blocks is a mere suggestion. You can feel free to experiment, combine and reimagine the arrangement. There are a total of 248 Pieces in the box making it engagingly one of the best Minecraft toys.
Buy on Amazon ($16.00)
2. Minecraft Card Game
Next, we have a card game with the Minecraft theme. The square cards have Minecraft recipes, ores, blocks and even entities printed upon them. You can mine, craft, or reserve to reach the final point and win in this game. The point-based card system helps the player systematically understand how the Minecraft world functions.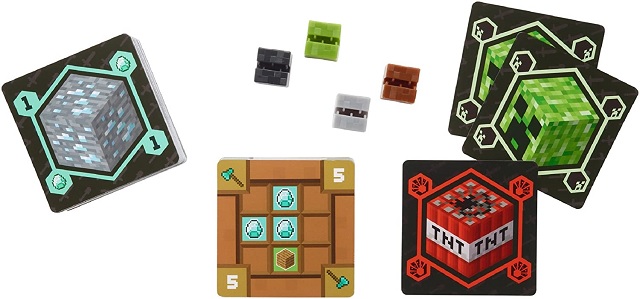 Other than being a fun mini-guide to the game, these cards can also function like a collectible similar to Pokemon Trading Cards. You can play this card game with up to 4 players. Their high-quality build ensures that you can continue playing for a long time to come.
Buy on Amazon ($13.99)
3. Potion Bottle LED Lamp
This battery power LED lamp feels like an object directly picked out of Minecraft. The iconic glow of an enchanted potion is visible when you use it in a dark area. Moreover, the pixelated shape and the glass pixelation texture make it even more relatable to Minecraft. If you wanted to bring Minecraft to life, this is one of the best Minecraft toys to fulfill your wish.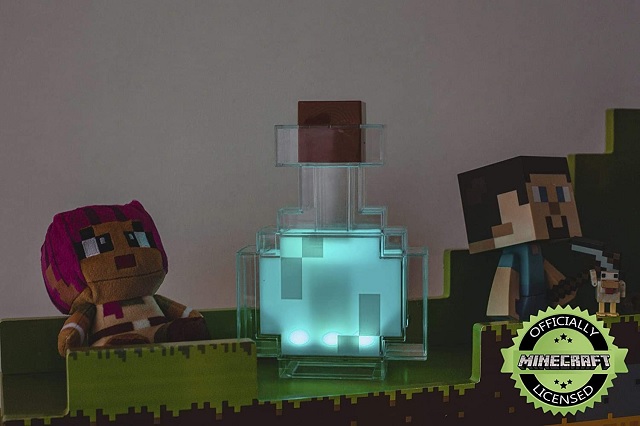 The LED lamp can illuminate itself in 8 unique colors. To change the colors you can shake the bottle which makes it feel enchanted. It is easier than making the best Minecraft potions. Whether you get the lamp as a decorative or a function night lamp, this potion bottle is sure to give your mood a boost.
Buy on Amazon ($22.31)
4. Bee Mood Light – Best Minecraft Toys
While we are at light-based toys, this Minecraft Bee is a cute and heartwarming choice. Bees are one of the most popular mobs in the game, and many people wonder how to farm bees in Minecraft and how to get bees in Minecraft. They are cute and distinct in and even outside the game. This mood light's most impressive feature isn't the amazing calming light but the light's size.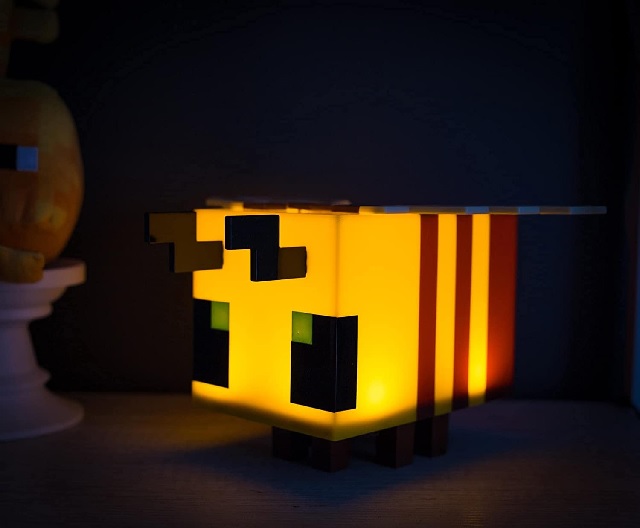 Minecraft bees are massive as compared to real-life bees and this toy captures that very well. If the Minecraft bees existed in our world, they will look no different than this pixelated Mood light. Merch around bees are still rare as compared to other Minecraft mobs so this toy is a rare discovery.
Buy on Amazon ($34.99)
5. Jada Collectible Figurine

Did you ever plan to decorate your room with tiny Minecraft creatures? If the answer is yes, this Minecraft toy is for you. As a collection of 20 mobs, you get mobs from various parts of Minecraft. The iconic ones here are the Wither, Iron Golem, and uniquely designed Enderman. Whether it is a battle you are imagining or just mobs out of the game to give you company, this collection can do it all. Each figure in it is identical to its Minecraft counterpart with iconic colors and a pixelated look.
Buy on Amazon ($24.99)
6. Panda Plush – Best Minecraft Toys
While we are bringing Minecraft mobs out of the game, the best way to do it is by making them huggable. This 12-inch plush brings the Minecraft Panda out of the game in a huggable form. The best part of this plush is how accurate it stays to the game. From square ears to blocky eyes and nose, it's hard to miss the Minecraft aesthetics.
Minecraft or not, Pandas are popular among people of all ages and if you know someone with that taste, this can be a great gift. This cuddly, soft, and high-quality product is easily one of the best Minecraft toys for kids and adults alike.
Buy on Amazon ($19.99)
7. Block Building Light
The next entry on our list is a unique one. We get 16 separate blocks out of the game that can be connected to make unique scenes. But not only that, all of these blocks are tiny light sources too, making the experience even better. All of these blocks have an opening at their top and a connector extension at their bottom. Thanks to the simple design, you can easily connect them. Beyond the 16 blocks, we also get a 4-block bedrock base for them. This base is also the power source that can be used to power up the lights in these blocks.
Buy on Amazon ($39.99)
8. Minecraft Survival Pack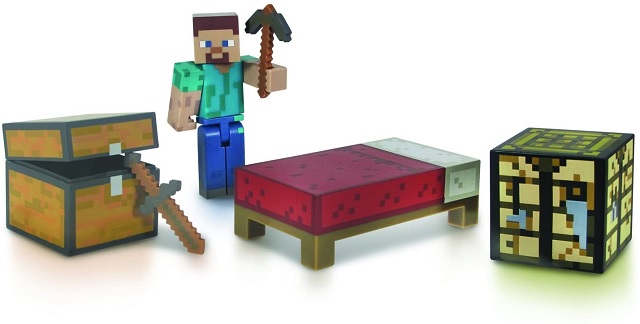 This collection of Minecraft figures is the perfect gift for the game's veteran players. With the most basic in-game tools, this collection takes you back to the beginning of being in some of the popular survival seeds in Minecraft. The collection has our player Steve as an action figure. Along with it, we get a wooden pickaxe, a wooden sword, a chest, and a perfect crafting table. The chest in it is openable so you can place tiny items in it. These items are great for playing but a lot of users can also use these as the best Minecraft toys to decorate cakes.
Buy on Amazon ($19.99)
9. SquishMe – Best Minecraft Toys
As a game, Minecraft is a real stress-buster with amazing in-game biomes to explore. This toy takes that stress-busting ability of the game to our real world. It offers us squishable stress-busting Minecraft mobs. They are made out of non-edible slime-like material that regains its shape even after you apply force on them.
Additionally, each of the characters has a distinct scent with flavors like vanilla, chocolate, and more. Each package offers only a single character but you can collect all 6 characters if you enjoy them. The mobs include Super Charged Creeper, Mooshroom, Cow, Turtle, Sheep, and Panda.
Buy on Amazon ($8.99)
10. LEGO The Farm Cottage
LEGO is famous for capturing moments and recreating them into buildable blocks. They did something similar with this toy too. It captures a farming cottage in the game. As a Minecraft player, you might be already aware of how useful farms are in the game. Other than the main characters, Steve and Alex, we also get a donkey, a baby pig, a rabbit, and a baby rabbit as friendly mobs.
Since no Minecraft area is complete without a villain, we get the Skeleton as a hostile mob in this collection. As for the details, the farm offers plenty of crops, water area, tools, and more to recreate the Minecraft experience.
Buy on Amazon ($218.99)
11. Steve in Diamond Armor Ornament
Perfect for the Christmas season, this Minecraft ornament can make your tree feel more special than usual. Many fans use it as an action figure while even more use it as a part of their keychain. This cute and portable Minecraft toy is the best choice to keep Minecraft close to you even while traveling.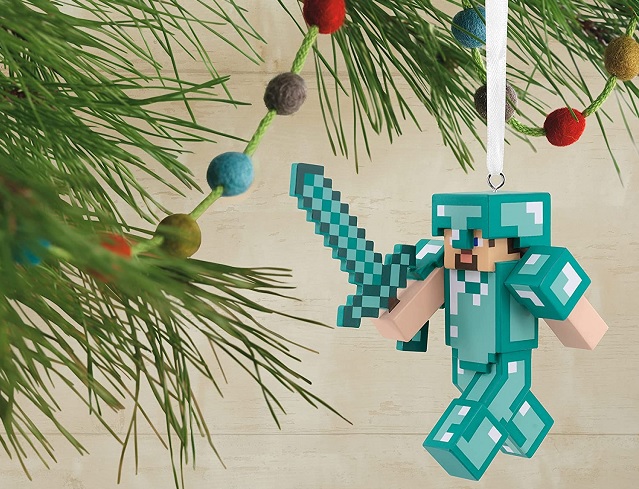 The figure is highly accurate in terms of pixelation and coloring on the character. Diamond in the game is one of the most sought-after items making this toy a great keepsake too. Whatever your reason to get it, the ornament is sure to refresh Minecraft memories.
Buy on Amazon ($8.99)
12. Creeper Table Light
When encountered in unexpected circumstances, Creepers in Minecraft can be one of the scariest mobs. But the next interactive toy is sure to make them feel a little friendly. As a dim light, this creeper is a great addition to any gaming rig but can also function like a fun interactive out-of-game mob.
The toy comes ready with the ability to make in-game sounds adding depth to the experience. It's potentially the only sound-based item in our list of best Minecraft toys. Even though it has a friendly vibe to it, for the non-creeper fans, it can also be a scary element during the night.
Buy on Amazon ($20.99)
13. Lifesize Pickaxe – Best Minecraft Toys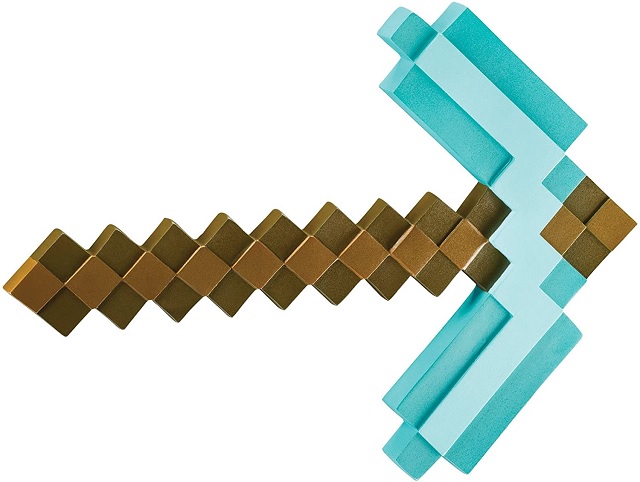 If you are cosplaying Minecraft protagonists, your costume can't be complete with a Pickaxe. And this particular pickaxe toy is made to go with any game-based costume. The toy pickaxe is 16 inches long making it life-size by Minecraft standards. It offers game-accurate colors and pixelated design of a Diamond Pickaxe. Even though it is larger than usual Minecraft toys, it is still safe for kids above the age of 4 as it has no sharp edges.
Buy on Amazon ($22.09)
14. Zombie Plush Stuffed Toy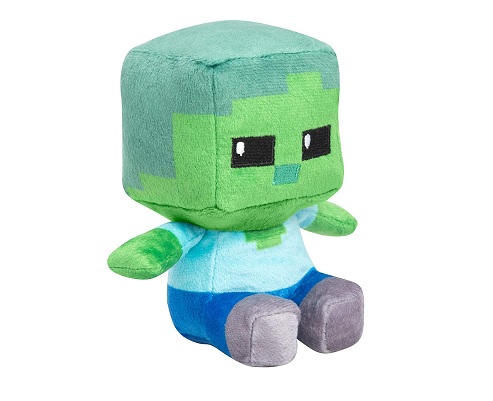 Much like Creepers, even Minecraft zombies aren't exactly the most desired mobs in the game. Players are habitual to attack or run away from them. However, this toy presents the same zombie in a very unique form. As a plush toy, you will not only be less scared of zombies but will also want to hug them.
Made out of extra soft and reliable material, this stuffed toy reimagines the zombie as a friendly mob. Available in the sitting position, the toy is 4.5 inches tall and safe for even younger kids to play with. If such a cute zombie was in the game, we wouldn't ever have to convert any zombie into villagers in Minecraft.
Buy on Amazon ($29.99)
15. Minecraft: Builders & Biomes Strategy Board Game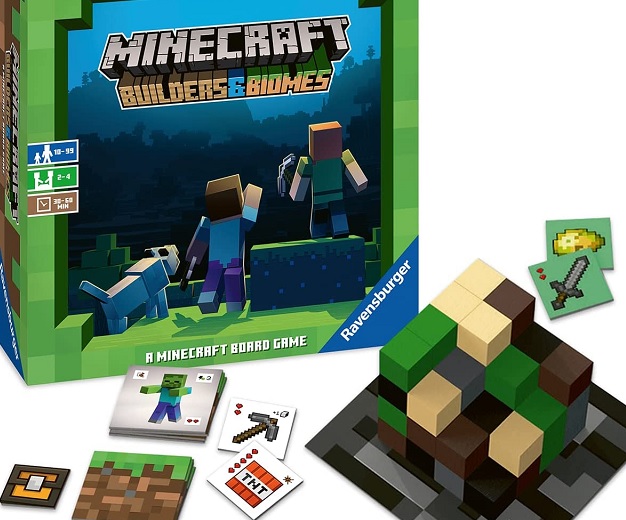 Minecraft toys don't have to be limited to figures and scenes. This well-crafted strategy board game takes the best Minecraft toys to another level. The game aims to help the player explore the Minecraft overworld, mine blocks, and build in-game structures all as a board game. It can be played between 2-4 players and is suitable for players above age 10. The theme and card design stay true to Minecraft's pixelated and square style. It offers a well-thought experience made with high-quality components.
Buy on Amazon ($27.99)
16. Minecraft Mini Figure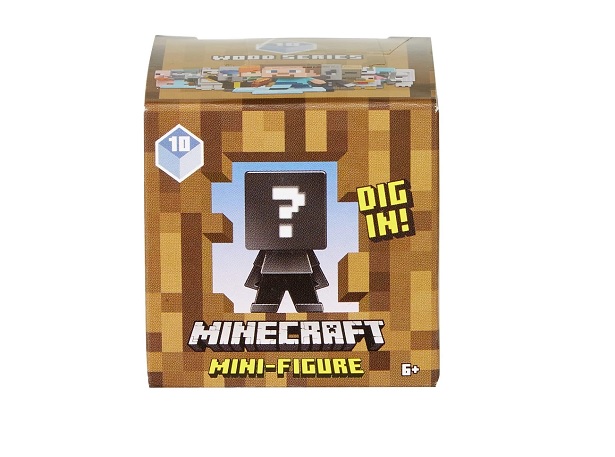 The next entry on our list brings a mystery element to the table. In we can get one of the dozens of available Minecraft mobs. You won't know which mob it is before you open the actual package. But rest assured that each character in this collection is inspired by Minecraft mobs and is of high quality. To make the experience even more fun, all of these mobs come with items they are interacting with. From a panda with cake to a lama in costume, there's a lot you can get.
Buy on Amazon ($5.99)
17. 100 Pics Guessing Game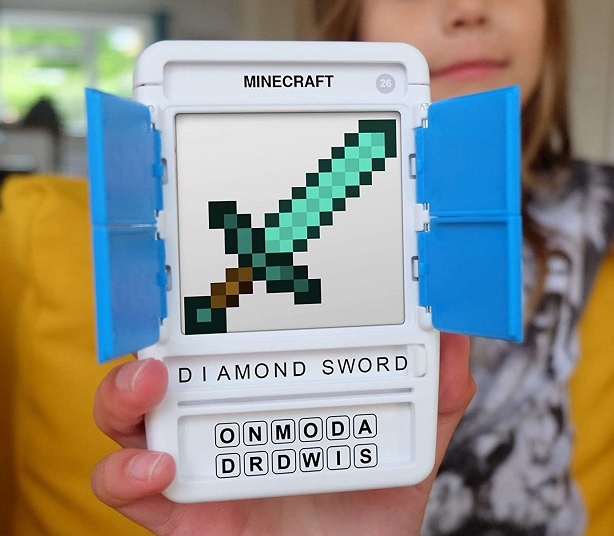 The next entry on our list of best Minecraft toys is an interesting one. This puzzle-based game is designed in a very smart manner. With it, you get a learning word-based game that makes you guess in-game items using jumbled letters. It comes packed with a mini-tool in which you can insert the puzzle cards to hide the actual terms while keeping the object's image and the hints visible. As the name suggests, you get 100 cards to play with. It can be played on your own but also with other players.
Buy on Amazon ($12.99)
18. Puma X Minecraft Collection
Last but not the least, we have recently released Puma's streetwear collection featuring Minecraft. As a tribute to Minecraft's decade-long history, the collection draws from the game's iconic graphic style to give us themed clothes. The collection has hoodies, t-shirts, and even sneakers for people of all ages.
As for the actual design, it features various Minecraft blocks, mobs, and terrain alongside the game's iconic logo. Some of the sneakers in this collection feel right out of the game.
Buy on Puma
19. NERF Minecraft Bow
NERF guns have been popular way before most youngsters shifted to shooting mobs in Minecraft. Now, you can get the best of both worlds with NERF toy bow that replicates the game's pixelated look quite accurately. Even though the bow might not look anything like the one you get within the game, its appearance easily connects it to the game. You get 8 foam darts with each bow and a professional Minecraft won't miss a single one.
Buy on Amazon ($26.99)
20. Minecraft Armor Costume
You can get some of the highest quality Minecraft toys from the market but they won't match up to dressing up like someone right out of the same. And what better way to do than going for the most sought-after armor from the game? That's exactly what this costume does by allowing you to gear up with the iconic diamond armor in real life.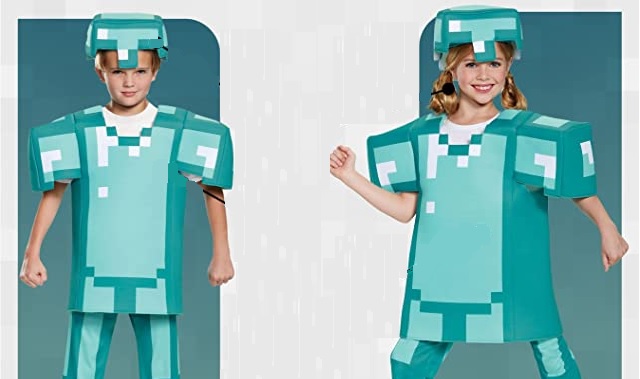 You get everything including a blocky helmet, chest plate, and even pants. The attention to pixelation details is quite impressive and as per the reviews, children love it. Whether it is Halloween, a costume party, or just a role-play session, this is a must-have for Minecraft fans.
Buy on Amazon ($34.45)
Get the Best Minecraft Toys For Yourself or As a Gift
From decoration to playing, these best Minecraft toys serve plenty of functions to the fandom. And if you have wanted to express your love for the game, now you have the best way to do so. But that's not the only way. You can even contribute to the community by creating your own Minecraft skins. Skins are a celebrated part of the community and one of the easiest ways to give back to Minecraft players. As for the inspirations, we have already collected some of the best Minecraft skins.
Though, you don't have to stop here. You can also create custom Minecraft maps to share your world with the rest of the players. Just make sure they are at the same level as some of the coolest Minecraft adventure maps that are taking the world by storm. With that said, I am still not over the cuteness of the Minecraft Bee lamp. But which of these toys are you getting as a gift of self-love? Tell us in the comments!