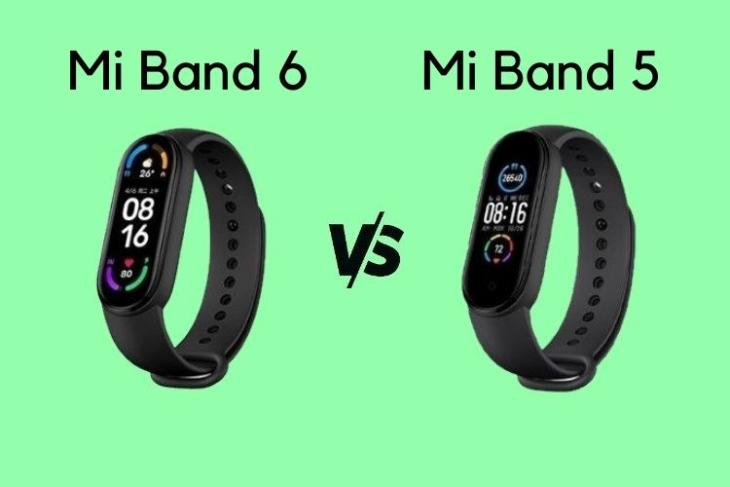 Xiaomi launched the Mi 11 Pro, Mi 11 Ultra, and Mi 11 Lite 5G at its big launch event yesterday. Alongside the smartphones, the company also unveiled the latest iteration of its popular fitness band, the Mi Band 6. It brings several meaningful upgrades over its predecessor, the Mi Band 5. In this article, we will see how the Mi Band 6 and Mi Band 5 compare to each other to help you can make an informed purchase decision if you're planning an upgrade.
Mi Band 6 vs Mi Band 5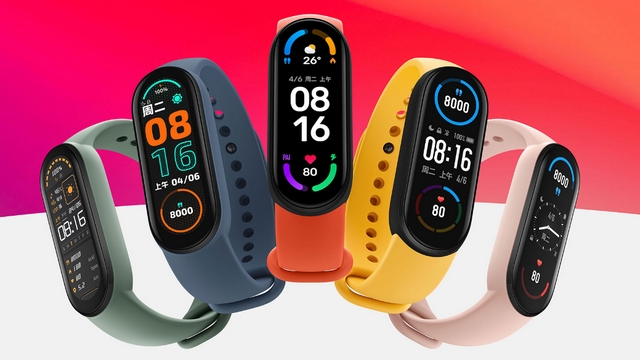 Starting with the display, Xiaomi has used a larger 1.56-inch AMOLED display on the Mi Smart Band 6. The display boasts a 152 x 486-pixel resolution with 326ppi and offers 450 nits of peak brightness. To put that in perspective, the Mi Band 5 came with a 1.1-inch AMOLED display with 126 x 294-pixel resolution and up to 450 nits of peak brightness. The dimensions of the Mi Band 6 and Band 5 are 47.4 × 18.6 × 12.7mm and 47.2 x 18.5 x 12.4mm respectively.
Apart from the increased display size, the overall aesthetic and design choices remain the same. You get the same colorful silicone straps and the familiar form factor you'd expect from a Mi fitness band. Xiaomi has also added over 130 watch faces to help you pick the one you like the most.
The biggest change with the Mi Band 6 is the addition of an SpO2 oxygen sensor for tracking your blood oxygen levels. While blood oxygen monitoring isn't a novel feature and is already available on other fitness bands, including the Honor Band 6 and OnePlus Band, Mi Band users have been waiting for this upgrade with bated breath. Moreover, the feature should prove helpful for early symptom detection of Coronavirus in the current times.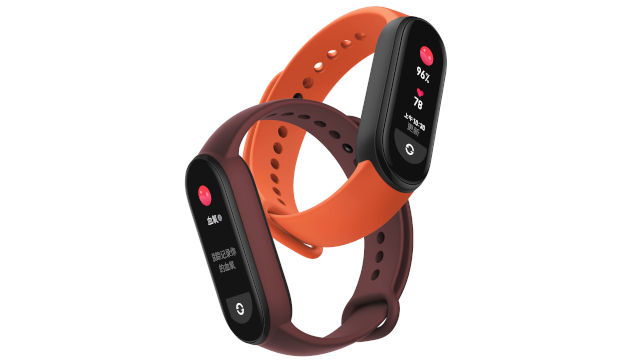 Other than the SpO2 sensor, Band 6 also includes a heart rate monitoring sensor, a 3-axis accelerometer, and a 3-axis gyroscope. Like the Mi Band 5, you have 24-hour sleep monitoring on the new band, thanks to the PPG heart rate sensor onboard. One big improvement in sleep monitoring is the ability to track sleep breathing quality. This feature will be highly beneficial for users with sleep apnea. It also retains women's health tracking features for predicting ovulation day and gives vibration reminders to be prepared.
Compared to the 11 sport modes offered in the Mi Band 5, Xiaomi has significantly upgraded its sports modes on the Band 6. The fitness band now offers 30 sports modes, including HIIT, dancing, basketball, and Zumba, among others. Also, Mi Band 6 can now automatically detect six fitness activities, so you don't need to start them manually from the band UI. The modes that support auto-detection are walking, treadmill, outdoor running, outdoor cycling, rowing machine, and elliptical machine.
This might not be a huge deal to everyone, but Strava is a wildly popular workout app among athletes and cyclists. With Mi Band 6, Xiaomi says that you can use the fitness band with Strava. Until now, Mi Band users had to use third-party apps like Notify for Mi Band, Strami, or Amazfit's Zepp app to sync data to Strava.
Apart from these changes, other features seen on its predecessor remain unchanged for the most part. You get the same 5 ATM water resistance and 125mAh battery that charges magnetically in about 2 hours. The rumored in-built GPS seems to be missing on the Mi Band 6, and you get connected GPS that tethers from your phone instead. It is the same functionality as the Mi Band 5. As usual, Xiaomi restricts voice assistant support and smart home control to the NFC model that may not launch outside China.
Mi Band 6 vs Mi Band 5: Specs Comparison
Mi Band 5
Mi Band 6
Display
1.1-inch 126x294 AMOLED display
1.56-inch 152x486 AMOLED display
Weight
11.9 grams
12.8 grams
Heart rate Sensor
Yes
Yes
Sleep tracking
Yes
Yes
SpO2 blood oxygen monitoring
No
Yes
Sports Modes
11
30
Water Resistance
5 ATM
5 ATM
Battery Capacity
125mAh
125mAh
Battery Life
14 days (non-NFC)
14 days (non-NFC)
12 days (NFC)
Price
Rs. 2,500 (India)
229 Yuan (~Rs. 2,500)
Mi Band 6: Should You Upgrade?
As we went through the specifications, it is evident that the Mi Band 6 is not a massive upgrade over its predecessor. Sure, it offers a larger display, an SpO2 sensor, and many new fitness modes, it is not as much of a substantial leap as we saw when Xiaomi introduced the Mi Band 5. If you currently own a Mi Band 5, you're not getting a lot with the Mi Band 6 unless you value blood oxygen monitoring and new sports modes.
On the other hand, if you're planning to get a new fitness tracker, you won't go wrong with the Mi Band 6. Xiaomi seems to have refined the Mi Band 5 rather than reinventing the wheel. If you're planning to get the new fitness band here in India, you'll have to wait at least until September.
Coming to the price, the Mi Band 6 costs CNY 229 (~Rs. 2,500) for the regular model and CNY 279 (~Rs. 3,100) for the NFC variant. To recall, the Mi Band 5 launched at CNY 189 (~Rs. 2,100) for the standard variant and CNY 229 (~Rs. 2,500) for the NFC model. Meanwhile, the Mi Band 5 (non-NFC model) launched in India at Rs. 2,499. Going by the price history, it won't be a surprise if Mi Band 6 costs somewhere around Rs. 3,000 in the country.