Kodi is a versatile and expansive tool which comes in very handy for not only viewing a myriad of movies, TV shows, live TV, sports, or playing retro games online, but also for managing offline content which you already own. The best part about Kodi is that it is open-source and supports third-party add-ons that augment its utility in a large number of ways. Furthermore, it works on several platforms including desktops, smartphones and tablets, TV sticks and boxes, and even Raspberry Pi.
However, getting to learn and use Kodi can be taxing on some users, especially those who are not very keen on DIY. So, if you are willing to dip your feet into the stream of a more refined media consumption experience, we have listed out Kodi alternatively that will offer you nearly the same amount of flexibility in terms of the available content with slightly more ease in terms of content discovery and viewing.
Best Kodi Alternatives in 2019
1. Plex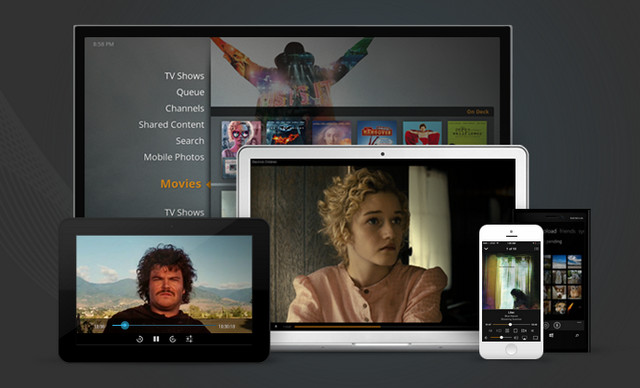 Undoubtedly one of the best Kodi alternatives that you can get, Plex is loaded with a truckload of features. In fact, it is perfect for streaming locally stored digital media to multiple devices (e.g. smartphones, set-top boxes) over the network, thanks to its client-server architecture. However, Plex also has a home theater software application, which still lets you view/manage your media library through an immersive user interface. And just like the add-ons that make Kodi so great, Plex has quite a collection of channels, that let you watch streaming content based on a variety of topics, such as news and technology.
What's more, since Plex's media server module takes care of transcoding media for streaming to different devices, it can even run on low powered PCs, and optimize bandwidth usage. Other notable features include availability on a diverse range of platforms, and a premium level subscription, which gives you even more features, such as movie trailers, and wireless syncing of photos to the media server.
Wanna know how Kodi and Plex compare with each other, in detail? Read here.
Platform Availability: Windows, Mac OS X, Linux (Desktop); iOS, Android, Windows Phone (Mobile), Android TV, Roku, Chromecast, Xbox, PlayStation (Others)
Price: Free, Paid subscription starts at $4.99/month, for additional features.
2. Emby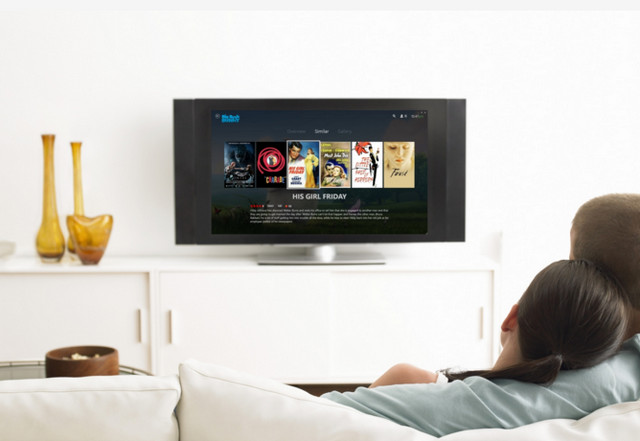 If you like the media streaming approach of Plex, but not the fact that it comprises proprietary software components, then the open-source Emby might just be the Kodi alternative for you. It's also built on the client-server approach, and makes streaming locally stored media to network connected devices super easy. Emby also includes a bit of live TV functionality, and lets you manage DVR recordings as well. But more importantly, Emby comes with features like parental controls, and web-based tools to edit metadata, search subtitles, and more. Emby can also transcode media files according to different target streaming devices, and supports streaming to DLNA compatible devices as well
Emby even has a Kodi add-on that gives Kodi library management features of Emby. Also, the premium subscription unlocks features such as cinema mode, and backup/restore of server configuration. While is nowhere near as powerful as Plex or Kodi, if you are looking for a simpler Kodi alternatives, this will serve you well.
Platform Availability: Windows, Mac OS X, Linux (Desktop); iOS, Android, Windows Phone (Mobile), Android TV, Roku, Chromecast, Xbox, Samsung Smart TV (Others)
Price: Free, Paid subscription starts at $4.99/month, for exclusive features.
3. MediaPortal 2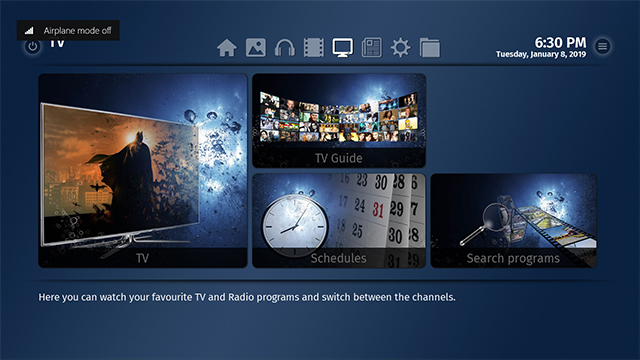 MediaPortal 2 is an open-source media player which is primarily designed to work with – and improve the utility of – hardware such as a DVR, Blu-ray player, or a TV Tuner. Besides playing media from a connected player with greater ease, MediaPortal 2, also fetches information related to DVD movies and TV shows from IMDb automatically as well as saves this information so that it can be retrieved and readily displayed when you watch the same movie or listen to the same album again.
Apart from supporting a wide range of TV cards – including the analog ones like ATSC and DVB, as well as DVR and disc players, MediaPortal also organizes your image files. Like Kodi, MediaPortal supports a variety of plug-ins which will let you listen to online radio, check the weather, read the news, or use a mobile device to control the media center over Wi-Fi. The developer behind MediaPortal 2 claims that it has been built ground up and is much better than the first generation of the software.
The only limitations of MediaPortal 2 are that it is dependent on external hardware if you want to utilize better and is currently only available on Windows. Still when it comes to managing offline media it is one of the best if not the best Kodi alternatives on the market right now.
Platform Availability: Windows
Price: Free
4. Stremio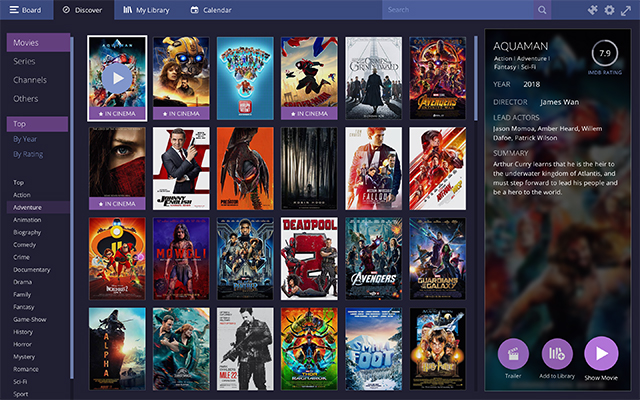 Stremio is an all-exclusive media player using which feels a lot like a super-charged version of Kodi. But unlike Kodi, you don't have to individually list or link sources as Stremio does all this automatically. It lists top-rated movies, TV series, YouTube channels on its own and also shows you a list of sources from where it can stream media. The available options include sources such as torrents as well as paid ones.
Stremio allows users to create a personal library of things they want to watch on the service. In case any particular movie is not available online and is exclusive to theaters, Stremio will also inform users. I really like the fact that the media player lets you stream movies directly from both – premium services such as Netflix as well as from free torrents portals , also showing the current number of seeders for a particular movie or TV show.
There is a slew of add-ons which enable access to a variety of content. Some of the available options include Popcorn Time, Vimeo, Twitch etc. Besides displaying a healthy library of content, Stremio also notifies you when a new episode is added to the TV shows in your library. Overall, the highly interactive and modern interface, as well as automatic add-ons, make Stremio one of the best media players and Kodi alternatives.
Platform Availability: Windows, Mac, Linux, Android, iOS
Price: Free, paid host servers for certain content
5. Universal Media Server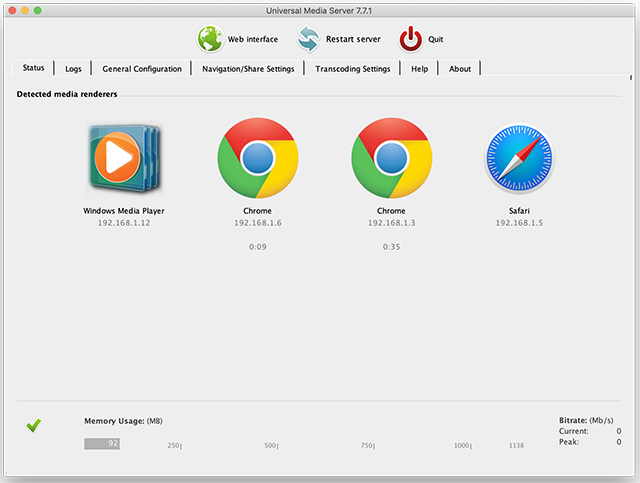 If no-fuss media streaming via DLNA-compatible devices is all that you want, Universal Media Server is going to serve you just fine. It has an extremely simple UI and can be set up fairly easily. It supports streaming to a huge variety of devices, and can transcode most of audio, video, and image formats without any configuration. Among its many features are bit-rate adjustment according to network speed, and a web interface to work even with devices that don't have DLNA support.
To set up Universal Media Server, just add the location of the stored media in the Navigation Share setting. Now, open a web browser (or DLNA browser app) on any device connected to the same network which is used to host the server and enter the IP address of the hosting device followed by ":9001". In my case, the URL was 192.168.1.6:9001 and to check yours, you can click on the "Web Interface" button above. Once other devices such as smartphones, TVs, tablets, gaming consoles, or other computers on the same network are connected to the server, they can display and play all the media contents such as images, videos, music, etc.
The beauty of Universal Media Server is that it works on any device having Java support. To make sure it works properly on your Windows, Mac, or Linux PC, you might need to download Java on your machine.
Platform Availability: Windows, Mac, Linux
Price: Free
SEE ALSO: 12 Best Spotify Tips and Tricks You Should Know
Best Kodi Alternatives You Must Try in 2019
Kodi is far from beatable when it comes to offering versatility in content and impressive customization options. But if you want to utilize only a specific type among the great features of Kodi, these alternatives will serve you good. You may also try these out alongside Kodi to have a wider variety of entertainment possibilities.
If you mostly rely on online content, we would recommend you to start with Stremio as it has many free video sources and then (maybe) and then move to Plex or Emby if you wish to enjoy more premium content. Alternatively, if you want to manage your TV and DVD/Blu-ray hardware, you can start by choosing MediaPortal 2 while Universal Media Server will come in handy for hosting files stored on a single system to be played on others.
Depending on your need, we hope some of the above-listed Kodi alternatives fulfills your expectations. Do you think any other media player can complement or even completely replace Kodi? Tell us below in the comments.