Google Play is hands down the one stop destination online to try out the latest and greatest Android apps. But there are times when Play Store cannot let you in, to download the apps you want. There are several reasons to that. Maybe, the app is not localized for your region, the app does not meet the requirements to be available in your country. Or maybe the App Developer is doing a staged roll out where not all users can get access to the apps at the same time.
How to get those apps anyways?
This is not a huge issue at all. For starters, there are a number of secondary marketplaces that you can use to get access to those apps. Android's huge user base and diversity in the ecosystem offers multiple places to try out Android Apps. Not only that, sometimes the following alternatives offer premium apps for free which otherwise would be paid on Google Play. So, first let's up our device to allow installation of these alternative app stores.
In order to enable third party App installation
Go to the Settings app.
Scroll down to Security.
Enable Unknown Sources.
What are the benefits of using third party App Stores (Google Play alternatives)?
Well there are a number of benefits, here a few of them
Installation of third-party app stores means you have more choice on type of apps.
Ability to download apps which are otherwise unavailable in your country.
Get premium/paid apps for free because of discounts.
Chance to discover something new that you might like.
Great deals on paid apps occasionally.
Now that we've taken a look at the setup and benefits lets take a look at the Top 6 Google Play Store alternatives (2019):-
1. Amazon App Store
It comes next to Google Play store in terms of popularity and is the primary app store on kindles and the Fire Phone. There is no web interface for it and you need to download the apk for using it. The apps are categorized into different sections to enhance discover-ability. And to add the icing on the cake, Amazon is offering one paid app for free each day which is a pretty good deal.
Download it from here.
Upon  installation, you are greeted by a screen where you would sign in using your email address. And the UI looks familiar to the Google Pay Store's early iterations.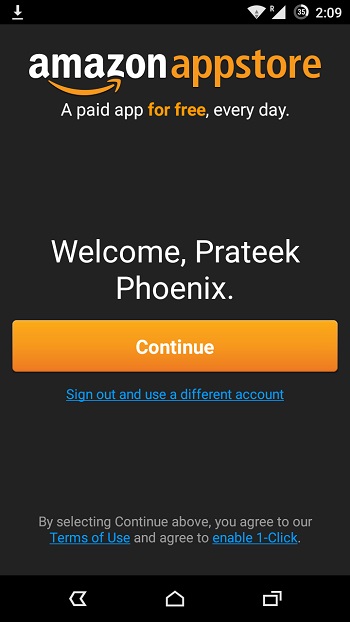 The apps are organized into categories as one might expect.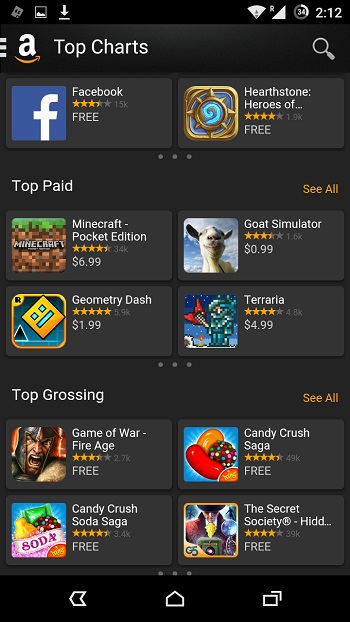 The download and installation procedures are pretty standard for a user migrating from the Play Store.
2. ApkMirror
ApkMirror is popular among folks who are willing to try the latest releases of their favorite apps, which at times arrive on Google Play after they have been uploaded here. This App Store however, has no official app and users need to visit the website to download the apps. The site claims that all their offerings are malware free. You won't find any paid apps on this store though.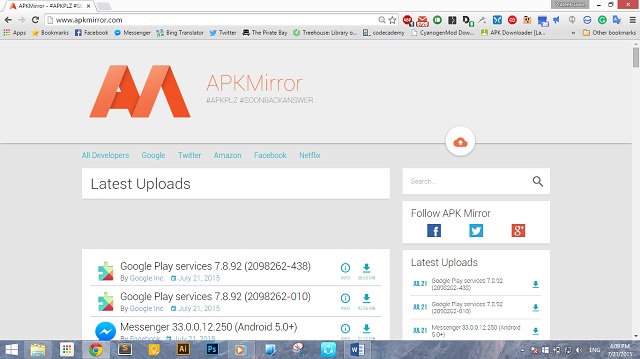 The site is well designed and the process of searching and downloading apps is also appreciable. You can browse through the Latest Uploads, or search for the specific apps using the search bar. On searching for a specific app, you are presented with a list with versions of the app arranged chronologically.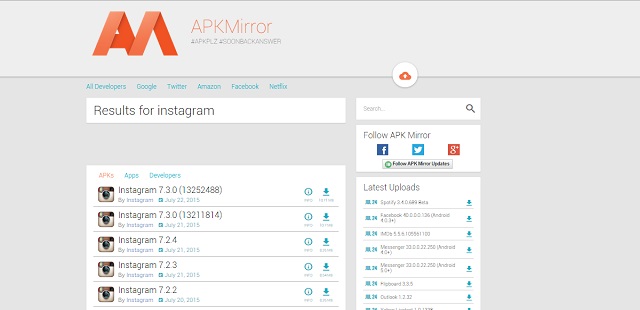 You can visit the download page of the version you wish to download and click on the download button to begin downloading the .apk file for the app.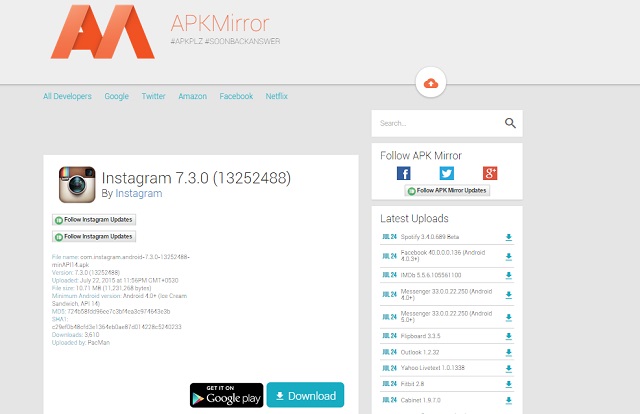 3. GetJar
If you ever owned a J2ME or Symbian based device, GetJar is nothing new to you. It is hands down the oldest app store that has ever existed. There's an official app for GetJar but you can also use it through the web interface. The site is well organized and categorized. But the apps may not always be up to date.
Download the app from here.
The App experience overall is decent as the app seems to be relying on the older Android APIs.
The apps are divided into categories and it is similar to using the GetJar website on Chrome app. The download process is snappy but looks outdated to recent Android standards.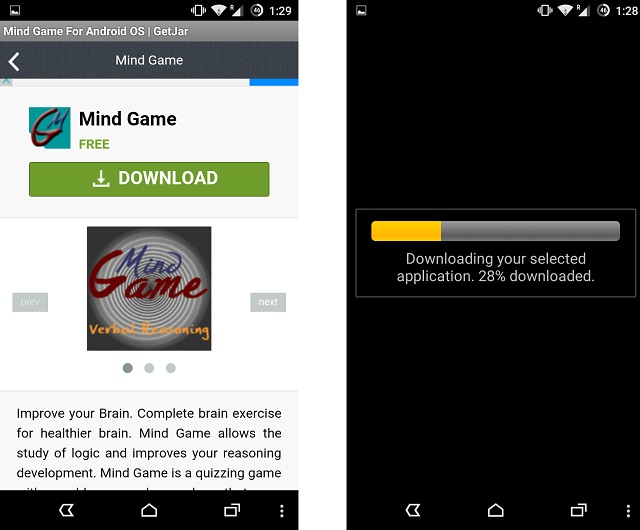 4. AppBrain
If you are looking for premium apps for free, App Brain is your destination. Developers of the paid apps make their apps free for a limited time on this site, and in turn, AppBrain publicizes it for them. AppBrain offers both an app and a website to allow users to access its catalog.
Download the app from here.
The AppBrain app is designed keeping in mind the fact that the user must have full control over what the app is doing. This is why upon installation you are asked if you want app brain to track your installed apps to offer updates. AppBrain works a bit differently though, if you try installing an app using the AppBrain app, it would redirect you to Google Play instead. In order to download apps from within AppBrain , you would need to sign up.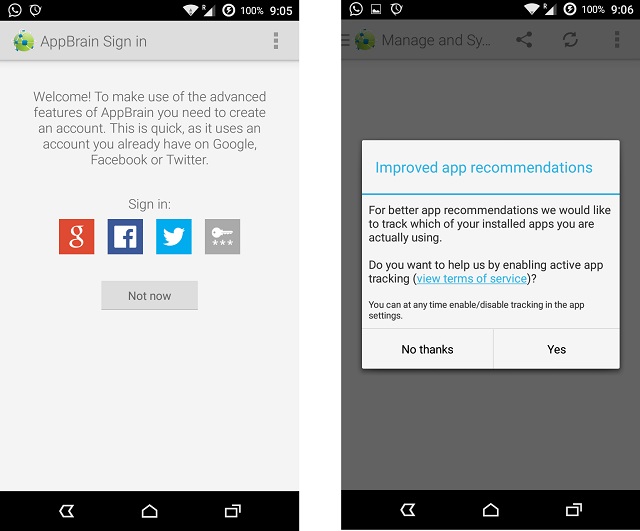 Once we get past the prompts we are greeted with familiar UI where you can search for apps, filter them by category etc. Once you have found the app you want to try, hit the download button.
5. Aptoide
Aptoide is popular among Google Play Store users because the chances of finding a paid app for free is more compared to AppBrain. It offers a clean interface both on the website and app. Although the authenticity of paid apps is questionable at times as most of them are full of ads.
Download the app from here.
On visual standards and UX Apptoide beats all other alternatives. The app has been designed according to the Google standards and the experience is almost as good as the play store. On installation you are greeted with a welcome screen to get you up and running with the app's functionality.
The tabs and categories looks like a visual overhaul of the Play Store. The app also detects your installed apps and offers updates if available. This is by far a full fledged replacement of Google Play Store.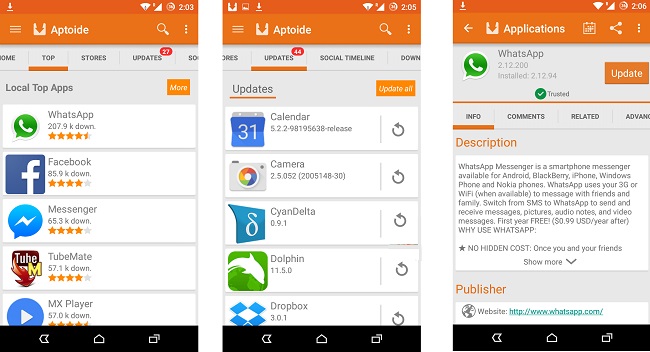 6. Opera Mobile Store
Opera, the web browser we all know, also offers an app marketplace within its browser. There is no other means of access available for this app-store and the user experience is also not good enough, but its catalog of apps is endless and it sees huge traffic because of the install base of Opera browser on Android.
Visit this link.
You can browse for apps from within the Opera Mini browser and install the apps of your choice by hitting the download button.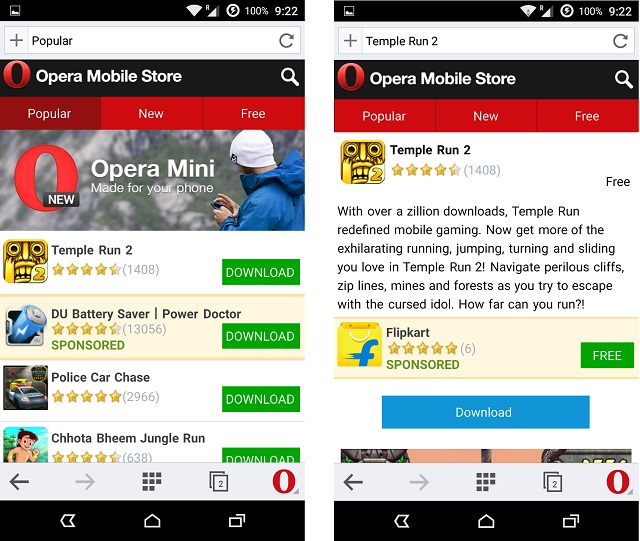 SEE ALSO: 10 Best Task Managers For Android
Conclusion
There are many other Stores that can be added to the list, but we focused only on the ones that offer the experience and security just like the Google Play Store. Having said that one must be cautious while trying third-party app stores as there are stores which offer pirated apps at the cost of breaching their privacy and security.