Google Play Store is the best place to download Android apps and games for most users. However, for some users, the Play Store might be too restrictive. And seeing how a single order from the US government can render an entire OEM useless, it's no longer feasible to depend on just a single source for apps and I would argue that we should even look at alternatives to Android. Thankfully, there are various Play Store alternatives on the market that offer you a place to download apps and games. Some of them offer more app choices than Google Play Store as their policies are not as restrictive as the latter. So, if you are interested, here are the top 8 best Google Play Store alternatives you can download and use in 2020.
Best Google Play Store Alternatives in 2020
Before we get to our list, let's discuss a few reasons why you should use a Play Store alternative along with the reasons why you should not.
Why We Need a Play Store Alternative
One of the biggest reasons why we should not solely rely on Google Play Store has to do with recent Huawei situation. While that was an extreme case, it gives us a first-hand look at the problem that comes with creating a monopoly such as Google. If that does not concern you, you should consider the benefits of using the replacement app stores. First, you get access to apps that may not be released in your region by the app developer. Second, you get access to powerful apps that bring better customization features and talk more deeply with the Android operating system. Such apps are not allowed on the Play Store for security concerns. And finally, most of these Google Play Store alternatives take minimum  to no commission. More money to developers will mean they will be able to support your favorite apps for long.
However, just like every coin has two sides, using alternatives to the Play Store does not come without disadvantages. The first and foremost is the security concern. The relax policies that allow powerful apps to exist may also open doors to nefarious apps. They also have relaxed security policies, so chances of finding malware are higher here than on the official Google Play Store.
To mitigate these problems, we have only included reputed options that offer highly-secure app stores. However, users must also be vigilant when they are downloading apps. Here are some steps you can take to protect yourself:
Never download a paid app that is free on these stores without checking the developer's name.
Always download apps from trusted developers.
If you are not technologically savvy, stick to the apps that you know and trust.
Now that you have a brief idea of the pros and cons of using third-party app stores, let's get to our list.
1. Aptoide
Aptoide is one of the few commercial Android marketplaces that is giving good competition to the Google Play Store. While in the smartphone landscape, Play Store has a huge monopoly, at least, for apps on Android TVs, Aptoide has created its niche space. Aptoide is known for offering apps that are generally not found on the Play Store. So, if you are looking for a Google Play alternative to install unavailable apps — due to geo-restriction or Play Store policy violation — then Aptoide is the best pick in this category. Apart from that, you will find all the popular apps from publishers like Facebook, Roblox, Supercell and more.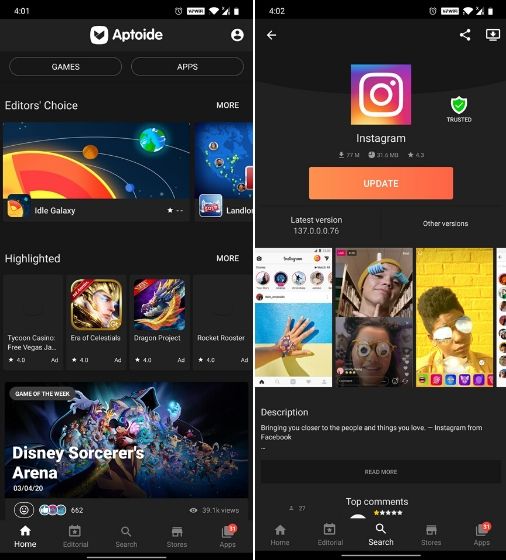 Coming to security, well, the APKs on Aptoide are directly uploaded by the developers and further verified by Aptoide through many security checks. So there is no third-party fiddling in the process. To sum up, Aptoide has a library of more than 1 million Android apps and is capable enough to replace the Play Store.
Download (Free)
2. APKMirror
APKMirror is another popular choice among the Android community for downloading apps without using the Google Play Store. While it's not an app marketplace in the strictest terms, it's surely a repository of almost all Android apps which you can otherwise find on the Play Store. Generally, people use APKMirror for downloading apps that are geo-restricted so if you are looking for an alternative to evade the restriction then APKMirror is a solid choice. Apart from that, APKMirror just released an Android app on the Play Store to make things easier for users to install and manage APKs downloaded from APKMirror.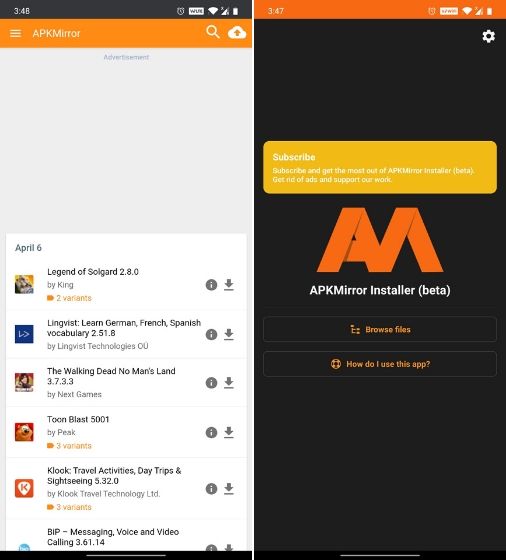 It still uses the webpage to browse apps, but now you can download an APKM bundle to install apps seamlessly through the dedicated app. As for security, it verifies the signature of all the new APKs with the original one to authenticate the publisher. In terms of security, I would say APKMirror is top-notch. Simply put, APKMirror is a great place to download Android apps without any limitation therefore it stands as a serious alternative to the Play Store.
Download (Free) / (Play Store)
3. F-Droid / Aurora Store
F-Droid is an app store for free and open-source applications developed primarily for the Android platform. It's one of the most popular and clean app stores where you can find safe-to-install apps on your Android device, in case you have chosen to lead a Google-free life. Keep in mind that you won't find all the popular apps from the Play Store instead, you will get open-source and well-liked apps (NewPipe for example) on F-Droid. However, if you want access to all the apps available on Google Play Store, but minus Google tracking your activity then you can install the Aurora Store from F-Droid.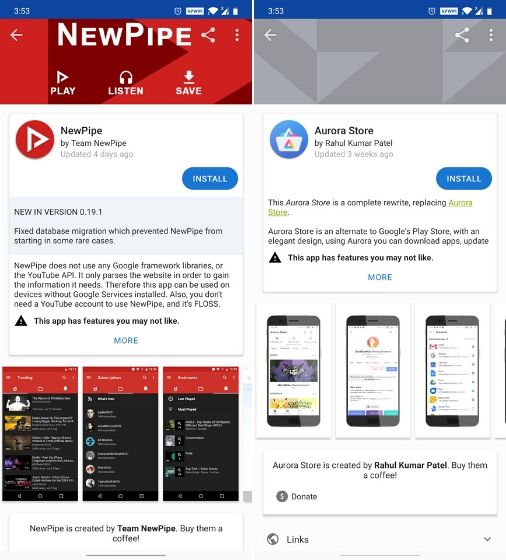 It's a Play Store client from where you can pull Android apps straight out of Google's repository but without Play Service or other tracking suites. Having said that, you will have to use a throwaway Google account to link Aurora Store and Google Play Store. Apart from this, there is Yalp Store as well on F-Droid, but it has not been in development for a while so I have chosen Aurora Store instead.
Download F-Droid (Free) / Download Aurora Store (Free)
4. Amazon App Store
Amazon App Store is another commercial app marketplace that is competing with the Google Play Store directly. It's perhaps next to Google Play store in terms of popularity and is the primary app store on Kindle, Fire Phone and Fire Tablet. There is no web interface for the app store and you need to download the APK for using it. The apps are categorized into different sections to enhance discover-ability. And to add the icing on the cake, Amazon is offering one paid app for free each day which is a pretty good deal.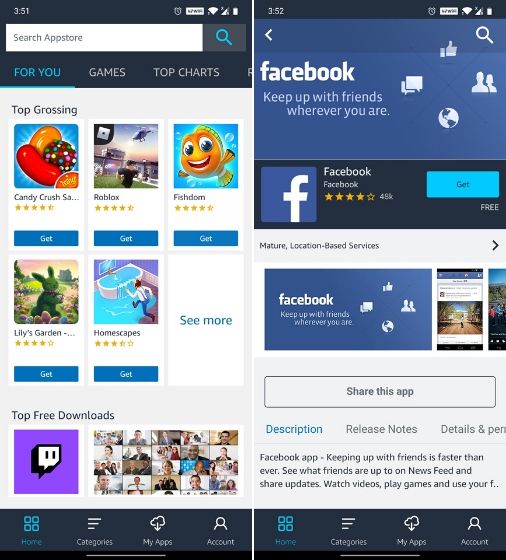 Upon installation, you are greeted by a screen where you would sign in using your email address. And the UI looks familiar to the Google Play Store's early iterations. The apps are organized into categories as one might expect. The download and installation procedures are pretty standard for a user migrating from the Play Store.
Download (Free)
5. Huawei AppGallery
AppGallery was a dedicated app store for Huawei and Honor devices, but after the recent US sanction and subsequent Google ban, the company has made its Android app store open to everyone. It basically means that you can install and use the Huawei AppGallery on any Android device. And going by the recent news, it seems the company is ramping up the development and offering incentives to developers to upload the APKs directly on its platform. By now, Huawei AppGallery has naturally become a solid alternative to the Google Play Store.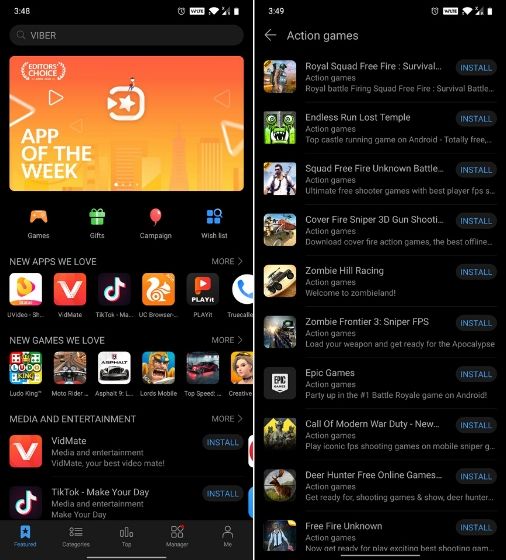 According to Huawei, AppGallery has more than 1.3 million Android apps including all the popular apps and publishers. Apart from that, AppGallery has currently around 400 million users so that is saying something. All in all, if you want a true Google Play Store alternative then Huawei AppGallery is a competitive pick.
Download (Free)
6. Samsung Galaxy Store
Galaxy Store is an exclusive app store for all Samsung devices including Android smartphones, smartwatches, smart TVs and more. While Samsung smartphones come preloaded with Google Play Store, there are many apps that are updated and managed by Galaxy Store in the background. Apart from that, Samsung has been recently partnering with many publishers to make its platform widely popular and more profitable to developers.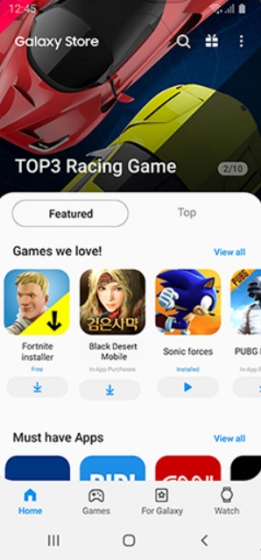 'A recent example being Fortnite which is readily available on Galaxy Store, but not on Play Store. Similarly, we are hearing that Forza Street for Android will be initially exclusive to Galaxy S20 Series through the Galaxy Store. So in a way, Galaxy Store is showing great promise and with already millions of apps in tow, it has become a perfect alternative to Play Store, at least on Samsung devices.
Discover Galaxy Store or You can find it in the App Drawer on Samsung Devices 
7. GetApps
Similar to Galaxy Store by Samsung, GetApps is a dedicated app store by Xiaomi for its devices. So if you own a Xiaomi device — be it Redmi, Poco or Mi — you can easily browse, install and manage millions of apps using GetApps. No need to use the Play Store at all. Due to Google's certification and compliance rules, all OEMs– including Samsung and Xiaomi– have to preload and put the Play Store front and center. However, you can just disable the Play Store and use GetApps for all your app and gaming needs.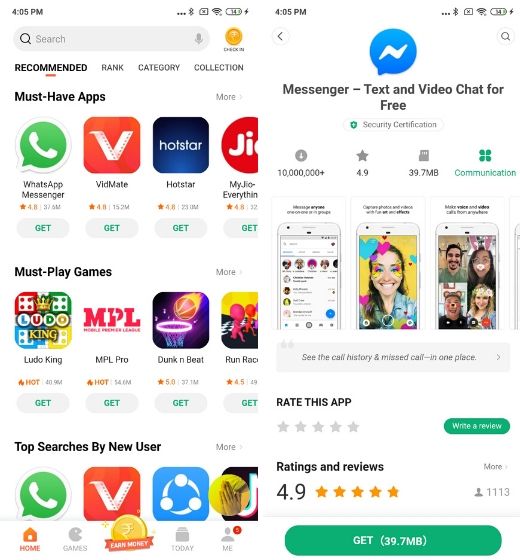 Apart from that, it seems Xiaomi is pushing GetApps to a larger audience with exclusive apps (like Mi Credit and Mi Pay) and games. Not to mention, GetApps has all the popular apps like Facebook, TikTok and more. So if you have a Xiaomi device, you can simply replace the Google Play Store with GetApps and I am sure you won't be disappointed.
You can find GetApps in the App Drawer on Xiaomi Devices
8. App Not Available in Your Country?
If you are looking for a Google Play Store alternative because score of useful apps are not available in your country then you really don't need a separate app store. There is a simple way you can get access to many geo-restricted apps in your region. We have written a detailed guide on how to find and install Android apps that are not available in your country. You can go through our tutorial and install any Android app without any limitations. Apart from that, if you don't want to use Play Store at all then we have also mentioned other ways like Evozi which will let you download the app in one click.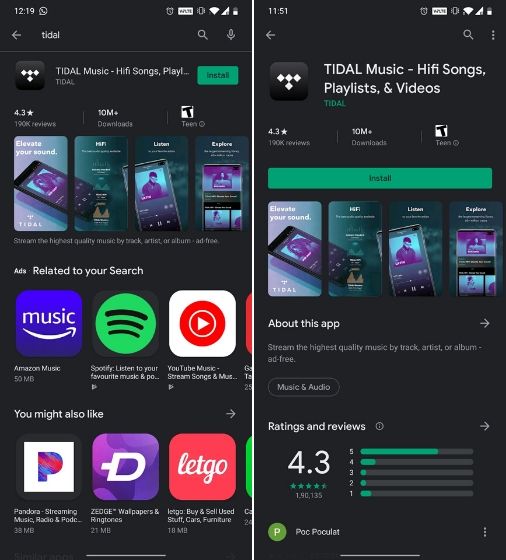 Use These Play Store Alternatives to Download Apps
There are many other Stores that can be added to the list, but we focused only on the ones that offer the experience and security just like the Google Play Store. Having said that one must be cautious while trying third-party app stores as there are stores which offer pirated apps at the cost of breaching their privacy and security.