For the majority of us, our entire media collections reside on our PCs. And more often than not, making sense of that much digital content gets a little troublesome. Thankfully, many specialized applications, generally called Home Theater Software are available to make that simpler. They offer features like media library management, network streaming to multiple devices, access to web content, and a lot more. Out of these, Kodi and Plex are easily two of the most popular. But which one's good for you?
That's exactly the question what this post is aimed at answering. All set to roll? Let's take a comparative look at both Kodi and Plex, going over some of the fundamental features, and see how these two stack up against each other.
Kodi Vs. Plex: The Major Difference
Before we even get started, it's important to understand that while Kodi and Plex have nearly identical features and functionalities, the way they do what they do is a little different. Essentially, Kodi is a standalone media center application, primarily meant to better manage, organize, and consume the digital content on the host system. On the other hand, Plex is based on the client/server architecture, and turns the host machine into a media server, which can be then used to stream digital content to a multitude of devices, such as smartphones, set-top boxes and more. However, you can still use the Plex Home Theater desktop application to make for an engaging media consumption experience on the host computer as well. And though some people think that Plex is based on Kodi's source code, it's not entirely true. Now that it's all cleared up, it's time to move on to the actual stuff!
UI And Customization
Kodi: There are no accounts or anything required to use Kodi, and you can get started right away after installing the application on your system. Post installation when you run it, prepare to be astounded. As seen above, Kodi is one heck of a looker, sporting a stunning looking full-screen UI, complete with butter smooth transition effects. And that's just Confluence, the default skin, one of the many available for it.
The application is divided into a bunch of self-explanatory sub-sections, such as Pictures, Music, Videos, Programs, Settings etc., which can be used to do everything from specifying the locations of media library folders, to installing/using the innumerable add-ons (more on these later) and plugins available for Kodi, to granularly tweaking the application's settings. Other than that, the top right corner shows the system time and date, whereas the bottom area consists of the power options, and a scrolling RSS feed of latest updates from the Kodi team. Navigating Kodi's many options is a breeze, and can be done either via a mouse, or a keyboard, thanks to the numerous keyboard shortcuts available for it. And if you want to search your media library for a specific audio/video file that you're looking for, all you have to do is install the Global Search add-on.
Plex: You are required to create a free account before getting started with Plex. This is because all your device settings, sharing preferences, watch later queue items etc. are synced to your free account, across all the devices you use with Plex. When installed, Plex configures the host system as a streaming media server, and runs in the system tray. However, you might be a little surprised when you try to access its UI, as it opens up in a web-browser. Yep, you read that right. Plex media server's primary interface runs as a web app. And that makes sense, because Plex is supposed to help you play your digital media on other devices, acting as clients, and not on the your computer, which is server. However, the web UI in itself is a fully capable media player in itself.
As evinced by the screenshot below, it sports a simple and easy to understand dual column UI. The left column consists of navigation shortcuts for different types of media (e.g. Music, Videos, Channels, Playlists), while the bigger right column lists the content corresponding to the selected option. Apart from that, there's just a search bar up top, that can find any audio/video file in your media library within seconds, along with options to access account settings, selecting devices to stream media to, and things like that.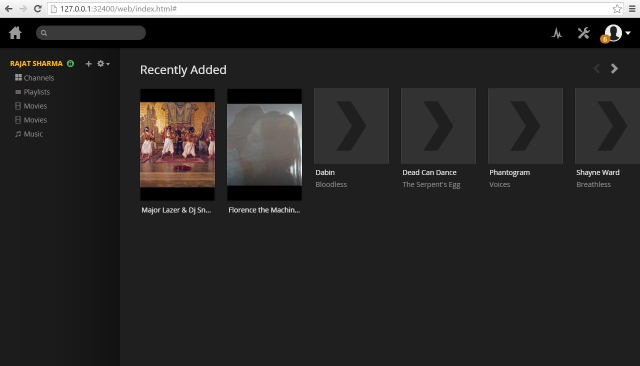 Winner: Kodi (Although Plex's UI and general feature set is perfectly usable, it's nowhere near the level of the customization power offered by Kodi).
Content: Add-ons and Channels
It's true that at their core, both Kodi and Plex are primarily media playback/management applications, but that's just the tip of the iceberg. Thanks to continuous community and develeper support, as well as numerous add-ons and channels available, both Kodi and Plex are capable of doing much more than just play music and movies. Confused? Keep reading!
Kodi Add-ons: Probably its most impressive feature, Kodi add-ons are hugely useful plug-ins that expand its functionalities in unimaginable ways. Want to download subtitles for a movie you're watching? Done. Feeling like playing a puzzle game? Piece of cake. How about managing your downloads? You got it. And that's not counting the digital content based add-ons. As of the latest tested version of Kodi (15.2 Isengard), there are tons of live TV add-ons available too, and these let you view diverse live streaming content, podcasts etc., from sources such as CBS News, Khan Academy, Metacafe, NASA, The Wall Street Journal, and many more. You can even record live TV and watch it later. All you have to do is go to Settings > Add-ons, and you can directly view a categorical listing of all the available add-ons (Audio, Video etc.), along with other important related information, and install them (along with any dependencies they might require) with one click.
It's important to note that some add-ons and/or their content is region restricted, and others require some specific repositories in order to be installed. Check out some of the best Kodi add-ons we've covered.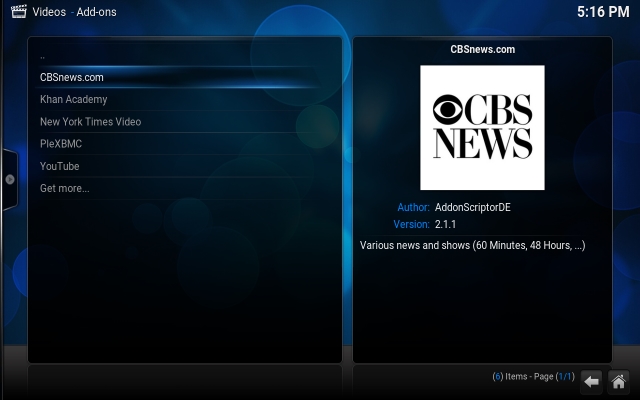 Plex Channels: As a powerhouse streaming media server application, Plex already makes enjoying your digital media a walk in the park. But what about the tons of content (Music videos from YouTube/Vimeo, Breaking news stories etc.) that's freely available online, waiting to be watched? Not a problem folks, as Plex channels are here to the rescue. Channels, in essence, are kind of extensions that hook into the servers providing free streaming digital content on the Internet, and deliver it straight to you. From Comics to News to Technology, there's a lot to choose from. Some of the popular channels include GameTrailers, Fox News, Apple Movie Trailers, History Channel, South Park, and then some more.
To install channels to your account, just go to Plex's web app, select Channels from the left bar to browse the ones available (Some channels are region restricted), and install with a mouse click. The channels you install are synced to your Plex account, and are thus available on all the devices you use Plex on.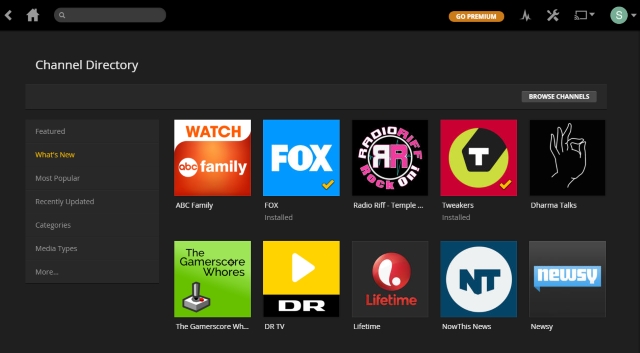 Winner: Kodi (It is true that Plex can be used to access online streaming content, thanks to the many channels available for it. However, the range of content offered by Kodi's innumerable add-ons is more).
Streaming/Sharing Capabilities
Kodi: As mentioned earlier in the article, Kodi is more geared towards digital media consumption and management on standalone devices. But that doesn't mean it's restricted to just one device. In fact, you can sync/share not only your media library, but also information like watched statuses, some general application settings etc., among multiple devices running Kodi. For sharing over local networks, a little bit of tinkering with the UPnP (Universal Plug 'n Play) is required, in order to configure Kodi instances as client or server (as required). However, sharing over the Internet is much easier, and can be achieved simply by installing add-ons such as Emby for Kodi or PleXBMC. Essentially, this configures Emby or Plex as back-end media management servers, that work together with Kodi acting as front-end for all the releveant settings. Both add-ons can be extensively configured for better sharing amongst devices.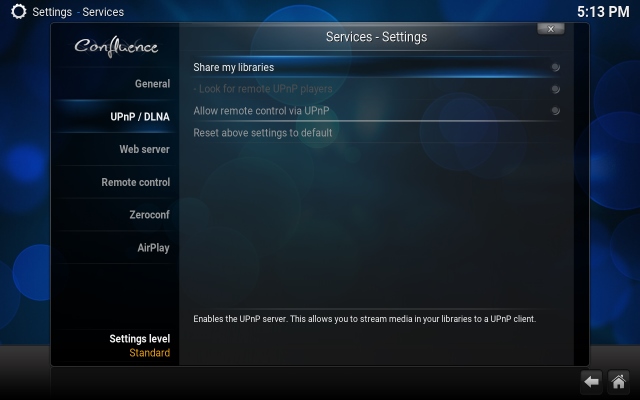 Plex: If you have multiple digital devices (e.g. smartphones, tablets) with you, and you want to enjoy your digital media collection on all of them, anytime and anywhere, Plex is an absolute no-brainer. When it comes to digital media streaming, nothing even comes close to Plex. Once you have the Plex Media Server application up and running on the host device/NAS, with everything from the user account to the libraries configured, you'll be amazed to see the awesomeness that Plex is. Utilizing just a simple web-based front end, it makes streaming media to the network connected devices as simple a task as selecting the device from the list. And that's not all. You can configure Plex to automatically optimize and downscale the characteristics of the streamed media, to conserve bandwidth. Then there are goodies like remote network access, account restrictions, offline playback, and much more. It really is that good.
Winner: Plex (The streaming capabilities of Plex are probably its biggest highlight feature. And given the advanced options and granular control they offer, they are simply too much for Kodi's limited sharing to match up to).
Platform Availability
We no longer use just our computers to listen to our favorite songs and watch our favorite movies. So it's only fitting that applications like Kodi and Plex, which are all about making digital media consumption a better and immersive experience, support a broad ecosystem of devices. Thankfully, both Kodi and Plex work over an extremely broad ecosystem of digital media players and smart devices. Let's see how they stack up when it comes to platform availability.
Kodi: Windows Vista and later, Mac OS X 10.7 and later, Linux (Desktop); iOS, Android (Mobile); Amazon Fire TV, Amazon Fire TV Stick, Chromebox, Boxee Box, Cubox-i, Compulab Utilite, Intel NUC, Nvidia Shield Android TV, ODroid, Razer Forge TV, WeTek Play, Google Nexus Player, OUYA, Raspberry Pi (Other Platforms).
Plex: Windows Vista and later, Mac OS X 10.6 and later, Linux (Desktop); iOS, Android, Windows Phone (Mobile); Xbox, PlayStation, Apple TV, Chromecast, Amazon Fire TV, Roku, Android TV, Smart TVs (Other Platforms).
Winner: Plex (While Kodi might be available on a broad and diverse range of platforms, the combined reach of Plex's client and server apps, in addition to the many mobile platforms and gaming devices, make it overall better, even if by a small margin).
Pricing
Kodi: When you use Kodi, you don't have to shell out one cent. Being supported by a large community of developers and users, this open source application, along with all its add-ons, features and updates, is completely free. However, if you choose to install an add-on that provides access to paid content, you'll obviously have to to pay, but only to the actual content provider. Kodi is still free.
Plex: Known as Plex Pass, the premium subscription of Plex offers you a truckload of extra goodies, such as advanced music management and identification using the Gracenote database, streaming video content from Vevo, access to high quality trailers of upcoming movies and TV show, and a lot more. You also get the Plex apps (including preview versions) for different platforms for free. So if you're someone who wants access to the latest and greatest in digital media content, Plex Pass is definitely worth checking out. The subscription plans start from $4.99 per month.
Winner: Kodi (There's no doubting the fact that Plex Pass is every bit worth it, given the stuff if gets you. But Kodi is free, and the fact that application itself is fully functional without costing anything, turns things in its favor).
Kodi Or Plex? Which One Is Good For You?
Now that you have a fair idea of the major features of both Kodi and Plex, and how they stack up against each other, it's time to answer the original question: which one you should go for? In the end, it's all a matter of personal preferences and requirements. In any case, the following points should help you in deciding better:
Advantages of Kodi:
Completely free and open-source.
Hundreds of diverse, functionality enhancing add-ons available.
Live TV watching and recording.
Overall a little easier to use, with library sharing.
Better suited for digital media consumption and management on single machines.
Available on a wide variety of devices and platforms.
Advantages of Plex:
Pretty feature laden at the free tier, with the premium Plex Pass subscription offering even more.
Numerous channels providing access to a variety of freely available streaming digital content.
Perfect for those who want to have access to their digital media, anytime and anywhere.
Library sharing features. Works well on low powered devices too.
Available on just about every platform out there, and works even on NAS.
SEE ALSO: 7 Best Windows Media Center Alternatives
Conclusion
Today, we have a myriad array of devices available to enjoy our digital media collection on, ranging from computers, to smartphones, to tablets. And with incredibly powerful services and applications like Kodi and Plex, doing so is easier and more enjoyable. If you want an immersive media consumption experience on a single local device, along with something that can be vastly enhanced by add-ons, Kodi is going to serve you perfectly fine. It'll work fine even for those who want to hook up the host system to a digital TV, and enjoy all their digital content on a 10 foot interface. However, if you're looking for a one stop solution for all your digital media streaming needs, and want to have remote access to the latest and your own collection of greatest digital content, at all times, Plex is your friend. Know of any other similar service(s) out there? Shout out in the comments below.
---
Load More