In their earlier days in the 60s, The Beatles recorded their songs at EMI's Abbey Road studio using twin-track vacuum-tube machine. There was very little opportunity for overdubbing, and the sessions were similar to recording live performances. In simpler words, the legendary Fab Four recorded each of their early songs perfectly in one take. One mistake would cost them time and money because they had to repeat everything from the beginning.
Kids today can duplicate those recording sessions using common smartphones, with no musical instrument, and in as many takes and retakes as they want. Anyone can bring a recording studio with virtually unlimited tracks in his/her pockets in the form of mobile apps. This era is truly the golden age for musicians.
GarageBand is the pioneer of music making apps for the masses, and it remains unrivalled until today. Unfortunately, mobile GarageBand is (and will be) available exclusively for iPhones and iPads. But worry not, if you are a modern-day musician who chooses to stay out of Apple loops, here are music-making GarageBand alternatives for Android that you can try.
Note: Please be advised, considering the fragmentation in Android landscape, that the compatibility and performance of resource-heavy applications will depend on the OS version and hardware of your smartphone. Expect to experience some lags, latencies, and incompatibilities.
Best GarageBand Alternatives in 2020
Music Maker Jam helps you create music by combining loops – short musical chunks that you can play over and over in loops, hence the name. There are over 100 music styles and 8-channel mixer that will give you plenty of room to channel your creativity.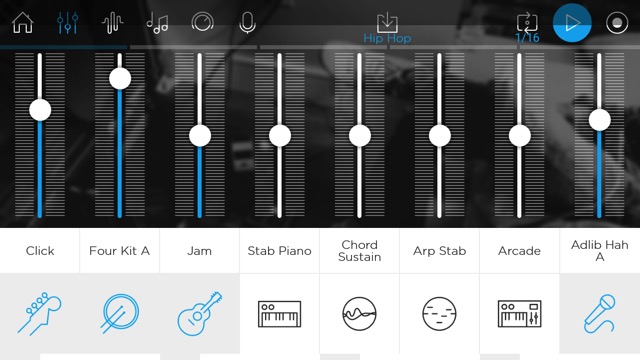 The app also allows you to record external voice, so you can use the feature to record your singing, rapping, or other kinds of sounds; and add them to your song.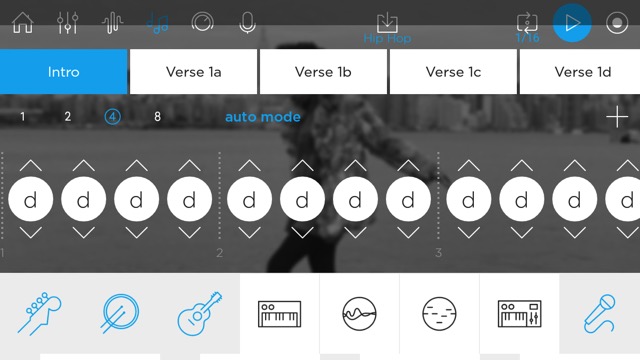 After you have finished recording your song, you can share it with the world using the sharing feature. You can also discover new music in the Music Maker community shared by other users.
Price: Free, in-app purchases
n-Track Studio Music DAW app promises to turn your Android device into a complete recording studio. The app lets users record and playback both audio and MIDI tracks. It also allows users to mix those tracks and apply audio effects to enhance the quality of the overall recording.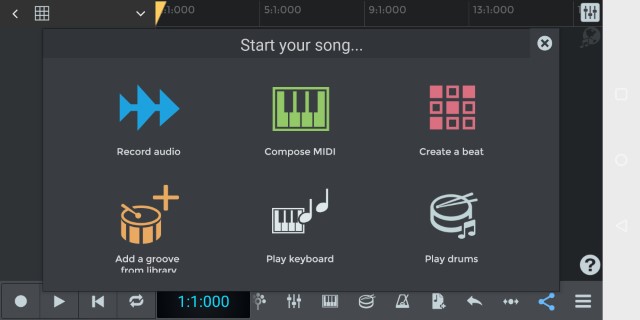 The app supports both mono and stereo recording with support for unlimited number of tracks (limited to 11 tracks in free version). It also features built-in MIDI synth featuring 128 General MIDI instrument sounds along with piano roll MIDI editor, step sequencer, spectrum analyzer, and more.
When it comes to effects users can use a number of supported effects including reverb, echo, chorus, flanger, tremolo, Pitch Shift, and phaser, among others. n-Track studio also supports 64-bit double precision floating point audio engine which is a feature that is not found on many Android DAW apps. Overall, this is one of the most feature-rich GarageBand alternatives that one can find on Android.
Price: Free, in-app purchases
Walk Band is considered one of the best GarageBand alternatives for Android ecosystem. It's feature-packed and brings almost all the GarageBand features like synthesizers, musical instruments, studio-quality recording and more. You can, in fact, choose up to 50 musical instruments within the app. Walk Band has also been awarded as Editor's Choice on the Google Play Store. Talking about instruments, you have access to piano, keyboard, drum pad, and guitar that works in both solo and chords mode. In addition, what makes it a complete alternative to GarageBand is the fact that you can connect USB MIDI peripheral keyboard to your smartphone and Walk Band will detect it. That's amazing, right? Having said all of that, you can also record your voice and mix it with a synthesizer, edit the track and so on. Basically, you are sorted on almost all the fronts with Walk Band.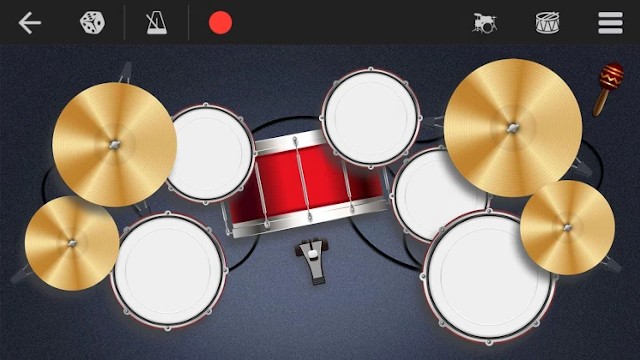 Price: Free, in-app purchases
BandLab is a promising new app in the Android ecosystem for creating music from scratch. I would say in terms of music editing and launchpad, it's almost there with GarageBand. BandLab allows you to record, edit and create multi-track music with many kinds of creative effects like beats, vocals, loops and most importantly hundreds of sound packs. If you loved sound packs from GarageBand, let me tell you BandLab has a similar library and it does not cost a dime. As for the kind of music you can create, well, if you have a strong liking for EDM, dubstep, house, rock, hip-hop and such genres then BandLab can be a trailblazer in your musical journey.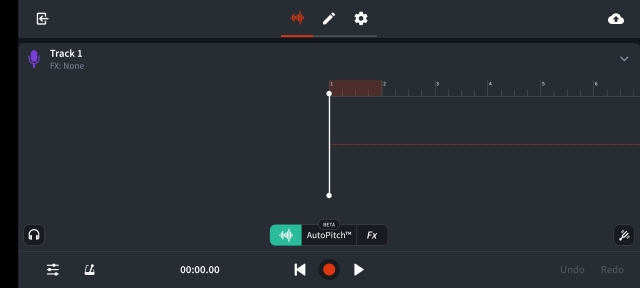 On top of that, BandLab runs a social network of musicians as well where you can publish your tracks, connect with other fellow beatmakers and create something new for your audience. To put it straight, BandLab is quite ambitious in its prospect and you should definitely give it a try.
Price: Free
Song Maker is more about creating tracks using pre-recorded music, beats and rhythms rather than plugging guitar and keyboard to develop raw music. So in some ways, it's like GarageBand because a big part of Apple's music studio app is about creating and editing music using modern tools. Similarly, on Song Maker, you can compose music by mixing various kinds of sounds, rhythms, tunes, and beats. Of course, you can also record your voice and add the track to the music. As for the library of music, it has got Bass, Hip Hop, Metal, Drums, and DJ beats. You also get a live music editor tool for sounds and loops. To conclude, if you are someone who likes EDM, pop-music and Hip Hop then I would recommend Song Maker without any hesitation.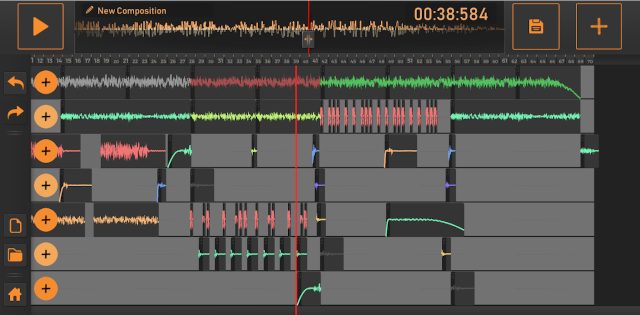 Price: Free, in-app purchases
uFXloops Music Studio is a versatile music studio app which is great for users who are more into the genres of hip-hop, trance, electro, and techno. The app brings various features such as free loop sequencer, sampler, beat maker, mixer, soundboards, and more.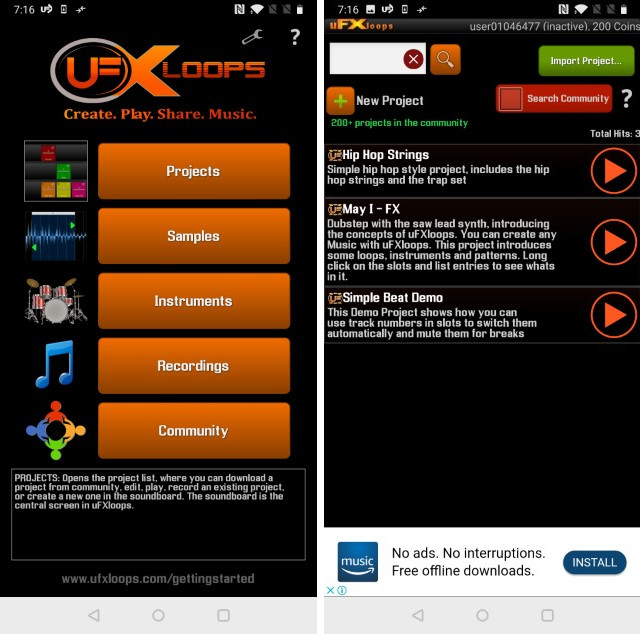 While the app is nowhere near as powerful as GarageBand, it is really good at producing music for the genres that it is targeting. The app comes with more than 200 sample projects which are enough to get anyone started. Once you are ready, you can record your own songs with your own drum beats or synthesizer or any other instrument that you want to use.
It also brings support for audio effects including chorus, flanger, distorter, bitcrusher, and more. If you are already recorded your music and just want to apply final touches, you can directly import it in the app and work with it. Almost all the major audio formats including WAV, OGG, AIF, and MP3 are supported in both mono and stereo. There's also a great community around the app which is helpful for newcomers. I quite enjoyed using this app and you should definitely check it out.
Price: Free, in-app purchases
Caustic is a virtual rack mount of synthesizer – or machines as the developer called it. You slide between machines by sliding the sidebar up and down, or you can pick one to play with by opening the machine pad.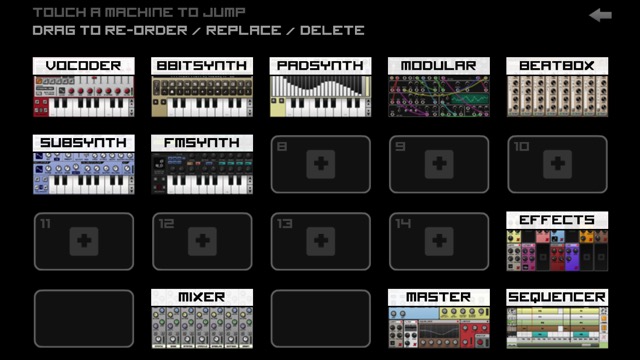 Each machine comes with a virtual keyboard to create the tones and tons of effects, parametric equalizers, and sequencers to modify the songs. The app is a heaven for electronic musician, but for traditional ones like me, it's a bit overwhelming.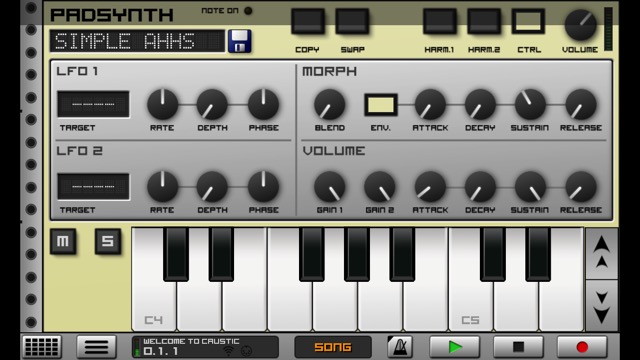 The ability to save and export is disabled in the otherwise fully functional free demo. The full version is available by purchasing an unlock key.
Price: Free, in-app purchases
FL Studio is a multi-track recording studio on the Android devices. It's also available in the PC version. It comes with 133 high-quality instrument, drum kits,  and sliced-loop beats, each with configurable settings. There are also tons of effects such as Limiter, Reverb, Delay, EQ, Amp, and Mix; plus 99 track sequencers and intuitive editing options.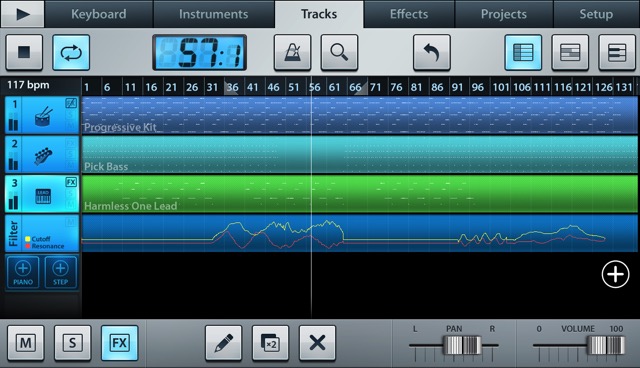 The sessions come with multiple undo and redo for all editable screen. And the app allows you to import and export midi files, also share your songs via email or Dropbox  or other supported cloud storage services.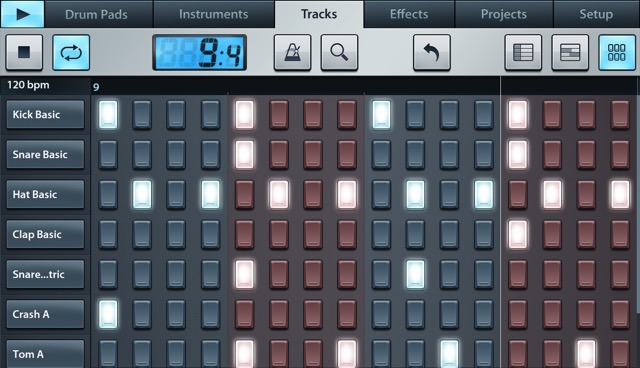 FL Studio offers high-quality, battery-friendly audio engine that makes sure that the app uses device's battery juice as efficient as possible. However, the music latency will depend on your device processing power. Apps like FL Studio dominate the desktop scene, but on Android, it's the only one that is competent enough to use. It is frankly one of the best GarageBand alternatives you can get on Android.
Price: $14.99 (Free demo available)
Audio Evolution is a complete digital audio workstation – another multi-track recording studio with a similar approach to Walk Band, but designed for more advanced users. You can record external audio such as your singing, or live musical instrument playing, using your device's microphone or additional external microphones for a better result. In addition to the built-in piano roll, you can use an external midi keyboard to record your song.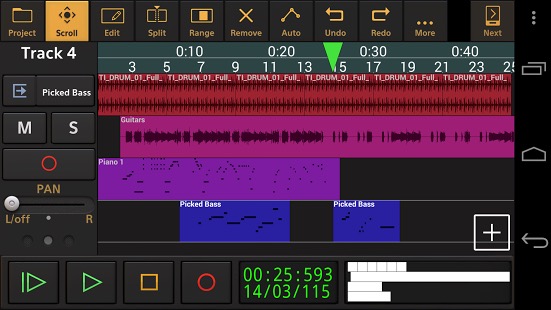 Audio Evolution also comes with a midi sequencer, import audio and midi feature, the ability to use samples and loops, unlimited undo and redo, to name just a few. And you can export your song as high-quality audio or the compressed web-friendly version.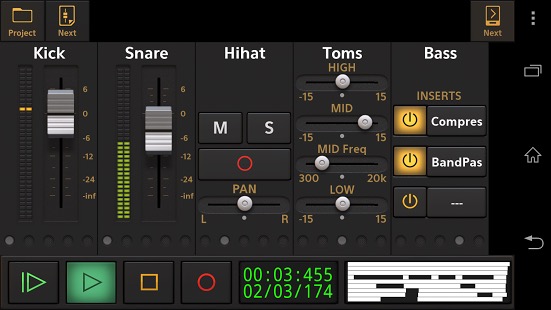 As the name suggested, this app relies heavily on loops in music creation. There are tons of loops available that you can mix using a multi-track mixer.
Price: $6.99 (Free demo available)
If you are looking for more simple music making application, then J4T Multitrack Recorder might fit your bill. This app is a simple 4-track recorder, built with songwriters in mind. It's designed to capture song ideas, demos, and sound-sketches quickly and easily, anywhere and anytime those muses decide to pay a visit.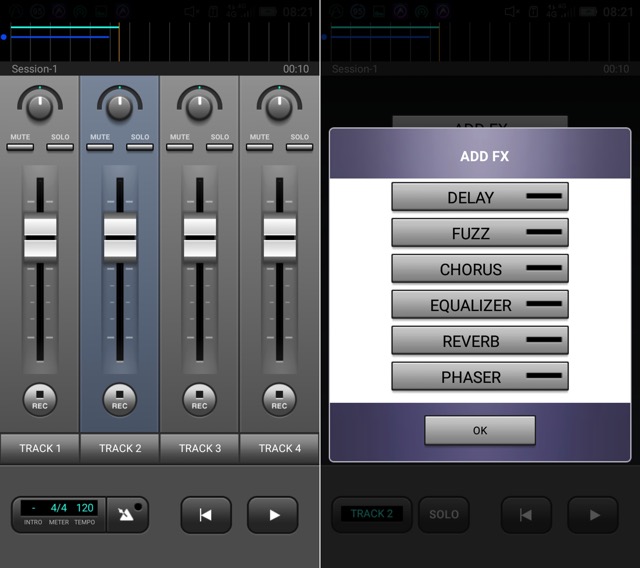 You can do jam sessions accompanied by previously recorded loops. There are many effects that you can apply to your tracks such as Fuzz, Chorus, Delay, Equalizer, Reverb, and Phaser. You can also share your creation via SoundCloud, Google Drive, Gmail, Dropbox, and other supported platforms.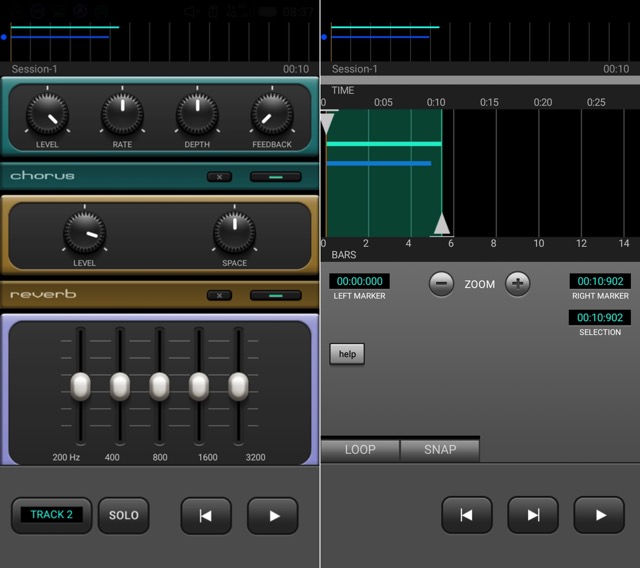 Four tracks might seem a little limited compared to other apps that come with tons of tracks, but sometimes limitation brings out the creative side of you.
Price: $3.49 (Free demo available)
Drum Pad Machine is our final app in this list of best GarageBand alternatives on Android. As the name suggests, it's about creating beats and mixing them with your own music or vocals. With the machine soundboard, you can create music from your imagination or learn new beats from the tracks available in the app. So basically, it's not a full replacement of GarageBand, but you can learn how to deal with beats, melodies and mixing at a basic level. There are also libraries of chords, sound effects, piano, and guitar so that you can mix your beat with appropriate chords. Furthermore, Drum Pad Machine allows you to produce mixtapes, record sounds, compose tracks and a lot more. So if you are interested in beatboxing and its related genres like hip-hop and Dubstep then I would highly recommend Drum Pad Machine on Android.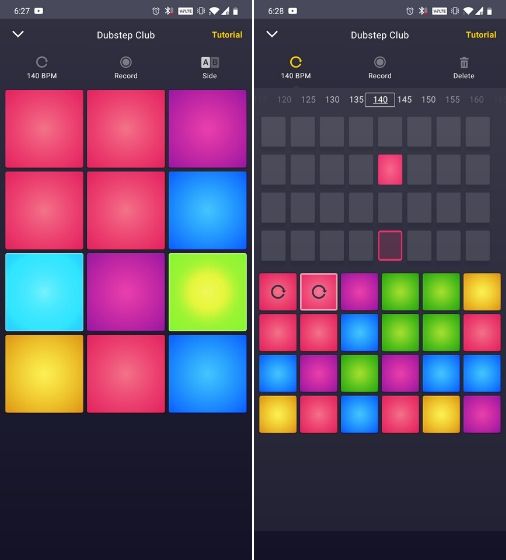 Price: Free, in-app purchases
Record Your Next Track with GarageBand Alternatives for Android
There are many Android music creation tools, but only a few of them worth the try. If your favorite GarageBand alternative apps are not mentioned here, please share them using the comment section below. Also, if you are looking for free music samples to start your project, check out the best websites to download free creative common music.