After months of testing, betas, and bug fixes, iOS 16 is finally available for everyone. You can now download iOS 16 on your phone as long as your iPhone supports the latest iOS version. So while you're waiting for the update to install, why not learn about everything that's new in iOS 16 and all the features you should check out.
Coolest iOS 16 Features You Should Try (2023)
This article focuses on all the mainstream new iOS 16 features, including the new lock screen improvements, safety check, and more. We are also working on a dedicated article on all the hidden iOS 16 features that you can check out to dive deeper if you want to. As always, you can use the table of contents below to navigate through this article.
1. New Lock Screen Experience
iOS 16 brings an entirely new lock screen experience to iPhones. You can now customise lock screens on iPhone easily, and with plenty of options. There are lock screen widgets, a bunch of cool wallpapers that you can choose from, and more. Plus, you can directly link lock screens with Focus Modes. There are a lot of possibilities to make your lock screen more personal with iOS 16.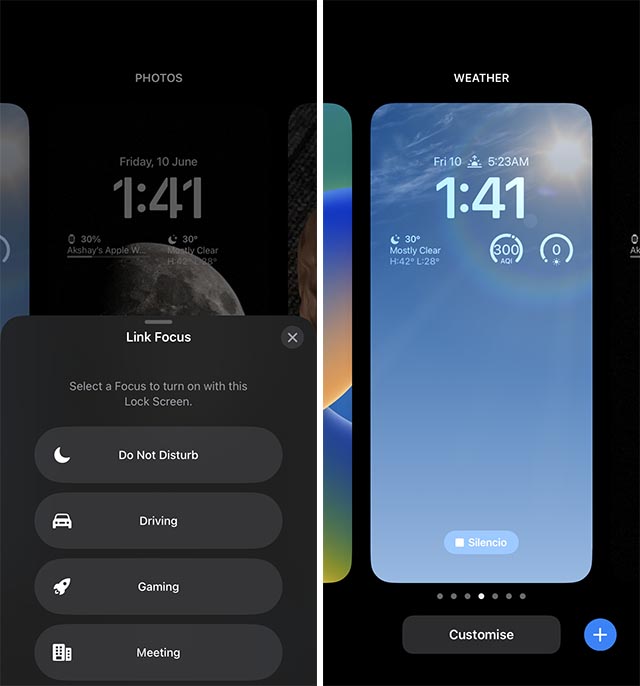 2. Always on Display (iPhone 14 Pro Exclusive)
With the launch of the iPhone 14 Pro, Apple has finally added "always on display" to the list of features in iOS 16. iPhone 14 Pro and Pro Max users will be able to use the AOD feature on their iPhone. This feature will dim the brightness of your screen while still displaying your wallpaper, time, widgets, and notifications for you to see at a glance. Just like the Apple Watch, the iPhone always on feature works by dropping the refresh rate of the display to just 1Hz.
The cool thing, however, is the fact that when your phone is in always on display mode, you will still be able to keep track of live notifications such as timers, game scores, and more.
3. Dynamic Island (iPhone 14 Pro Exclusive)
Dynamic Island is pretty much a whole new UI/UX implementation exclusive to the iPhone 14 Pro lineup. Basically, the pill cutout on the iPhone 14 Pro and Pro Max appears to adapt to incoming notifications for things like AirDrop, music playback, and more. This is possible using the OLED display of the iPhone 14 Pro to make it appear as though the cutout itself is dynamically resizing itself.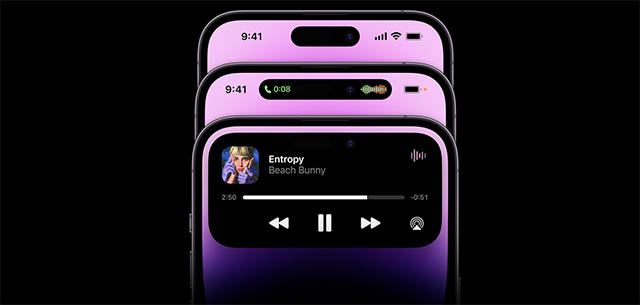 Using the Dynamic Island, you can quickly view (and control) things like music playback, timers, and more without having to open their apps.
4. Safety Check
Another useful feature added with iOS 16, Safety Check, is aimed at people who are facing, or at risk of, domestic abuse and violence. You can use Safety Check to quickly stop sharing your location with others, removing people from your Apple ID, changing your password, and more.
5. New Notification Styles
iOS 16 also brings new notification styles for you to choose from. In iOS 15 new notifications showed up on the lock screen, and older ones were hidden behind a swipe up. However, in iOS 16 you can choose from three different notification styles:
The list and stack have been around, but the Count view is the new style. With this, your lock screen will never show any notifications directly. You will simply see a count for the number of unread notifications. You can then tap on this number (or swipe up) to view the actual notifications. This is great for people who like a clean lock screen.
Live Activities
iOS 16 also brings a new type of notifications for apps that have data that updates in real-time. Such apps can display a persistent notification on the lock screen with real-time updating information. Right now you can check this out in action on the Timer notification that shows up when you have a timer running.
Soon, this will be implemented by ride sharing apps (Lyft, Uber, etc), food-delivery apps, as well as apps that help users track sports scores and more. This is also used for the new 'Now Playing' notification that lets you control music and media without unlocking your iPhone.
6. Improved Focus Mode
Focus Mode was one of the big changes in iOS 15. The feature lets users control their iPhone notifications in more granular way, and is basically a more powerful DND feature in iPhone.
Easy Linking with Lock Screens
In iOS 16, Focus Mode has been improved by quite a bit. You can now easily link Focus Mode with lock screens directly from the Lock Screen customisation screen. This way you can easily switch between Focus Modes by changing your lock screens (or vice-versa).
Focus Filters
What's more, in iOS 16, you can not only set up a Focus Mode to 'allow' certain apps and people to send notifications, but you can also set it up to 'block' certain people and apps.
7. Shared iCloud Photo Library
iOS 16 also lets you create a shared iCloud Photo library. This way, you can create shared libraries to share photos with family and friends. The library can be set up to automatically include all photos starting from a specified date, or based on the people that the library is shared with. Plus, if you edit a photo in the library, it automatically syncs the edits across the library for everyone.
The coolest part is that you can enable a 'Shared Library' toggle in the camera app, so that all the photos you take with the feature enabled, will automatically be added to the shared iCloud library.
8. Edit Messages
iMessage is one of the biggest reasons most people can't move out of the Apple ecosystem. And though Apple's messaging service is fast and has a small set of features, it did miss out on a couple things. However, Apple has been fixing these things in the last few updates. With iOS 16 you can now edit sent messages on iPhone up to 15 minutes after the message has been sent. This is great for fixing typos, or an accidental drunk text.
9. Improvements in the Mail App
The iPhone Mail app doesn't get a lot of love from most people. However, the app has become quite feature-rich, and is actually really fast as well. In iOS 16, it gets some more features to make things even better. The search has been improved, so you can get results faster. The app now also supports undo send, scheduling emails, follow-ups, and more features that are found in other popular email clients.
I have recently started using the built-in Mail app, and it is quite nice, especially with the new features.
10. Passkeys in Safari
Passkeys are being hailed (by Apple) as the future of passwords. These are basically encrypted keys to authenticate your identity online. You can use passkeys to log in to websites and online services, and in iOS 16, the feature is being rolled out. If you're interested, you should check out our detailed explainer about Passkeys and how to use them.
11. Improvements to Visual Lookup
The Visual Lookup feature that was available in iOS 15 was limited in its scope. In iOS 16, however, the feature is gaining a lot of improvements.
Lift Subjects from Photos
You can now lift subjects from photos and basically create stickers (or transparent PNGs) from regular pictures with basically zero effort on your end. All you have to do is long press on a photo with a clear subject. Once the subject is highlighted, you can drag and drop the sticker to pretty much any other app. Or, you can use the context-menu to copy the sticker. You can learn all about removing background from photos in iOS 16 using the linked guide.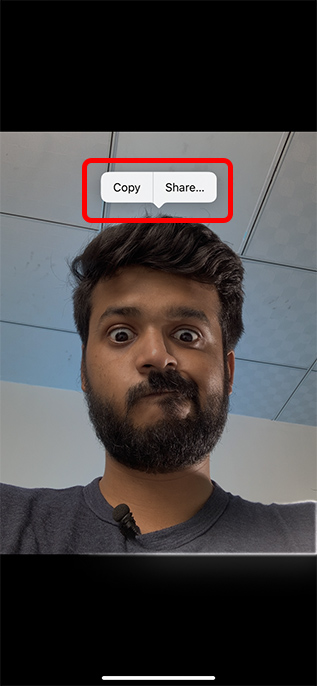 Pro-tip: You can use this feature to create custom iMessage stickers, and it works quite well.
Live Text in Videos
The Live Text feature that was launched with iOS 15 is now better than ever as well. You can now pause any video that you're watching on your iPhone and select text from inside the video. This can come in very handy, especially for students and learners.
Live Text Quick Actions
Live Text now also supports quick actions. So if you take a picture of text in a different language, or a number with a different currency, Live Text will let you scan and translate/convert it directly without having to copy and paste it into a dedicated translation app or currency converter app.
12. Improved Dictation
Dictation is one of the features that is quite good already, but it's just too cumbersome to use. Well, iOS 16 pretty much makes dictation the easiest thing to use. Basically, you can now use dictation along with the keyboard. This means you can keep dictating text you want to type, while using the keyboard to fix any errors, or insert emojis etc.
13. Wallet Sharing
iOS 16 also brings a new sharing feature to the Wallet app. If you're using smart home locks that let you add your house keys to Apple Wallet, you will now be able to share these keys, digitally, with anyone you want. The keys are shared securely through the Wallet app and you can send the sharing link over messaging apps like Messages, WhatsApp, or even Mail.
What's more, you can decide when the key should be permitted to be used, and you can revoke permissions whenever you want, easily.
14. New Home App
Apple has also redesigned the Home app. There's a new home tab where you can easily see all your accessories. Plus, the app now has categories on the top for things like Lights, Security, Climate, etc, so you can directly see all accessories of a particular type in one place. If you're using HomeKit supported security cameras, you can also view multiple video feeds at the same time to keep a better lookout on your house.
Matter Support
Apple has also announced that the Home app will start supporting Matter devices soon (later this year).
15. New Medications Feature in Health
For people who have to take (and subsequently, manage) medications for ailments, iOS 16 is going to make the task easier. There's a new Medications feature in the Health app. Here, you can add all the medications you need to take, along with your schedule for taking the medications.
The Health app will not only keep a track of this information, but it will also remind you to take your pills according to the schedule you set up.
16. Door Detection (iOS 16 Accessibility Feature)
iOS 16 has a new accessibility feature for the visually impaired. Your iPhone can already detect people and tell you how far they are from you so you can navigate areas safely. With iOS 16, your iPhone will also be able to identify and inform you about doors near you. This way, you can easily and safely navigate indoors.
17. Control Apple Watch with iPhone
Another accessibility feature that's available in iOS 16 allows you to control your Apple Watch using your iPhone. This is a useful feature that lets people use switch control, voice control, etc, to control their Apple Watch via their iPhone. The feature not only supports navigating the touch screen, but also supports emulating the Digital Crown's rotations using swipe gestures.
18. Buddy Controller
If you need help playing games, you can now connect two separate controllers to control the same game at the same time. This way, you can control a single player game with two separate controllers. This feature is not exclusive to iOS, and is available on iPadOS and macOS as well.
19. New 'Freeform' App
A new app called 'Freeform' arrived with iOS 16.2. This app is Apple's productivity push on iPhone. Using Freeform, you and your collaborators will be able to write down notes, add links and images, and more, on the same collaborative space. Something like Microsoft Whiteboard, and other similar apps and hardware solutions.
20. Clean Energy Charging
This iOS 16 feature was bundled with iOS 16.1 and it's aimed at reducing carbon footprint of the iPhone. When enabled, iPhone receives information about carbon emission from your local charging grid and then the device is charged when low-carbon emission electricity is available. The feature is only available in the U.S. so far and can be enabled by visiting Settings > Battery > Battery Health & Charging.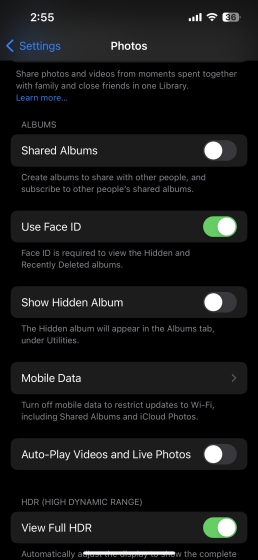 With iOS 16, you can lock Hidden and Deleted photos with your Face ID, Touch ID or Passcode. This is one of the best safety features of iOS 16 and the Hidden and Deleted Photos folder in the Photos app is locked by default. You can enable/disable the feature by opening the Settings app, scroll down to Photos and then turn on/off the toggle against 'Use Face ID' option.
22. Security Keys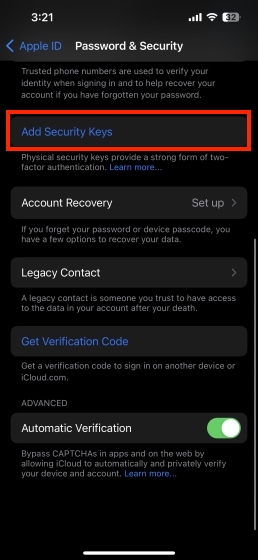 In iOS 16.3, Apple added a new feature named Security Keys. It is an optional, advanced security feature for iPhone users that allows the addition of hardware security keys to Apple ID for protection against phishing attacks. Users can add any FIDO Certified security key. The feature is designed to replace the verification code sent to logged in devices when anyone tries signing in to an Apple ID. Go to the Settings app on iPhone running iOS 16.3, tap on your name on the top and then choose Password & Security. Here, tap on 'Add Security Keys' option and follow the on-screen instructions.
23. Advanced Data Protection
Apple describes Advanced Data Protection as its "highest level of cloud data security". The iOS 16 feature allows users to enable end-to-end encryption for their iCloud data which can keep the data intact even in case of a breach in the cloud. The data can only be decrypted on the users' devices who have enabled Advanced Data Protection.
24. Switch Devices in FaceTime Calls (Handoff)
Last but not the least, you can use handoff in FaceTime now! So, if you're talking to your friends on your iPhone and you want to continue the call on your Mac, you can simply use FaceTime handoff to continue your call on the new device. This also works the other way around, so you can get away from your work desk while in the middle of a FaceTime call and continue the call on your iPhone instead.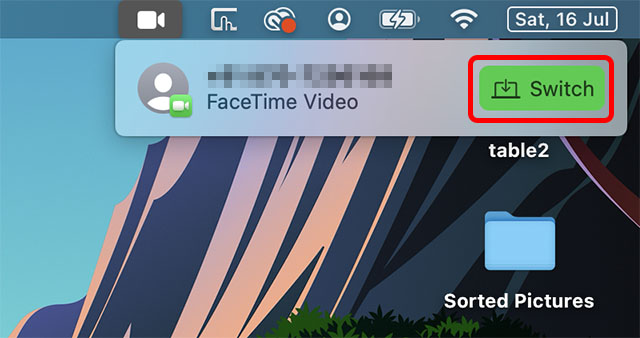 Start Using Your Favourite iOS 16 Features
Well, those are the 24 coolest new iOS 16 features that you should definitely check out. As you can see, there are quite a lot of updates this time around. Whether it's editing sent messages, FaceTime handoff, new accessibility features, etc, there's a lot to explore in iOS 16. So, have you installed iOS 16 yet? Which is your favourite feature in iOS 16? Let us know in the comments.