Have others ever told you that they can't hear your voice on a call due to the roaring traffic or loud colleagues around you? Well, Apple has an easy solution to save you from these situations. Called voice isolation, this feature was first introduced for FaceTime calls with iOS 15 in 2021. It removes the background noise and prioritizes your voice in calls. iPhone users worldwide had been anticipating the same feature to reach cellular voice calls for the longest time. Well, guess what? The wait is finally over. With iOS 16.4, Apple has finally brought the "Voice isolation" mode for phone calls. So, let's learn how you can enable "Voice Isolation" during voice calls on your iPhone.
Voice Isolation on iPhone Calls in iOS 16.4 (2023)
In addition to how you can enable voice isolation on iPhone, we will also explain what is voice isolation and how it works. Furthermore, you can also check out how to remove background noise in FaceTime calls on iPhone, iPad, and Mac.
What Is Voice Isolation and How Does It Works
As the name tells, the voice isolation feature filters out all the ambient/ background noise in your surrounding and prioritizes your voice to deliver a clear calling experience during a conversation. Voice isolation technology uses artificial intelligence to recognize background noise and prioritize your voice during a phone call.
By default, cellular calls on an iPhone use the standard mic mode, which also delivers every background noise along with your voice to the recipient. However, once you enable the voice isolation mode, the iPhone's mic removes any noise and delivers only your crystal clear voice during the call.
Basic Requirements to Use iPhone's Voice Isolation Mode
You need to fulfill the following prerequisites to use the voice isolation feature on your iPhone:
An iPhone with the A12 Bionic chipset or above, i.e. an iPhone XS or higher model.
Make sure iOS 16.4 is installed on your iPhone. So, please update your iPhone to the latest build before you proceed further.
How to Enable Voice Isolation on iPhone with iOS 16.4
With all the basics out of the way, here's how you can enable voice isolation for phone calls on your iPhone:
1. During an ongoing call, swipe down from the top right corner of the screen to bring up the "Control Center."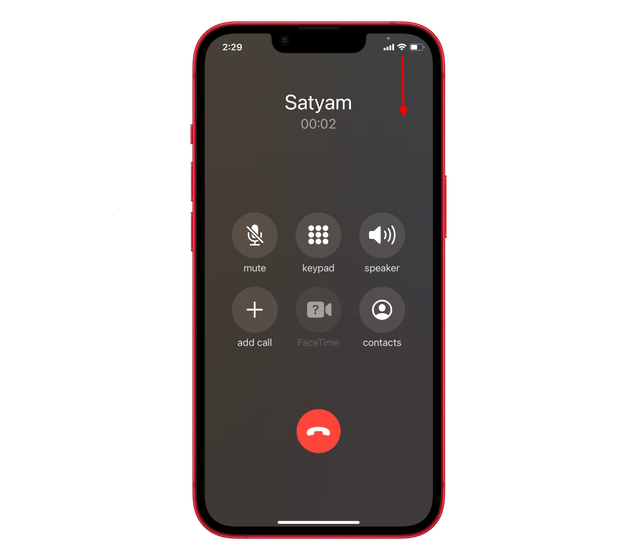 2. In the Control Center, tap the "Mic Mode" tile present at the top right corner.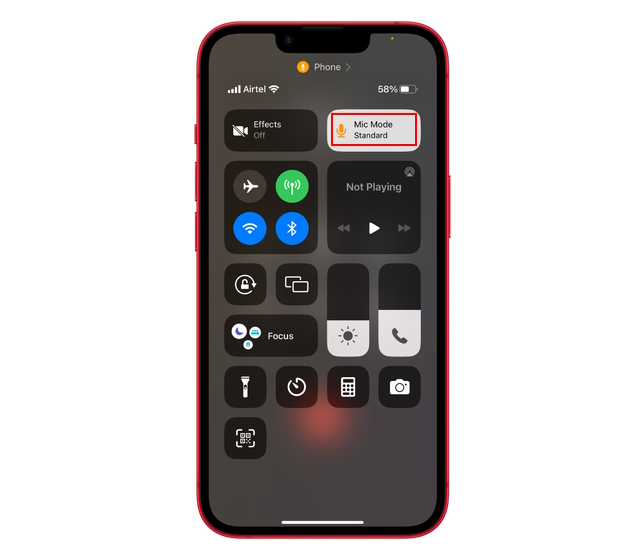 3. Once you select the Mic Mode option, you will get three options to choose from:
Standard Mic: This is the default option and doesn't filter out noise
Voice Isolation: This mode isolates the background sounds on iPhone and allows others on the call to hear your voice clearly.
Wide Spectrum: This mode is designed to capture every sound by the mic into your call. However, as you can see below, the wide spectrum mode is currently unavailable.
4. Here, choose the "Voice Isolation" option and return to your phone call. You can now ask the recipient if they notice a change in your voice and if the background noise is gone.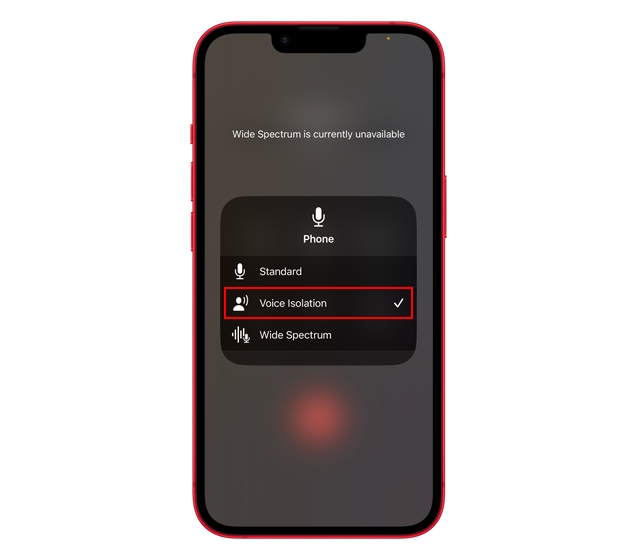 Note: The voice isolation mode is only enabled for a particular phone call. The "Mic mode" will automatically switch to standard mode once the call ends. You will need to enable voice isolation for each phone call individually.
We thoroughly tested this feature, and the results were pretty impressive. Turning on the voice isolation mode significantly improved the voice call experience, even when we were in our office's bustling surroundings.
Turn on Voice Isolation for iPhone Calls
So, if you have already installed iOS 16.4 on your iPhone, turn on voice isolation mode during cellular calls and give this feature a try. Do let us know your thoughts on this feature and how it works in the comments below. Moreover, while you're here, check out how you can record phone calls on your iPhone and how to make a FaceTime call between Android and iPhone. And if you connect your AirPods to your iPhone to take calls regularly, the voice isolation feature works with your wireless earbuds too.
---
Load More