In today's digital world, a child's online exposure is one of the major concerns for a parent. While the internet can be used to access useful information and perform important tasks, children can also use it to access certain sites which they shouldn't, such as adult and gambling websites. Fortunately, Apple offers plenty of privacy features, like restricting websites from asking for location access on Safari on iPhone and iPad. Similarly, you can allow or block any website on your iPhone or iPad that you don't want your kids to access with only a few taps. In this guide, we have explained how to block access to specific websites on Safari and Chrome on iPhone and iPad.
How to Block Websites on iPhone using Screen Time
iPhones come with a Screen Time feature that allows users to set content and communication restrictions for children. You can use these content restrictions on an iPhone to limit or block access to certain websites. Here's how you can do it.
1. Open the "Settings" app and tap on the "Screen Time" option.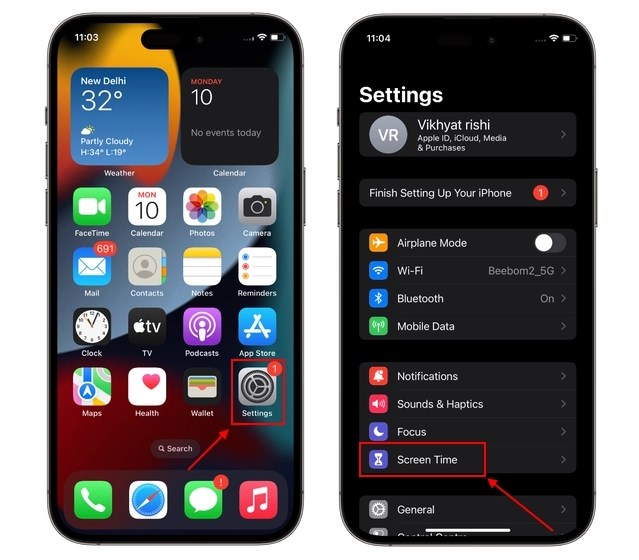 2. Then, you must first "Turn on Screen Time" if it is not already.
3. Next, tap "Content & Privacy Restrictions" on the Screen Time screen and enable the toggle on the next screen.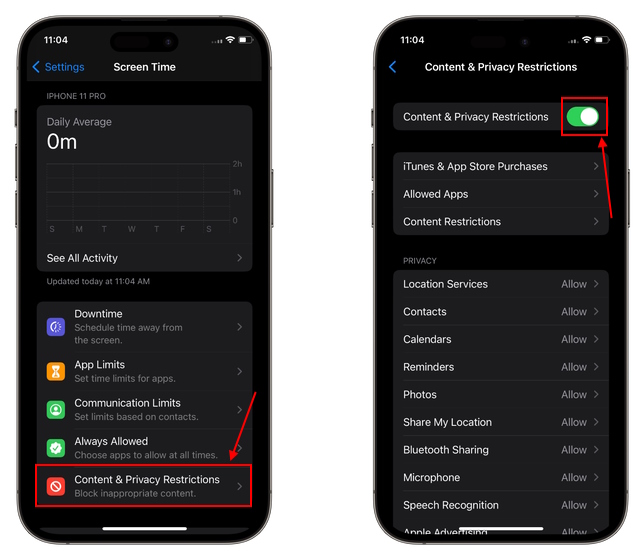 4. Now, tap the "Content Restrictions" tab to open the list of all the content restrictions you can enable on your iPhone.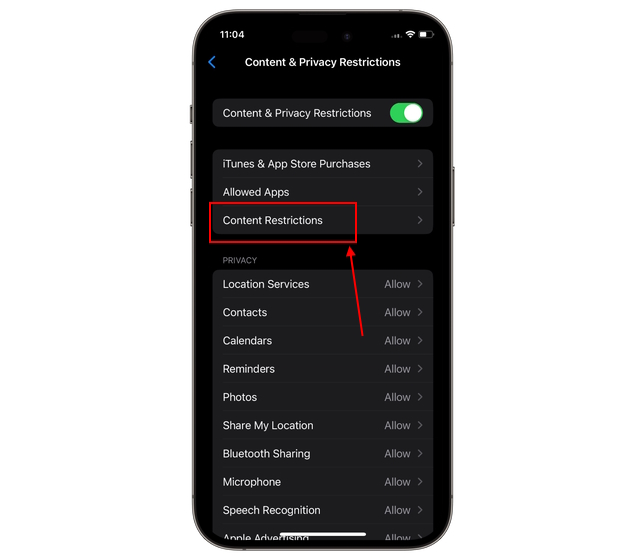 5. Here, tap on the "Web Content" option to set up restrictions for websites you don't want your children to visit.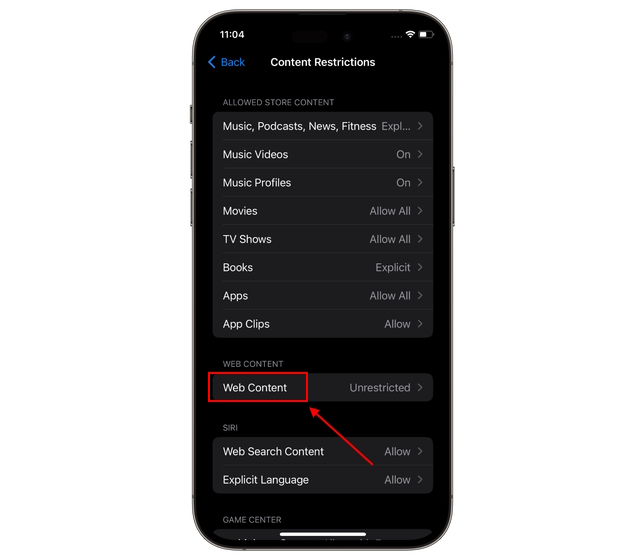 6. Now, select "Limit Adult Websites" to block access to adult websites automatically on Safari, Chrome, and other web browsers on an iPhone or iPad.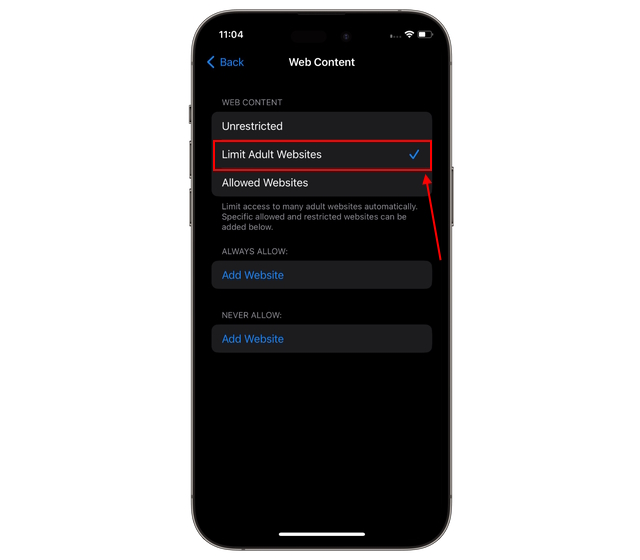 7. Further, you can make two lists here; websites that you wish to "ALWAYS ALLOW" and "NEVER ALLOW."
8. Tap the "Add Website" button under the "Always Allow" section to add websites you want to bypass these restrictions.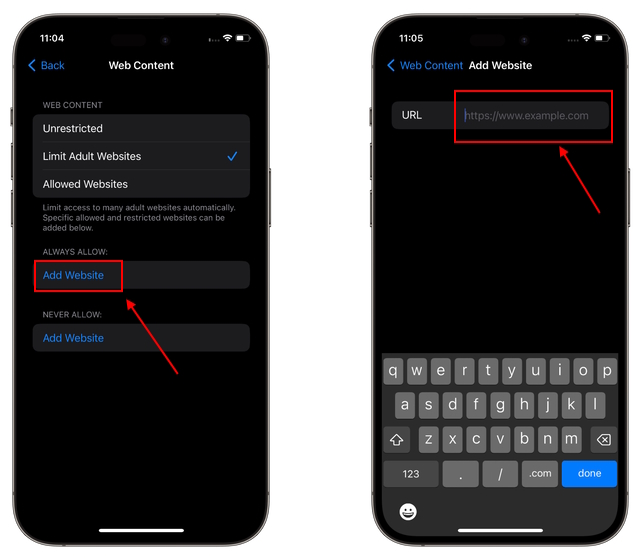 9. Tap the "Add Website" button under "Never Allow" to add websites for which you want to block access on your iPhone, whether they are adult websites or otherwise that you want to block at all times.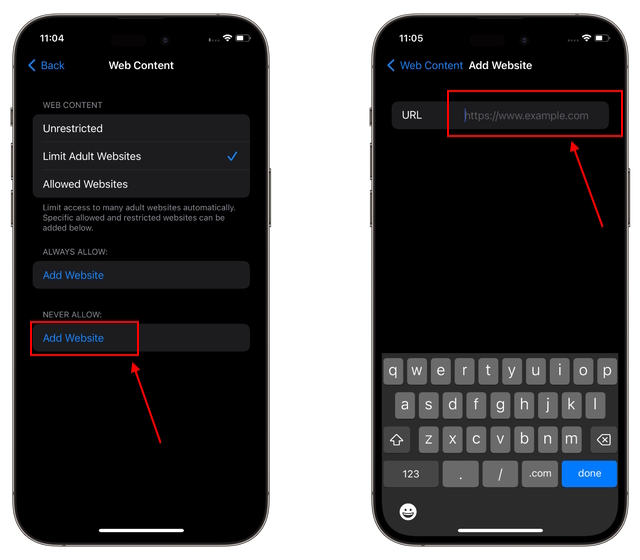 10. And that's it. You can keep updating the website list to keep your child's time spent on the internet safe and secure.
How to Block Websites on iPhone Without Screen Time
Generally, the Screen Time web content restrictions should be enough to maintain your kids' online time safe. However, tech-savvy kids can still find their way to break out of restrictions. Worry not, as we have a sure-shot solution for you.
Nowadays, most internet routers come with the ability to block certain websites via their URLs. We, at our office, thoroughly tested this method, and it works well. Below, we have detailed the steps to block websites on your iPhone through your router settings:
1. Open Safari, Chrome, or any other browser on your iPhone and type in your router's IP address in the address bar. You can find the IP address of a router at the bottom of your router.
2. On the following page, type in the login credential of your router to access its settings.
3. Then, navigate and click on "Wifi Setup" to open a drop-down menu. This setting's name might vary from one router to another.
Note: Some settings pages and steps may differ depending on the router you use. In our case, we used an Airtel Xstream router.
4. You just need to make sure to locate the "Mac Filter" option in your router's settings.
5. On the "Wireless MAC Address Filter" page, open the "Action" drop-down menu and choose the "Activate Blacklist" option.
6. Now, enter the website URL (or address) you wish to block separately and click "Apply" to save changes.
7. Now, restart your router for the changes to take effect. Now, your children won't be able to access the websites you added to the block list of your router.
Set Screen Time Passcode to Prevent Modifications In Content Restrictions
So, you have enabled web content restrictions on your child's iPhone or iPad, but how to prevent your child from altering the restrictions in place? We have the answer — Screen Time Passcode. The screen time passcode works as a password that has to be entered if you wish to modify content restrictions. Here's how you can set up a Screen Time Passcode on an iPhone:
1. Go to Settings on your iPhone or iPad and tap the "Screen Time" option.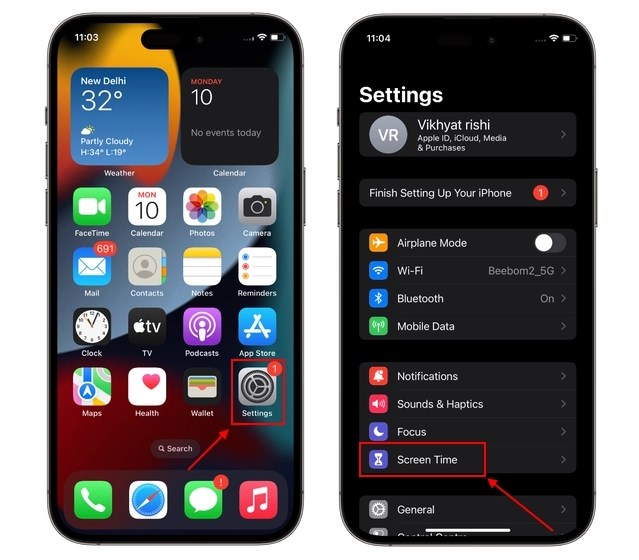 2. Here, tap on "Use Screen Time Passcode" to set up a password you will use to access your content restrictions later.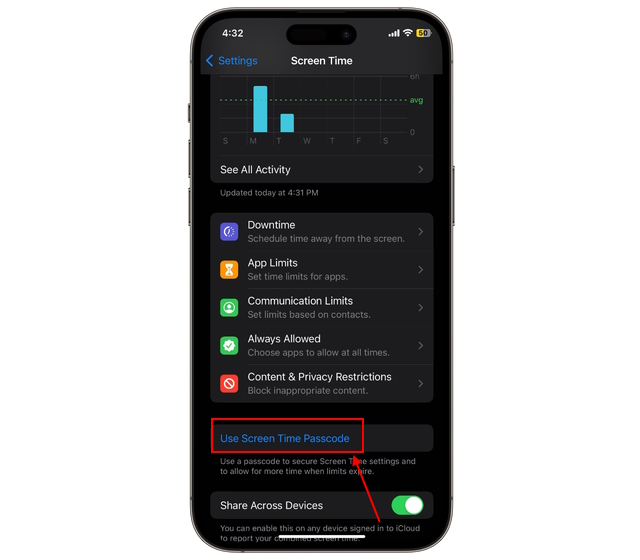 3. Enter the "Passcode" you would like to use, and you will be asked to re-enter the passcode to confirm it.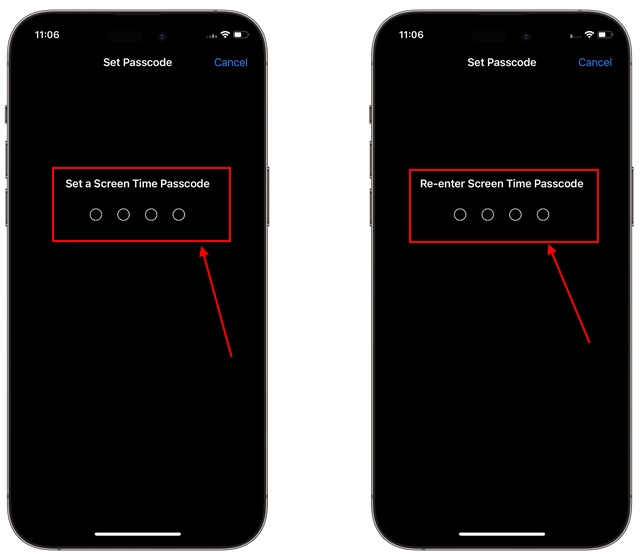 4. Once done, Apple will ask you to enter your Apple ID and password, which will be used to reset the passcode if you forget it. Also, you can use the various solutions listed in this guide to recover the screen time passcode on your iPhone or Mac.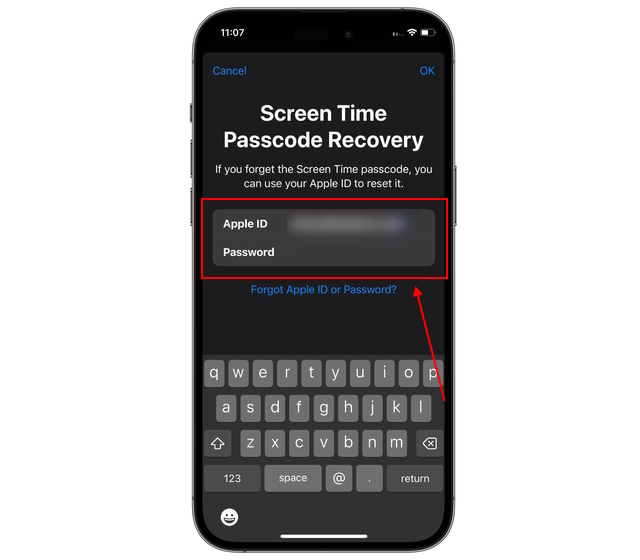 Note: We suggest you never use your iPhone or iPad's password as your screen time passcode as anyone can easily change the screen time settings if the iPhone's password is known to them.
How to Allow Only Specific Websites on Your iPhone
Now that you know how to block websites on Chrome and Safari, you must know that there's also a method to allow only a specific list of websites on your iPhone. Below, we have shown you how:
1. Go to the Screen Time settings on your iPhone and select the "Content & Privacy Restrictions" option.
2. Next, navigate to "Content Restrictions -> Web Content" here.
3. Now, tap on "Allowed Websites," and a list of all the allowed websites will appear.
4. Tap the "Add Website" button at the bottom of the allowed websites list. Here, you can add the "Title" and "URL" of the website you want to add to your allowed list.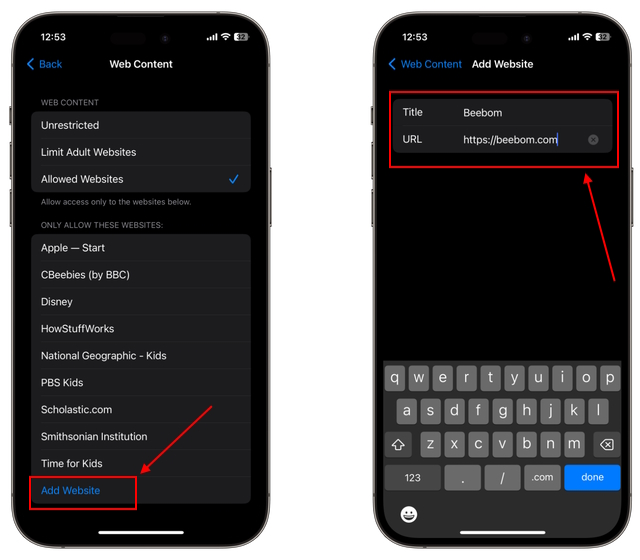 How to Disable Siri's Access to Web Browsers and Explicit Language
Your iPhone also allows you to block websites on Safari that may contain explicit language. Even Siri won't be able to access these websites when this restriction is enabled. This would be helpful if your kid uses Siri to get search results from Google or other search engines. Here's how you can set it up:
1. Go to the Screen Time settings on your iPhone and tap on "Content & Privacy Restrictions."
2. Choose and tap "Content Restrictions" from the list of options.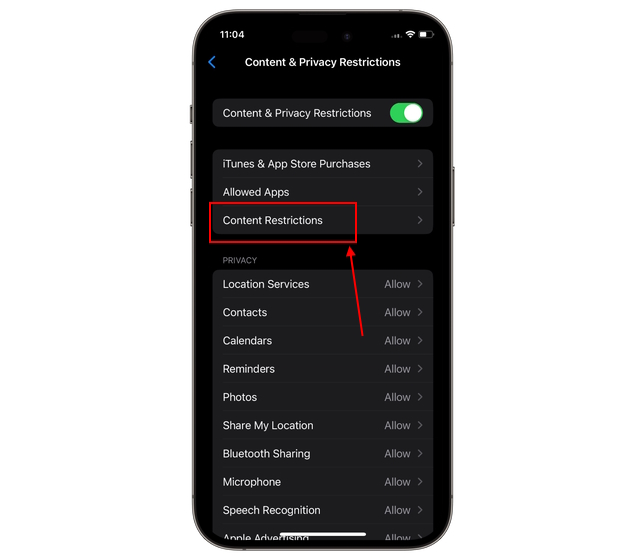 3. Here, locate the "Siri" section, tap "Web Search Content" and choose "Don't Allow." Once done, tap "Back."
4. Now, open the "Explicit Language" section and choose "Don't Allow" from the available options.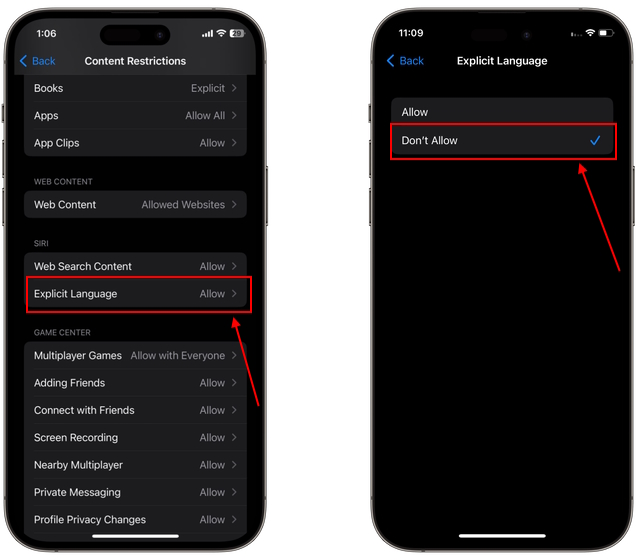 Restrict Access to Certain Websites on iPhone
And that's how you can maintain your kids' security online and have some peace of mind. Follow the method you think will work best for you to block websites on iPhone, iPad, and other devices. While Screen Time remains the preferred choice for blocking adult or gambling websites for iPhone users, router-level blocking is the best for other devices. Also, if you want to learn how to limit your child's activity on iPhone, check out how to set up parental controls on iPhone.
Frequently Asked Questions
How do I block certain websites on iPhone?
Add the website title and URL to the "Never Allowed" list available under the "Limit Adult Websites" tab, and you are done.
---
Load More