Have you ever been in a situation where, although you've typed a message perfectly, your smartphone automatically changes a word and ruins the whole context? We completely understand how frustrating this is. The reason behind it is the auto-correct feature in smartphones. While it's a nice feature that automatically corrects and polishes your text as you type, it isn't completely fool proof. Autocorrect can sometimes replace names, words, and other terms that your smartphone doesn't recognize. As a result, you're left with a message that makes no sense. Fortunately, you can turn off autocorrect on both iPhone and Android smartphones. Keep reading to know the details!
Disable Autocorrect on Your iPhone
By default, the auto-correct feature is enabled on every iPhone. Here's how you can disable auto-correct in keyboard settings on iPhone –
1. First, go to Settings -> General on your iPhone.
2. Select the "Keyboard" settings option.
3. Then, locate the "Auto-Correction" toggle and turn it off.
So, that's how you can disable the autocorrect feature on your iPhone. While you are here, we also suggest you also learn how to enable or disable the keyboard vibration on iPhone.
Turn Off Autocorrect on Android Phone
While the location of most of the settings on all Android smartphones is the same, sometimes a few steps may differ depending on your Android phone's UI skin. Below, we have mentioned a universal method to disable auto-correct on Android phones. In our case, we have used a Pixel 7 Pro. So let's have a look.
1. Open the Settings app on your Android phone.
2. Search for "Language & Input" using the search bar at the top. Tap on the relevant search result.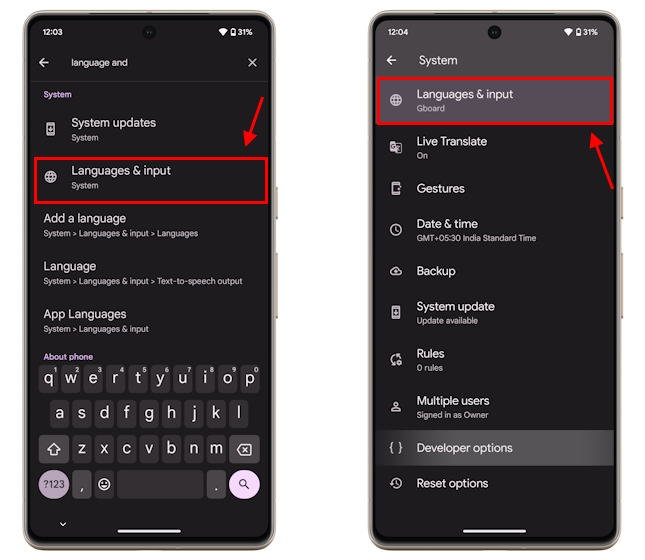 3. Next, select "On-Screen Keyboard."
4. Then, tap on "Gboard" from the list of options. Gboard is usually the default keyboard on most Android phones, but you can choose the Android keyboard app you use.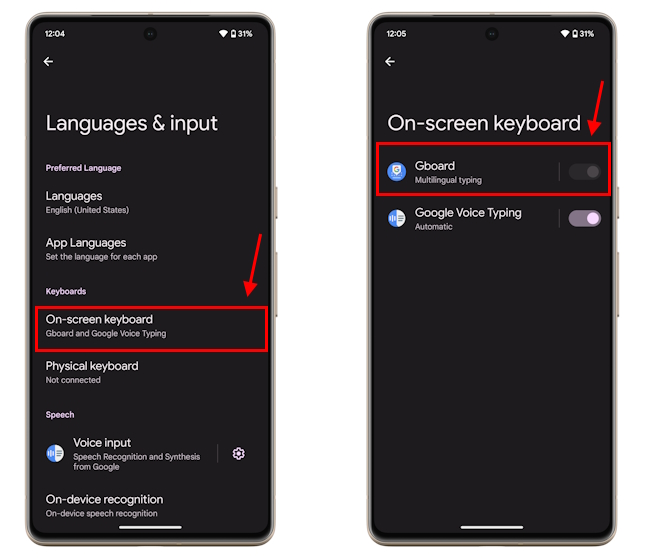 5. Locate and tap the "Text Correction" option.
6. Finally, locate the "Auto-correction" toggle and turn it off. And that's how you can turn off autocorrect on your Android device.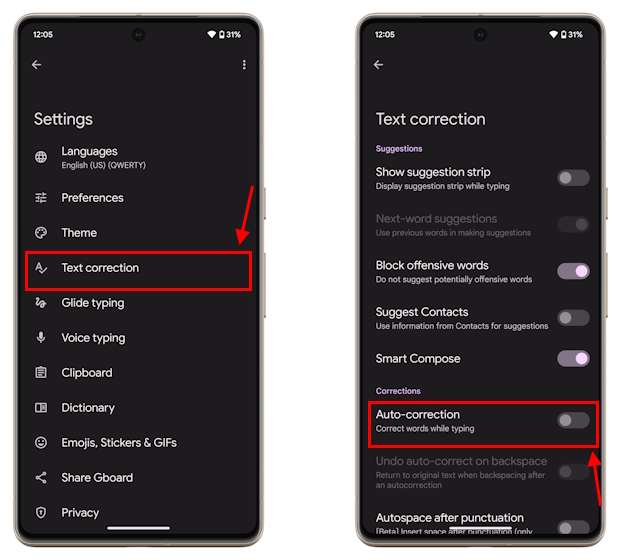 Difference Between Autocorrect and Predictive Text
The auto-correct feature on your keyboard spellchecks words as you type them and automatically replaces misspelled words using the keyboard dictionary.
On the other hand, the predictive text feature predicts and shows some words and phrases you might type next based on your previous conversations, your preferred writing style, and even the websites you visit.
Turn Off Predictive Text on Your iPhone
While the predictive text feature works to help you type fast by predicting your next words or phrases, it can sometimes get annoying. So, we have shown how you can disable predictive text on iPhone here:
1. First, open the Settings app and tap the "General" option.
2. Tap the "Keyboard" option from the list of options.
3. Locate the "Predictive" toggle and turn it off.
Turn Off Autocorrect on Samsung Phones
While we have already discussed how to disable auto-correct on Android, we must discuss Samsung separately. It is because Samsung has replaced the auto-correct feature with "Auto Replace." Here is how you can disable auto-replace on Samsung smartphones:
1. First, pen the Settings app on your Samsung smartphone.
2. Next, visit the "General Management" settings.
3. Now, tap the "Samsung Keyboard settings" option on the next screen.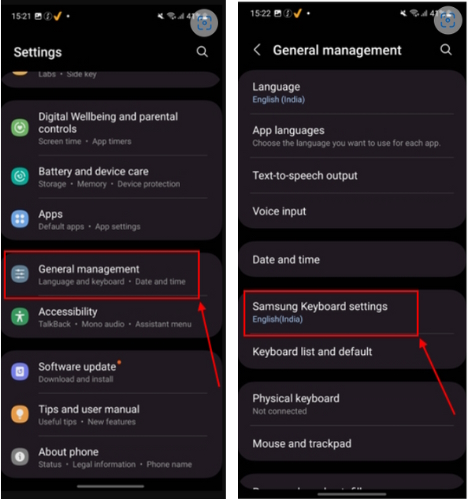 4. Finally, tap on "Auto Replace" and turn "Off" the toggle in front of your preferred language.
That's it. This is how you turn off the "Auto-Replace" text feature on Samsung Smartphones.
---
Load More