If you are upgrading to a new iPhone or simply selling the older one, you should know how to reset an iPhone. Also, if your iPhone is not performing well and frequently throws some unexpected errors, maybe it's time to factory reset your iPhone. Resetting will sign you out of Apple ID and remove your personal data. To avoid loss of personal data or any future headaches, you should do a couple of things before you perform a reset. In this article, we have mentioned everything you should know about how to reset an iPhone to factory settings. Let's get right into it!
Things To Do Before Resetting an iPhone
1. Before you factory reset your iPhone, you should backup your iPhone so you can later on restore your personal data. You can backup your iPhone using iCloud storage, Mac, or third-party cloud storage services.
2. Make sure to unpair your Apple Watch, if you've paired one to your iPhone.
3. If you're selling or donating your iPhone, don't forget to disable Find My on your iPhone. This Apple feature lets you locate & play a sound on your missing iPhone or even erase your iPhone using the Find My app. The new user won't be able to disable Find My without your Apple ID password, which you obviously won't share with anyone. Also, before you sell off your iPhone, don't forget to remove your iPhone from your Apple ID.
4. If you're moving to a non-Apple device, you should de-register iMessage. For this, open Settings > Messages and toggle OFF iMessage.
How to Factory Reset an iPhone in 5 Steps
1. Go to Settings -> General. Then, scroll down and choose Transfer or Reset iPhone.
2. Tap Erase All Content and Settings, and you will see a list of items that will be removed from your iPhone. Choose Continue.
3. When prompted, enter your iPhone's passcode or Apple ID password. Once you do this, your iPhone will complete any pending backup. You can also choose to skip the backup.
4. Then, enter your Apple ID Password and tap "Turn Off" to disable Find My and Activation Lock. If you don't remember the password, here's how to reset your Apple ID password.
5. Finally, hit Erase iPhone to factory reset your iPhone. If you're using an eSIM, you can choose to erase your eSIM or keep it. If erased, you will have to contact your network provider to reactivate the cellular plan.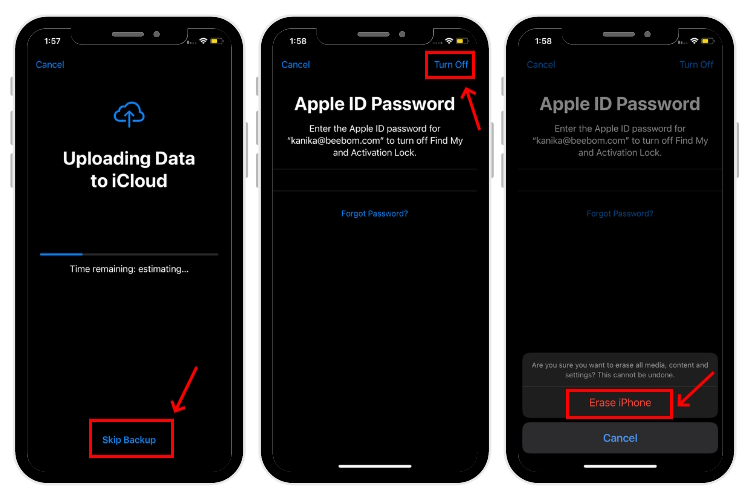 How to Factory Reset an iPhone without Password
If you forgot your iPhone passcode, there's a way to reset your iPhone from Recovery mode. This method requires a Mac or PC with iTunes installed. Recovery mode lets you erase everything so you can set it up again. Once you've reset everything, you can restore your iPhone data from a backup or set it up as a new device. Here's how to reset an iPhone without password:
1. First, completely turn OFF your iPhone.
2. Then, enter Recovery mode on your iPhone. Here are the steps to put
For iPhone 8 or later and iPhone SE 2nd & 3rd gen: Press & hold the Side button.
On iPhone 7 and 7 Plus: Press & hold the volume down button.
On iPhone SE (1st gen), iPhone 6s, and earlier: Press & hold the Home button.
3. Continue to hold that button and connect your iPhone and Mac or PC using a compatible cable. Make sure you don't release the button.
4. Keep holding the button until you see the Recovery mode screen with a Lightning cable icon pointing towards a Mac icon on the screen. Then, release the key. If you see the passcode screen, instead of the Recovery mode screen, you need to turn OFF your iPhone and start again.
5. Open Finder on the Mac device running macOS Catalina (or later) and select your iPhone from the sidebar. For older Macs or Windows PC, open the iTunes app and click the iPhone icon.
6. When you see an option to Restore or Update your iPhone, choose Restore.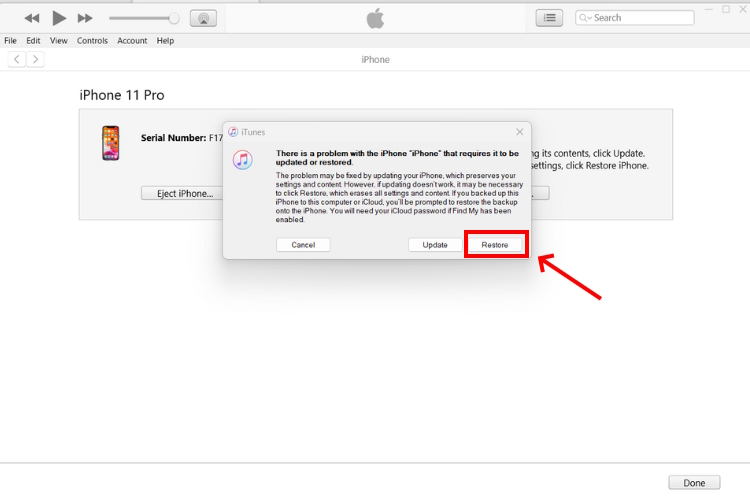 7. You'll see a dialog box asking you to confirm your decision, click Restore and Update.
8. Then, follow the on-screen instructions, and your computer/Mac will download the latest software update for your iPhone and begin the restore process. This process can take up to 15 minutes.
7. When the process completes, your iPhone will restart and show a Setup screen. Then, disconnect your iPhone from the computer to set it up as new.
How to Reset iPhone using Buttons (Hard Reset iPhone)
If you don't want to lose any data, you can also reset your iPhone with buttons, commonly known as force restart or hard reset. It will help you wipe off common software issues on your iPhone while keeping all the data intact. For instance, when the display freezes or becomes unresponsive, you can hard reset your iPhone 11 with just buttons. Here's how the process goes by:
Note: This method is useful for times when your iPhone has stopped responding to touch gestures. Hard resetting an iPhone will basically clear the apps stored in the memory and won't delete any data on your iPhone.
1. Quickly press and release the Volume Up button.
2. Immediately after, press and release the Volume Down button.
3. Then, press and hold the power button. You might see the screen with Slide to Power Off screen during the process. Ignore it and wait until you see the Apple logo and then release the button. Your iPhone will restart and boot up normally.
4. You've successfully reset your iPhone without deleting any data.
Frequently Asked Questions (FAQs)
What is the difference between soft reset, hard reset, and factory reset?
A soft reset basically restarts your iPhone to fix minor software issues, erratic behavior, and connectivity issues on your iPhone without any data loss. The hard reset lets you do the same thing when your iPhone's display isn't responding. Coming to factory reset, it deletes everything from your iPhone, restoring it to the default settings.
How to soft reset iPhone?
You can simply restart your iPhone to perform a soft reset. It helps you fix minor software glitches without deleting data from your device.
How to restart an iPhone when frozen?
You can perform a force restart or hard reset to reboot an iPhone with a frozen display.
Is hard reset the same as factory reset iPhone?
No, hard reset and factory reset aren't the same. A hard reset, also known as force restart, lets you use hardware keys to restart your phone when the screen goes unresponsive, or apps aren't working properly. It won't delete any data from your iPhone. A factory reset, on the other hand, is a completely different thing. It deletes all the settings and data from your iPhone, and reverts it to the original state, just like when it first came out of the box.
Does a factory reset delete everything on an iPhone?
Yes, a factory reset will delete all of your saved settings & downloaded data from your iOS device, including media, download apps & data, email accounts, text messages, and more. Basically, it will restore your iPhone to its default settings, only leaving the pre-installed apps like Camera, FaceTime, Calendar, and others.
Is my eSIM erased when I factory reset iPhone?
Your eSIM isn't automatically deleted when you factory reset your iPhone. While erasing your iPhone, you can choose to keep your eSIM or erase it. If erased, you should contact your network provider to re-activate the cellular plan.
How to reset network settings on an iPhone?
Open Settings > General > Transfer or Reset iPhone > Reset > Reset Network Settings, then enter your iPhone's passcode and confirm your decision to reset network settings on iPhone.