Every year we get new versions of iOS and Android — two of the world's most popular mobile operating systems, and every year, we get busy discussing features that iOS doesn't have but Android does, and vice-versa. However, this year, both Android (with Android Q beta) and iOS (with iOS 13 beta) have finally offered a native dark mode.
It's surprising because people have been asking for a dark mode for ages. In fact, on the Android side of things, many manufacturers have had a dark mode for quite some time — EMUI and One UI come to mind, but still getting a dark mode in stock Android is a pretty big deal; so is getting a dark mode on iOS, by the way. So, which dark mode is better? Let's take a look.
Enabling, Disabling, and Flexibility
First things first, let's take a look at something that can be objectively discussed — the ease of enabling both of these dark modes, and the flexibility they offer users in their current state of development.
On Android, the dark mode can be enabled in a number of ways:
You can head over to Settings -> Display, and enable 'Dark Theme'
You can tap on the Dark Theme quick settings tile.
You can enable Battery Saver
In iOS 13, enabling dark mode is achieved in the following way:
head over to Settings -> Display and Brightness
tap on 'Dark'
Or else, go to the Control Center, 3D touch on brightness
then tap on 'Appearance' to switch between Light and Dark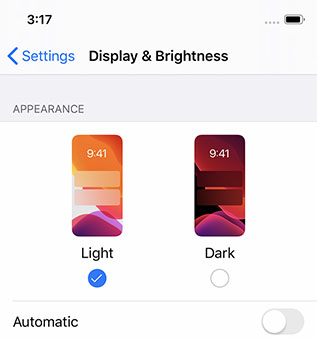 That's it. So clearly, when it comes to enabling the dark mode, Android offers more avenues through which to enable it.
However, iOS 13 also brings an additional feature — automatic dark mode based on a schedule. So users can choose to switch between the dark and light modes automatically based on sunrise and sunset times, or set a custom schedule according to which the dark and light modes will automatically change.
Appearance
One of the more important aspects of having a dark mode, is, quite simply, the appearance. Dark themes look good, but not all dark modes are created equal, and when you compare iOS 13's dark mode to Android Q's dark mode that line holds more true than ever before.
Android Q tries to make use of a true dark mode in almost every place possible. That is definitely better for battery conservation, and it might even look good for a while, but one thing that Android Q does that makes me dislike the Android dark mode, is that in dark mode, the text has a very slight, off-white color, which reduces the contrast and makes it difficult to read the text, and also gives it a dull appearance which doesn't look good.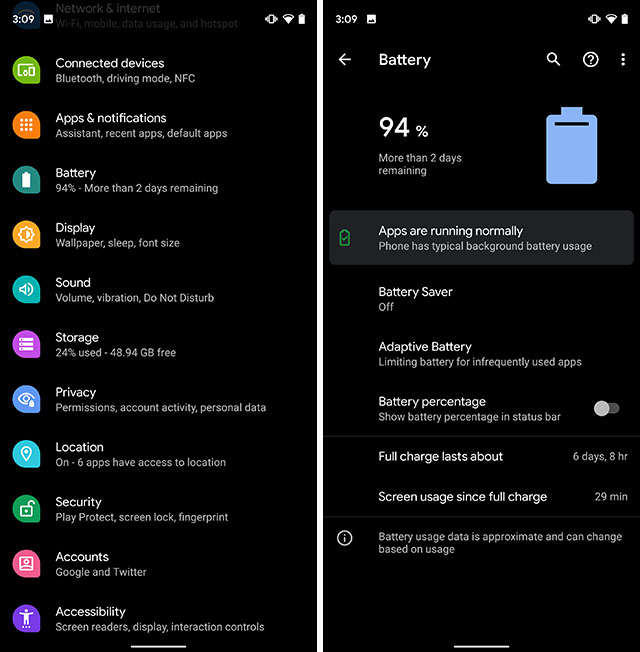 On iOS 13, on the other hand, the colors are picked out very well. The text is bright and white, and the icon colors stand out way better than they do on Android, making things look better, and also giving it a neater look by far.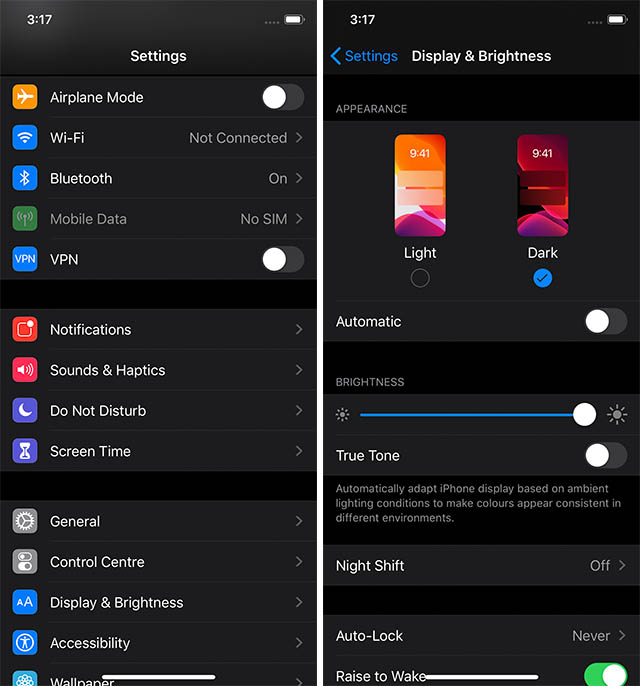 Apps in Dark Mode
Another thing to consider, is the first-party apps in dark mode. One of the best things about iOS 13's dark mode is that once you enable it, every single Apple-made app on your iPhone switches to dark mode — that's how it should be. If I'm switching my system to dark mode, I want all the apps to turn dark.
So in iOS 13, with dark mode, this is what Safari, Apple Maps, App Store, Reminders, Calendar, etc look like.
In Android Q, Google's own apps don't play nice with the dark mode. Take a look at Messages — it has an option to enable dark mode — but I shouldn't have to tap on an option to enable dark mode when I enabled it system-wide. On the other hand, Contacts opens in dark mode, probably because it has an option to use the system theme. Chrome stays light, Gmail is just weird with the half-baked dark mode, but Clock and Files are in dark theme on their own.
iOS 13's Dark Mode is Miles Ahead of Android Q
Having used both iOS 13 and Android Q, I can confidently say that iOS 13's built-in dark mode is miles ahead of Android Q's built-in dark mode. Apple has clearly paid attention to details here, with a nice color scheme that stands out in the dark, a consistent palette across its apps, full support in every Apple-made app on your iPhone, and more.
My biggest issue with Android Q's dark mode isn't even the fact that it doesn't look that nice, or that the text feels slightly dim. No, my biggest issue with Android Q's dark mode is that Google's own apps don't play well with it which is just inexcusable.
What are your thoughts on Android Q dark mode when compared to iOS 13's dark mode? Let us know in the comments.
---
Load More