Would you like to get the best cinematic experience at your home? Whether you are a movie fan or prefer binge-watching a series on Netflix in one sitting, doing it in higher video quality will surely up your viewing experience. Netflix 4K Ultra HD plan is what you need to do so. This article will show how to watch your favorite Netflix shows in UHD quality and other necessities for streaming in 4K. We will also look at other essential settings to ensure you are getting the best picture quality. So, without any further ado, let's begin.
How to Watch Netflix in 4K Ultra HD (2022)
Netflix's Premium plan allows you to watch 4K Ultra HD quality movies and shows. Besides, you also get multiple device support and Dolby movies; more on that later. Still, subscribing to the heavy plan isn't enough to watch content in high quality. You have to ensure better internet speed and hardware requirements to play the 4K video to its full potential. And, what if you have everything in place still not getting the best quality? Don't worry, this article covers everything. 
Plans Supporting 4K Ultra HD
I usually recommend people to get a Netflix plan suitable for their needs. Someone who only watches Netflix on their phone or tablet can benefit from the Mobile plan without burning a hole in their pocket. However, if you want to watch content in the best quality possible, you must subscribe to the Premium plan. Besides streaming in Ultra HD, it also comes with other benefits. For instance, you get to watch Netflix or download shows on four devices simultaneously.
If you aren't sure which plan you are using currently, you can check it in the account settings. Follow the below steps to check and upgrade your Netflix plan.
Open Netflix on a web browser.
Now, go to Account Settings by hovering on the profile icon.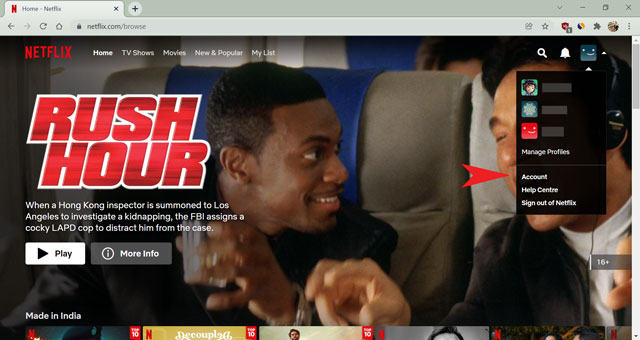 Here, you can check which plan you are on, click on Change Plan to upgrade.
Select the Premium option and click Continue.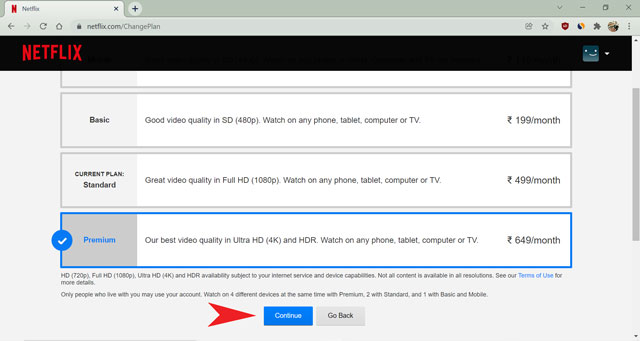 Lastly, click Confirm to finalize your choice.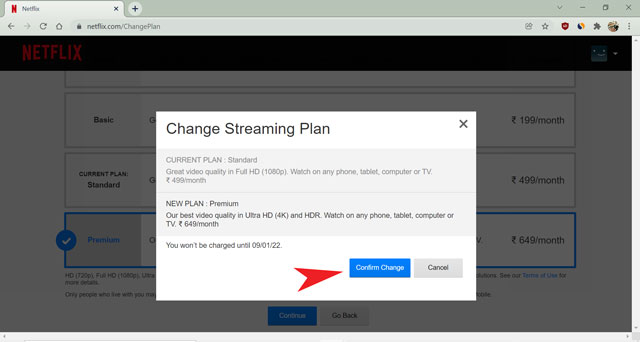 The new benefits of the premium plan will be effective immediately. The last pop-up before a confirmation will also show you the next billing date since upgrading to a higher plan pulls it back a few days. You can change your billing date in Netflix manually if you are not happy with the new one. There is no need to bother about anything if you are already on the Premium plan. However, it's wise to check if you have hardware and software requirements for streaming in 4K.
Requirements to Watch Netflix in 4K
Streaming shows in 4K resolution requires your device to be compatible to display the picture in the highest clarity possible. Besides, it would help to update your computer's software drivers to have a seamless experience. Otherwise, you might experience glitches like audio delay or lagging video. Keeping that in mind, let's see the hardware and software requirements to stream Netflix in 4K.
Hardware Requirements
The fundamental necessity is to have the best 4K TV or computer monitor for watching Netflix. Remember to check that your screen has a 60 Hz refresh rate to avoid lagging; the more, the merrier. If you plan to use a PC for your movie marathon, ensure you have a 7th-generation Intel Core (Kaby Lake) CPU, AMD Ryzen CPU, or newer. Else, an Nvidia GeForce GPU or AMD Radeon RX 400 would do the job in some cases. In short, either a higher generation CPU or a compatible GPU is necessary. If you are using a Mac computer, make sure it has an Apple processor or Apple T2 Security Chip.
Lastly, your monitor needs to support HDCP 2.2. HDCP or High-Bandwidth Digital Content Protection protects copyrighted content while streaming over an external monitor. It is used on HDMI connections for streaming devices like monitors or smart TVs if you use streaming sticks like Roku, Mi Box 4K, and Fire TV. You will also need a compatible HDMI cable to support 4K streaming.
Software Requirements
Sometimes even the best hardware devices are limited to performance if you haven't optimized your settings. So, make sure you have enabled your screen to use the 4K or 3840 x 2160 pixel resolution. You can do it quickly on any monitor by going to Display Settings. Then, check if you have High-Efficiency Video Coding (HEVC) video extension installed. It is also known as H.265 and MPEG-H Part 2 and is required if you are planning to stream using a Windows computer. If you use Mac, it should contain macOS Big Sur 11.0 or later installed.
If you are streaming Netflix using your school or office network, they might have already banned the URL from stopping you from doing so. Therefore, you will require a good VPN like ExpressVPN to bypass the secure ISP. It will also give you an additional benefit to watch content geographically restricted in your region.
Note: We do not recommend watching Netflix during your working hours. Netflix also discourages people from using a VPN for obvious reasons. 😉
Internet Speed to Stream 4K Content
Imagine getting everything in place to watch your favorite Netflix show to realize you do not have the required internet speed to stream such content; is this what a nightmare looks like? Streaming content on 4K requires a lot of data. According to Netflix, you might download around 7 GB of data/hour on a single device while streaming in 4K. Therefore, a reliable internet service provider is a must. Luckily, Netflix's speed index tells you the best internet service providers in your region to select the one suitable for your needs. You can check your current internet speed here. If it's more than 25 Mbps, you are good to go.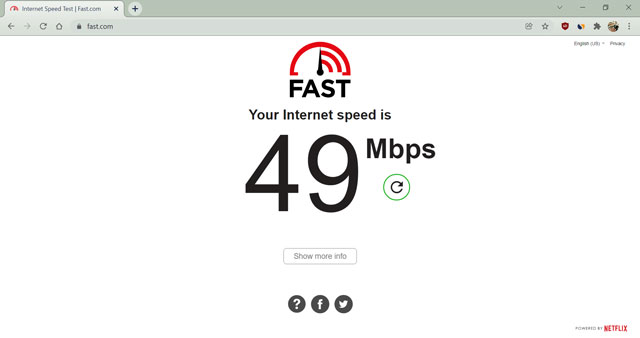 Change Playback Settings on Netflix
Netflix lets you adjust data usage, so you don't exhaust your plan accidentally. This setting is unique for each profile which we can use for our benefit. For instance, you have a personal profile that you use only on your mobile phone. You can set it to use low data so you can watch more content using less bandwidth. However, we want to change it to the High usage plan or Auto to stream in UHD. Otherwise, Netflix will limit the data usage, and you won't watch shows in 4K. Let's see how you can change the playback options on various devices.
Change Playback Setting using Browser
To change the universal settings for your profile, you will need to log in to Netflix using a browser. Follow the steps to change the playback settings for your profile.
Open Netflix on a browser.
Now, open Account Settings by hovering on the profile icon at the top-right corner.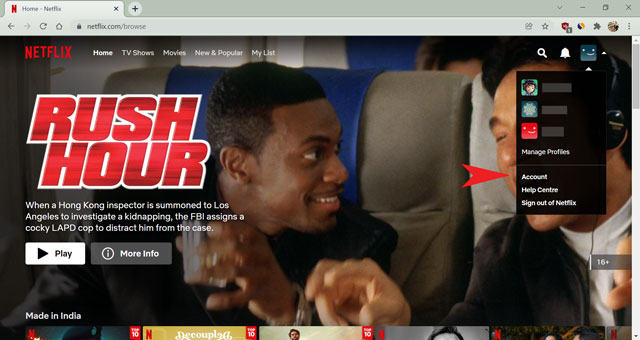 Then, scroll down and click on the profile you want to manage.
Select the Playback Settings option.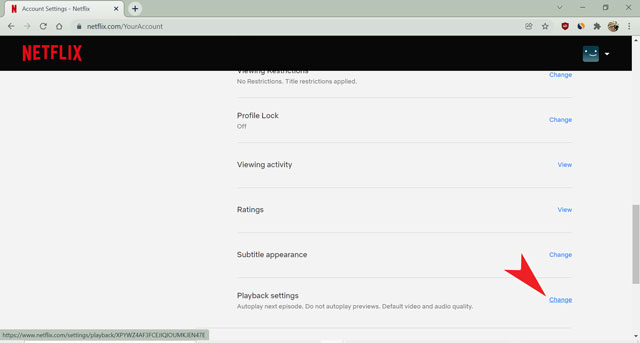 Here, choose "Auto" or "High" and click Save to confirm your choice.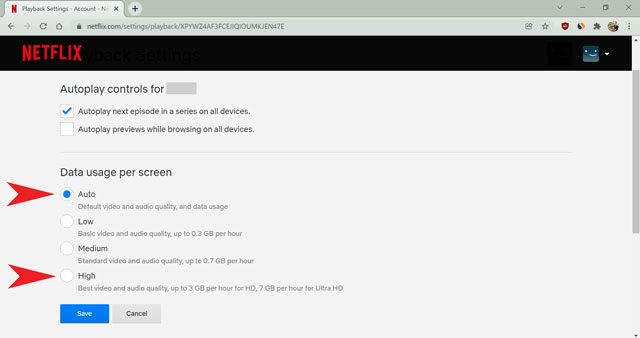 Now on, Netflix will allow this profile to use the highest amount of data possible to stream a video.
Change Playback Settings on Android
If you prefer to watch Netflix on your smartphone, you should change an additional setting. Many smartphones come with an Ultra HD display, so you won't have trouble watching a movie in the highest quality unless you aren't limiting the data usage for your phone. Even after changing the universal setting for profile, Netflix restricts using more data on mobile plans since it can exhaust your data within minutes. However, you can set it to use high data if you are connected to wi-fi or have an unlimited mobile plan. Here's how to change playback settings on an Android smartphone.
Open the Netflix app on your phone.
Then tap on the profile icon on the top-right corner.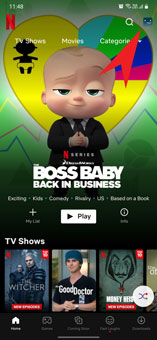 Now, click on App Settings.
Tap on the Mobile Data Usage option under the Video Playback section.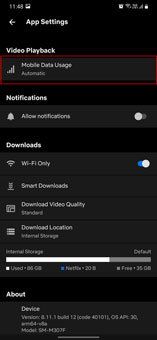 Select Automatic or Maximum for highest data usage.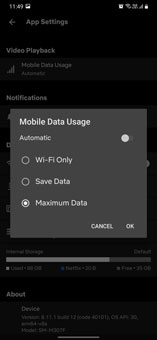 Supported Browsers and TV
As bizarre as it may sound, popular browsers like Chrome and Firefox are incapable of streaming 4K videos. Yes, you read that right. So, even if you have an 8K resolution monitor, Chrome will stream your content on HD quality at best. There are only two browsers that currently support streaming Netflix on Ultra HD, which are the default browsers for the most used computer OS. Microsoft Edge and Safari allow you to stream Netflix content in Ultra HD if your device meets the hardware specification mentioned in the Hardware Requirements section of this article. 
There are countless options available for you to buy when it comes to smart TVs. However, Netflix has made it easier for us by picking out the best compatible TVs for streaming Netflix in 4K picture quality. Netflix updates the list every year and mentions the latest television it finds best suited for streaming Netflix. You can check out other compatible devices here. Below are the best smart TVs for streaming Netflix in Ultra HD.
Panasonic LCD / OLED TVs
HZ2000U, HZ2000H, HZ1500Z, HZ1500K, HZ1500M, HZ1500W, HZ1500L, HZ1500T, HZ1000Z, HZ1000K, HZ1000M, HZ1000W, HZ1000S, HZ1000H, HZ1000T, HX950Z, HX900Z, HX900W, HX900H, HX880W, HX880H, HX800U, HX800K, HX800H, HX750W, HX700Z, HX700H
Panasonic VIERA
GZ2000, GZ1500, GZ1000, GX900, GX880, GX850, GX800, GX750, GX740, GX700
Samsung QLED 8K / QLED 4K / Lifestyle TVs
Q950TS, Q900TS, Q800T, Q90T, Q80T, Q70T, Q900, Q90R, Q80R, Q75R, Q70R, Q60R, RU8000, The Sero, The Frame, The Serif,
Sony BRAVIA TVs
X9000H, X9007H, X9077H, X8000H, X8007H, X8050H, X8077H, X8500H, A8H, A9S, A9G, X9500H, X9507H, X9500G, X8500G, Z8H, Z9G
LED Philips
6500, 6600, 6700, 6800
How to Find 4K UHD Content on Netflix
To see if a show is available in 4K on Netflix, you first have to subscribe to the Premium plan. Then you can search for "4K" or "UHD" on any device to reveal the list of shows and movies available. You will see the UHD or 4K tag beside the content title to ensure its availability in the required picture quality. If you have the Standard plan, searching for the tags will show you movies and shows available in at least HD quality.
If you want to check if a particular movie is available in 4K before you decide to upgrade your plan, you can manually search for it or use JustWatch.com. This website lets you filter out movies on various parameters like country, price, rating, and OTT platform. Visit the website to check the list of all content available in 4K in your country. Then, select the country from the list at the bottom. Here, select Netflix and apply a filter for 4K. The website will show you all the available titles in Ultra HD quality in your country.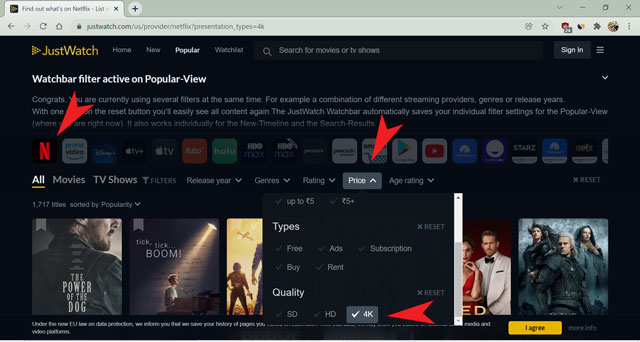 Watch Dolby Vision or HDR10 Titles on Netflix
Netflix also supports HDR10 and Dolby Vision for some of its titles which comes as an additional benefit of using the Premium plan. 4K (Ultra HD) is a high-density pixel resolution that provides greater detail in videos. HDR10 and Dolby Vision are color and dynamic range enhancements that provide a more realistic content representation. So, if your monitor has the mentioned capabilities, you can stream content in much better quality. The hardware requirements are almost the same for PC and Mac compared to what you require to stream 4K videos. You will need an external screen with Dolby or HDR10 functions. If you do, you will see either the Dolby or HDR10 logo in front of the titles. Some smart TVs will show the symbol on the loading screen.
Note: Not all titles available in 4K are available in Dolby Vision or HDR10.
FAQs: Netflix 4K UHD
What does Ultra HD 4K mean on Netflix?
Ultra HD 4K on Netflix means the content is available in a higher-density pixel ratio making the video sharper. The video resolution associated with the term is 3840 x 2160 pixels, which is exactly four times the resolution of HD.
Is there a big difference between Netflix HD and Ultra HD?
Yes, you will get a video quality four times sharper in UHD compared to HD. However, suppose your monitor does not support UHD streaming. In that case, Netflix won't show you 4K videos even after subscribing to the Premium plan.
Is 4K better than 1080p?
4K is better than 1080p in many terms. You get four times the data in 4K compared to HD, making the picture quality much better. You get a highly-detailed, crisp, and cleaner-looking video if it interests you.
Can I Download Netflix Videos in 4K?
Unfortunately, Netflix does not allow you to download content in 4K. It will take too much space on your device and a relatively long time to do so. The best quality download you can get is HD.
Watching Netflix in 4K Ultra HD
Watching Netflix content in 4K (Ultra HD) is a greater experience than simply binging your favorite shows or movies repeatedly. You get a crisp, highly-detailed video quality, allowing you to see details usually missed in lower-quality videos. If you are an eagle-eye fan looking for every possible detail, prefer watching Netflix shows in 4K from now. All you have to do is subscribe to Netflix's Premium plan and get the compatible hardware if you don't already have one. We also discussed other benefits of the plan, which will provide you with a pleasant cinematic experience when you play a movie. I hope you find everything you need to upgrade your Netflix to a 4K plan, including hardware and software requirements, and the will do it in this article. For any queries, feel free to comment down below.
---
Load More