When it comes to watching movies and sports, the higher the resolution, the more enjoyable the experience. And let's be honest, if you can read the inscriptions on Thor's hammer in Avengers and clearly catch the ball's swing in a cricket match, the media consumption experience simply goes up a notch. 4K TVs offer the same experience, but before you start sweating out at their pricing, let me tell you that there are quite a few excellent 4K HDR TVs that won't break your bank. However, if budget is not a concern and you just want to buy the best 4K TV out there, we have you covered in that case too.
We've compiled a list of the best 4K TVs in three price brackets viz. budget, mid-range and premium, to help you pick the right one that suits your requirements. But before you get confused with the 4K and UHD keywords slapped before a TV's marketing name, just know that 4K is the cinematic standard and UHD is the hot word for digital appliances, with only a slight difference between their resolutions to maintain the aspect ratio.
Best 4K TVs in India (Sections)
Best Budget 4K TVs in India
1. Xiaomi Mi TV 4 Pro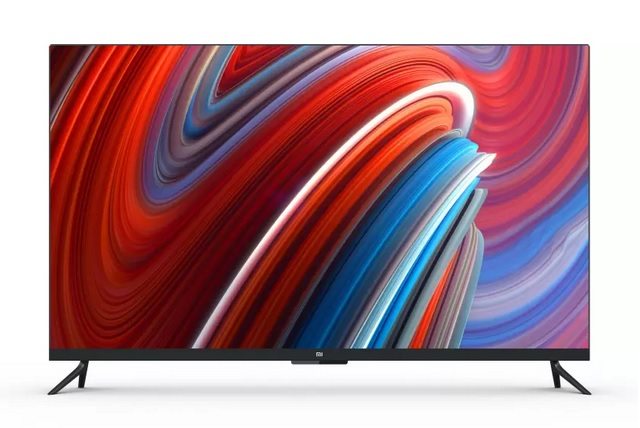 After launching the Mi TV 4 which brought 4K to the mainstream audience, being priced at just Rs 39,999, Xiaomi this year launched an upgrade to the Mi TV 4 in the form of the Mi TV 4 Pro. This too is a 4K TV that brings a bezel-less display which makes it gorgeous no matter where you look at it from. The TV also has a total speaker output of 16W which means you can easily enjoy your favorite TV shows and movies at a nice volume without having to spring for additional speakers.
The TV has a 55-inch 4K panel, that boasts of a 3840×2160 resolution. Moreover, the Mi TV 4 Pro's HDR 10-compatible display has a refresh rate of 60Hz with 178-degree wide viewing angle, and it is backed by Dolby Audio and DTS-HD technology to offer a cinematic audio-visual experience.
The Mi TV 4 Pro runs on PatchWall UI which can run multiple media applications like Hotstar, Hungama Play, Sony Liv etc. and also has support for screen mirroring, allowing users to cast their smartphone display on the Mi TV 4 Pro's screen. As far as hardware specifications are concerned, the Mi TV 4 is equipped with a quad-core Amlogic processor, ticking alongside 2GB of RAM and 8GB of internal storage. At its sub-50k price point, the Xiaomi Mi TV 4 Pro is definitely worth every penny, and I do not find a reason to not recommend this awesome offering from Xiaomi.
Buy from Flipkart (Rs. 49,999)
2. Vu Ultra HD LED Smart TV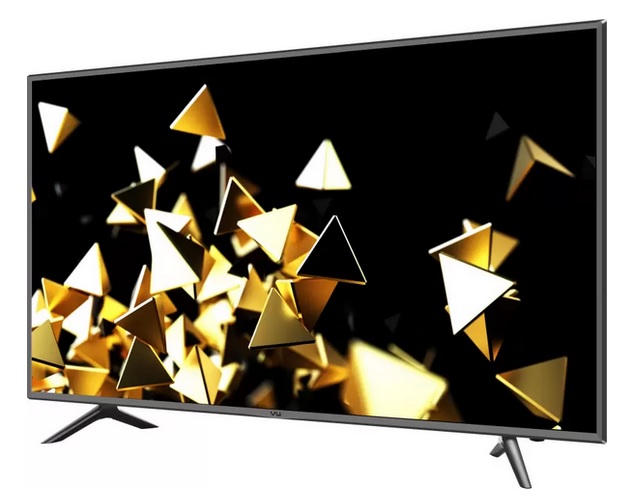 Vu is a domestic brand which has quickly made a name for itself in the domain with its high-quality TVs in various price brackets. The 55-inch Vu Ultra HD Smart LED TV is another excellent offering from the company, which boasts of a rich sound output, thanks to its dual speakers which fire at 10 Watts eaach and are backed by Dolby Digital, dbx-TV and Total Sonic technology with AC3 surround sound on top.
The Vu UHD TV packs a 55-inch 3840 x 2160 Ultra HD HDR 10-supported display with 60Hz refresh rate, 178-degree viewing angle and a pure prism panel which cuts off ambient light reflection to offer high-quality visual output. The device has support for Android and boots PremiumSmart OS which can run apps like YouTube, Netflix, etc. while screen mirroring and media sharing are also on board.
Buy from Amazon (Rs. 45,400)
3. iFFALCON K2A LED Smart TV from TCL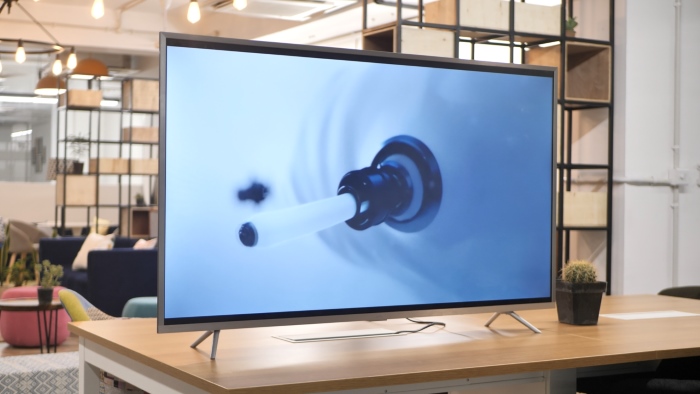 TCL recently launched its iFFALCON K2A LED Smart TV and it is shaping up to become one of the best 4K TVs that you can buy in India today. The iFFALCON K2A features a big 55-inch 4K screen with a great panel which supports a 60 Hz refresh rate. The panel also supports HDR which makes everything that you watch on this TV a pleasure. The TV brings Dolby Atmos sound system which means that not only everything look good on it, but they also sound good. The TV also brings smart features including automatic audio and brightness control which adjusts the volume and brightness of the TV depending on the content that you are watching, built-in Chromecast support, True color, Google voice search, and more.
All of the above-mentioned software features run smoothly which is made possible by the TV's operating system and processors. The TV is being powered by a quad-core CPU and a dual-core GPU with 2.5 GB of RAM and 16 GB of internal storage. It's also running on the latest generation of Android TV which means you get all the apps and games that you know and love. Lastly, all this is packed inside a metallic body which is not only slim but also looks really good. The bottom line is that you cannot go wrong with this TV if you do decide to buy it.
Buy From Flipkart (₹45,999)
4. Onida Google Certified 50 inch 4K TV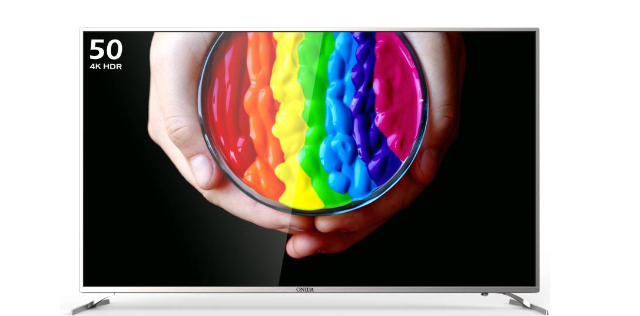 Onida is known for making quality products their TVs are one of the best build TVs on the market. The Onida Google certified 50-inch 4K TV brings a 60Hz display allowing you to have smooth viewing experience. The panel used on the TV is one of the best I have seen in any TV in this price range. It gets sufficiently bright, has great viewing angles, and the color reproduction is on point. The TV also packs 20-watt speakers which deliver very good surround sound experience.
When it comes to the ports, the TV offers a nice selection. There are three HDMI ports which can easily serve your gaming console, set-top box, and blu-ray player. In addition, there are two USB ports allowing you to easily connect any USB powered devices including smartphones to connect to the TV. I am especially in love with its design as the TV like quite modern and is very nice to look at. Finally, the TV is also Google certified which means that it runs Android TV in its best possible form. Overall, I quite love this TV and recommend it to anyone looking for a 4K TV.
Buy From Flipkart: ₹45,999
5. MarQ by Flipkart Smart 4K TV
Flipkart's in-house brand, MarQ, also has a line up of 4K TVs on offer, and the 55-inch model from MarQ is definitely worth considering. The TV brings a big 55-inch 4K panel at 3840×2160 pixels, which is very nice and brings a good color accuracy. There are slim bezels, which means the TV looks pretty good even when it's turned off. The TV comes with a quad core processor, and has 16GB of on board storage along with 2.5GB RAM, so you can easily install your favorite movie and TV show apps like Netflix on this.
The panel here is HDR compliant, and brings 176 degree viewing angles and a refresh rate of 60Hz. It also features a 4K upscaler, so non-4K content can be upscaled to look better on the TV if you want, which is definitely great for viewing TV shows and movies that are not natively available in 4K quality. The MarQ 4K TV is definitely one you should consider if you're looking for a feature rich 4K TV under the 50000 INR price bracket.
Buy from Flipkart (Rs. 41,999)
6. Thomson UD9 55-inch 4K Smart TV
The Thomson UD9 55TH1000 Smart TV comes with a big 55-inch 4K panel (3840×2160 pixels) with sharp details and good color accuracy. The TV also sports slim bezels which adds to the elegant design of the set. It is powered by a 64-bit ARM Cortex CA53 processor and a Mali T720P GPU, and it comes with 1GB RAM and 8GB on-board internal storage.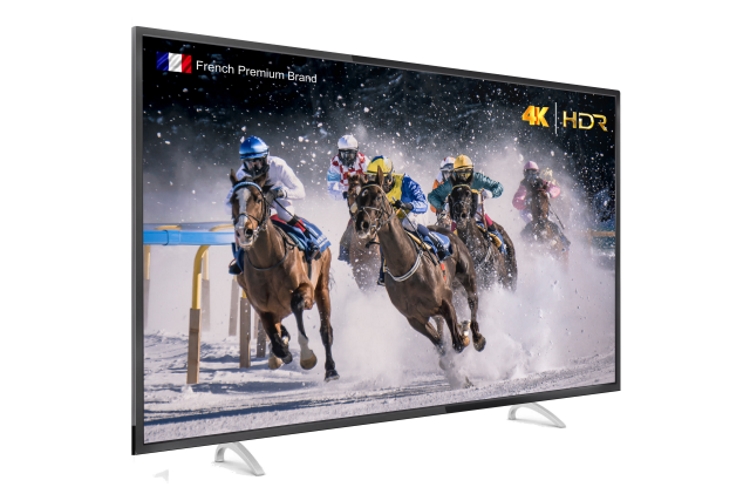 One of the good things about this TV is that it runs on Android-based MyWall UI, which lets you download and install pretty much any application like Netflix, YouTube, Hotstar, etc. The Thomson UD9 TV also comes with a good qulity remote which makes it easy for you search movies and TV shows. Overall, the Thomson UD9 55TH1000 offers a great value for money and it should definitely be on your list.
Buy From Flipkart: (₹39,999)
Best Mid-Range 4K TVs in India
1. Sony Bravia 4K UHD LED Smart TV (KD-43X7500E)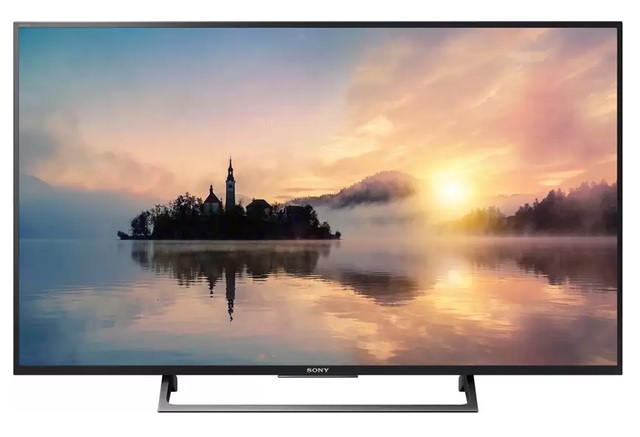 When it comes to TVs, Sony has long ruled the segment with its Bravia line-up, whose excellent audio-visual output is simply unparalleled. The Sony Bravia 4K UHD LED Smart TV (KD-43X7500E) carries forward the company's legacy with elan, and can be labeled as one of the best 4K TVs in the mid-range segment. The Sony offering packs a 43-inch 3840×2160 display with an impressive 200Hz refresh rate that offers super smooth frame transition and excellent clarity, especially when paired with a PlayStation for immersive HDR gaming.
The Sony device comes with the company's 4K X-Reality PRO technology for enhancing the visual output, and it is paired with ClearAudio+, Dolby Digital, and DTS Digital Surround to offer superior audio experience. The Sony device can run apps like YouTube, Opera browser and other applications from the Opera store, and also facilitates features like built-in Chromecast support, Screen Mirroring as well as video and TV Slide View with Android and iOS devices. Alternatively, you can also try the 49-inch Sony Bravia Ultra HD TV (KD-49X7002E), which offers a larger screen and richer connectivity features.
Buy from Flipkart (Rs. 69,900)
2. LG Ultra HD Smart TV (43UJ632T)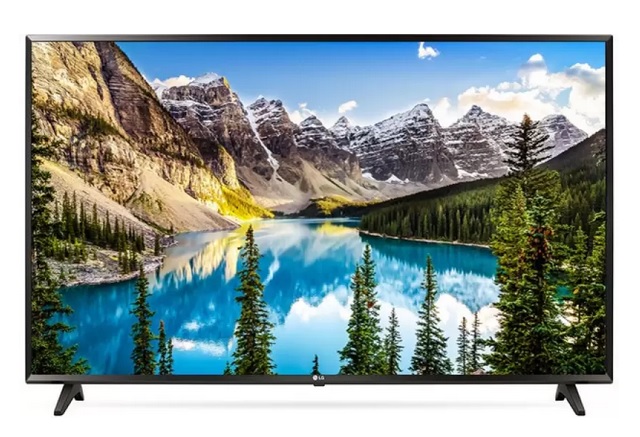 While LG's smartphone division struggles, the firm's other units absolutely kill it, with the company's highly-acclaimed TVs being a vivid example. The 43-inch LG Ultra HD Smart TV (43UJ632T) is a prime example of the company's expertise in the domain, showcasing it with its brilliant 43-inch LED panel of 3840 x 2160 resolution which boasts of Active HDR support that can render HDR 10 and HLG content with superior clarity and color output. It also boasts of 4K upscaling technology, which renders Full HD and 2K videos in UHD resolution.
The LG Smart TV is equipped with two speakers that provide a sound output of 20W, and are supported by Dolby Digital and DTS decoder alongside multiple sound optimization modes. The 43-inch 4K TV from LG runs on WebOS which has support for web browsing as well as digital content apps like Netflix, while user interaction is handled by LG's voice-controlled Magic remote.
Buy from Flipkart (Rs. 49,490)
3. TCL Ultra HD Smart TV with Android (L55P2US)
The 55-inch TCL Ultra HD Smart TV (L55P2US) is one of the cheapest 4K TVs in the mid-range segment, but its excellent build quality, superior audio-visual output and nifty software features make it a noteworthy option. The TCL offering is equipped with a 55-inch 3840 x 2160 panel which has support for HDR Pro technology and video upscaling to transform 2K videos into 4K for added clarity and detail. Moreover, a couple of speakers with 16W output are fitted inside the super sleek device that have DTS Premium and Dolby audio support to deliver excellent audio.
But the real gem here is the TCL TV's support for Android services such as Google Play Store, Google Play Games and Google Movies, alongside Netflix and Chromecast support that make it a truly versatile 4K TV which is worth every penny. The 55-inch TCL Ultra HD Smart TV is available at a hefty 33% discount on Flipkart right now, so if you are planning to buy it, now might be the perfect time to do so.
Buy from Flipkart (Rs. 49,999)
4. Samsung Ultra HD LED Smart TV (43KU6470)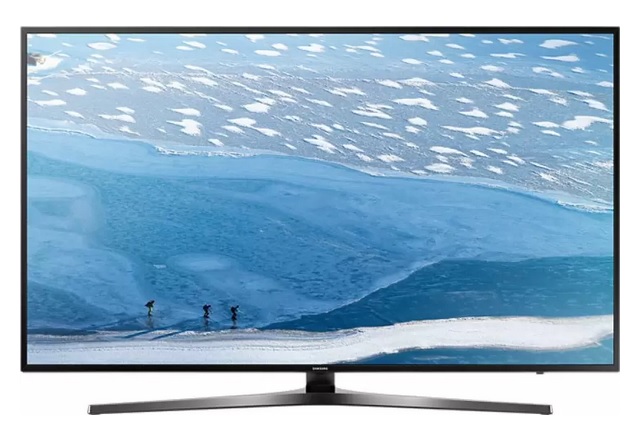 Samsung's 4K TVs are known for their sleek design, vibrant display and excellent sound output, and the Samsung Ultra HD LED Smart TV (43KU6470) is no different. The aforesaid device packs a 43-inch 3840 x 2160 display with an impressive 100Hz refresh rate, backed with Active Crystal Color technology for superior luminous output, HDR Premium support and an inbuilt Micro Dimming technology to optimize contrast and sharpness. The Samsung TV packs two speakers with support for Dolby Digital Plus and DTS Codec which provide an output of 20W and are claimed to deliver crystal clear sound.
The Samsung smart TV runs on Tizen OS, which brings seamless support for services like Netflix, YouTube, Hulu and Amazon Prime among a host of others. Moreover, the device comes with support for a host of nifty features like access to live TV, OTT content, games etc. via the Smart Hub, content sharing and screen casting, sound mirroring, voice recognition and a lot more. If you want other options from Samsung, you can also check out the 40-inch Samsung 4K Ultra HD LED TV (40JU6000) and the 49-inch Samsung 4K Ultra HD TV (UA49KU6570ULXL-SF) which comes with a curved display.
While the TV is usually priced at around Rs.70,000 it has seen a major price drop on Flipkart and is usually available for Rs. 46,999 which is why it's sold out most of the time. Still, we're including this TV on the list because it's definitely one you should check out if you're looking for a great smart 4K TV.
Buy from Flipkart (Rs. 69,999)
Best Premium 4K TVs in India

1. Sony Bravia UHD LED Smart TV (KD-55X9300E)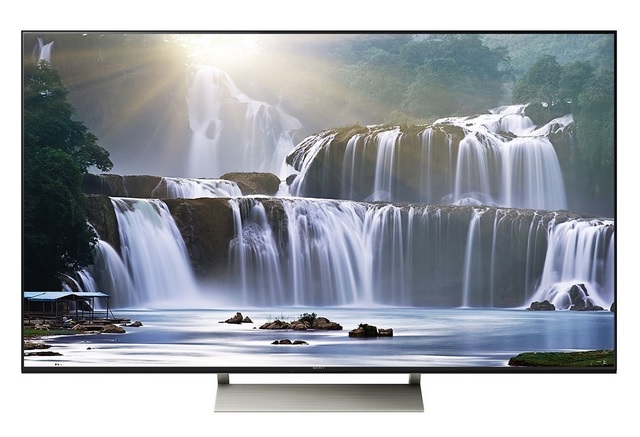 The Bravia series of Sony smart TVs truly shine in the premium segment, and a prime example of that is the 55-inch Sony Bravia UHD LED smart TV (KD-55X9300E), which truly showcases the company's expertise in the domain. The Sony smart TV packs a 138.8 cm UHD LED TRILUMINOUS display, backed by the company's X-tended Dynamic Range Pro algorithm for balancing luminous output and DolbyVision support for enhancing the color output. Moreover, Sony has employed its flagship 4K HDR Processor X1 Extreme, coupled with 4K X-Reality Pro engine to tweak the color output at Pixel level and provide superior visual clarity.
The Sony smart TV is equipped with a front-facing 6 speaker set-up that is equipped with Dolby Digital, DTS Digital and S-force Front Surround sound technology, providing a 50W audio output. On the software side, the device can run Google Play Store apps, supports HDR content streaming from Netflix and Amazon Prime Video, voice-activated search, built-in Chromecast compatibility and a lot more. All in all, the Sony Bravia UHD LED Smart TV is an excellent device, and at a current discount of 32% on its normal retail price, it is a sweet deal to score.
Buy from Amazon (1,39,990)
2. LG 4K Ultra HD Smart OLED TV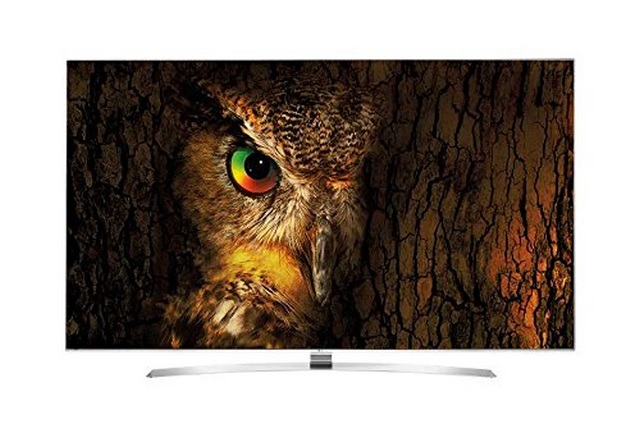 LG is no stranger to making ultra-premium 4K TVs with all the bells and whistles one can imagine, and the 55-inch LG Ultra HD LED smart TV is a perfect example. The high-end LG smart TV is equipped with a 55-inch OLED panel with 3840 x 2160 resolution, which means you can expect amazing video quality from the panel. Since it's OLED, the contrast ratio here is mind-blowing and the blacks on this TV are completely black, resulting in a pretty impressive viewing experience. The TV also features 4K HDR with Dolby Vision, built in WiFi, and LG's ThinQ AI built in. The LG Smart TV boots WebOS 3.0, which comes with support for screen casting, web browsing, file sharing and Magic Zoom, among a host of other web-based features.
The LG device is equipped with 40 W speakers. Users can access Amazon Prime Videos and LG Content Store among other digital libraries to play videos. From its appealing design to exhaustive connectivity features and rich audio-visual output, the LG Ultra HD Smart OLED TV is worth the premium.
Buy from Amazon (Rs. 1,55,000)
3. Samsung Ultra HD QLED Smart TV (65Q8C)
Samsung's Q-series of QLED TVs have received universal acclaim for their unparalleled media output, and a popular offering in the line-up has been the 65-inch version of the Samsung QLED Smart TV. The top-tier smart TV from Samsung packs a 65-inch Ultra HD display with the company's Quantum Dot technology that delivers far superior contrast, depth, viewing angle and higher brightness than conventional 4K TVs. Samsung has also equipped the Q-series TV with its Q Engine and Motion Rate 240 technology with an eye-popping 200Hz refresh rate to provide optimal visual output and blur-free videos respectively.
The nearly bezel-less TV features Smart View that supports bi-directional screen mirroring HDR content streaming from services like Netflix and Amazon Prime Videos. The curved smart TV also offers the S Share functionality in India, which allows users to share the files between the smart TV and their smartphone or tablet. Moreover, the device features a 4 speaker set-up that delivers a sound output of 60 Watts and is backed by Dolby Digital Plus and DTS Codec among other enhancements.
Buy from Flipkart (Rs. 3,59,999)
SEE ALSO: 8 Best 4K HDR TVs for Xbox One X and PS4 Pro
Best 4K TVs in India You Can Buy
That concludes our list of the best 4K TVs across different price brackets that you can buy right now in India. The smart TVs mentioned in the list have all been selected after assessing the overall hardware and software package they offer, and the parameters on which they stand out from other options in the segment.
What do you think of our list? Did we miss any viable option that is truly worth the money in any of the price brackets? Feel free to drop your recommendations in the comments section below.