A good HDMI cable is a must if you don't want to encounter any video and audio issues. Still, most people often overlook cables when installing their home-theater system. Whether you are hooking up an Android TV box or your favorite gaming console with your 4K TV, you need an HDMI cable that can handle the data throughput demand. To make your life easier, we have listed the best 4K HDMI cables you can buy in 2021.
Note: if you are looking for HDMI cables that also support HDR, check out our list of best 4K HDR HDMI cables by clicking on the link.
Best 4K HDMI Cables You Can Buy in 2021
These HDMI cables support 4K at 60Hz and are capable of delivering 18Gbps data transfer speed, which makes them a solid foil for buffer-free 4K streaming (resolutions up to 3840 x 2160). Furthermore, the cables are also backward compatible and feature additional shielding to ward off accidental damage. Not to mention, they can not only resist corrosion but also fight out pet chewing which could be a lifesaver.
What to Look for When Buying 4K HDMI Cable?
To be more precise, there are three pivotal checkboxes you should look for when buying HDMI cables:
Durability: A sturdy nylon-braided cable with a robust casing is what you should first check out. A strong cable with high-grade copper wire can not only endure wear and tear but also have a bit more strength to transfer data consistently.
Latest HDMI Standards: Another vital box that you must check is to ensure that a specific HDMI cable is in line with the latest HDMI standards so that you can get the most out of your device.
Backward Compatibility: Just in case you want your HDMI cable to play nice with a range of HDMI-enabled devices, make sure that it is backward compatible.
1. Highwings – Nylon-Braided Material with SR Joint Design
Highwings' 4K HDMI cable (6.6 feet) is a complete solution. Made of high-quality nylon-braided material, the HDMI cable brings a sturdy construction to withstand wear and tear. The incorporation of the high-grade aluminum connectors further strengthens the durability. Notably, the cable features SR joint design at both ends that play a vital role in preventing joint cracking.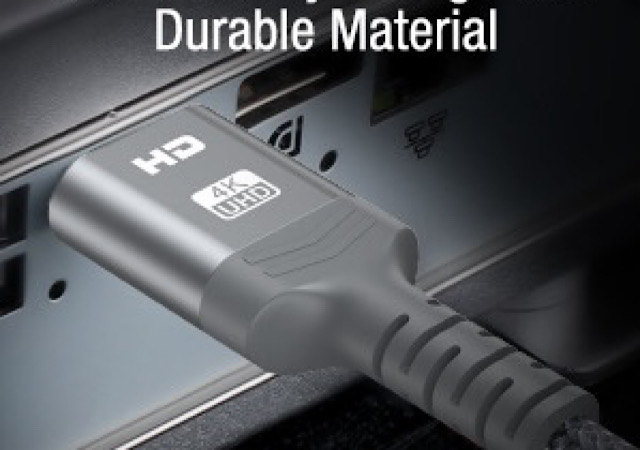 Beyond durability, the 4K HDMI cable is equipped to transfer data at 18 gigabits per second, which means you can bank on it to keep your 4K streaming in the top flight. It means you will get crystal-clear video and audio quality, experience deep colors in their full glory, and view high-resolution images in their optimal quality.
What's more, Highwings 4K HDMI cable is backward compatible and supports Ethernet functionality as well. That's not all, it is also universally compatible designed to work with a wide range of HDMI-enabled devices including smart TVs, computers, consoles, displays, projectors, and more.
Pros: 
High-quality nylon-braided material
Features SR joint design at both ends
Transfer data at 18 gigabits per second
Backward compatible
Cons: 
May fail to establish a strong connection at times
Buy from Amazon: $11.99
2. Ivanky – Aluminum Alloy Casing with 24 Gold-Plated Connector
Both in terms of transferring data at rapid speed and resisting fraying, this offering from Ivanky (6 feet, also available in several lengths like 20, 25, and 50 feet) is a top-notch HDMI cable. The PVC jacket coupled with the aluminum alloy casing and gold-plated connectors not only give it a premium look but also boosts durability. So, you can bank on this HDMI cable to withstand the test of time.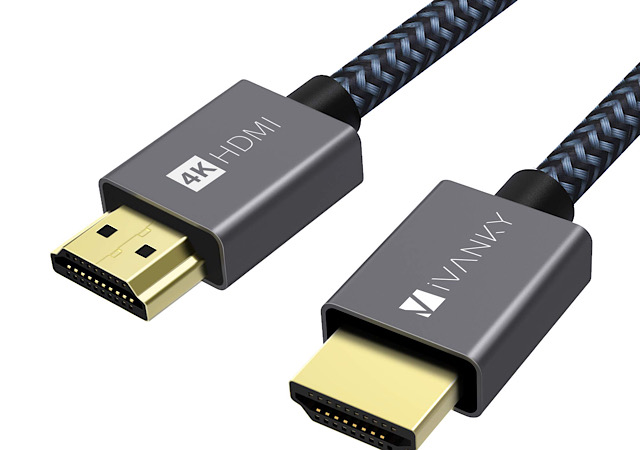 The support for 4K at 60HZ has got you fully covered when it comes to streaming high-quality movies. Besides, the ability to deliver 18 Gbps data transfer speed ensures there is no buffering or unexpected lagging.
What's more, Ivanky is also designed to play nice with Ethernet and supports 3D, Audio Return Channel (ARC), HDCP 2.2, 48-bit Deep Color, 32 audio channels, Dolby 7.1, and wide-angle 21: 9 video image formats to enhance your movie streaming. Add to that the backward compatibility with previous standards such as HDMI 1.4, 1.3 & 1.2 and you have a 4K HDMI cable that seems very hard to beat.
Pros: 
Can transfer data at rapid speed
Aluminum alloy casing 
PVC jacket for extra protection 
24 gold-plated connectors
Supports 3D and Audio Return Channel (ARC)
Cons: 
Might face connection issues at times
Buy from Amazon: $11.99
3. PowerBear – Double-Braided Nylon Material to Ward Accidental Damage
For the folks who are on the lookout for a long and corrosion resistant HDMI 4K cable, PowerBear appears to be the right answer. Made with the double-braided nylon material, the cable is exceptionally strong. For an additional layer of safeguards, it is triple tin shielded.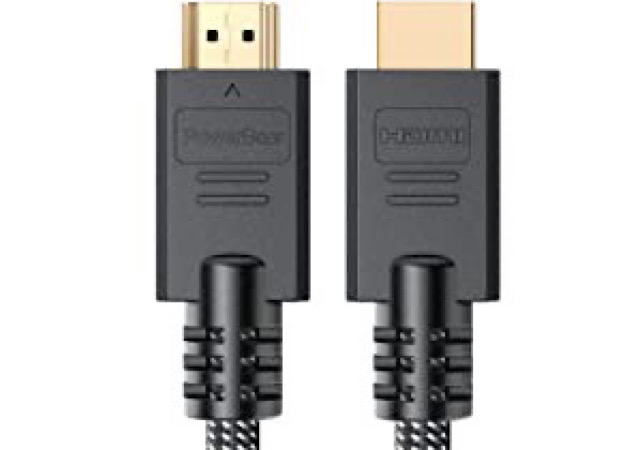 Moreover, it boasts 30WG copper wire inside that has a major role to play in both consistent performance and much-improved resistance against fraying. The company claims that it can last 5x more bends (over 10, 000 bend life cycles).
Being 10 feet long, the HDMI cable also offers you the flexibility to use it for almost any setup. The HDMI cable supports not only 4K resolution at 60 Hz but also 2K and 1080P resolutions, which make it a very user-friendly asset. Plus, the support for a range of devices such as TVs, laptops, consoles as well as backward compatibility ensures you can use it with any HDMI-enabled devices.
Pros: 
Supports 4K resolution at 60 Hz
Also supports 2K and 1080P resolutions
Designed to be backward compatible 
Boasts 30WG copper wire
Cons: 
The casing doesn't seem to be quite strong
Buy from Amazon: $9.99
4. iBirdie – Durable HDMI Cable with Support for 4K at 120Hz Refresh Rate
Boasting high dynamic range technology, iBirdie (6 feet) is touted to deliver top-grade brightness and color. And looking at the raw specs, I don't see any reason why it can't live up to the claim.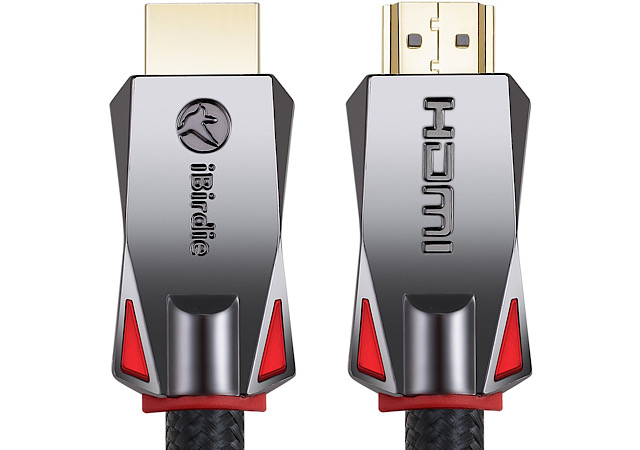 What makes it a top bet is the support for 4K at 120Hz (doesn't support game mode) that promises a fluid and immersive viewing experience. Besides, the HDMI cable is also compatible with high-resolution audio formats such as Dolby TrueHD or DTS HD and 32-channel audio to let you relish movie streaming to the fullest.
Design-wise, iBirdie looks strong enough to take some beating. The rugged zinc alloy shell, protective PVC jacket, and sturdy gold-plated plug can make it a long-lasting asset. Better still, the compatibility with previous generation HDMI versions and the support for a variety of devices put it among the finest 4K HDMI cables.
Pros: 
Can deliver top-grade brightness and color
Support for 4K at 120Hz
Robust casing
Protective PVC jacket
Cons: 
The game mode doesn't support 4K at 120Hz
Buy from Amazon: $13.99
5. Atevon – Oxygen-Free Bare Copper Wiring
Whether it's supporting higher bandwidth up to 18Gbps or being fully equipped to get the most out of your 4K TV (supports 4K@60HZ for resolutions up to 3840 x 2160) or being an ideal foil for high dynamic range video and CEC, this offering from Atevon (10 feet) has checked off all the boxes to be your reliable 4K HDMI cable. What's more, it's also compatible with HDCP 2.2, deep color 24/30/36/48 bit, and 3D format. As it is 10 feet long, you can comfortably use it for both laptop and TV setups.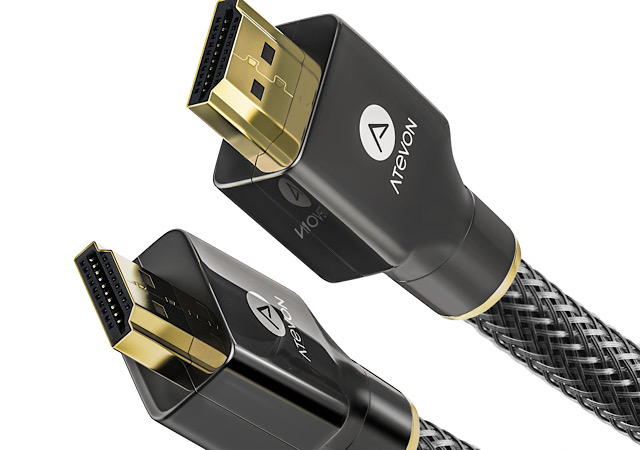 Thanks to the nylon jacket and the rugged zinc alloy casing, Atevon HDMI cable can last long. The inclusion of the high-grade copper and gold plated connectors further empowers it for much-improved corrosion resistance. 
Notably, the oxygen-free bare copper wiring (28AWG) plays a key role in ensuring the cable is able to transfer data fast and consistently. Thus, there is less chance of flickering coming in the way of your movie streaming. Overall, Atevon is one of the 4K HDMI cables in the market right now.
Pros: 
Oxygen-free bare copper wiring

Durable

gold plated connectors

Compatible with HDCP 2.2

Supports deep color

 24/30/36/48 bit
Cons: 
The cable cap may get loose/detached
Buy from Amazon: $13.99
6. Amazon Basics – An Ultra Long 4K HDMI Cable
An ultra-long and efficient HDMI 4K cable like Amazon Basics deserves to get a mention in this extensive roundup. Being 25 feet long, the cable offers you full freedom to use it for any setup – from almost any part of your home.
Amazon Basics cable supports the latest HDMI standards (4K video at 60 Hz, 2160p, 48-bit/px color depth) along with 3D and ARC, and delivers bandwidth up to 18 Gbps. Moreover, it's also backward compatible, which means you can also use it with a wide range of HDMI-enabled devices. For instance, you can use the cable to connect Blu-ray players, Fire TV, Apple TV, PS4, PS3, Xbox One, Xbox 360, and computers, to HDTVs, displays, A/V receivers, and more to stream your favorite content.
Additionally, the nylon-braided cable has built-in Ethernet, which offers you the convenience to share an internet connection with multiple devices. Considering these notable features, the $18 price tag seems reasonable for this HDMI 4K cable.
Pros: 
Supports the latest HDMI standards
Delivers bandwidth up to 18 Gbps consistently 
Strong nylon-braided cable
Built-in Ethernet
Cons:
The casing could be more durable 
Buy from Amazon: $18
7. Ainope – Cheap Yet Exceptionally Efficient 4K HDMI Cable
Should you wish to go for a relatively cheap yet efficient HDMI 4K cable, Ainope (6 feet) could be a smart pick. For starters, the cable meets all the latest HDMI standards including the 18Gbps high-speed data transfer, HDMI 2.0, dynamic color mapping, and Dolby Vision HDR. With these notable features, the $17 for 2-pack makes it the sort of deal that most would like to grab.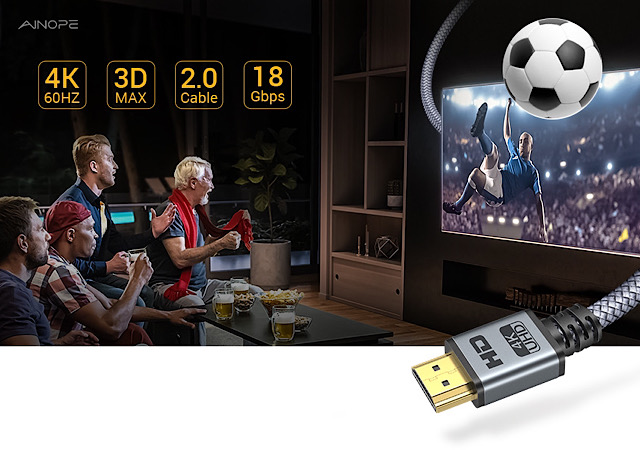 Even in terms of durability, Ainope cable is up to the mark. The accessory maker claims that it has successfully passed more than 20000 bend tests. Featuring nylon-braided construction with SR design enables it to fight out fraying and also puts the pet chewing at bay. What's more, the cable is also made to be backward compatible (HDMI 1.2, 1.3, and 1.4) so that you can use it with old HDMI-enabled devices as well.
Pros: 
18Gbps high-speed data transfer consistently 
Supports dynamic color mapping
Compatible with Dolby Vision HDR
Claimed to have passed more than 20000 bend tests 
Cons: 
Might throw HDMI error on some occasions 
Buy from Amazon: $16.99 (2-pack)
8. Benfei – Low-Priced 4K HDMI Cable That Packs a Solid Punch
Frankly speaking, Benfei (6 feet) belongs to the same territory as Ainope. So, if you want to buy a good yet budget-friendly 4K HDMI cable, keep it on your radar as well. The cable is fitted with a 32 AWG tinned copper wire that empowers it to transfer data at 18Gbps speed consistently. Hence, you can trust this cable to enhance your 4K video streaming by preventing flickering and lagging.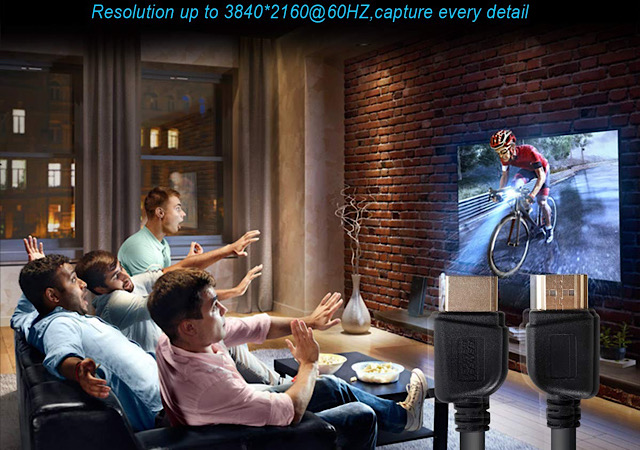 Moreover, the high-speed HDMI cable has the support for both the latest and previous features such as 1080p (1920 x 1080), 4k (Ultra HD 4096 x 2160) in 3D, and ARC, which make it a complete solution. Besides, the compatibility with flat panel displays, digital CRT displays, HDTV, and projectors further enrich its reputation as a useful 4K HDMI cable. Other appreciable features are the PVC jacket and the gold-plated connectors that assist the HDMI cable to safeguard itself from accidental damage.
Pros: 
4k (Ultra HD 4096 x 2160) in 3D
32 AWG tinned copper wire
PVC jacket enhances durability 
Fully compatible with flat panel displays 
Cons: 
HDMI ARC (Audio Return Channel) may not work efficiently 
Buy from Amazon: $7.99
Top 4K HDMI Cables Lined Up for You
So, that ends this roundup of the best 4K HDMI cables. Made of high-grade material and boasting the ability to offer 18Gbps data transfer speed, they are designed to enhance 4K streaming. That aside, they are also backward compatible so that you can use them with older HDMI standards as well. By the way, which one of these cables has caught your attention? Feel free to share your feedback in the comments section below.