Google revealed the upcoming Pixel 6 and Pixel 6 Pro recently, and it comes with the company's first in-house custom mobile chip called Google Tensor. The Pixel 6 series marks a new beginning for Google as it returns to the flagship segment to take on the likes of Samsung and OnePlus. Now, if you are wondering how the Pixel 6 and Pixel 6 Pro compare, you have come to the right place. Here's a quick specs comparison for Pixel 6 vs Pixel 6 Pro, giving you an idea of what the two variants have to offer.
Google Pixel 6 vs Pixel 6 Pro Specs Comparison
Before we begin, do note that this comparison is not based on hands-on testing as the devices are yet to launch in the market. We have mentioned the official specifications Google has revealed and filled in the rest based on past leaks. With that out of the way, let's get to the Pixel 6 vs Pixel 6 Pro comparison.
Google Pixel 6 vs Pixel 6 Pro: Common Specifications
Pixel 6 and Pixel 6 Pro are the first devices from Google to ship with the company's in-house Google Tensor chipset. Instead of Qualcomm's Snapdragon chipset, Tensor will power both Pixel 6 and 6 Pro. If you'd like to experience what Tensor has to offer without spending a lot, you could opt for the regular Pixel 6.
Pixel 6 series will ship with Android 12 out of the box. Moreover, these devices are tipped to offer up to five years of software updates. Regardless of the Pixel 6 variant you get, your device will get priority software updates and security updates right from Google. If you are out of the loop, check out the best Android 12 features from our linked article.
RAM, Storage, and other Generic Features
The vanilla Pixel 6 is tipped to offer 8GB of RAM and possibly come in 128GB/ 256GB storage variants. On the other hand, the Pixel 6 Pro will likely offer 12GB of RAM and 128GB/ 256GB/ 512GB storage variants. While the RAM and storage capacities may differ (obviously), both devices are likely to offer the same LPDDR RAM and UFS versions.
You will also find an in-display fingerprint scanner, 5G connectivity, and Wi-Fi 6E and Bluetooth 5.1 on both phones.
Google Pixel 6 vs Pixel 6 Pro: How Do They Differ
As one would naturally guess, Pixel 6 and Pixel 6 Pro come in different sizes. You get a 6.4-inch Full-HD+ flat AMOLED display on the Pixel 6. On the Pro model, you get a 6.7-inch Quad-HD+ curved display. If you are someone who's not into curved displays, Pixel 6 is the way to go.
Another key difference that sets the Pro variant apart is the refresh rate. While Pixel 6 offers a 90Hz refresh rate, the 6 Pro model takes it to the next level with a 120Hz refresh rate. Whether you would notice the difference in refresh rate depends on your primary use case. You are likely to feel the faster refresh rate when playing some 120Hz games.
Google has officially confirmed that the Pixel 6 will have dual rear cameras and Pixel 6 Pro will flaunt triple cameras. The additional sensor you are getting on the 6 Pro is a telephoto lens with 4x optical zoom.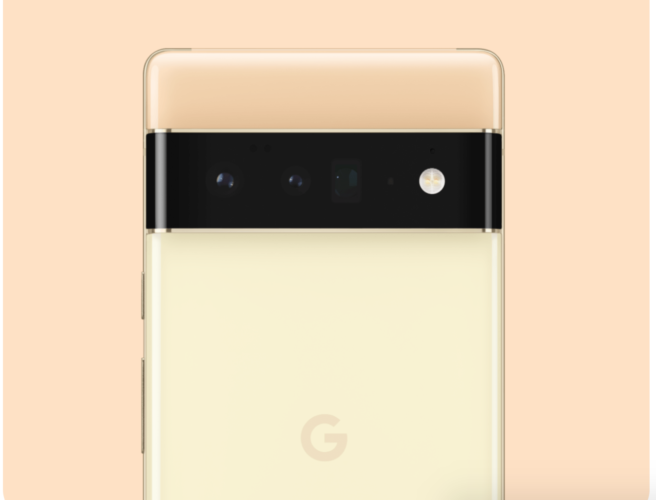 Based on past rumors, the Pixel 6 Pro could feature a primary 50MP wide-angle primary camera, a 48MP periscope lens with 4x optical zoom, and a 12MP ultra-wide-angle lens. The regular Pixel 6 will sport the same primary and ultra-wide cameras but skip on the telephoto lens.
For selfies, you could expect to find an 8MP front camera on the regular Google Pixel 6 and a 12MP selfie camera on the Pixel 6 Pro. There's a center punch-hole on the front that will house the selfie snapper.
Although Google has not confirmed the exact battery capacities of the Pixel 6 and 6 Pro, we have already seen some rumors online. As per reports, you will have a 4,500mAh battery on the Pixel 6 and a 5,000mAh battery on the 6 Pro.
We will have to wait to know the exact charging speeds, but one would imagine that the company would offer something faster than the 18W fast charging found on the Pixel 5. My bet would be on 30W fast charging because charging a 5,000mAh battery on 18W would be a painful experience.
Google Pixel 6 vs Pixel 6 Pro: Comparison Table
To sum everything up, here's a specifications comparison table for the Pixel 6 and Pixel 6 Pro. We have highlighted the specs that
Pixel 6
Pixel 6 Pro
Dimensions
158.6mm x 74.8mm x 8.9mm (minus camera bump)
163.9 x 75.8 x 8.9mm (minus camera bump)
Weight
-
-
Display
6.4-inch Full-HD+ flat AMOLED, 90Hz refresh rate
6.7-inch Quad-HD+ curved AMOLED, 120Hz refresh rate
Processor
5nm Google Tensor
5nm Google Tensor
RAM
up to 8GB
up to 12GB
Storage
up to 256GB
up to 512GB
Rear Cameras
dual camera setup
-50MP (Wide) + 12MP (Ultra wide)
triple camera setup
- 50MP (Wide) + 12MP (Ultra wide) + 48MP (Tele with 4x optical zoom)
Selfie Camera
8MP punch-hole
12MP punch-hole
5G Support
Yes
Yes
Connectivity
Bluetooth 5.1, Wi-Fi 6E, USB Type-C port
Bluetooth 5.1, Wi-Fi 6E, USB Type-C port
Fingerprint sensor
Yes, under-display
Yes, under-display
Battery
4,500mAh
5,000mAh
Wireless Charging
expected
expected
Google Pixel 6 vs Pixel 6 Pro: Which One Would You Pick?
If you prefer a (relatively) smaller form factor, flat display, and are on a tight budget, the Pixel 6 will be the right choice. Those looking for the best of what Google has to offer and need the 4x zoom telephoto lens, 120Hz refresh rate, and a slightly larger battery should opt for the Pixel 6 Pro. The company will unveil the Pixel 6 series sometime in the fall later this year, so stay tuned for more information. Until then, let us know which Pixel 6 model are planning to buy in the comments section below.