If you're here reading this, chances are you're trying to get into audio editing. Whether it's for audio editing of your YouTube videos, a hopeful future in the movie industry as the next Hans Zimmer, a career in music production and editing, or just for creating some sick ringtones for your phone, an audio editing software is going to be at the very heart of your setup. So today, we have rounded up the 15 best audio editing software for your Mac or Windows computer.
Best Audio Editing Software for Mac and Windows in 2022
Choosing a good audio editing software or a digital audio workstation (DAW) can be quite a daunting task, what with the variety of software available out there. Some are free, some bring in additional features, some are specific to a particular operating system and what not. So, in order to help you figure out where you should invest your time and money, we've dredged through the various audio editing software to find the best ones, the crème de la crème if you will. So, here are 15 best audio editing software you can check out.
1. Adobe Audition
Adobe's Audition is quite easily one of the best audio editing software you can get. The app comes with some incredible features that have been honed with the many years of experience Adobe's team has in creating powerful applications for professional users. Audition comes with features like multi-track editing and mixing which will definitely make your audio editing experience much easier and efficient.
The software also comes with a feature called 'Auto Ducking' which uses Adobe's proprietary AI based 'Adobe Sensei' technology to figure out places where you may want to lower the volume of a background track in order to make the vocals, speech, etc sound clearer, making your job much easier to do.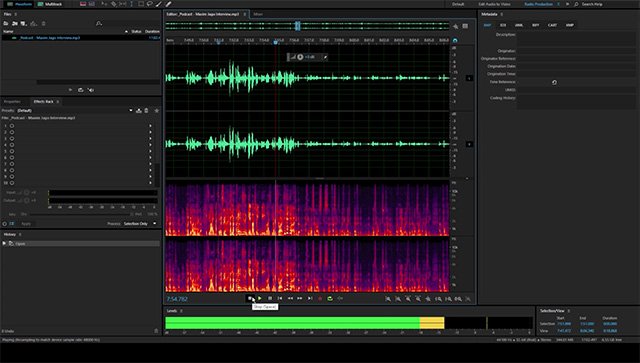 Audition also has some powerful clip editing features including things like mirrored fades, the ability to maintain layer stacks when moving a single piece of the stack, and a lot more. There are a bunch of plug-ins, and Adobe even has its very own series of tutorials surrounding Audition, which should definitely make it much easier for you to get started with the app.
Along with all of that, the app has a really well thought out interface, and manages to look inviting even with all of the features it packs once you scratch the surface. Plus, it supports most of the audio formats out there like MP3, WAV, AC-3, AIF, AIFF, AIFC, AAC, HE-AAC, CAF, FLAC, PCM, OGG, WMA and more, along with support for video formats like AVI, MP4, MOV, FLV etc.
Pros:
Wide array of features
impressive UI
Good fit for people looking to edit voice-overs, or video related audio tasks.
Cons:
Too many features for beginners to easily understand and make use of.
Not a good fit for people looking to produce music.
Subscription based software
Availability: Windows and macOS
Price: Free trial available; subscription starts at $20.99 per month
2. Logic Pro X
Obviously, an article about creative applications will mention Apple in one way or another. Logic Pro X, which is Apple's DAW for systems running macOS would've been my choice for the best audio editing software, but since it's only available on macOS, it brings its accessibility down by quite a bit (not every artist uses a Mac, after all). That said, Logic Pro X brings some incredibly awesome features into the fold that make it an amazing audio editing app for both beginning editors, and professional users.
Logic Pro X comes with all the basic features you'll ever need in an audio editor, and also brings extremely advanced features including the ability to automatically match the timing of different tracks in a project using 'Smart Tempo.'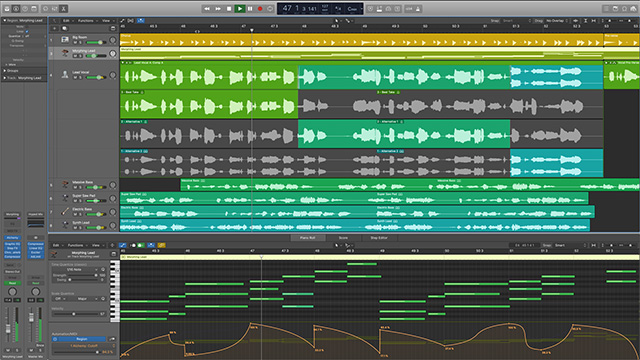 The app also brings 'Flex Time' which lets you edit the timing of a single note in a waveform individually, without having to slice it out of the clip itself. That's insanely incredible and will let you fix that single mistimed beat with minimal effort. There's also 'Flex Pitch' which does the same thing for individual beats, except with pitch instead of timing.
Logic Pro X also brings an 'arpeggiator' which can automatically convert chords into arpeggios for giving your music a more complex feel. There are also a ton of pre-recorded sounds, and patches that you can freely use in your workflow, along with Apple's insane amount of plug-ins that are shipped with Logic Pro X (there's over 60GB of additional assets you get with LPX!).
Logic Pro X supports audio formats like WAV, AIFF, CAF, PCM, ALAC, AAC, MP3, REX, RCY and a lot more.
Pros:
Works like a charm on Mac
Feature rich, and has a variety of plugins.
Control over singular notes as well, if needed.
Has a ton of tutorials.
Cons:
Mac only
Quite expensive at $199
Can be overwhelming if you've never used Garageband before.
Availability: macOS only
Price: $199.99
3. Audacity
I'm pretty sure you've heard of Audacity. The free and open-source software is mentioned on almost every single audio editing thread out there, and for good reason. Like I said, Audacity is free, like completely free, and that makes it the most easily accessible software to anyone looking to get started with audio editing. Plus, it's no slouch when it comes to the features either. It has almost all the features you'll need. There are a lot of effects including things like bass, treble, distortion, noise removal and more. Along with that Audacity also comes with analysis tools such as beat finder, silence finder, sound finder, and more.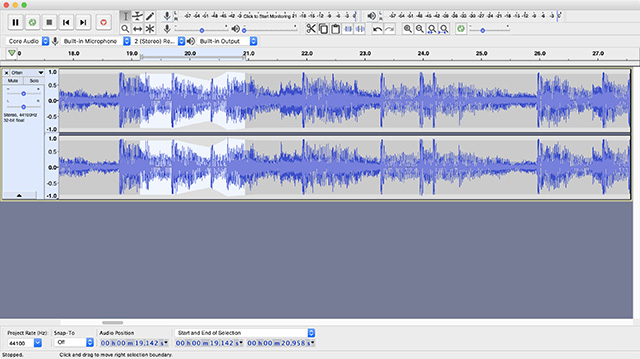 For a free app that's also cross platform, Audacity is surprisingly feature rich. There are a bunch of other tools as well including an envelope tool, a time shift tool, and more. Plus, like most great audio editing software out there, Audacity supports almost all the audio file formats out there like MP3, WAV, AIFF, PCM, OGG Vorbis, FLAC, AC3, AMR, WMA, MP4 and more.
Pros:
Completely free
Cross platform
Beginner-friendly
Pro-friendly as well with all its features.
Massive online community for help.
Cons:
UI is not the best
Faces random crashes on Mac sometimes.
Mics plugged in after Audacity has been launched are not recognized.
Availability: Windows, macOS, and Linux
Price: Free
4. Reaper
Reaper is yet another audio editing software that's incredibly powerful and feature rich while also being comparatively more affordable than some of the other options on this list. For starters, Reaper comes with support for multiple tracks, and has a remarkable multichannel support with 64 channels in each track. It also brings the ability to directly record audio to mono, stereo, or even multichannel audio files, along with the ability to record to multiple disks at the same time for data redundancy if that's something you want.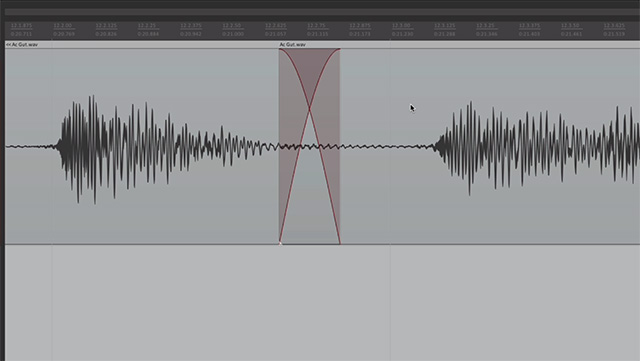 With Reaper you can apply effects in a real time, non-destructive manner, insert almost any third party or MIDI plug in, and even brings real-time pitch shifting and time stretching capabilities into the mix. Reaper also supports most popular file formats along with some not-so-popular file formats out there. There's support for ACID, AIFF, AVI, BWF, CDDA, EDL, FLAC, KAR, MIDI, MOGG, MOV, MP3, MPEG, OGG VORBIS, OGG OPUS, QT, RADAR, REX2, SYX, W64, WAV, WAVPACK, WMV and more.
Aside from all the functionality, Reaper's interface is completely customizable so you can make it look exactly the way you like it.
Pros:
Feature rich
brings Logic Pro X like pitch shifting and time shifting
Comparatively more affordable than other powerful audio editing software
Comprehensive tutorials on the website.
Cons:
UI isn't as good as Audition or LPX.
Not aimed at beginners.
Availability: Windows, macOS, and Linux (experimental)
Price: Free trial available; license starts at $60
5. FL Studio
If you're looking to be the next big name in EDM (or even if you're just looking for a remarkable audio editing software) you should definitely give FL Studio a look-see. Used by artists like Martin Garrix, Porter Robinson and others, FL Studio is definitely a top-notch software for audio editing files. Similar to other top notch DAWs, FL Studio also supports multi-track recording, time stretching, and pitch shifting. It comes with a mixer that brings features like effects chains, automation, delay compensation and more.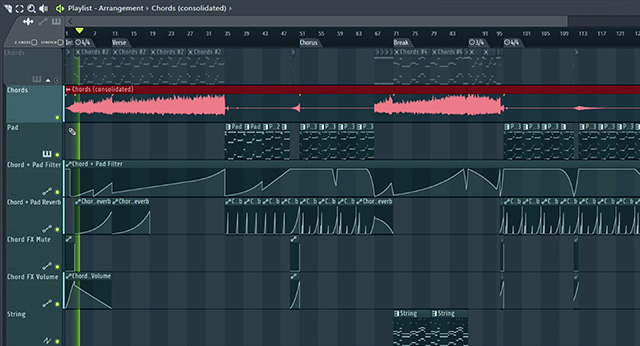 Plus, FL Studio comes with over 80 plug-ins ready for you to use, including plug-ins for sample manipulation, compression, synthesis, and a lot more. There's also a huge number of instruments in FL Studio that you can use in your track; and, with support for VST standards, you can use almost any 3rd party plugins to get even more instrument sounds.
Since FL Studio is mainly aimed at music artists, it only supports a bunhc of file formats like AIFF, DS, DS, DWP, FLAC, MID, MP3, OGG, SF2, Speech, SYN, XI, and WAV.
Pros:
Loaded with features
Amazing for music production, not just editing audio.
VST support so you can basically use any 3rd party plugin.
Cons:
Not the best UI.
Can be a little intimidating to start off with.
Availability: Windows and macOS
Price: Free trial available; license starts at $99
6. Ableton Live
Ableton Live is also a name that's synonymous with music production and that's pretty obvious considering the incredibly large number of features it brings. For starters, Ableton Live supports unlimited audio and MIDI tracks so you can stuff as many layers of tracks into your project as you need. There's also support for MIDI capture, 256 mono input channels and 256 mono output channels. Along with that, you get up to 70GB of pre-recorded sounds you can use in your projects, up to 15 software instruments, and up to 46 audio effects.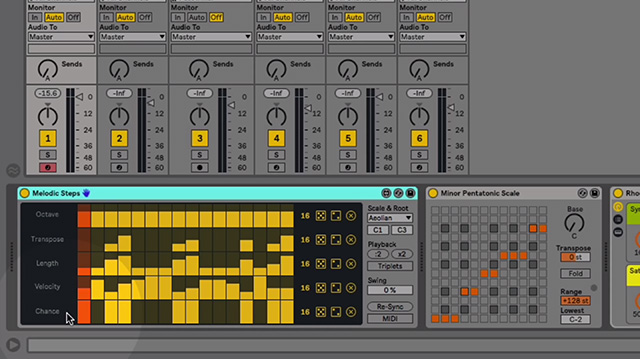 However, Ableton Live doesn't come with some features that are commonplace in most other audio editing software. There's no pitch correction, and adding effects such as fades isn't as easy as it is on other software such as Logic Pro X. However, Ableton Live is still one of the highly regarded DAWs especially for electronic music production, so if that's what you're getting into you should definitely check it out.
Ableton supports almost all the file formats out there including WAV, AIFF, AIFF-C, FLAC, OGG Vorbis, RIFF, PCM, MP3 etc.
Pros:
One of the leading names in electronic music production
Feature packed
Support for unlimited tracks
A huge library of pre-recorded sounds that you can use.
Cons:
Missing some basic features like pitch correction.
Makes tasks like adding fades more difficult than they need to be.
UI is quite below par as compared to the competition.
Availability: Windows and macOS
Pricing: 30 day free trial; pricing starts at $99
7. Cubase
Cubase, from Steinberg, is another audio editing software that you might wanna take a look at. The DAW comes with a legacy of major artists having used it including the likes of Zedd, Junkie XL and more. As far as features are concerned, Cubase brings forth quite a bit of these as well. There's a frequency equalizer that lets you perform immensely delicate frequency edits to your tracks, an Auto-Pan feature that lets you quickly play around with your tracks.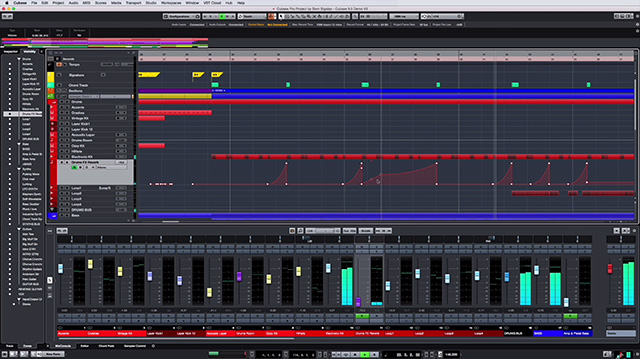 Also, if you use plug-ins, Cubase's Plugin Sentinel will automatically scan them on startup to ensure that they are valid and won't harm your system. There's also a feature called Audio-ins that lets you use filters and effects separately on your audio tracks. Cubase offers a free trial so you can check it out before deciding if you want to buy it or not.
Pros:
Comes with some pretty awesome features.
Has frequency equalizer to perform delicate edits.
Plugin Sentinel ensures safety of your system.
Cons:
Availability: Windows and macOS
Price: free trial available; pricing starts at €99
8. Presonus Studio One
Another audio editing software you might want to take a look at, the Presonus Studio One 4 is a versatile DAW that comes with a bunch of cool and useful features. There's support for multiple tracks, and with Studio One's Chord Track feature, you can easily make a quick prototype of songs and get an idea of what they sound like. Chord Track brings features like key modulation, chord substitution and more for easy protoyping. Studio One can automatically identify the chords from your audio track, and you can even drag a part to the Chord Track to make a reference.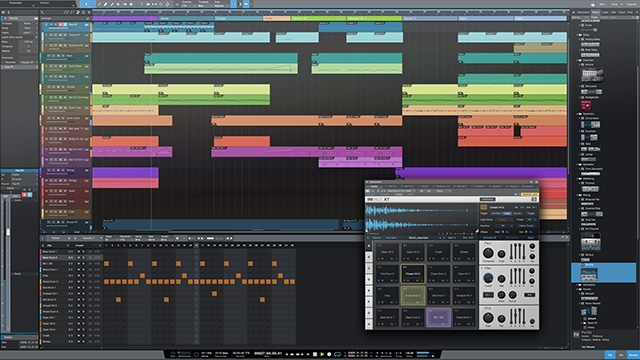 Studio One also comes with a brand spanking new Impact XT drum module which is an improved version of the older Impact drum module. It brings more than 20 new features such as beat quantization and real-time stretching, allowing you to get creative with loops and beats in your song. Other than all of this, Studio One also has countless other features including things like multiple macro toolbars, improved multi-editing, external plugin scanner, and a lot more, so it's definitely worth a look-see if you're interested.
Pros:
Too many features to keep a track of.
Capable of automatically identifying chords from your music.
Has a plugin scanner to ensure safe operation
Cons:
Availability: Windows and macOS
Price: Free version available; pricing starts at $99
9. Hindenburg Pro
Hindenburg Pro is also an audio editing software that's worth mentioning. It's cross-platform and works with both Windows and macOS. Plus, it comes with non-destructive, multitrack recording. Hindenburg Pro can also import 24-bit audio files and even work in 24-bit sessions. Other than that, the DAW brings in a large number of effects including compressors, EQs, loudness meters, and support for third party plugins so you can expand your effects-set to the extent of your imagination.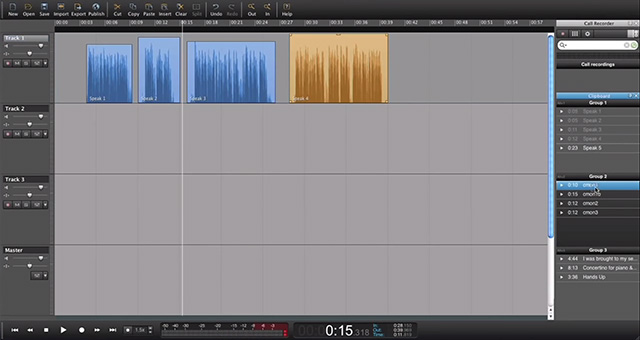 With the automatic EQ feature in Hindenburg Pro, you can let the software automatically set up your preferred voice profile without having to tweak things too much, and once you're done editing your audio, Hindenburg will let you export the project to a variety of formats including mp3, AIFF, and even Apple Lossless.
Pros:
Feature rich.
Support for 24-bit audio files.
Automatic EQ will help normalize your voice while editing voice overs and interviews
Cons:
dated UI
Not really suited for music production.
Availability: Windows and macOS
Price: 30 day free trial; pricing starts at $95
10. Ardour
Last but not the least, Ardour is also a pretty powerful audio editing software that's made better by the fact that not only does it work on Windows and macOS, it also fully supports Linux, so you can basically run it on almost any computer you want. Ardour brings you almost every feature in the book when it comes to audio editing starting from making recordings easier with mics and MIDI devices, to editing thanks to easily usable editing features like cuts, crossfades, transposition, swing and more.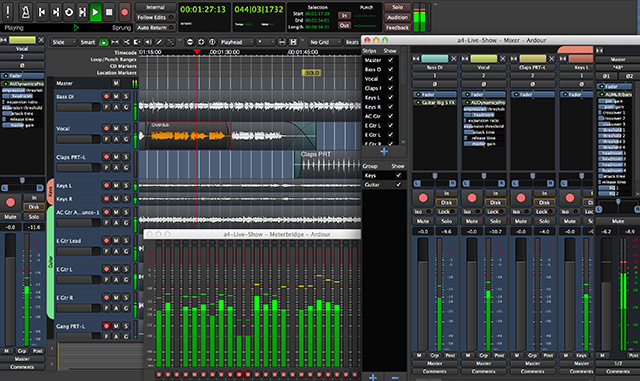 The software also brings unlimited undos and redos so you can experiment to your heart's content. There are also mixing features included with the DAW, so you get access to EQ, automation, faders, monitors and more. Add to that a flexible mixer and the hundreds of plugins that Ardour brings and supports, and you have a great audio editing software.
Pros:
Completely cross platform
Kind of beginner friendly.
Unlimited undos and redos
Cons:
UI looks bad.
Doesn't come with advanced features.
Not suited for professionals.
Availability: Windows, macOS, and Linux
Price: Free; Pay at least $1 for full feature set
11. Avid Pro Tools
I don't think there are too many audio editing software packages that can match Avid Pro Tools' prowess of being both feature-packed and intuitive. The software probably has the cleanest audio editing interface which can comfortably fit into any workflows. And with fast 64-bit recording and mixing engine to boot, it's also quite good at boosting productivity.
Speaking of productivity, Pro Tools offers an efficient way to deal with large sessions. For instance, you can organize your tracks into collapsible folders to work with greater flexibility. Another notable feature is the ability to group folders in folders and color-code items which makes navigation pretty straightforward.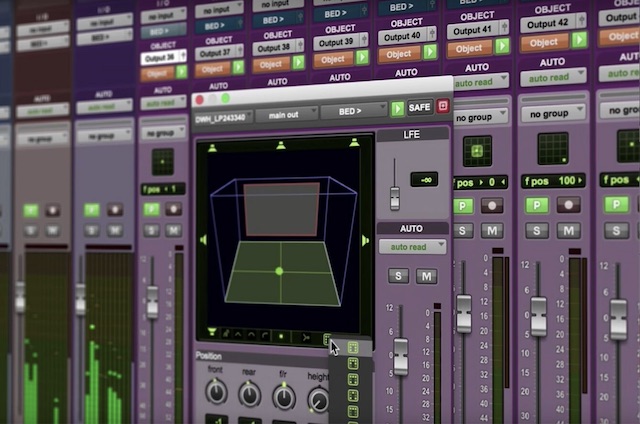 Pro Tools comes with UVI Falcon 2 (a highly proficient virtual instrument) that allows you to create amazing sounds. One of my favorite features of this software is a huge library of over 750 voice audio tracks that make it much easier to create interesting mixes; and that too without needing HDX hardware. With an ever-growing community of music creators, it also offers you the opportunity to discover the music of passionate artists and collaborate with them.
What's more, Pro Tool even provides you the option to get your music heard on major music-streaming services including Spotify, Apple Music, Pandora, and more. It's worth noting that Avid's Pro Tools come in three variants: First (Free), Standard, and Ultimate. As you may have already guessed it, the free variant is for beginners, while the Ultimate version is primed for pros. In terms of compatibility, this audio editor has support for several audio formats including MP3, S1, SD2, .aac, .M4a, and more.
Pros:
Fast 64-bit recording and mixing engine
UVI Falcon 2 – a highly proficient virtual instrument
Collapsible folders
Over 750 voice audio tracks
Cons:
Doesn't have a built-in pitch correction
Lacks the VST or AU plug-in support
Doesn't feature instrument track presets
Availability: Windows and macOS
Price: Free, the standard version is available for $29.99 one-year subscription (paid monthly), the ultimate version is available for $79.99 one-year subscription (paid monthly)
12. Magix Sequoia
If a one-stop platform loaded with high-end tools is what you are after, Magix's Sequoia can be the right answer to your needs. What gives this audio editing software an edge over many other counterparts is the ability to excel in all the major aspects including audio production, post-production, broadcasting, and mastering. It offers highly proficient features for source destination cut and multi-synchronous cut which enables you to combine a variety of concert recordings into one with ease. And with the seamless collaboration at the disposal, it helps music creators to work with their team in sync during post-production.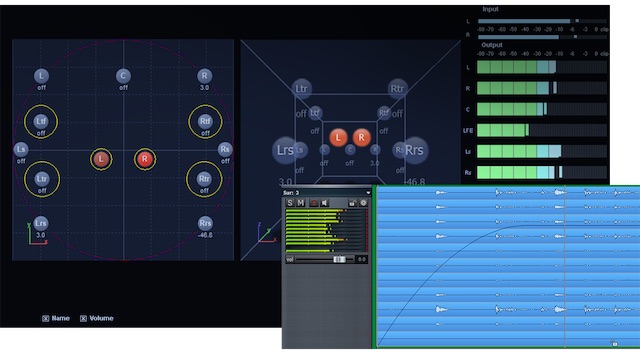 On the broadcasting front, Sequoia provides a direct connection to broadcast CMS and automation systems for a simplified experience. Featuring a robust audio engine, the software lets you edit files even during live recording, which is yet another plus from a productivity point of view. Even in terms of mastering, the software has got you fully covered thanks to a wide range of tools like a powerful object editor, top-notch plug-ins, comprehensive phase, and peak meters, and native audio restoration.
As for compatibility, it provides fully integrated OMF/AAF support so that you can exchange projects between all the major programs and platforms. Do note that AAF is its preferred format owing to the open documentation and the massive feature set. At $2975 Sequoia does seem extravagantly priced as compared to other audio editors, but if top-of-the-line tools matter to you for your mastering, you can't go wrong with it. That's for sure!
Pros:
Highly efficient features for source destination cut and multi-synchronous cut
Robust audio engine
Seamless collaboration
Powerful object editor
Cons:
Too pricey
Steep learning curve
Availability: Windows 
Price: $2975
13. Sound Forge
Sound Forge is a digital audio editing software that offers high-end tools for professionals, but is easy enough to be used by amateurs and enthusiasts. There are multiple versions of Sound Forge in the market currently. The first one is Sound Forge Pro 14, while the other one is Sound Forge Audio Studio 15. There's also a Sound Forge Pro Suite with more bells and whistles. Sound Forge is a very well known digital audio editor and offers recording, audio editing, audio mastering and processing.
The Pro/ Pro Suite is designed for professionals and offers multi-channel or multi-track recording, voice activity detection using artificial intelligence, Disc Description Protocol export, and more, while the Audio Studio is aimed at enthusiasts and provides tools to record, edit, restore and master songs and audio files with professional effects.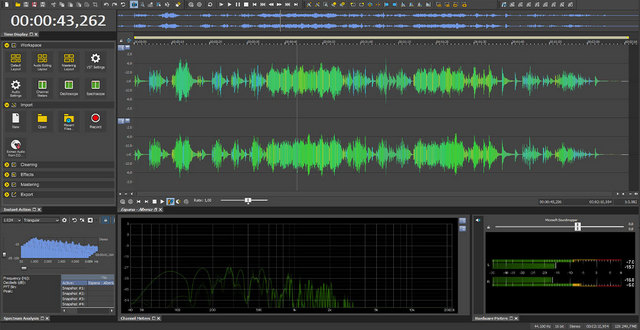 Sound Forge Pro enables users to record, restore and edit audio material in ultra-high quality. It also brings a large number of pro-level tools, innovative editing functions and high-end plug-ins to create masters for broadcast, CD or streaming in the ultimate perfection. Sound Forge offers support for high-resolution audio, including 24-Bit, 32-Bit, 64-bit @192 kHz.
Supported file formats include DSF (DSD), AA3/OMA (ATRAC), GIG (GigaSampler instrument), IVC (Intervoice), MP4 (including Apple Lossless), MPEG‑2 transport stream and PCA (Sony Perfect Clarity Audio). It also supports AVI, WMV, MPEG-1 and MPEG-2 for frame-by frame audio/video synchronization.
Pros:
Impressive list of features for experienced audio editors.
Intuitive UI
Cons:
Relatively complicated for beginners
Pro versions are expensive
Availability: Windows and Mac
Price: $59.99 for Audio Studio; $249 for Sound Forge Pro; $349 for Sound Forge Pro Suite
14. WavePad
WavePad Audio editor is a full-featured professional audio and music editing software for Windows and Mac. One of the best audio editors for enthusiasts and amateurs, it has a highly intuitive interface which ensures anyone can use it with ease. The program not only lets you record and edit music, voice and other audio, but also enables you to cut, copy and paste parts of recordings, as well as add effects like echo, amplification and noise reduction.
WavePad is largely used as a wav or mp3 editor, but it also supports a number of other file formats, including vox, gsm, wma, real audio, au, aif, flac, ogg, and more. WavePad Audio Editor is available for free to non-commercial users, and it comes with most of the features of the full version, which includes additional effects for professional sound engineers.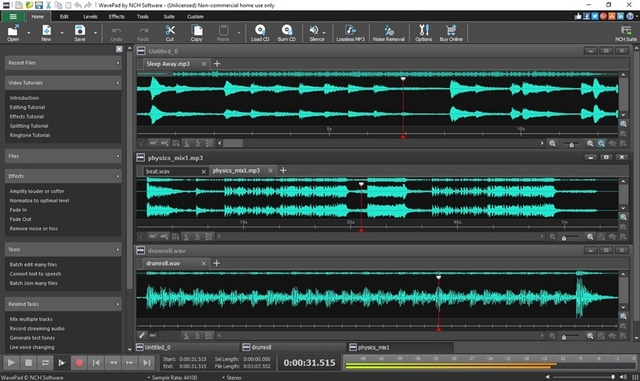 Editing tools in Wavepad include cut, copy, paste, delete, insert, silence, auto-trim, compression, pitch shifting and more, while audio effects include amplify, normalize, equalizer, envelope, reverb, echo, reverse and many more. Advanced tools include spectral analysis (FFT), speech synthesis (text-to-speech) and voice changer.
Audio restoration features including noise reduction and click pop removal. Wavepad Audio Editor supports almost all audio and music file formats including MP3, WAV, VOX, GSM, WMA, AU, AIF, FLAC, real audio, OGG, AAC, M4A, MID, AMR, and more. Its sound effect library includes hundreds of sound effects and royalty free music clips. Supported sample rates range from 6 to 192kHz, stereo or mono.
Pros:
Free version includes wide range of features
Easy-to-use for beginners and amateurs
Inexpensive full-featured app for professionals
Cons:
Missing cutting-edge features
Mac software not as well optimized as the Windows version
Availability: Windows, Mac, Android, iOS

Price: Free; Standard Edition costs $29.99; Master's Edition priced at $49.99

Check out Wavepad Sound Editor
15. GoldWave
GoldWave is a digital audio editor from Canadian software firm, GoldWave Inc. Aimed largely at beginners and amateur enthusiasts, it offers everything from voice and stream recording and editing to sophisticated audio processing, restoration, enhancements, analysis, and conversions.
It also offers more than 40 different audio effects, including echoes, reverbs, flangers, censorship beeps and much more. You can also remaster old vinyl or tape recordings with this software. It also offers noise reduction and pop/click filters to clean up the audio by removing buzz, hiss, crackle and clicks. There's also a Spectrum Filter for precise control over frequency and tone.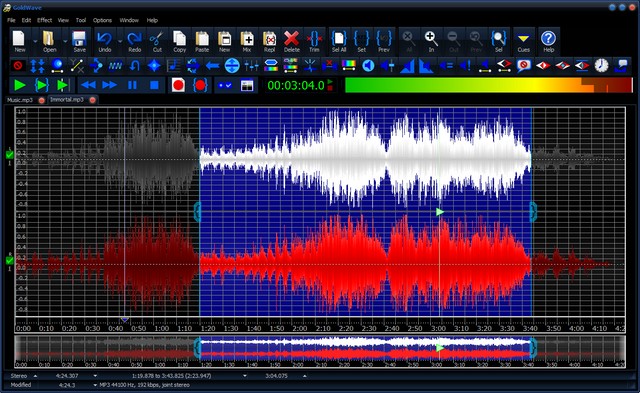 Other notable features include batch processing/conversion, audio copy (from CDs etc.), file merger, expression evaluator, and more. There's also the speech converter tool that allows users to create audio versions of websites, books, and other text documents. Supported platforms and formats include iTunes, m4a, wav, wma, mp3, ogg, aiff, au, vox, FLAC, and even raw binary data.
The app also offers full keyboard accessibility, foot pedal support for playback, cool visuals, and much more.  Finally, GoldWave also offers users the ability to assign their own keystrokes for almost any function in the program, making it a perfect choice for anyone with visual impairments.
Pros:
Affordable pricing for the features on offer
Easy-to-use
Customizable
Cons:
Not for professionals
Old-fashioned UI
Availability: Windows, Android and iOS
Price: Free trial; Full version pricing starts at $19 for 1-yr; Lifetime license at $59
Bonus: Best Audio Editing Software for Basic Needs
The article above mostly focused on audio editing software that are feature packed and can be used for everything from basic audio slicing and joining to frequency modulations, pitch corrections and more. However, if you're simply looking for an app to perform the very basic of manipulations too, there are a bunch of options you can go with.
There are obviously more of these software, but for your basic needs these should prove plentiful. You can also check out AudioTool if you're interested in getting started with making beats without spending insane amounts of money of software. In fact, AudioTool works online as well, so it's easy to access anywhere.
Frequently Asked Questions
Q. What audio software do professionals use?
The audio editing software of choice for professionals depends on the platform they use and the budget they have. Folks who record audio for an YouTube channel can use something as straightforward as Audacity, while Hollywood sound engineers typically use Avid's Pro Tools. It is the industry standard DAW that you'll find in almost every high-end professional studio. Some of the other popular software for professionals include Apple's Logic Pro X, FL Studio and Adobe Audition.
Q. What is the easiest DAW to use?
There are a lot of audio workstations that have a relatively easier learning curve compared to the high-end pro tools. For Windows users, BandWalk's Cakewalk is one of the best DAW for beginners. It is free and offers a full suite of features that are easy to use for novice users. Another major contender for that title is Reaper, which is a fully-functioning DAW with a 64-bit internal audio processing engine that supports media in almost format at any bit depth and sample rate. It isn't free, but the money is well worth it.
Q. Does Windows 10 have an audio editor like Mac?
Unlike Mac, Windows does not come with a powerful built-in audio editor. The most used audio editing software on Windows is Audacity – a free and open source (FOSS) program that comes with a wide range of features and is surprisingly easy-to-use. Another application that you can use is WavePad, which also offers a large set of features for free. Even the paid version of the program is relatively affordable, even for beginners.
Q. What is the best audio editing app?
The definition of the 'best' audio editing software depends on your needs, your platform, your willingness to learn and your budget. If money was no object and you're a pro at audio editing (or a steep learning curve doesn't scare you), Avid's Pro Tools, FL Studio, Adobe Audition and Logic Pro X will be right there at the top.
Q. What is the easiest audio recording software to use?
For beginners and amateurs, the best audio editing software is Audacity on Windows and Garage band for Mac users. Neither costs a dime, and both offer a wide range of features within an intuitive, easy-to-use interface. If you're looking for the best audio editing software on mobile, you can check out our list of best audio editing apps on Android.
Use These Audio Editing Software for Your Next Project
So now that you know about the 15 best audio editing software you can use, which one are you planning on giving a shot? All of these options are pretty great in their own regard but at the end of the day it only matters which software best fits your style of work, so make use of the free trials on these software to figure out which one of these software will be the best DAW for you.
If you think we've missed out on a pretty great audio editing software that deserves a mention, drop us a line in the comments down below. Also check our linked guide to find the best video editing apps to complement these audio editors.