Whether it's background audio for that upcoming project presentation of yours, or some funky sound effects to be used in the game you're working on, or just about anything else, having good quality music at your disposal is one of the essential requirements. However, generally, most musical compositions are copyrighted, and can't be used without being licensed, which often means paying hefty amounts of cash to the copyright holders. Quite an issue, right?
Not really. There are numerous online sources where you can get musical compositions (including everything from full tracks to sound effects) released under the Creative Commons license. You can use them freely in any of your projects (commercial or non-commercial), as long as you provide proper credit and follow the attribution rules mentioned in the terms of the license. Intrigued? Let's take a look at 15 such websites where you can get Creative Commons music for free.
Get Creative Commons Music for Free
YouTube Audio Library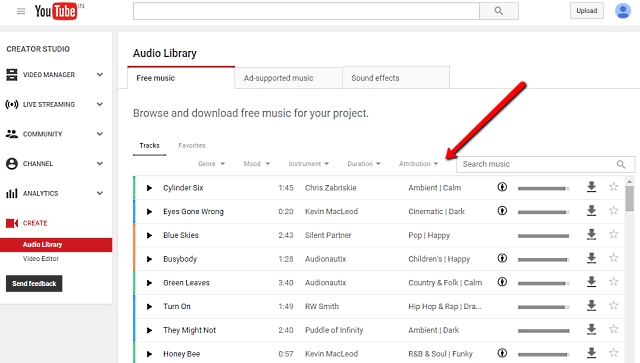 You may think that YouTube is just all about videos, but the world's largest and most popular video sharing website (despite there being numerous alternatives) has a lot more to it than that. Case in point is the YouTube Audio Library, which provides hundreds of Creative Commons licensed audio tracks that you can freely download and use in any of your projects, in accordance with the terms listed of attribution listed with the tracks.
The granular search lets you filter the results on the basis of numerous parameters, such as duration, genre, mood, and even instrument. Apart from the music, there are a lot of sound effects (e.g. human voices) also available. Simply find the one you're looking for, and hit the Download arrow icon.
And if that's not enough, you can search YouTube for "Creative Commons Music," and you'll get dozens of channels, individual uploads etc. having creative commons licensed music, that you can use in your work. Some of the most popular channels include Creative Commons Free Music Library, and Best of Creative Commons.
2. SoundCloud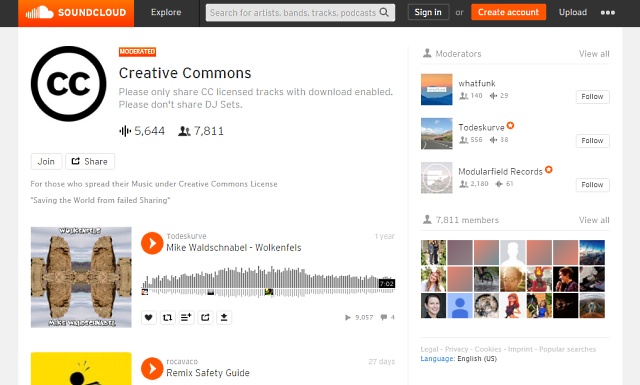 Probably the largest web-based audio distribution and sharing platform out there, SoundCloud has a huge collection of original musical compositions, including everything from audio tracks, full albums, podcasts, and much more. And a lot of these musical works are released/uploaded with Creative Commons license, thereby making SoundCloud a substantial source of Creative Commons music.
Generally, all Creative Commons licensed musical compositions uploaded on SoundCloud are downloadable, and you can find license and attribution details along with them, making it super easy to use them. A simple search for "Creative Commons Music" will generally provide enough results to set you rolling. Also, you can take a look at numerous great SoundCloud groups specifically geared towards curating Creative Commons licensed music, such as Creative Commons and Crazy Language. And here's one more.
3. Free Music Archive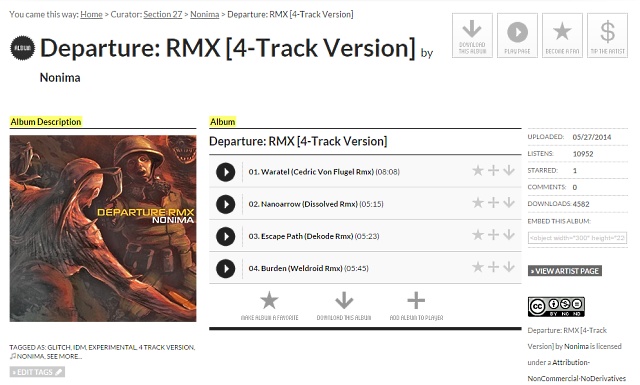 I guess the name says it all. Free Music Archive is an interactive collection of legally downloadable music, created and maintained by curators from all around the world. Free Music Archive hosts musical compositions (individual tracks, albums etc.) spread across a broad spectrum of genres, such as Electronic, Historic, Spoken, Pop, and Jazz.
All you need to do to get started is a free account. Once that's done, you can use Free Music Archive's powerful search to get the musical content you're looking for. The search results can be filtered based on a variety of parameters like album/song title, genre, duration, and of course, the specific type of Creative Commons license. Each album/song page lists its Creative Commons license and attribution details on the bottom right corner, and you can download either individual tracks, or entire album(s) in one go.
4. Internet Archive
Archiving more than 450 billion webpages, the Internet Archive is arguably one of the biggest digital collections of free books, software applications, movies, and music, despite there being many alternatives. As such, it consists of pre-curated collections that make searching its vast repository of digital content a bit easier.
For example, you can begin with the "Community Audio" collection, which includes hundreds of thousands of user uploaded audio pieces, covering genres and types such as experimental hip-hop, jazz, spoken word, and stuff like that. When you click on any audio/music composition, its details page lists information such as description, Creative Commons attribution license, and publishing date. In addition, the various download options are listed on the right.
5. ccMixter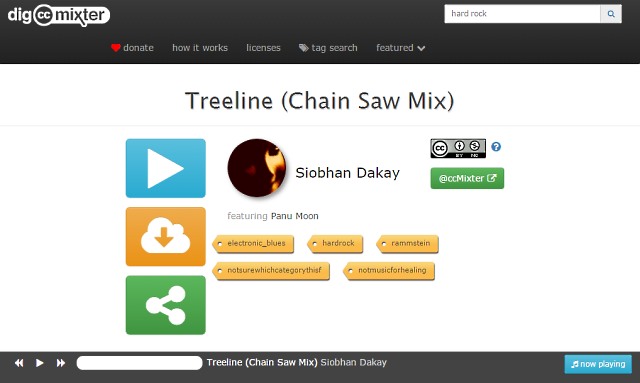 Focusing heavily on the "remix" type of music (hence the name), ccMixter is primarily geared towards artists who can upload their musical works and collaborate with other artists to create remixes and mashups of their creations.
But that's not all. All of these remixes, mashups etc. uploaded on ccMixter are available under the Creative Commons license, and thus can be freely downloaded, modified and used by users in their projects, so long as proper attribution as mentioned in the license information is provided. You can use the dig.ccMixter sub-section of the website to find the Creative Commons music you're looking for, and the advanced search options let you filter the search results on the basis of parameters like genre, instrument, and style. Each track's information page lists its Creative Commons license details, and you can download tracks with one click.
6. Vimeo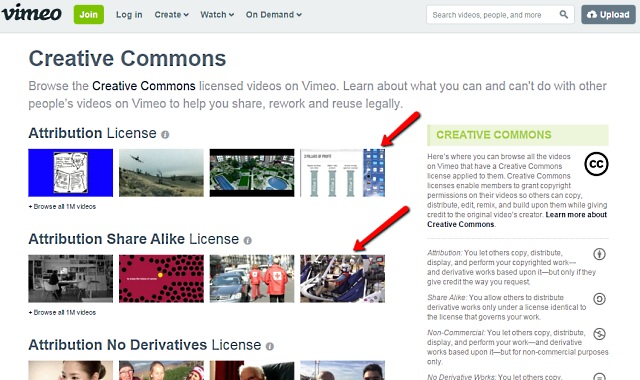 It may not be as big as the previously discussed YouTube, but Vimeo is still an incredibly popular video sharing website, with a dedicated user base. And guess what, Vimeo also has a rather sizeable collection of musical compositions (and of course, videos) under the Creative Commons license.
Finding such content is simple, and generally all you have to do is do a quick search for "Creative Commons Music." From Animation to Travel, and from Sports to Food, music (and video) content on a diverse variety of topics is available. Furthermore, you can filter the results based on parameters like upload date, duration, and the specific type of Creative Commons license. The attribution and usage information for content is mentioned in the detailed text that accompanies it. To get started, check out Vimeo's Creative Commons sub-section.
7. Bandcamp
Primarily, Bandcamp is intended as a platform for emerging/indie artists for publishing and promoting their musical works. As such, the availability of Creative Commons music on Bandcamp is a little sparse. However, it allows the artists to upload their musical compositions under the Creative Commons license, and provide the necessary license sub-type and attribution details.
You can use the site wide search functionality to search for musical content, based on parameters like genres, and Creative Commons license. Generally, each artist's uploads such as albums, songs etc., list their (Creative Commons) licensing details at the bottom of their individual information pages. So you can look for that, and if the license details allow the usage of the content, download it and use it with the requisite attributions.
8. Musopen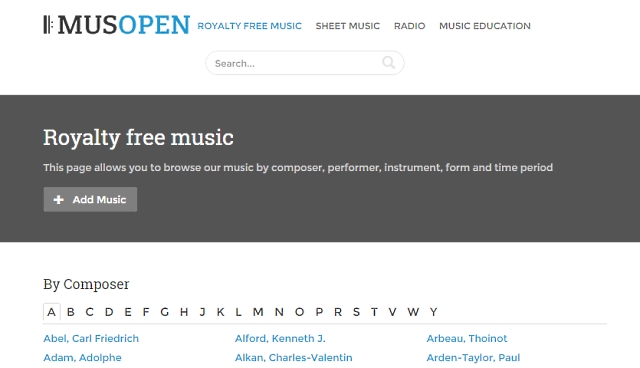 What probably sets Musopen apart from the rest of the websites on this list is its focus on making musical content available as an educational resource. Its library boasts a rich collection of musical recordings, as well as sheet music and textbooks, including the works of world renowned music composers such as Bach, Beethoven, and Mozart. If you're looking for classical and orchestral music, Musopen is definitely worth looking at.
You can either directly search Musopen's catalog, or browse specifically based on parameters like name of composer, musical instrument, and even time period. Most of the music is royalty free, and the Creative Commons license type of each musical piece is listed against it. All you need to download (and then use) the music is a free account, but it is restricted to 5 downloads per day. However, you can always go for a paid level account to get unlimited, high quality downloads.
9. Jamendo
Calling itself "The independent music community," Jamendo is perfect for those who love discovering indie artists and their music. It also has some nifty community based sharing features thrown into the mix, and you can create your own curated playlists, as well as listen to streaming radio.
From background music, to instrumental tracks, to full albums, Jamendo has a broad range of musical content. And as far as Creative Commons music is concerned, all the Creative Commons musical compositions listed on Jamendo are generally free to download for personal use. However, if you want to use them for any commercial projects, you need to acquire a Jamendo license. There are multiple licensing plans available, based on how you intend to use the musical compositions available on Jamendo.
10. Freeplay Music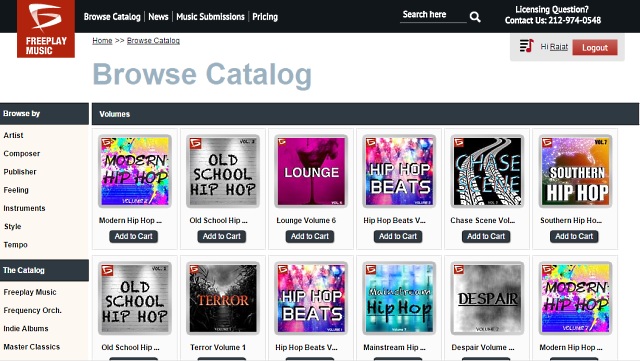 Want some great free music to use in your next YouTube project? Freeplay Music is what you need. Featuring over 15000 musical pieces, Freeplay Music's vast catalog consists of stuff covering genres and themes such as modern hip-hop, lounge, terror, despair, suspense, and then some more. You can also filter the catalog based on parameters like artist/composer, style, tempo, feeling, and instruments.
Getting content from Freeplay Music requires you to create a free account. Once you've found the musical piece you're looking for, simply hit Add to Cart and choose the license type from the drop down menu. Although there are many license type details, many (e.g. YouTube personal use, in-class room) cost nothing, and are valid for a whopping 99 years. Finally, you can download the music and use it based on the terms of the selected license. Easy as pie!
11. Freesound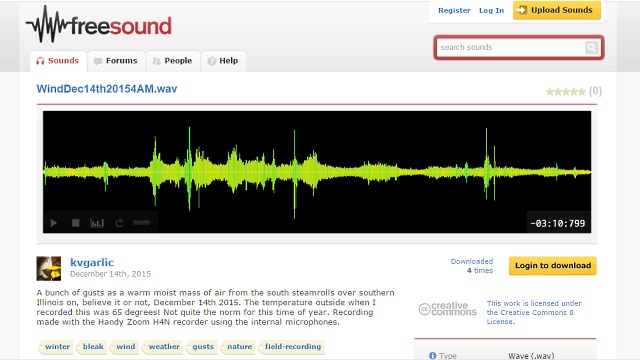 What if you're not looking for complete background tracks, and something like specialized sound effects, such as that of a peculiar musical instrument? Freesound has you covered. It's a collaborative database of thousands of music samples, sound effects, audio recordings etc., all available for reuse under the Creative Commons license.
Searching Freesound for music is ridiculously easy, and even fun. For example, you can type "bird like" in the search bar, and you'll be provided with the search results having audio effects that match the sound made by a bird. The advanced search options let you further filter results based on parameters like duration and tags. Each musical piece's detail page lists its Creative Commons license type, along with information such as duration, bit-rate and file type. Just create a free account, and get downloading!
12. Bensound
If you're looking for some music to use in your next commercial, animated short, or anything like that, Bensound is something you should definitely check out. From acoustic/folk to cinematic, and from electronica to world/others, Bensound has just about everything. And considering it's a work of a single guy, makes it all the way more amazing.
Browsing Bensound to find the musical piece of your choice is super simple. The homepage itself lists royalty free musical pieces from a variety of genres, sorted by popularity (default setting) and you can preview/download them with one click. For a more granular search, you can use the genre tabs on the top. Downloading music for free requires you to credit the music (and site) creator while using it in your project, as detailed in the Creative Commons license. However, if you want some extra features, such as the ability to not provide credits, downloads in additional formats etc., you can also purchase a pro license. Find out more here.
13. iBeat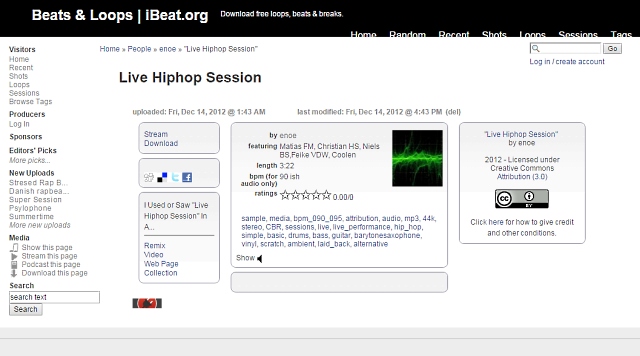 If you're an aspiring DJ, you're going to love iBeat. Having a diverse collection of sound loops, beats, and other specialized sound effects, iBeat has a lot going on for it.
The musical pieces listed on iBeat are almost all available under the Creative Commons license, and the license's attribution/usage details are available on a musical piece's information page. There are sub-sections like Shots, Loops etc. on the left of the homepage, and these make browsing for specific music pieces easy. You can also browse for editor's picks, latest uploads, and more. Once you've found the music you're looking for, just hit the Download link at the left, and you'll be able to download the musical piece in multiple (if available) formats, such as MP3 and WAV. Can't get any easier than that!
14. Incompetech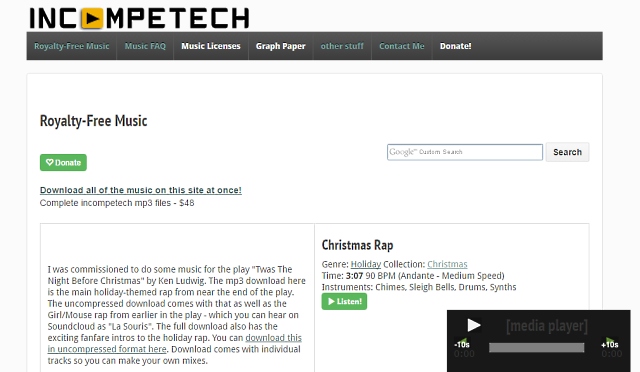 Slightly funny name aside, Incompetech is a great resource for those looking for royalty free music. Just about every musical piece listed on Incompetech can be downloaded and used freely in your projects, of course after providing proper attribution as mentioned in the Creative Commons licensing details of the content.
Searching Incompetech's database is a piece of cake. You can either use the Full Search functionality, which lets you granularly specify search parameters such as tempo, genre, length etc., or view the pre-curated Collections, if you're looking for something specific such as music related to oddities, dark world, and even different film scoring moods. Each music piece's details page mentions additional licensing and attribution terms to be followed while using it in your project, so make sure to go through them.
15. Ektoplazm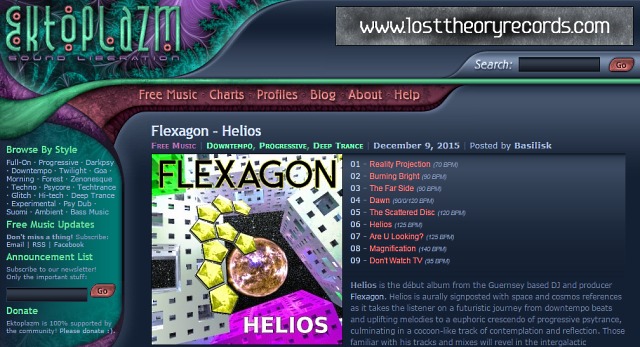 Geared specifically towards the psytrance, techno and downtempo genres/types of music, Ektoplazm is a treasure trove of not only such original musical content, but also additional information related to it. Curated and maintained by a super active team of DJs, producers, and independent labels, Ektoplazm is your one stop shop for everything psytrance and electronic.
The left sidebar on the website lets your browse music based on a variety of sub-styles, such as Darkpsy, Techtrance, and Ambient. And the fact that all of this original music is freely downloadable is downright amazing. Both individual musical pieces, as well as complete albums can be downloaded in multiple formats (MP3, WAV, and FLAC), and are released under a non-commercial Creative Commons license.
Bonus: Creative Commons Music On Reddit
Although the Creative Commons musical content that you can find on the above listed sources is more than enough to last a lifetime, but if you're still itching for more, you can visit the Creative Commons Music thread on Reddit. It's a near-daily updated source of Creative Commons music where independent artists post (links to) their musical works, which you can use for yours, of course, with proper attribution and crediting. Go ahead and check it out!
SEE ALSO: 14 Legal and Free Music Download Websites
Ready To Find Some Amazing Free Music?
It's true that for using/listening to most of the commercially available musical compositions, you have to shell out some (or a lot of) money. But as the websites discussed above show, there's tons of great free Creative Commons music available out there that you can either use in your own projects, or just sit back and listen to. Want indie music from upcoming artists? Check out Jamendo or SoundCloud. Looking for some great sheet music and classical masterpieces? Musopen is your friend. And if you're out there scouting for some funky sound effects or trance music, Freesound and Ektoplazm are going to serve you just fine. Check them all out, and see which one(s) you find the most interesting. Know of some other sources of Creative Commons music that could've been included in the listing above? Don't forget to mention in the comments below.
---
Load More