Apple's FaceTime is a versatile and popular way to make video and audio calls—but what if you're on Android? What can you use then? Fortunately, there are a number of great alternatives to FaceTime that will work on your Android phone, and many of them are free. Here are 10 that will help you stay in touch with friends, whether you want to talk, see each other, or just send messages.
10 Best FaceTime Alternatives For Android
Google's own messenger service, Hangouts, is one of the best ways to stay in touch with friends on Android. You can send Hangouts messages or text messages via the app, call any phone number in the world (using the related Hangouts Dialer app), and get free voice and video calls to other users of Hangouts. You can even connect it to your Google Voice account for voicemail and calling integration.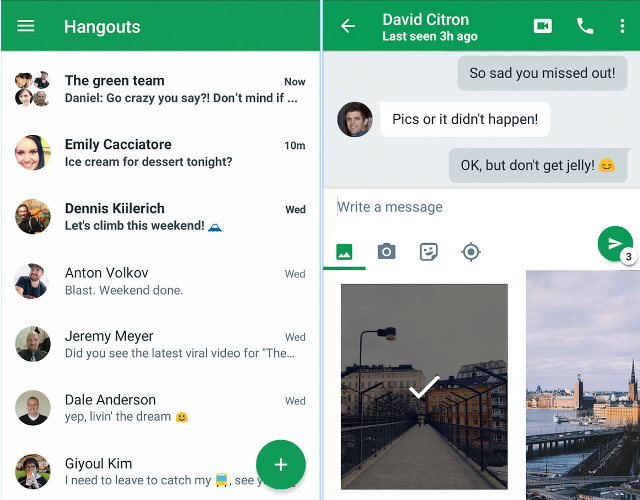 With video and audio calling; messaging capabilities; easy sending of GIFs, animations, stickers, and maps, and a price tag of $0, Hangouts is a great option for Android users who want the ability to communicate in many different ways with other Android users. Its ability to send textual messages and integrate with your phone and voicemail set it apart from the limited scope of FaceTime. It's easy to convince your friends to download a free app, and you can even make calls to regular phone numbers. On Android, Hangouts is tough to beat.
Note: Using Hangouts Dialer to dial phone numbers isn't available in all countries; Argentina, China, Cuba, Mexico, Saudio Arabia, South Korea, and the UAE, among others, won't be able to use it. To see if your country is on the list, see this help article from Google.
Almost as ubiquitous as Google Hangouts is Facebook Messenger, Facebook's built-in communication tool. In addition to video calls (available in most countries), it provides instant messaging and VoIP audio calling capabilities, and because almost everyone uses Facebook, it's easy to get in touch with your friends. You can even send messages to people who aren't in your Facebook friends list by adding their phone number.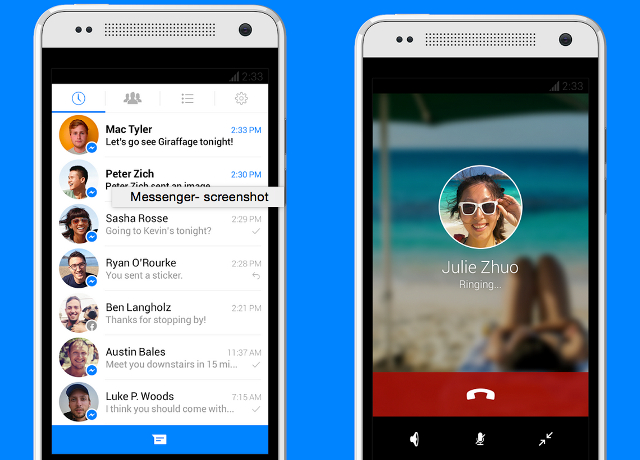 You can share photos and videos through the instant messaging service, see when people have read your messages, create groups for commonly contacted friends, and even create shortcuts to get to conversations from your home screen. If most of your friends are on Facebook, Messenger can serve as your go-to communication app on Android. The ability to get in touch with anyone in your Facebook friends list makes Messenger a better bet than FaceTime for many people.
Everyone knows Skype—it's the biggest name in video calling, and it has a ton of cool features. The Android app offers the video and audio calling that you're used to on your computer, as well as instant messaging so you can stay in touch with your friends no matter whether they're online or not. Because so many people have the Skype app on their phones, it could even replace text messaging for communicating with a lot of your friends.
You can also call mobile and landline numbers with Skype, meaning you can talk to people who don't have the app. The per-minute cost is quite low, so if you don't make many calls, you could use it to supplement a very small talk plan from your provider. The mobile app even lets you send recorded video messages that your friends can watch later. And, of course, it's available on absolutely every platform, so you can use it across all of your devices instead of being limited to only Apple-made products.
When messaging apps started getting popular, Viber was a front runner; the app has built on its initial popularity and become a more fully featured communications app that can easily replace FaceTime for many users. You can make free video and audio calls, send messages, and even share your location via the app.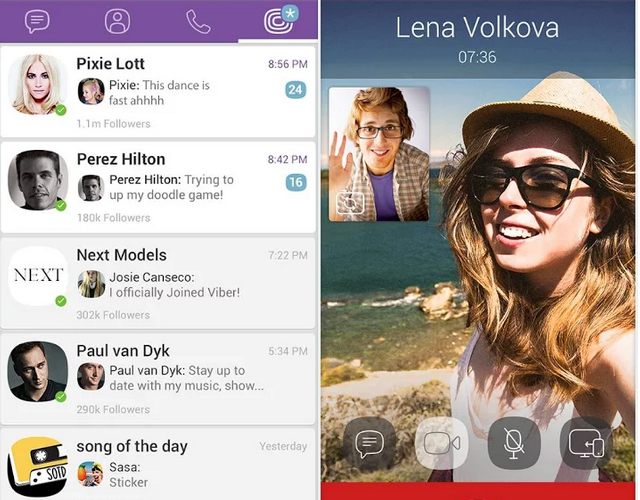 Viber Out lets you call non-Viber users on their mobile or landline numbers with low rates, similar to Skype. Viber's main benefit is that it's already very popular, so if you're looking to download an app that your friends are likely to have, Viber is a good bet. The app is free, too, so you can test it out before committing to making it your primary communication app.
Originally a video-calling app, ooVoo has grown to offer a wide range of useful communication features for users of the app. Free audio and video calls to other users, the ability to purchase credits to call other numbers in over 70 countries (the full list is available from ooVoo), and text messaging are all included. You can have multi-way video calls with up to 12 people, making ooVoo good for video conferencing as well as regular chatting.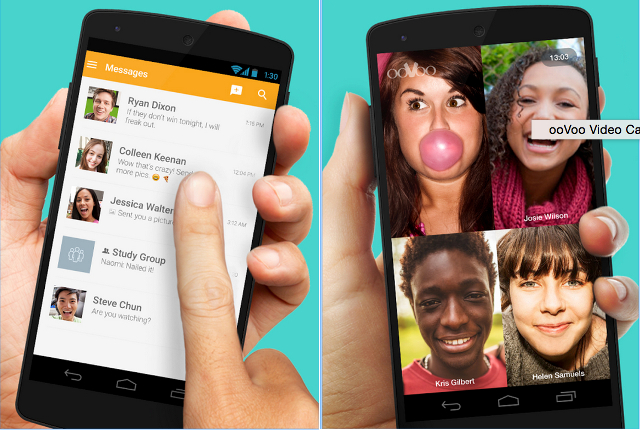 Other cool features include the ability to send photo and video messages, video call recording, and support on PC for simultaneously watching YouTube videos with other people on the call. ooVoo also claims to provide some of the best video quality around, so you can be confident that you'll look your best when talking to your friends or colleagues.
As with the other apps on this list, Tango offers free audio and video calling to other users of the app, as well as calling to other numbers for a low fee. But Tango adds social-network-like features as well, including posting updates, profiles, and photo sharing. You can also save chats to a list of favorites, and participate in groups chats.
https://www.youtube.com/watch?v=O1CNw1Ll9Jg&feature=youtu.be
Interestingly, Tango can also help you meet new people—you can join trending group chats like you would a chatroom, where you can interact with people who are interested in the same topics. You can swipe through profile cards to find people you're interested in getting to know, too, making Tango almost like a dating app. If you're looking for an integrated calling and social app, this is it.
Like Tango, LINE strives to combine communication and social networking. You can make free audio and video calls to other users of the app, send messages, and share photos, videos, and GPS coordinates with your contacts. On the social side, you can post updates to your timeline, follow celebrities and official accounts, and comments on others' posts.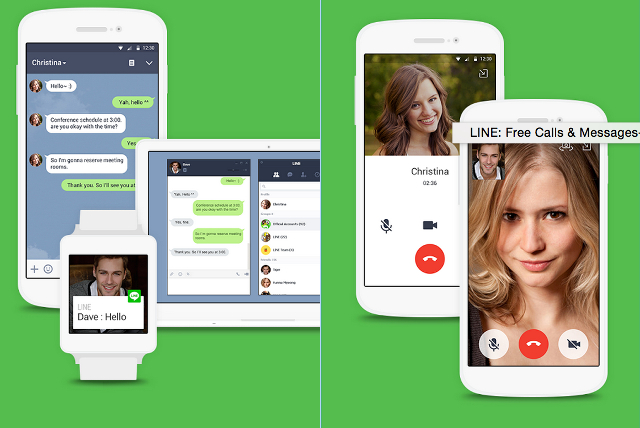 In addition to all of this, LINE aims to help you find new ways to use your phone to use by sharing the company's recommended entertainment and lifestyle apps. LINE is also available on PC, so you can stay in touch with friends and the news whether you're on the go or at home.
Although it's meant to be used as a video conferencing app for communicating with co-workers, ZOOM can be used as a video calling app to emulate FaceTime functionality as well. Just fire it up when you're on wifi or use your data plan and you can invite up to 25 people to join your call.
https://youtu.be/NxWgtVDwJhs
You can also send group texts, images, and audio, and share photos and other files from Google Drive, Dropbox, and Box. If you're looking for an FaceTime replacement for Android and you plan on inviting people that you work with, ZOOM's app is a great way to go. There's also a desktop version, so you can talk to people if they're on their mobile or in their office.
Another free video, audio, and text app, fring advertises many of the same things that other apps do—group calling with up to four friends, free communication with other fring users on multiple platforms, and low rates on calls to mobile and landline numbers in over 200 countries with fringOut. They also boast that they have superior video quality with their DVQ technology.
One of the nice things about fring is that you can register with your phone number instead of a username and password, eliminating the need to remember another set of user credentials. If your friends are willing to download a new app, fring should be a contender.
With over 850,000 five-star ratings, Imo is one of the most popular video calling apps in the Google Play Store. Free audio and video calling, free messaging, group chats, video and photo sharing . . . it offers just about everything you could want in a messaging app.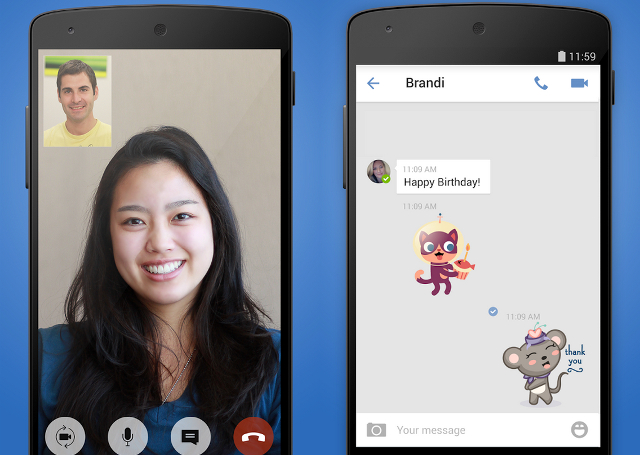 Imo also advertises that your chats and calls are encrypted, a feature that's shared with FaceTime (which has been rated one of the most secure methods of communication). Although Imo doesn't share the details of the encryption, you can be confident that your communications will be secure.
SEE ALSO: 10 Best Siri Alternatives For Android
FaceTime for Android? You Don't Need It
FaceTime is a great app for iPhones and iPads, but there's no Android version of the app; fortunately, you don't need it! There are plenty of great free audio and video calling apps that you can use to communicate with your friends and family. Just make sure everyone's willing to download the same app so you can all keep in touch.