iPhones are really great devices, and their usability is augmented by the App Store, which boasts of over 2 million published apps. There are some really great apps on the App Store, but not all of them are essentials. So, how can you figure out which apps are the most important ones to have on your iPhone? Well, fret not, we have compiled a list of the 10 essential iPhone apps that are, in our opinion, the best at what they do. This list consists of apps for almost every use case that a user might have for the iPhone, so there's a high chance that you will find some useful information in this list.
Note: We have not mentioned the really obvious apps, such as WhatsApp, Facebook, and the likes.
1. Photo Editing: MuseCam
If you take a lot of pictures on your iPhone, and I know you do (everyone does), chances are, you also like to edit them. No matter how well you plan your picture out, every picture can use a bit of editing to add that finishing touch that will make them great. So, if you are looking for a great photo editing app, and Instagram just can't meet your demands, you should check out MuseCam.
MuseCam is a great photo editor that comes with a plethora of features, both basic and advanced that will take your photo editing to the next level. Even though the app has some really advanced features, it is not at all difficult to use, and you will absolutely love it, if you need to edit more than just the exposure, and the contrast. MuseCam offers users the ability to edit the hue, saturation and luminance for individual colors in a picture, as well as the ability to edit the RGB curve for the image. If that is not enough, you can even edit the curves for the Red, Green, and Blue colors independently to get the picture to look exactly the way you want it to.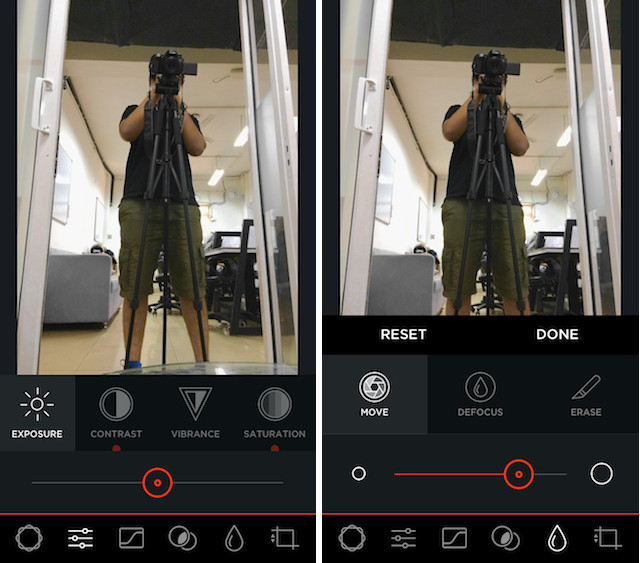 Perhaps the most useful feature of the photo editing app, apart from the amazing tools that it offers, is the ability to quickly view the original picture so you can figure out what the original picture looks like, as compared to the edited version. To do this, you can simply long press on the edited picture, and you will be able to see what the original picture looked like. Let go of the tap, and you will be back to the edited picture. If you like the results, you can share the image using a third party app, or simply save it to the camera roll.
Download MuseCam from the App Store (Free, with In-App Purchases)
2. Emails: Newton
It is no secret that the vast majority of iPhone users dislike the default Mail app on the iPhone. It is usually slow, unreliable, and the interface looks dated at best. If you are looking for a great third party email app that you will love using, that looks good, and is blazing fast, then look no further than Newton.
Newton (previously called Cloudmagic), is an app that is minimal in design, and offers a fast email experience. The interface looks very clean, and using the app feels great. The app is free, but they do offer a paid yearly subscription for what they call "Superchargers", which basically add a plethora of features to the email client. These features include things like getting read receipts, scheduling emails, setting up follow-up emails, and even sender profiles.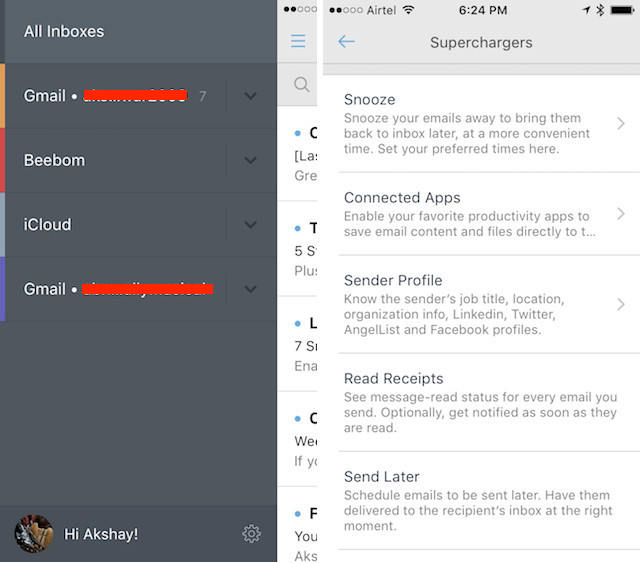 The app works great, looks great, and is any day better than the default Mail app that comes bundled with the iPhone. Newton also offers a Mac app, so you can have a seamless experience across all your devices.
Download Newton from the App Store (Free, with In-App Purchases)
3. Taking Notes: Microsoft OneNote
iPhones are really not suited to taking notes. The screen (no matter how big) is still pretty small when it comes to typing-intensive tasks, especially where speed is important, like taking notes. However, for those rare situations when you have no alternative but to use your iPhone to take notes, there is no better third party app than Microsoft OneNote. The app is very well designed, and it works great. Users can create notebooks inside the app, and can add multiple sheets to each notebook, so organizing notes will never be a hassle. Plus, the OneNote app syncs seamlessly, and you can access your notebooks from anywhere; even from a web browser, thanks to OneNote's web app.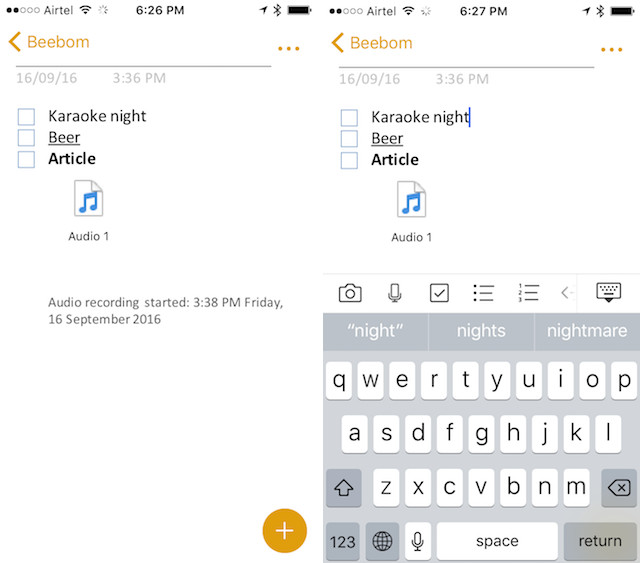 The app offers multiple useful features such as creating checklists, number or bullet lists and formatting text as bold, italic or underlined. The app also supports adding images and even audio clips right inside the sheets, which make for an amazing way to create highly detailed notes. Watching a presentation? Simply click a picture and add it to your sheet in OneNote and it will be embedded right inside, ready to be viewed when you want to.
Download OneNote on the App Store (Free)
4. To Do Lists: Todoist
To do lists are a great way of managing your entire day. They come in handy while trying to organize everything you need to do in a day, and they help in making sure that you don't miss out on any important task simply because you forgot about it. If you need a to do list app that will make you more productive, you should check out Todoist. The app is free to download, and offers a variety of features that make it a highly useful app to manage tasks on your iPhone. Users can easily add tasks in Todoist, and can assign them a level of priority. Tasks can also be categorized by the "Projects", so if you want to create tasks for a variety of categories, you can create multiple projects and add tasks accordingly. Users can also swipe on created tasks to either mark them as done, or to postpone them to a later date.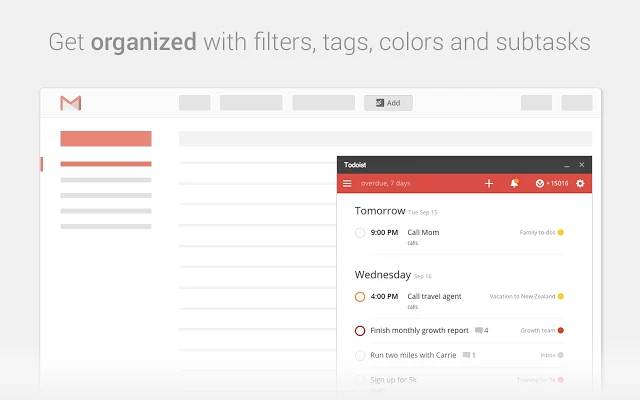 There are a lot of other features in the app as well, but they require users to upgrade to the Premium version of the application, which is paid…obviously. Having said that, the free version of the app proves more than enough for day to day task management.
Download Todoist on the App Store (Free, with In-App Purchases)
5. Keyboards: Gboard
Apple has definitely improved the default iOS keyboard in iOS 10, but it still doesn't have a lot of features that third party keyboards have to offer. If you aren't entirely satisfied with the default keyboard on your iPhone, you should try Gboard. The third-party keyboard developed by Google is quite possibly the best keyboard on the App Store, with only Swiftkey even being able to compete with it.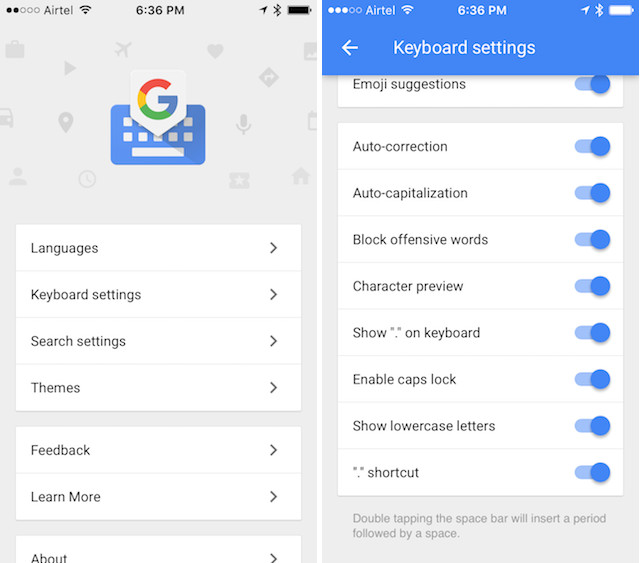 Gboard offers a plethora of useful features such as swipe typing – which is a boon for one handed usage. The keyboard also offers users the ability to search things on Google, and even search for GIFs directly inside the keyboard and send them to others with just one tap. This makes the keyboard a lot better than any other third party keyboard that is available on the App Store. Plus, the keyboard offers the ability to customise the look of the keyboard by creating custom themes. The accuracy of gesture typing on Gboard is awesome and keeps getting better all the time. You should definitely try it out, unless you simply despise Google, in which case, you should try out Swiftkey.
Download Gboard on the App Store (Free)
6. Forest
Forest is an app that basically gamifies your everyday quest to stay away from using your phone while you should be concentrating on work. The way the app works is that whenever you need to concentrate on a task, and not use your phone, you plant a seed in the app, and set a timer for how long you want to concentrate on the task. The seed grows into a tree in this time, provided you do not navigate away from the app. However, if you navigate away from the app while the seed is growing, the tree dies.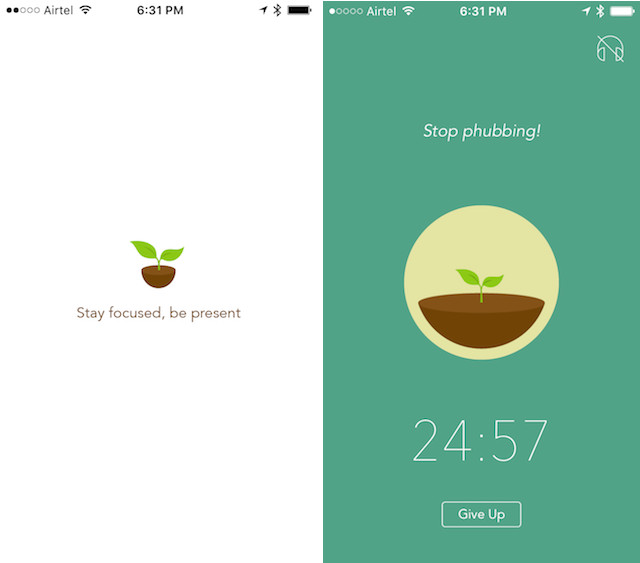 Every day, the app creates a forest from the tress that you were able to grow and the ones that died. The idea is good, and the app works very well. You should try it out if you have trouble keeping your hands away from your phone while you are supposed to be concentrating on something else.
Download Forest on the App Store ($1.99)
7. Save Links for Later: Pocket
So you're at work, and browsing the web, looking for information regarding something, when you come across a link to an article about your favorite movie, or video game. Well, you can't read it at work, so what do you do? Enter "Pocket". The app allows users to save links that they want to read later on their devices. You can simply tap on the share icon in Safari and select "Add to Pocket" to add the link to the Pocket app so you can read it later, when you have time.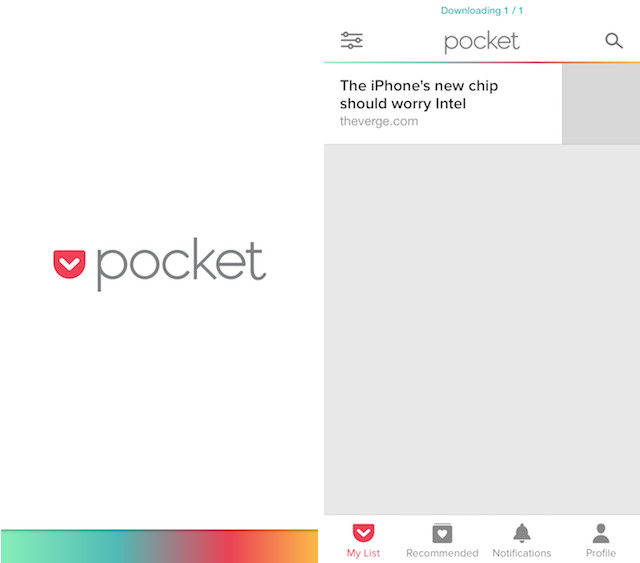 Some email clients even support adding important emails to Pocket, and Newton is one such email client. You can simply add emails that you want to read later on to Pocket, and you can then read them whenever you have the time.
Download Pocket on the App Store (Free, with In-App Purchases)
8. Hiding Photos: Vault
There are situations where you might have some pictures on your iPhone that you don't want anyone else to be able to see; at least not without your consent. While Apple does offer a way to "hide photos" in the Photos app, it is completely useless. Once again, third party apps to the rescue. The app "Vault" is one of the many apps that you can use to hide photos on your iPhone. The app is free and lets you add pictures and videos through a PIN or TouchID. The in-app purchases that allow you to set up a secret camera that takes pictures if anyone tries to log in to the app and fails to do so, which is a good way of knowing who was trying to pry into your personal life.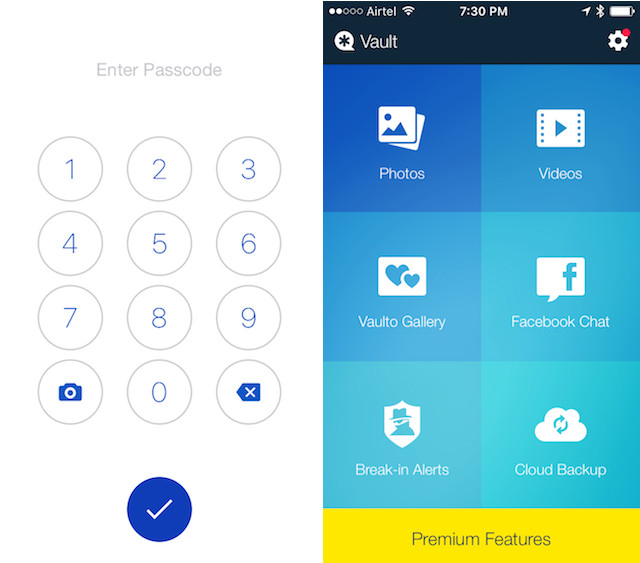 Adding photos to the app is easy, and the app automatically prompts the user to delete the photos from the Photos app, once they have been imported. However, even though the app deletes the photos from the Photos app, users need to remember to go and delete the photos from "Recently Deleted" as well, so that no one can recover them.
Download Vault on the App Store (Free, with In-App Purchases)
9. Music Player: Cesium
I don't really dislike the default Music app, but a lot of people do. If you are one of those people, and are looking for a third-party music player, then you can check out Cesium. The app is great. It automatically hooks into your Music library (including your iCloud Music Library, if you use it), and shows all of your songs in a simple, yet appealing interface. Songs that are not available on your device, locally, but are added to your iCloud Music Library are available to be downloaded. If, however, you only want to see your local music, you can simply turn off "Show iCloud Items" in the app's settings.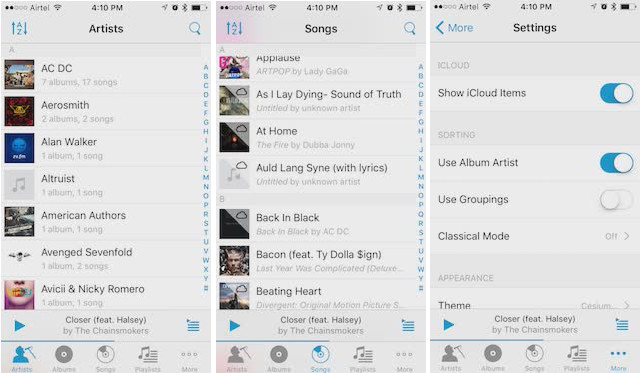 Apart from that, the app offers some neat swipe gestures. You can swipe left or right to explore a variety of functions for the swiped item. For example, if you swipe left-to-right on an Artist, you will be shown options to play songs by that artist, or to shuffle them. Similarly, swiping right-to-left, exposes options to "Play Next", or "Add to Queue".
Download Cesium on the App Store ($1.99)
10. Calendar: Fantastical 2
The default calendar app is good, there is no denying that, but Fantastical 2 simply blows it out of the water. Fantastical 2 is a great calendar app that comes with an appealing, and exciting interface. Using the app is very intuitive, and the app not only shows your events for the day, but even any reminders and tasks that you might have added to that day. The reminders can be checked out directly from inside the app, making the process much easier. Also, the Fantastical 2 widget is very great, and shows a complete calendar for the month, along with the events, and reminders for the day.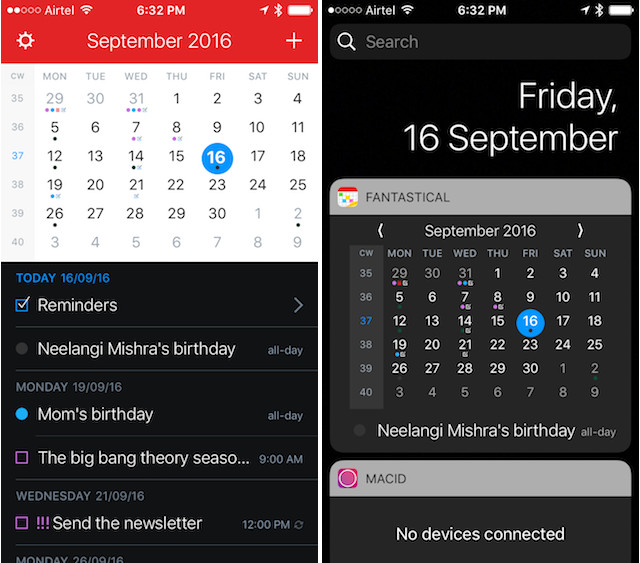 Download Fantastical 2 on the App Store ($2.99)
SEE ALSO: 14 Cool iPhone Shortcuts You Should Be Using
Enhance Your iPhone Experience With These Apps
Those were our picks for the 10 essential iPhone apps, and we are sure that if you use these apps, your experience with using an iPhone will definitely improve a lot. As always, we would like to know what third party apps are your favorites and if you think we missed an app that should have been on this list, make sure you let us know by leaving a comment in the comments section below.