Apple Messages app for iPhone has got several much-awaited enhancements in iOS 14. While some new features have fixed age-old shortcomings, others have focused on improving the overall messaging experience. Whether you are gearing up to try out all those goodies or curious about how they work on iPhone, let me show you how you can use new iMessage features in iOS 14.
Learn to Use New iMessage Features in iOS 14
Features like pinning messages, inline reply, and smart categorization of messages may have existed for long, but they weren't available for iMessage. Thankfully Apple has released all these features and more with iMessage enhancements in iOS 14.
To help you quickly navigate to the specific topic, we have added links below. Simply, click on a specific one to jump straight into that topic.
How to Pin Conversations in Messages App on iPhone
Pinning is the best way to quickly access the conversations that matter most to you. Instead of scrambling to find a specific chat, you can pin a message to keep it right on top of the chat threads.
Interestingly, Apple allows you to pin as many as 9 conversations. So, you no longer need to dig through the chat threads to dive into a particular conversation to respond or check the messages.
Swipe left from right on the conversation which you want to pin.
2. Now, tap on the pin button.
That's it! From now onwards, this conversation will appear at the top of the chat threads, allowing you to quickly access it. The latest messages will show up at the top of the pinned conversation, making it easier to view and respond to it.
In a pinned group conversation, the three most recent participants of the chat will show up around the pin. Thus, it's much easier to stay in sync.
How to Unpin Conversations in the iPhone Messages App
If you no longer want to keep a conversation pinned, you can unpin it with ease.
1. Open the Messages app on your iOS 14 device. Then, touch and hold a pinned conversation.
2. Now, choose Unpin "Name" in the popup.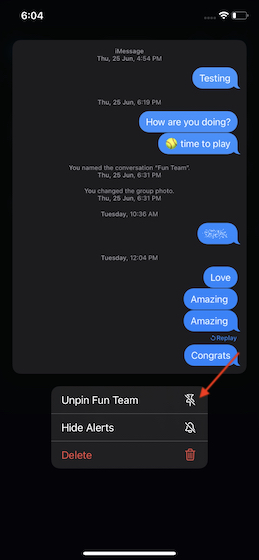 How to Edit Multiple Pins at Once in Messages in iOS 14
There is a handy way to edit multiple pins at one go. Save it for the times where you want to unpin several pinned messages faster.
1. Open the Messages app on your iPhone. Then, tap on the three horizontal dots at the upper right corner of the screen.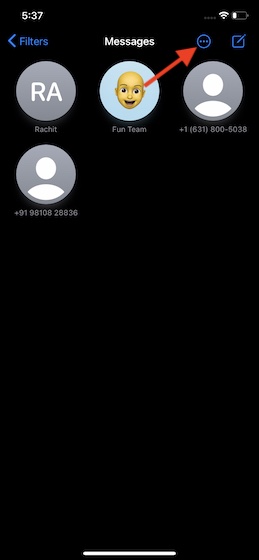 2. Now, choose Edit Pins.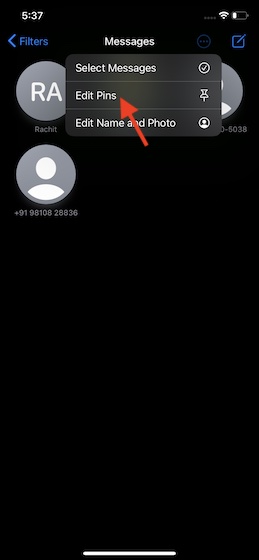 3. All the pinned messages will now start wiggling. Tap on the "-" to the left of the conversation thread which you want to unpin. After that, tap on Done at the upper left corner of the screen.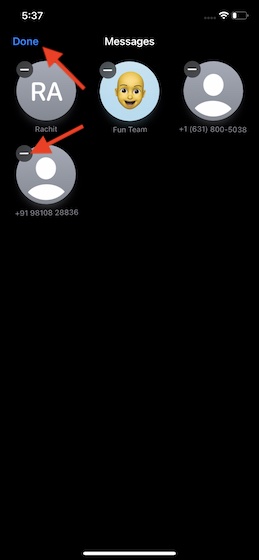 Search Specific Emoji in Messages App
If you love to emojify your messages, this nifty little feature can easily win you over. What makes it so useful is the ability to quickly find out specific emojis. It could be a time-saver especially when you are in the midst of fast-paced messaging.
1. Open Messages app on your iOS device -> a conversation. Now, tap on the text field to bring up the keyboard and then hit the emoji icon located along the bottom of the keyboard.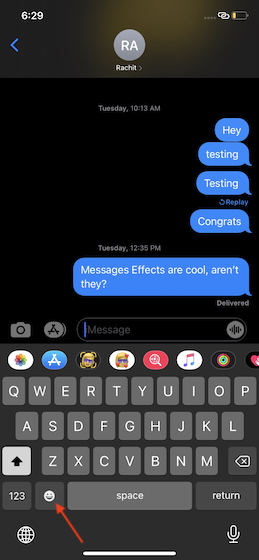 2. Now, type the name of the emoji you are looking for in the search bar. It will automatically show up the relevant emoji.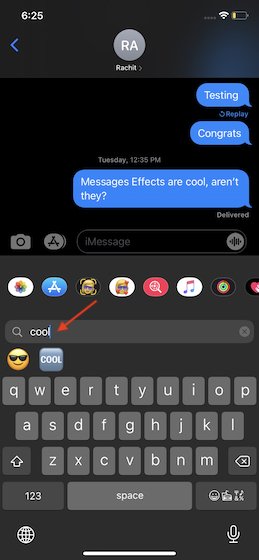 How to Change Group Picture in Messages App
Unlike before, you can set a custom image for a group chat. It's a great way to add some nice personalization to a group conversation.
Launch Messages app on your device -> group conversation.
2. Now, tap on the group icon at the top and then select the small info button.
3. Next, tap on Change Name and Photo.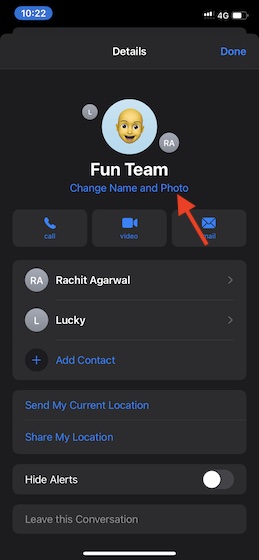 4. Next up, select a nice photo, Memoji, or even emoji as the group chat photo.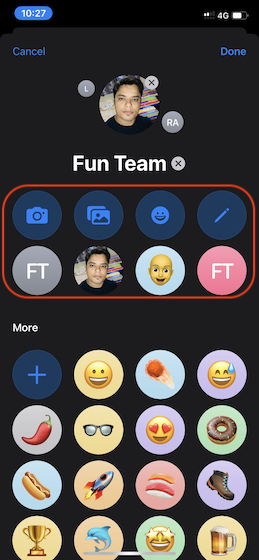 How to Reply to a Specific Message in a Group Chat
Thanks to a handy feature called an "Inline Replies, you can reply directly to a specific message in a group chat.
1. Launch the stock messaging app and open the group conversation.
2. Now, touch and hold a specific message within the group chat and hit Reply. Now, your message will appear as a thread to let you communicate directly with that person.
If you want to view a particular message thread, simply tap on it to expand.
How to Tag a Person in Group Chat in iPhone Messages App
Tagging aka Mentions come into play when you want to direct a message to someone. If anyone mentions you, your name is highlighted.
Open Messages app on your device-> group conversation.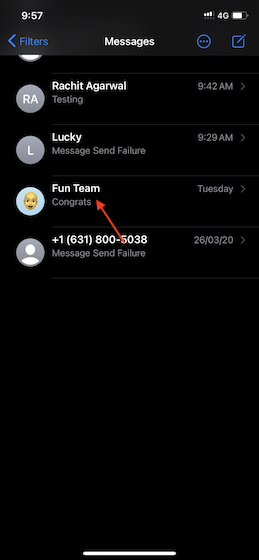 2. Now, enter the name of a person in the message input field. The app will automatically show up the suggestion. Tap on it. Then, type in the message and send it.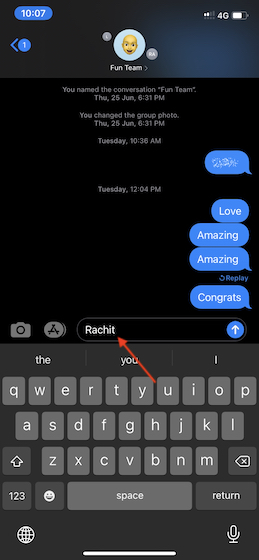 Make the Most of Smart Filters to Keep All the Messages Organized
Another feature worth taking note of is the automatic categorization of messages which consists of multiple filters like known senders, unknown senders, transactions, and promotions. Thus, it becomes much easier to access specific types of messages like transactions and unknown senders.
1. Open the Messages app on your iOS device. Now, tap on the back "<" button at the top left corner of the screen.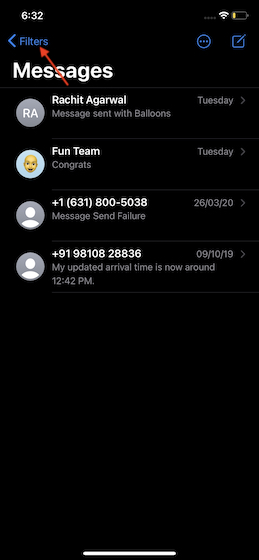 2. On this screen, you should see multiple categories: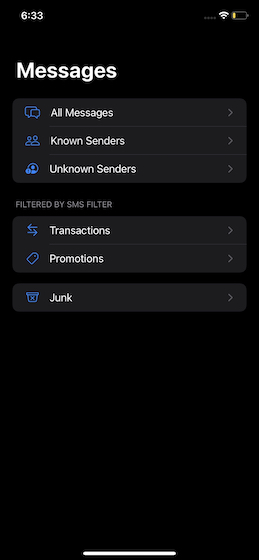 All Messages: It consists of all of your messages.
Known Senders: It comprises messages from known senders.
Unknown Senders: It consists of messages from unknown senders.
Transactions: It keeps all of your bank transactions.
Promotions: It houses all the promotional messages.
Junk: It comprises junk messages.
Tips to Use iMessage Features in iOS 14 Like a Pro
Indeed, iOS 14 has vastly improved the Messages app for iPhone. Features like the inline reply and mentions have made group conversations very user-friendly. Not to mention, the automatic categorization of messages that play a key role in offering a simplified user experience. Aside from giving a revamp to the stock messages app, Apple has also introduced cool Home screen widgets and the App Library.
And when you add the super handy Back Tap feature into the mix, iOS 14 seems to be the biggest upgrade ever. By the way, which one of these features has impressed you the most? Do share your thoughts in the comments below.