Signal is one of the most secure messaging platforms you can use to text your friends and family. If you recently moved or are wondering if you should switch to Signal, we have listed all its best features for you. This should give you an idea of what you're getting and what you're missing out on while you're making the transition. So, here are the 20 best useful features of Signal app that you should know and use in 2021.
Best Useful Features of Signal App to Use in 2021
We've started off with features you would find on any of the WhatsApp alternatives and moved on to features that are unique to Signal. Read on till the end to find out all the best Signal features. In case you're looking for clarity on specific features, feel free to jump to that particular section using the table of contents button below.
1. Personal Chats
Through Signal, you can send text messages, images, videos, GIFs, voice notes, contacts, location, and stickers. You also have the ability to quote particular messages, use message reactions, send one-time viewable images and videos, and use disappearing messages. However, you won't find the option to star important messages.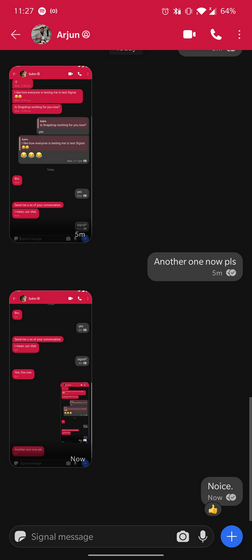 You can, however, send important messages to the 'Note to Self' section where you are just talking to yourself. If you're not a huge fan of the default theme Signal applies in your chat, you have the option to choose from a total of 13 chat colors from the profile page of a contact.
2. Group Chats
Signal group chats can accommodate a total of 1000 members. The secure messaging app offers most of the features you find in other messaging apps including admin approval, mentions, admin controls for user management, group info editing, and disappearing messages.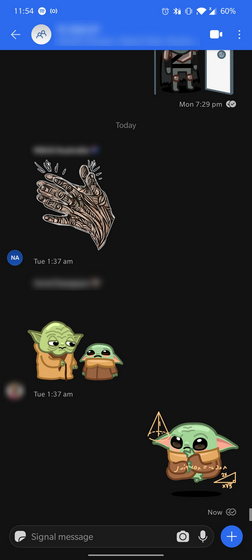 To invite friends to switch from WhatsApp to Signal, you can generate and share group invite links. While you can't mute chats forever like WhatsApp just yet, you have the option to mute chats for up to a year. In case you want to ask a question to a specific member of the group, you can utilize the @ mentions feature to tag them.
3. Archive Chats
Just like WhatsApp, you can archive chats on Signal and access them from the bottom of the app's home screen. To archive, long-press a chat, and tap on the Archive button. However, the caveat is that archived chats will come out of the archive if you get a new message on both archived personal chats and groups. I never really liked this approach on WhatsApp and I'm not amused with this implementation on Signal either. It is worth mentioning that archived chats stay on archive regardless of new messages on Telegram.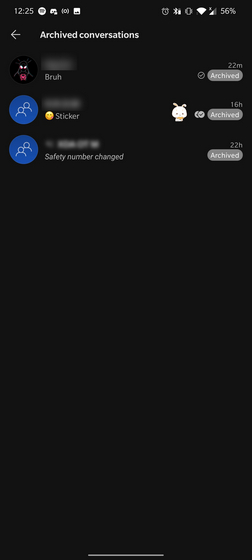 4. Pin Chats
You can pin important chats and groups to the top of the home screen on Signal. The feature supports a total of four chats. You'll find the option to pin chats after long-pressing one of the chats. This is convenient to quickly access important chats and it is nice to see the feature on Signal.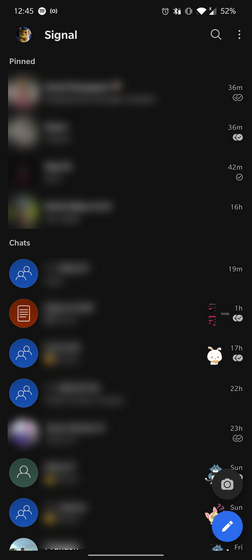 5. Audio and Video Calls
If you're accustomed to audio and video calls on WhatsApp, you'll be glad to know that Signal supports both of these features in personal chats and groups. While group calling was limited to 5 members before, Signal has recently increased the limit to 8. This expansion makes it on par with WhatsApp's group call limit.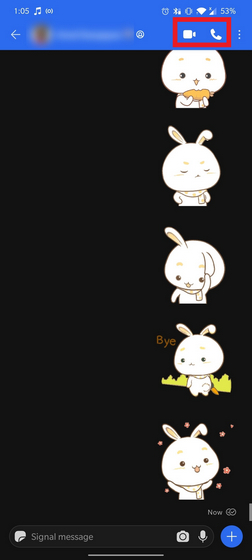 6. Stickers
Signal offers the ability to send and receive stickers. You can discover stickers by searching with the #makeprivacystick hashtag or from Signal Stickers – an unofficial source for adding new stickers to Signal. While you can (unofficially) send animated stickers on Signal right now, the company has announced plans to officially support animated stickers over the coming days. However, stickers don't support quoted replies at this moment.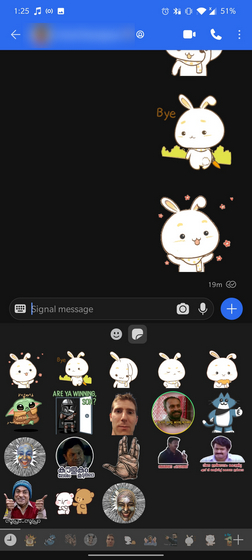 7. Voice Notes
Voice notes don't need an introduction if you are coming from WhatsApp. You can tap and hold the mic button to record a voice note and release to send it or slide to the left to cancel it. You also have the option to swipe up to lock the voice note to go hands-free.
8. Dark Mode
I don't know about you, but the first thing I do when I install any app is enable dark mode (if it doesn't support system-wide dark mode toggle). You can enable dark mode on Signal from Settings-> Appearance -> Theme.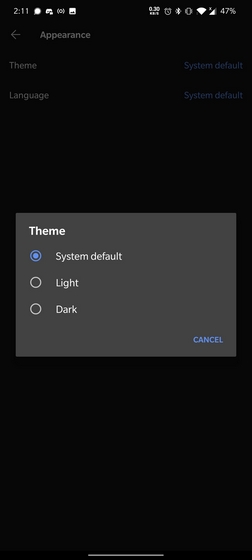 9. Delete for Everyone
In case you send a message by mistake, you can revoke within 3 hours using the Delete for everyone option. To delete messages, long-press the message, and tap on 'Delete for Everyone'. Signal will show a 'You deleted this message' indicator to let the recipient know that you've deleted a message.
10. Typing Indicators and Read Receipts
Although you can't see a person's online status on Signal, you can see typing indicators and read receipts. You can enable or disable both of these features from Settings -> Privacy -> Typing Indicators and Settings -> Privacy -> Read Receipts respectively.
11. Message Reactions
Message Reactions is a boon for anyone who feels guilty for not responding to a message when you don't have anything to say. Thanks to Instagram's double-tap feature on DMs, message reaction is now considered a valid response if you don't want to continue the conversation. While WhatsApp doesn't offer message reactions, Signal has this convenient feature. You can long-press any message and choose one of the emojis.
12. Forward Messages
Signal has got you covered if you can't resist sharing messages across multiple groups. To forward a message, long-press it, and tap on the Forward button present to the top right corner of the screen.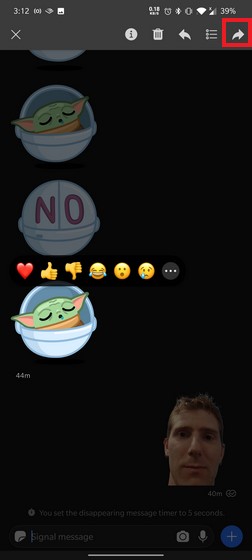 13. Change Font Size
To tweak the font size, open Signal and navigate to Settings -> Chats and media -> Message font size. The available customization options are Small, Normal, Large, and Extra Large.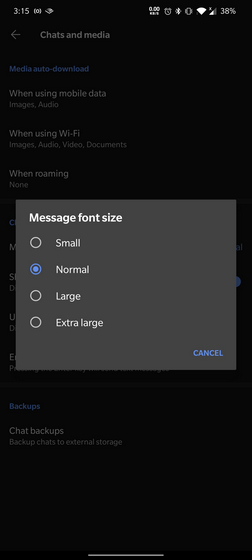 14. Storage Management
Signal has a useful storage management tool to help users free up space. Accessed from Settings -> Storage within Signal, the tool lists content by media, files, and audio. You can sort files by newest, oldest, or the storage used. The interface is similar to WhatsApp's new storage management tool.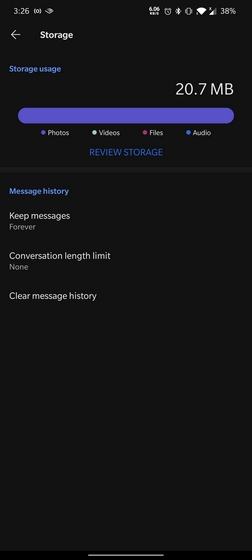 15. Media Auto-download Controls
Disabling auto-download helps you save data and avoid getting your gallery cluttered by media from group chats. You can access the feature from Settings -> Chats and media -> Media auto-download.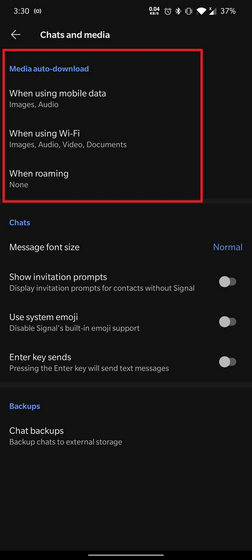 16. Disappearing Messages
Disappearing messages, as the name suggests, expires after a specific time period. Unlike WhatsApp's half-baked disappearing messages that self-destruct after 7 days, you can customize the duration from 5 seconds to 1 week on Signal. The message you sent will disappear as soon as the timer ends, but that doesn't mean that the person has read it. The recipient's timer starts after they've opened the message.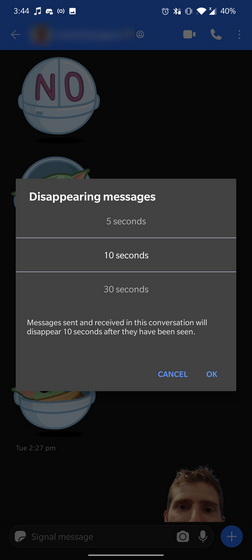 17. End-to-end encryption
Signal uses Signal protocol for end-to-end encryption. Signal even encrypts metadata, thanks to Signal's sealed sender feature. If you're worried about privacy, you can rest assured that all conversations you make in Signal are end-to-end encrypted. It is undoubtedly one of the best secure messaging apps you can use right now.
18. Screen Lock and Signal PIN
If you're not using one of the app lockers, you can use Signal's screen lock to secure the app and avoid others from accessing it without your permission.  On a similar note, Signal uses a PIN to enable non-phone number based identifiers. You can change your Signal PIN from Settings -> Privacy -> Signal PIN. If you're annoyed how Signal keeps asking you the PIN (so that you don't forget), you can disable PIN reminders from the same location by flipping the 'PIN reminders' toggle.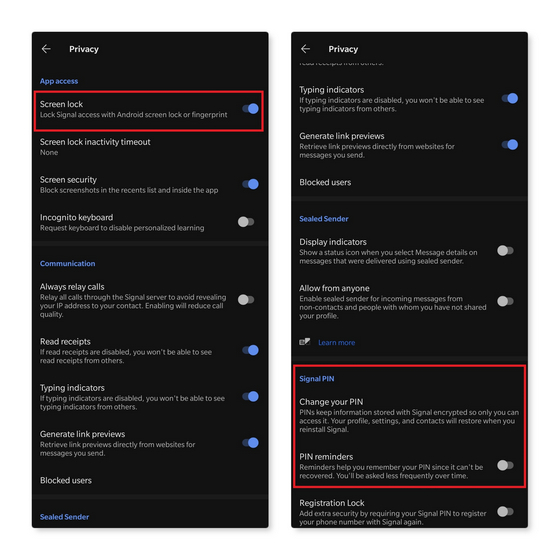 19. Message Requests
Signal shows message requests where you can choose to accept, block, or delete the message when someone who's not on your contact list contacts you. If you often get unsolicited messages, this feature should come in handy to help avoid unwanted interactions without wasting your time.
20. Backup and Restore
Your Signal data including messages, images, and files are stored locally on your device. If you bought a new phone and are interested to move your Signal data to the new device, you can create a backup and restore it. You can create a backup from Settings -> Chats and media -> Chat backups. You'll find step-by-step instructions in our guide to help you back up and restore Signal chats on Android.
Upcoming Signal Features
Chat Wallpapers
About field for your Signal profile
Animated stickers
Media auto-download settings and full-screen profile photos on iOS
Use the Best Signal Features on Your Phone
As you can see, Signal offers almost all the features that WhatsApp has to offer, with better privacy. You might also find something useful from our article on the best Signal tips and tricks. If you haven't moved to Signal yet, do not forget to check out our WhatsApp vs Telegram vs Signal comparison. And if you prefer Telegram after reading that article, make sure to read our article on moving from WhatsApp to Telegram.
---
Load More