As we are progressing over time, the idea of a connected home is becoming a reality. The IoT space is brimming with many new smart home products, and users are also discovering fresh ideas to create a truly smart home. So to help you in this endeavor, we have come up with a list of the 15 best smart home devices that you should buy in 2021. In this article, we have taken into account the IoT ecosystems led by Google, Amazon, and Apple and recommended smart home products accordingly. So on that note, let's go ahead and check out the 15 best IoT smart home devices you can buy in 2021.
List of Best Smart Home Devices (2021)
In this article, we have curated a list of the best smart home devices, including some essentials like a smart speaker and smart bulb. And then, we have also included other unique devices like a smart vacuum cleaner, a coffee machine, and more to make your life easier in a connected world. You can expand the table below and jump to the smart product of your choice.
1. Google Nest Audio / Nest Mini (2nd-Gen)
If you are into the Google ecosystem, you should start your smart home purchase with Google Nest Audio or Nest Mini. Nest Audio is the larger one featuring a 30W speaker and three far-field microphones. The Nest Mini, which has a smaller footprint, comes with a 15W speaker and the same three microphones for instant voice pickup. Both of these smart speakers have the same set of features, and you can perform many voice actions through the smart speakers.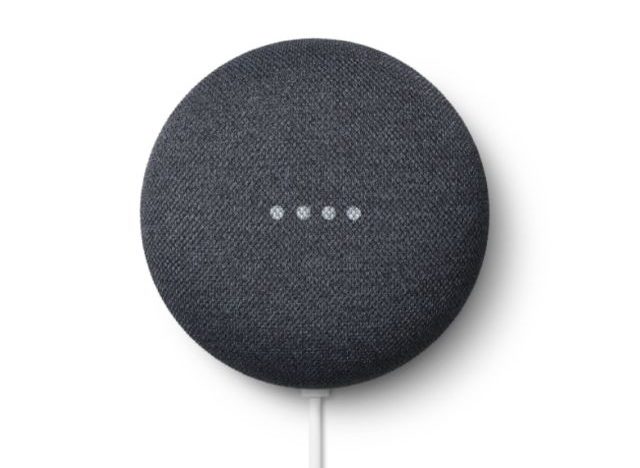 Just say "Hey Google" or "Ok Google" to activate Google Assistant, and then you can play music, set reminders, turn on the AC, control other smart devices in your home, and more. The best part is that you can also make audio calls with Nest Audio and Nest Mini using Google Duo. You can also make a call to smartphones using Duo on your Nest speaker, and it's not just limited to other Nest speakers. I would say go for either Nest Audio or Nest Mini based on your needs. Both the speakers are feature-packed, and you won't be disappointed for sure.
2. Amazon Echo Dot (4th-Gen) / Echo Studio
Amazon is one of the few companies that invested in voice assistance technology and IoT devices early on. The e-commerce giant developed its own smart voice assistant Alexa which is second only to Google Assistant. Over the years, it has partnered with numerous manufacturers and launched first-party Alexa-enabled speakers, smart displays, and more. Safe to say, Amazon has a large network of smart devices, so you can surely invest in Amazon's smart home ecosystem.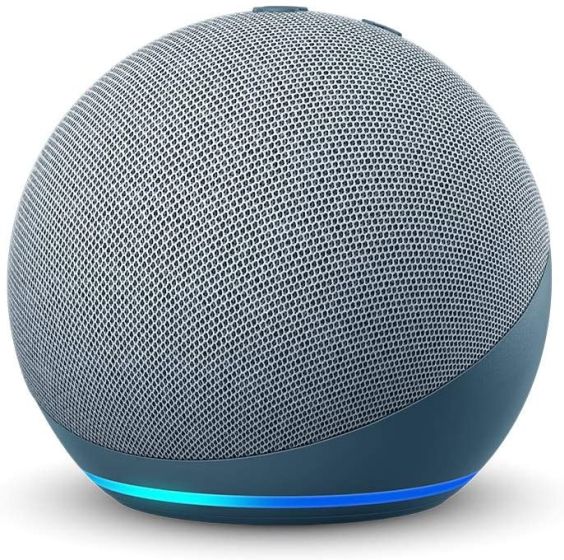 The first product in the lineup is the Echo speaker. Echo Dot is a smaller smart speaker with built-in Alexa, four microphones, and 15W total output. Echo Studio, on the other hand, is a massive speaker that has all the smart features with four mics and 330W of output. With both the Echo speakers, you can control all your smart home devices, including smart bulbs, thermostats, TVs, and more. To conclude, Alexa is compatible with a ton of smart home devices out there, and you can rely on Echo Dot or Echo Studio to get things done with just your voice.
3. Apple HomePod mini
If you are into Apple's ecosystem, HomePod mini would be a good idea to get started with. While Siri is not super-intelligent compared to Google Assistant or Alexa, it's slowly improving and will get better for sure. You can ask Siri questions, play music on the HomePod mini, update your calendar, text your contacts, play a movie on Apple TV, and more. It does almost all the essentials that other voice assistants do.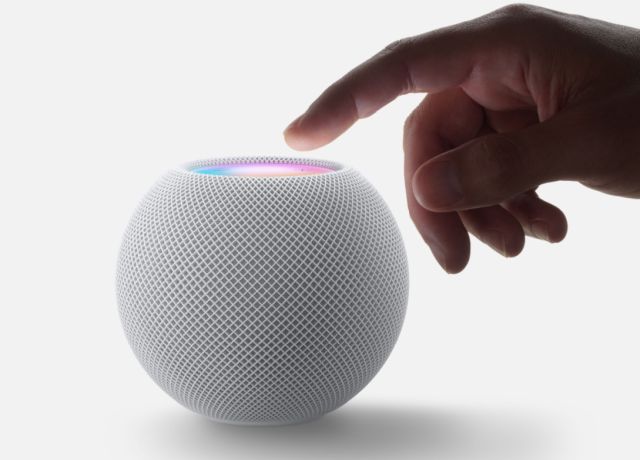 What's more, there is an Intercom feature to communicate with family members inside a house. You can send a message to individual rooms or broadcast a message to everyone. Apart from that, Apple has the Home app, where you can add all your smart home devices and control them with a voice command. Bear in mind, if you want to control smart devices with Siri, make sure they are compatible with Apple's HomeKit framework. In comparison to Google and Amazon, Apple has a relatively small number of compatible smart home devices in the market.
Buy from Amazon: $99
4. Google Nest Hub (2nd-Gen) / Lenovo Smart Display
With the increase in the adoption of smart speakers, new use cases are being discovered, and companies are bringing new products to make our homes truly smart. One such product is a smart display where you can interact with a voice assistant through a touchscreen display. For example, the Google Nest Hub is a perfect smart home device in the kitchen where you can watch recipe videos with just a voice command, place video calls to your family members, check the camera on the door — all when your hands are full.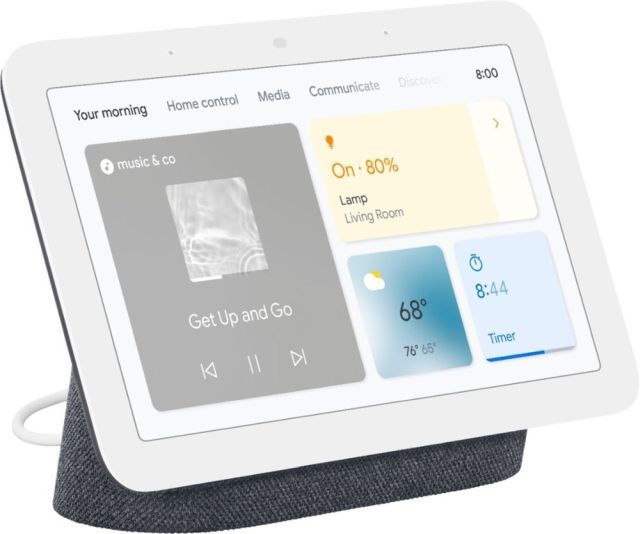 Apart from that, you can interact with smart home devices using the touchscreen UI and control everything from one place. It's a sort of smart home hub where you can monitor and customize all the IoT devices. Lenovo has also launched a smart display powered by Google Assistant. You can perform everything that I mentioned above with Lenovo's Smart Display too.
5. Amazon Echo Show 8 / Echo Show 5
Similar to the Google Nest Hub, Amazon has also launched Echo Show, a smart display powered by Alexa voice assistant. The Echo Show has an 8-inch touchscreen display, while the affordable Echo Show 5 has a 5-inch touchscreen panel. Both the devices can play videos and music, and you can also place a video call with a simple voice command.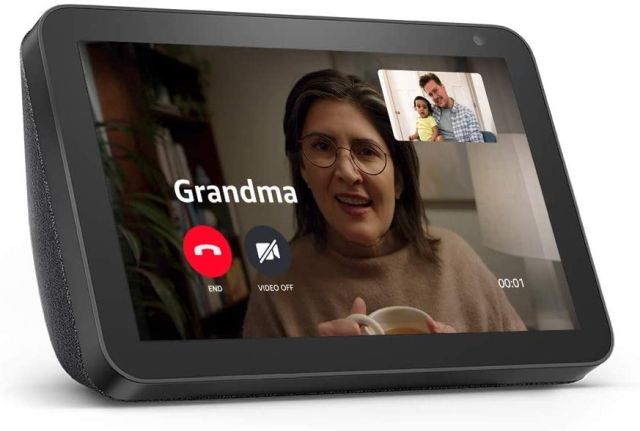 Apart from that, it also acts like a smart home hub where you can manage all your IoT devices. Not to mention, with Amazon Photos integration, you can turn the Echo Show's homescreen into a digital slideshow of memories. Overall, Amazon has a solid offering in the smart display segment, and you should take a look.
6. Gosund Smart Plug
If you truly want to truly create a smart home then you must use smart plugs to convert any standard electronic item to a smart home device. For example, you can connect the smart plug to your non-smart air conditioner, and then you will be able to turn on/ off the AC with a voice command. Most of the smart plugs in the market support both Google Assistant and Alexa voice assistants.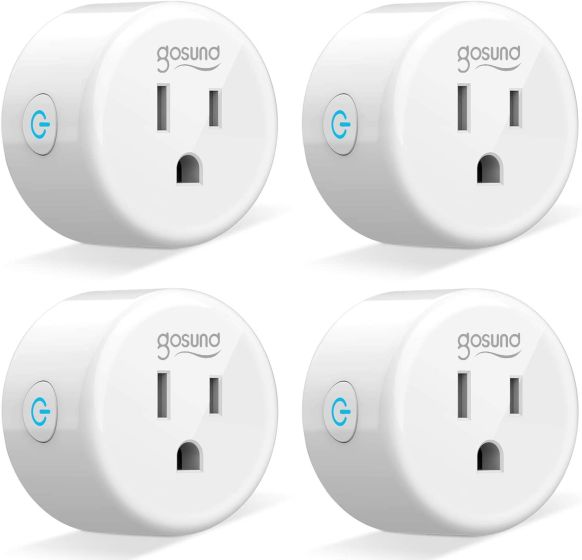 These smart plugs come with Wi-Fi support (2.4GHz) and bring power scheduling to outlets as well. So to convert your non-smart home appliances into smart ones, a smart plug is an easy and affordable option, and you must check it out.
Buy from Amazon: $26.99 (Pack of 4)
7. Google Nest Wi-Fi / Mesh Wi-Fi System
For any smart home to function properly, a reliable Wi-Fi network is a must. So if you are looking for a way to expand the coverage of Wi-Fi and get fast and reliable speed, you should invest in a mesh Wi-Fi system. Unlike traditional routers, a mesh Wi-Fi system can bring uninterrupted data to dead zones and work seamlessly even when more than 200 devices are connected to the access point.

Nest Wi-Fi by Google is a good choice if you want a mesh WiFi system for your home. It brings additional perks such as Google Assistant with a built-in microphone. Basically, you are getting a Google Home in the form of a router. Besides that, you can ask the mesh router to pause the internet on your kid's device during sleep time or homework hours. It's truly a smart mesh WiFi system built by Google. If you want more options, check out TP-Link's Deco system, Netgear's Orbi, and Amazon's eero mesh WiFi system.
8. Kasa Smart Bulb
The smart bulb is another IoT category getting popular among smart home users. Kasa, owned by TP-Link, offers four smart bulbs for as low as $39.99. The bulbs can adapt to any color you want, no matter whether you are watching a movie and need the right lighting mood or hosting a house party. The smart bulb is also dimmable, meaning you can use it at night just before going to sleep.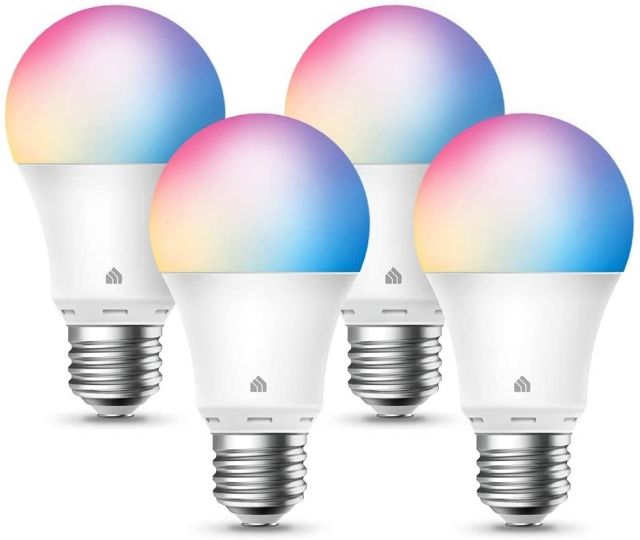 With a Google Assistant or Alexa voice command, you can set the color or change the mode as you want. It also has an "Away Mode," which randomly turns on/ off the bulb to trick potential intruders. What's more, you can schedule the bulb to switch on or off. Overall, I think the Kasa smart bulb can be a nice addition to your smart home, and you can consider it.
In case you want a simple light bulb that turns on after detecting motion and turns off when there is no human presence, you can get an AmeriTop 10W motion sensor bulb. It does not require any smart home integration.
9. Google Nest Thermostat
A thermostat is another smart home device you should have to control your room's temperature with a voice command. The Nest Thermostat by Google is quite good and accurately detects the room temperature and alerts you when your room is too cold or hot. With a voice command through Alexa or Google Assistant, you can adjust the room temperature the way you want.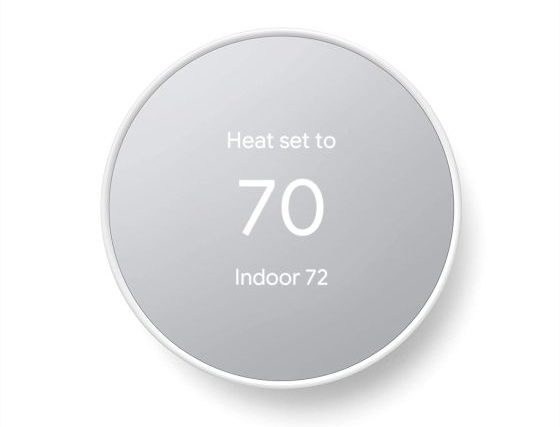 And when it detects no human presence inside a home, it automatically switches off AC and furnace. Note that you will need a C (Common) wire installation to connect your furnace or AC with the thermostat. So do check the compatibility before buying this device. If you need a smart thermostat for your connected home, the Nest one is a good buy.
Buy from Amazon: $124.99
10. SimpliSafe Home Security System
Increasingly, users are looking for an all-in-one security system for connected homes to keep an eye out for intruders. If you are also looking for a smart security system, I would recommend SimpliSafe as it works with both Google Assistant and Alexa. You can also opt for Ring's security system, but it's only compatible with Alexa. Also, Amazon is all set to launch its wireless network sharing feature, Amazon Sidewalk, very soon. So, you might want to look at SimpliSafe to secure your household.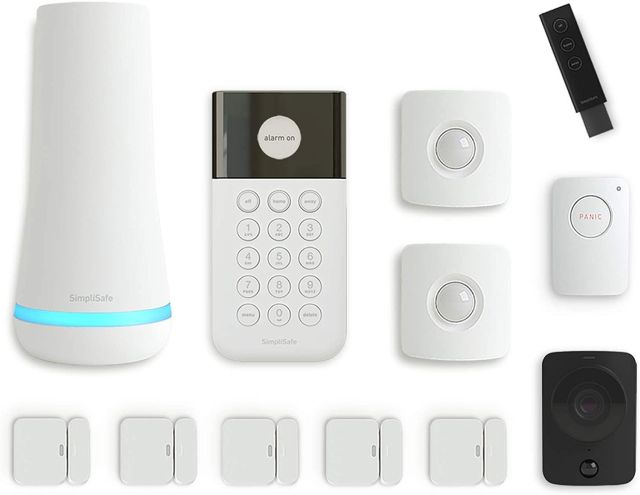 Coming to the features offered by SimpliSafe, it's a 12-piece wireless security system for your home. It includes an ultra-wide HD camera with night vision, a base station, a keypad to turn on/ off the monitoring system, four entry sensors, two motion sensors, and a panic button by your bedside.
SimpliSafe also includes a subscription plan under which it sends an emergency team in case of fire or medical help. I think, for $389, it's a good investment, especially for those who mostly stay away from their homes and want to monitor all the happenings remotely.
Buy from Amazon: $389.79
11. August Smart Lock Pro
August Smart Lock Pro is one of the best smart home devices, and you should get it if you want to lock or unlock your front door digitally. The best part about this smart lock is that it works with the traditional lock system, so you don't have to change the existing door lock. If you have a single-cylinder deadbolt on the front door, you can install it in only a few minutes.
The door lock system is linked with your smartphone. If you are away with your smartphone, the door is automatically locked. And when you approach the door, it gets unlocked seamlessly. You can also manually lock or unlock the door through the app.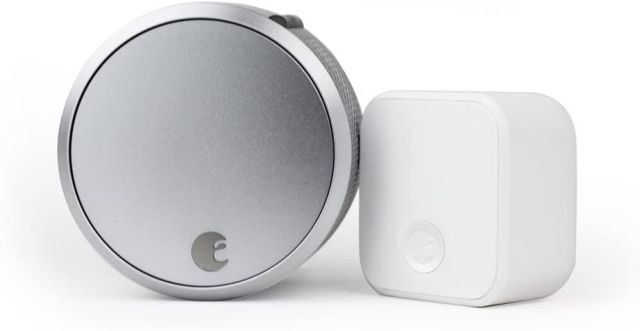 It uses Bluetooth signals to communicate with your smartphone. You can also grant access to your family members and guests through the app. If you don't want to carry your smartphone on you all time, there is a keypad option as well. That means you can create a PIN to lock/unlock the door. Lastly, the door lock is compatible with Google Assistant, Alexa, and Apple HomeKit. All in all, the August Smart Lock Pro is an affordable lock system, and you can give it a look.
Buy from Amazon: $159.99
12. Arlo Essential Video Doorbell
While the August Smart Lock allows you to lock or unlock the door remotely, it can't tell you who's at the door. So if you want to check who is waiting at your door, Arlo's video doorbell is what can help you here. It offers a 180-degree ultra-wide view with night vision support in HD resolution.
The video doorbell also packs a motion sensor, microphone, and speaker. That means if anyone comes near the door, you get a video call on your smartphone.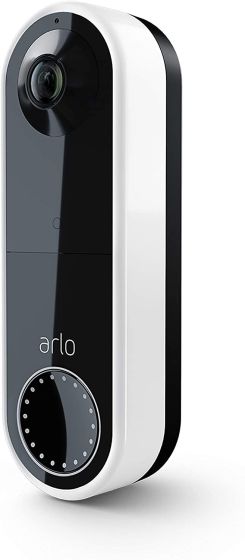 You can speak to the person waiting and unlock the door using August Smart Lock Pro. As for voice assistant support, it supports Alexa, Google Assistant, and HomeKit. To sum up, if you are looking for a smart door lock system, Arlo's Essential Video Doorbell and the August Smart Lock Pro are the perfect companions for a connected home.
Buy from Amazon: $184.98
13. Hamilton Beach Smart Coffee Maker
This smart coffee maker is for those users who are invested in Amazon's ecosystem. The Hamilton Beach coffee maker is compatible with Alexa and can brew coffee for you with a simple voice command. It can brew 12 cups of coffee in one go, and they taste well, as per reviews. You can also turn on/ off the coffee maker with a voice command. All in all, if you need an easy-to-use smart coffee maker for elderly parents, Hamilton Beach has you covered.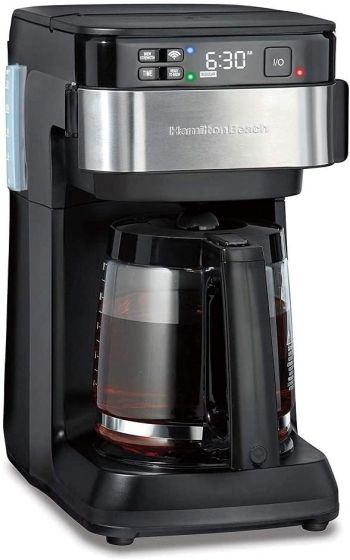 Buy from Amazon: $81.77
14. eufy RoboVac 15C MAX by Anker
Are you looking for a smart vacuum cleaner that gets the job done simply with a voice command? Well, the eufy RoboVac 15C Max by Anker is a robot vacuum cleaner that would be the perfect pick if you are looking for help around the house. It supports both Google Assistant and Alexa.
Just say, "Ask RoboVac to start cleaning", and it will turn on and automatically start cleaning your house. It has a suction power of 2000Pa, which means it is powerful and is smart enough to understand the difference between hard floors and carpets. What's more, it maintains a quiet operation even with such a high-pressure suction machine.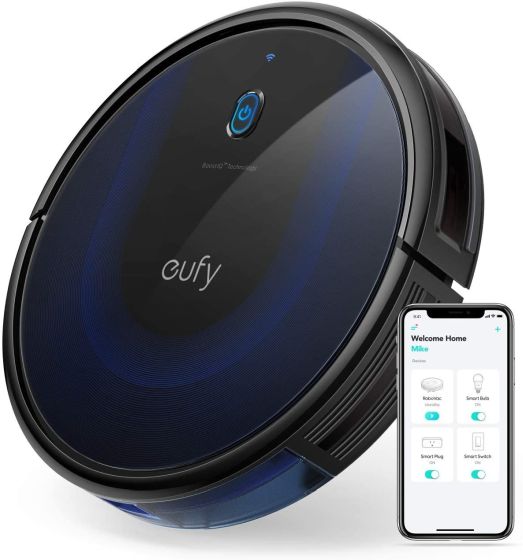 Buy from Amazon: $259.99
15. Wyze Smart Home Products
Similar to Google's Nest products and Amazon's Alexa line of smart home devices, Wyze is another company that offers smart home products. All their products are compatible with Google Assistant and Alexa. Among the products, you have indoor and outdoor cameras, home security systems, sensors, lighting devices, lifestyle products, and more.
The best part about Wyze smart home products is that their devices are priced modestly and are well-reviewed. So if you want to explore more smart home devices, make sure to check out Wyze products.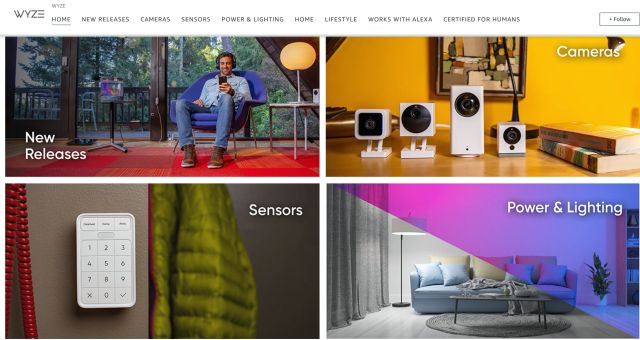 Explore Wyze Products on Amazon
Pick the Best Smart Home Devices From Our List
o this is our list of essential smart home devices for all ecosystems, be it Google, Amazon, or Apple. I have included many affordable smart home products, so you can get started with your connected home setup. Also, I have tried to mention those products that support both Alexa and Google Assistant. Anyway, that is all from us. If you are looking for some essential smartphone accessories, go through our curated list. And to learn more about Alexa skills for Amazon Echo, follow our linked article. Finally, if you have any questions, let us know in the comment section below.
---
Load More