Back in September 2019, Amazon announced Sidewalk, the company's ambitious effort to improve the reliability of smart home devices. After years of development, Sidewalk is finally ready, and the rollout starts from 8th June for customers in the United States. Now, if you are wondering what Amazon Sidewalk is all about, how does it work, and whether you should opt out of using it or not, you have come to the right place. Read on till the end to know the benefits and disadvantages of using Amazon Sidewalk.
Amazon Sidewalk Explained (2021)
Before we begin, it is worth mentioning that Amazon Sidewalk is available only for users in the United States right now. Amazon has no word on the availability of Sidewalk in other regions. If you are reading this from India, don't look for Sidewalk in the Alexa app as it isn't live just yet. With that out of the way, here's all you need to know about Amazon Sidewalk.
What is Amazon Sidewalk?
Amazon Sidewalk is essentially a shared network aimed at keeping your smart devices connected to the internet even when your connection is down or the signal is weak. This technology extends the internet connection from your house to the sidewalk, enabling IoT devices (not only your but also your neighbors) to work more efficiently and accurately over a longer distance. Bluetooth and Wi-Fi do not offer such a range at the moment.
Sidewalk achieves this by sharing a small portion of your internet with nearby Amazon devices and creating a crowd-sourced mesh network in the process. Pitched as a free solution to increasing the range of low-cost, low-bandwidth devices to stay online even when they are not connected to the home network, Sidewalk operates in the 900 MHz LoRa (Long Range) spectrum.
How Does Amazon Sidewalk Work?
Amazon Sidewalk primarily consists of five components – Sidewalk Bridges, Sidewalk Endpoints, Sidewalk Network Server, Application Servers, and Packets. Check out brief explanations of these components below:
Also known as Sidewalk Gateways, it is used to connect with Sidewalk's Network servers and the Endpoint. These are Amazon Echo devices that use 900 MHz LoRa spectrum with Frequency-Shift Keying (FSK) and Bluetooth Low Energy (BLE).
Sidewalk-enabled devices, also known as Endpoints, connect to the bridges and utilize the Sidewalk network. Examples for Endpoints include low-power smart products such as door locks, smart lights, and more. It is worth mentioning that Sidewalk Gateways can also act as an endpoint.
Sidewalk Network Server ensures the legitimacy of incoming packets and routes packets to the right destination. Amazon operates these Sidewalk network servers.
Application Servers and Packets
Application Servers host the Sidewalk endpoints. Sidewalk endpoint manufacturer, which can either be Amazon or an authorized third-party, manage the application servers, says Amazon on its official FAQ page. Lastly, packets are messages transmitted via endpoints.
Now you must be wondering, how does this all come together? Well, the Sidewalk bridges (Echo devices or Ring cameras) provide a connection to Sidewalk-enabled devices — not only yours but also others. That means your security camera, item tracker, or smart light would remain operational outside of Wi-Fi range, thanks to Amazon's wireless network.
As I mentioned earlier, this wireless technology shares a small portion of your internet with other Sidewalk-enabled devices. According to the company, the maximum bandwidth of a Sidewalk Bridge is capped at 80Kbps. In addition, the total monthly data allowed for Sidewalk devices is only 500MB. To put that in perspective, Amazon says it is roughly equivalent to streaming about 10 minutes of HD video. That means enabling
Amazon Sidewalk: Benefits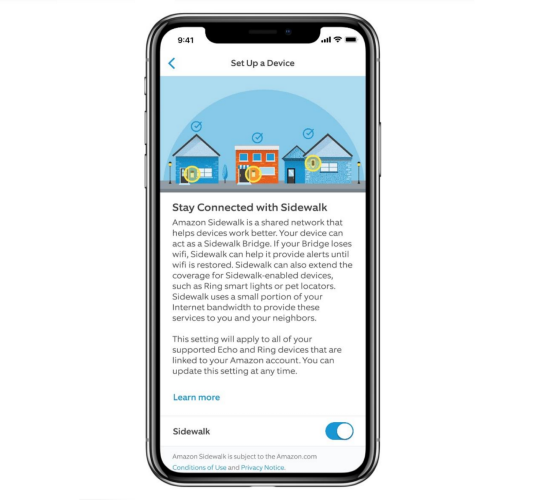 The most obvious benefit and Amazon's pitch to Sidewalk is the added convenience. You can easily use and control Sidewalk-enabled devices without your primary active internet connection. It should prove helpful, say if you use a smart door lock and your home Wi-Fi is down.
On its support page, Amazon points out that select Ring cameras can continue to get motion alerts while your internet is down, thanks to Sidewalk. What's more, with the integration of Tile trackers, missing pets, keychains, or wallets will be easier to track even when they are out of Wi-Fi range. Echo devices can connect to Tile trackers within a range of approximately 30 ft.
Another benefit worth mentioning is that Amazon is partnering with Careband, a company that makes wearable products for people with dementia. Through this partnership, Sidewalk's long-range connectivity will benefit CareBand's wearables to enable features including indoor and outdoor activity tracking, a help button, and automated analysis of activity patterns without requiring a smartphone.
Amazon Sidewalk: Supported Devices
At launch, Amazon Sidewalk will only support first-party devices, including Echo smart speakers and Ring cameras. However, the popular item tracker Tile will join Sidewalk from 14th June. In total, the following devices have Amazon Sidewalk support:
Sidewalk Bridges
Echo (3rd gen and newer)
Echo Dot (3rd gen and newer)
Echo Dot for Kids (3rd gen and newer)
Echo Dot with Clock (3rd gen and newer)
Echo Plus (all generations)
Echo Show (all models and generations)
Echo Spot
Echo Studio
Echo Input
Echo Flex
Ring Floodlight Cam (2019)
Ring Spotlight Cam Wired (2019)
Ring Spotlight Cam Mount (2019)
Sidewalk Third-Party Devices
Amazon Sidewalk: Security Measures
Amazon has published a whitepaper highlighting the privacy and security aspects of Sidewalk. In this document, the company clarifies that Sidewalk Gateway/ Bridge owners will not receive information about Sidewalk-enabled devices owned by others. Furthermore, the company says it has added three layers of encryption to the Sidewalk network.
According to the company, the Sidewalk network uses the following metadata – Endpoint Sidewalk-ID, Endpoint Payload Size, Transmission Time, Gateway ID, and Application Server. Below are the specific data permissions of the key components: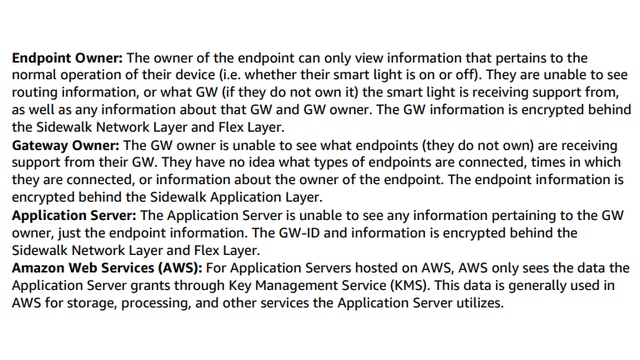 Coming to encryption, Amazon's three layers of encryption include an application layer, network layer, and flex layer. To make sure only trusted devices can access Sidewalk, Amazon assigns unique credentials to each device during the registration process. Plus, Amazon says it deletes Sidewalk-related routing information every 24 hours. You can read more on how these encryption layers are implemented in Amazon's whitepaper right here.
Amazon Sidewalk: Privacy Concerns/ Security Risks
Since Sidewalk involves sharing your internet with your neighbor, albeit a small portion, there are huge privacy concerns around Sidewalk. If you are worried if your neighbors or nearby devices will get unlimited access to your internet, that's clearly not the case. Also, your neighbors won't be able to latch onto your Wi-Fi network and hack your devices to access personal information.
While Sidewalk is limited to first-party devices at launch, the company will expand the service to third-party devices in the future, starting with Tile. Amazon has not clarified how much data third parties will get from Sidewalk. Meanwhile, the company says it will make 'careful choices' for data sharing with third-party devices.
Another potential concern is that the Sidewalk protocol is a proprietary standard, and we have seen vulnerabilities even in established wireless technologies such as Bluetooth and Wi-Fi. To go all-in on Sidewalk requires users to trust Amazon, a company that doesn't have the best track record when it comes to protecting user privacy.
However, the major concern with Sidewalk is that it is an opt-out service and not opt-in. In other words, if you have a compatible device and live in the United States, Amazon will automatically enable the service for you on 8th June. As a result, you will have to manually change the settings from the Ring or Alexa app to opt out of Amazon Sidewalk. If you are not interested, check the next section for instructions to disable Sidewalk.
How to Opt Out of Amazon Sidewalk
If the aforesaid privacy concerns worry you, you can opt out of Amazon Sidewalk from the Ring or Alexa app. Check out the relevant section below based on the app you use:
Disable Amazon Sidewalk from Alexa app
1. Open the Alexa app, tap on "More" in the bottom navigation bar and then choose "Settings".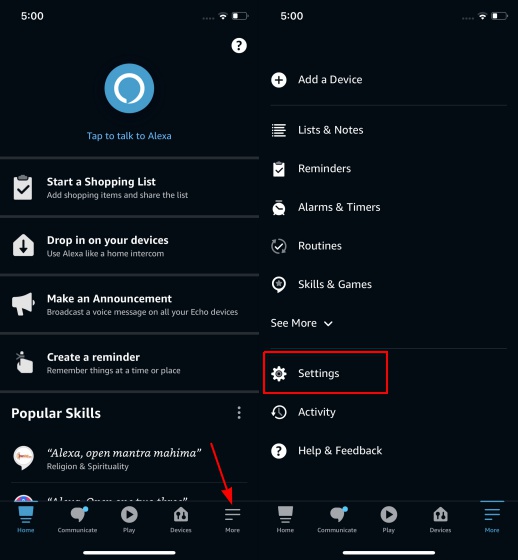 2. From the Settings page, tap on "Account settings" and choose Amazon Sidewalk. You will now see the option to disable Sidewalk for your account.
Now, as you can see in the screenshot, there is also a "Community Finding" option under the disabled Sidewalk toggle. It makes devices like Tile trackers and compatible location-tracking devices more effective, extending their range and making them easier to find if lost. Enabling this feature will "share the approximate location of your device and other Sidewalk bridges you own," says Amazon.
Further, it is possible that the Amazon Sidewalk option is not available in the Alexa app settings for you. Well, worry not because you are not the only one. Several users have complained on Reddit and Twitter that the setting to disable the feature is not showing for them. It seems like Amazon is aware of the issue (via Twitter/@caroll_carrol), and a fix should roll out very soon.
Disable Amazon Sidewalk from Ring app
1. Open the Ring app and tap on "Control Centre" from the hamburger menu on the top left corner of the screen.
2. In the Control Centre, you will see the option for Amazon Sidewalk. Here, you can tap the slide button to disable the feature. The Ring app will confirm your action to opt out of Amazon Sidewalk. If you change your mind in the future, you can retrace your steps back to this page to enable the service.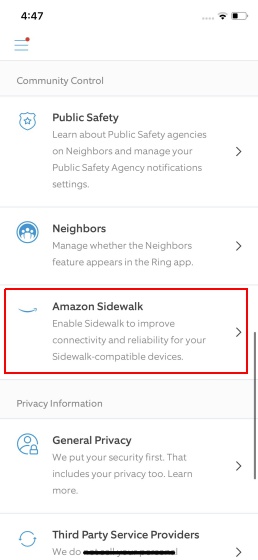 Amazon Sidewalk: Convenience at the Cost of Privacy?
So, that's all you need to know about Amazon Sidewalk in 2021. While the idea sounds promising, Sidewalk's success depends on user adoption, and the decision to force enable the feature doesn't seem like a good first start. If Sidewalk receives widespread adoption, it will give the tech giant a key position in the IoT segment. What do you think of Amazon Sidewalk? Is Amazon trying to build Bluetooth 2.0 or a privacy nightmare? Do share your thoughts with us in the comments section below.