While Google Assistant might be better at understanding voice commands, especially in regional languages, Alexa is no slouch either. In fact, Amazon was the first company to release its Echo smart speaker way back in 2014 and spearheaded the voice assistant market. Currently, it has a variety of built-in Alexa speakers, TVs, bulbs, ACs, etc., and the ecosystem is expanding quite rapidly. Thus, for the benefit of IoT users, we have compiled this list of the best Alexa-enabled speakers and TVs you can buy in India. Other than that, we have mentioned other Alexa devices that can help you enjoy a smart home experience. So without further ado, let's go through the list.
Best Alexa-enabled Speakers and TVs in India (2021)
Here, we have mentioned both Alexa-enabled speakers and smart TVs in India currently available in the market. You can expand the table below and move to the corresponding product with ease.
Best Alexa-enabled Speakers
1. Amazon Echo Speakers
Despite Amazon pushing manufacturers to support the Alexa voice assistant on their devices, there are only a handful of smart speakers in the market, and most of them are sub-par. So if you want to buy an Alexa smart speaker, there is no better option than Amazon's Echo speakers. Amazon offers Echo speakers at various price points, so no matter if you want an affordable Alexa speaker or a high-end one, you are covered.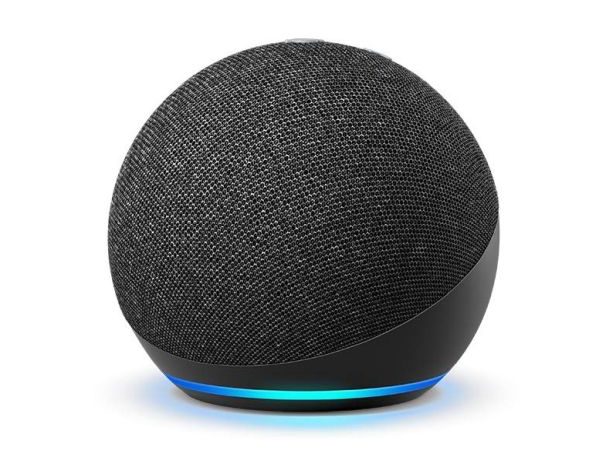 The 4th-Gen Echo Dot offers the most value for money, coming in at just Rs. 3,999. It comes with built-in Alexa, music playback support, improved bass, compatibility with numerous smart home products, support for Hindi, and more. The best part is the presence of a hardware microphone off button that lets you turn off the microphone if you don't want anyone to listen to your private conversation. Not to mention, there are four microphones aboard the Echo Dot, and it can hear your requests from across the room.
Coming to the next Echo product, the Echo Input Portable speaker is a Bluetooth version of the Echo Dot. You can take it anywhere you want and talk to Alexa, play songs and do all kinds of smart home things from anywhere inside your home. Remember that it features only a 5W speaker, and the battery life is not that good. Finally, we have the top-of-the-line Echo Studio. It offers the best sound experience with support for Alexa, high-fidelity audio, Dolby Atmos, dynamic sound, and more.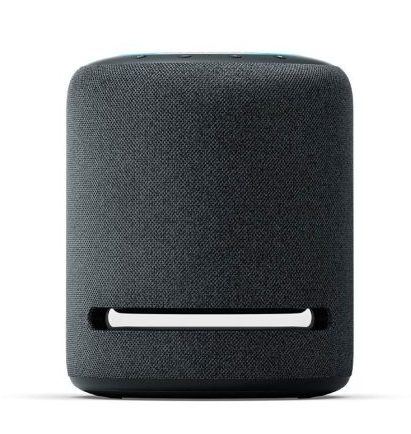 The Echo Studio features four mics and five powerful speakers, which have a power output of 330W. What's more, the Echo Studio allows you to call or message anyone who has the Alexa app or an Echo device hands-free. That's helpful, right? To sum up, if you want a budget Alexa-enabled speaker in India, Echo Dot is overall the best choice. And if you want a portable speaker, go for the Echo Input, while the expensive Echo Studio is for all the audio lovers that wish for the ultimate smart speaker experience.
2. ZEBRONICS Zeb-Smart Bot Speaker
Among the many third-party Alexa speakers, Zebronics is perhaps the only one that actually works quite well. It comes with a built-in Alexa voice assistant and supports most of the Alexa skills. You can play songs from various streaming apps, ask Alexa questions, control smart home devices, and more. The best part about this speaker is that you can double it up as a Bluetooth portable speaker and a wired one.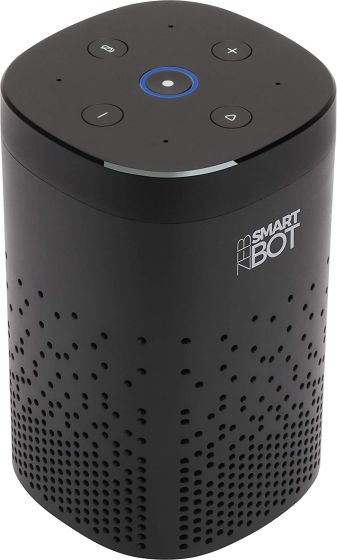 There are two mics and a 5W speaker onboard, which is decent at best, and a handy mic and media buttons to quickly control the speaker. All in all, I would say, if you are looking for an Alexa smart speaker under Rs. 4000 in India, then the Zebronics Zeb-Smart Bot speaker is a great alternative that you can try out.
Buy from Amazon: Rs. 3,699
3. Bose Home Speaker 300
That was all about the affordable Alexa speaker market in India. Now, let us check out some high-end Alexa-enabled smart speakers. Bose Home Speaker 300 is among the most popular smart speakers out there, and it comes with the built-in Alexa voice assistant. As it's a Bose speaker, there is no question about its sound signature. You get 360-degree audio with thumping bass, multiple music presets to customize the sound to your liking, and more. There's an array of six mics on board to pick up your voice in a noisy environment.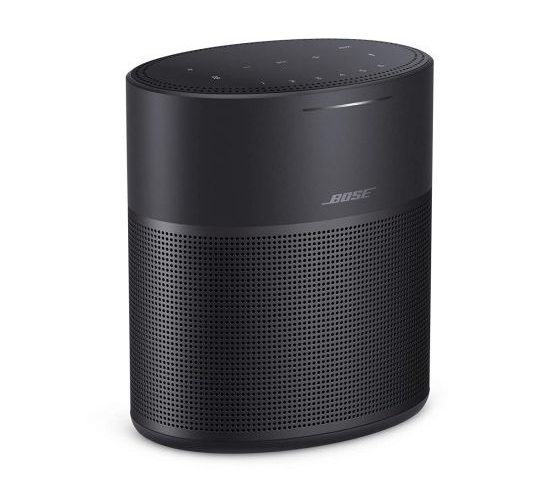 Note that the Amazon listing mentions that the speaker is also compatible with Google Assistant, but it does not work as per user reviews. Apart from that, it's compatible with Apple AirPlay 2 and comes with WiFi support to let you cast music over the WiFi. To sum up, if rich sound is your priority and you need a powerful Alexa smart speaker, then Bose Home Speaker 300 is the most suitable pick.
Buy from Amazon: Rs. 22,865
4. Marshall Acton II
Marshall Acton II is another expensive Alexa-enabled smart speaker in this lineup. It's one of the smallest Marshall speakers but produces a well-balanced sound with a wide soundstage. Coming to the Alexa integration, you can control playback from various music streaming apps and also cast music from Spotify. There is support for podcasts, smart home devices, and you can ask Alexa questions as well.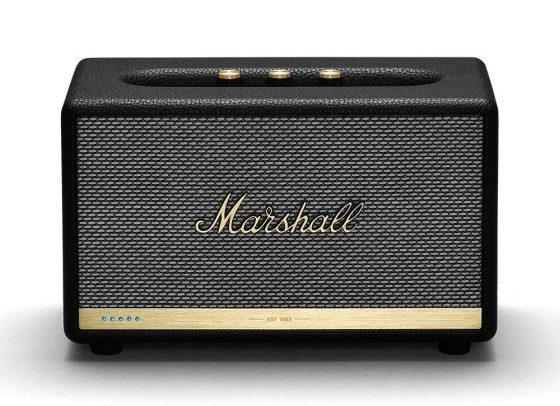 What I like about Marshall Acton II is its far-field microphone array, which can listen to your command even when loud music is playing. It uses smart voice recognition and noise cancellation algorithms to pick your voice. To conclude, Marshall Acton II featuring Alexa is an audiophile's dream. If you have that kind of a budget, then you can surely give it a shot.
Buy from Amazon: Rs. 26,999
5. Sony SRS-XB402M
Sony SRS-XB402M has an uncanny similarity to the Apple HomePod, but it comes with the Alexa voice assistant under the hood. It's a Bluetooth portable speaker and can also act as a wired speaker. It has a long-lasting battery life of 12 hours and is also IPX7 rated, which means the smart speaker is waterproof and dustproof. You also get that extra bass for producing powerful sound in a closed environment.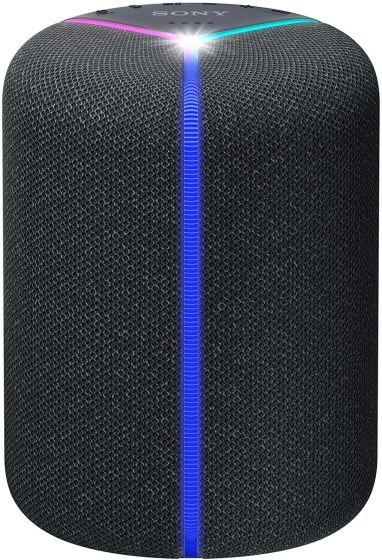 Like other Alexa speakers, the Sony SRS-XB402M can play any song you want with a voice command, get the latest weather and traffic updates, manage and control smart devices, and more. Lastly, the speaker also has a party light effect and it looks pretty cool. So if you want an excellent Bluetooth speaker with Alexa support, then Sony SRS-XB402M is a solid choice.
Buy from Amazon: Rs. 19,990
6. Yamaha YAS-209 Sound Bar
In India, the Yamaha YAS-209 Sound Bar is the most expensive Alexa-enabled speaker and comes with a powerful subwoofer and a surround sound system as well. It brings DTS Virtual support for a 3D sound effect, has a wireless subwoofer so you can place it anywhere you want, and 200W of maximum throughput. Also, there is Bluetooth support for wireless streaming from music apps and more.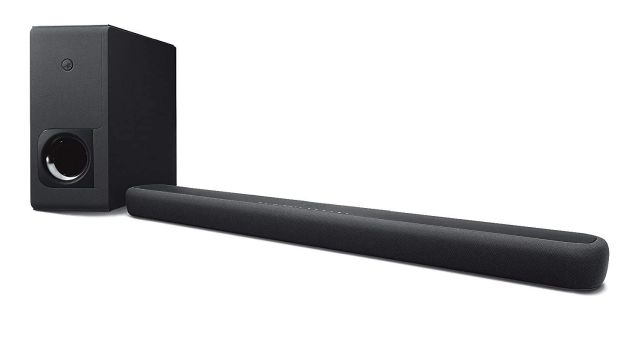 Besides that, Alexa can help you not just play music but also control many of your smart home devices and get answers to your questions in a few seconds. I think the Yamaha YAS-209 Sound Bar is a wise purchase option for users who want a smart yet powerful speaker for their TV.
Buy from Amazon: Rs. 33,700
Best TVs with Alexa Built-in
7. Samsung Wondertainment Smart TVs
Samsung is one of the few TV manufacturers integrating the Alexa voice assistant with its smart TV's Tizen OS. The company offers both Bixby, its own voice assistant, and Alexa on newer models. Under the Wondertainment series, the 32-inch HD smart TV is the cheapest TV that comes with built-in Alexa. You can voice-control your TV, ask Alexa to play a particular movie, music and you can also control smart home devices right from your TV.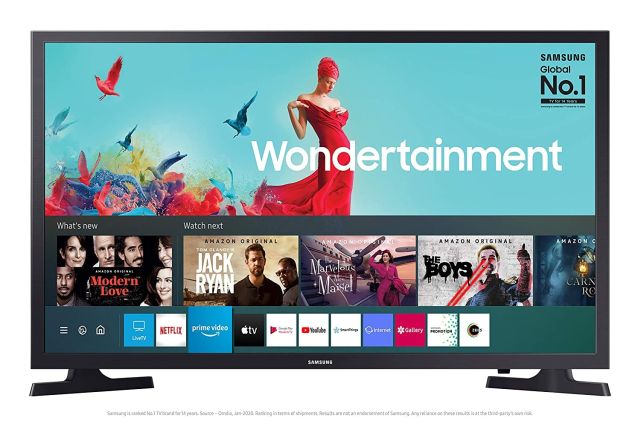 Not to forget, you can still ask questions to Alexa, get weather, sports, traffic updates, and more. While the 32-inch model is not the best in terms of specs, you can go for the FHD and 4K models for a better TV experience. So if you are looking for an entry-level TV with Alexa built-in, you can start with Samsung's Wondertainment series.
Buy from Amazon: starts at Rs. 17,990
8. LG 43-inch 4K Smart TV
LG is another TV manufacturer that offers multiple voice assistants to its consumers. The company is bringing Alexa along with Google Assistant on select TVs. You can choose which voice assistant you want on your TV from the Settings page. Apart from that, LG has done a great job at integrating Alexa into its webOS platform. Just like Samsung TVs, you can ask Alexa to play movies, music, TV shows, and much more.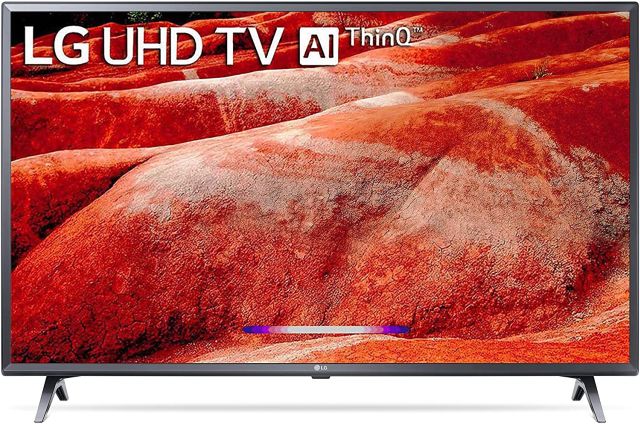 Besides, the voice assistant can answer all your general questions and help control smart home devices from your TV. To sum up, if you're looking for the best 4K TV in India with Alexa support, then LG's 43-inch smart TV is a great choice.
Buy from Amazon: Rs. 45,599
9. AmazonBasics 50-inch 4K Smart TV
Unsurprisingly, Amazon has also entered the TV market with its AmazonBasics sub-brand. And it runs Fire TV OS, which you find on Fire TV Stick. The TV comes with the Alexa voice assistant and supports all kinds of voice commands and skills like Fire TV Stick. You are essentially getting a TV preloaded with Fire TV OS, which is not a bad thing per se.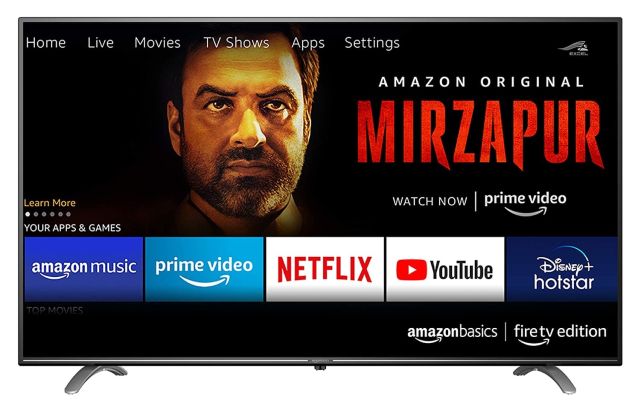 Not to mention, it's a 50-inch smart TV in 4K resolution and costs just Rs. 34,999 which is quite a deal. That said, I am skeptical about its display panel and after-sales service, so I won't strongly recommend it. Nevertheless, if you want an Alexa-powered TV in India, then you should check out the AmazonBasics lineup.
Buy from Amazon: Rs. 34,999
10. Kevin 32-inch Smart TV
Kevin is a not-so-popular TV brand in India, but it entices users with two things. One, a low price, and the second, built-in Alexa support. This TV runs Cloud TV OS, a fork of Android TV, and comes with Alexa in place of Google Assistant. The 32-inch HD TV costs Rs. 13,499 and supports a long list of media streaming apps. As for Alexa support, it's good and supports all sorts of voice commands.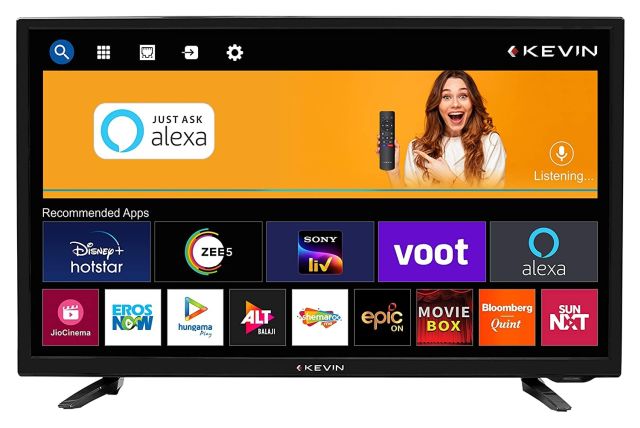 You can play music by genre, find movies to your particular taste, ask about the weather, and more. Having said all of that, you should check the display quality and after-sales service before you go ahead with the purchase. All in all, Kevin offers a decent Alexa-powered smart TV for the price, and you can consider it.
Buy from Amazon: starts at Rs. 13,499
Other Alexa-powered Smart Devices
11. Echo Show 8
Much like Google Assistant smart displays, Amazon has also launched Echo Show 8, an Alexa smart speaker with a touchscreen. You can place it next to your bed, in the kitchen, or anywhere you think you would need Alexa's help. It allows you to interact with Amazon's voice assistant with the touchscreen display, expanding the use case.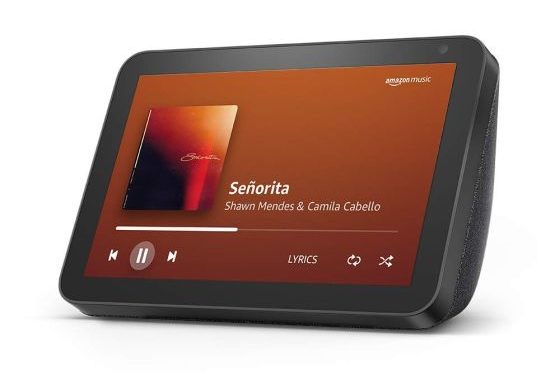 For example, you can use it to video call your family and friends using a voice command, watch a recipe video in the kitchen when your hands are full, set timers and create alarms, set a slideshow of personal photos, and much more. So if you feel the need to see and interact with Alexa while instructing voice commands, the Echo Show 8 is the perfect choice for you.
Buy from Amazon: Rs. 8,999
12. Fire TV Stick
Frankly speaking, picking a Fire TV Stick is a much better proposition than buying a TV with built-in Alexa support. As we saw above, there are only limited TVs with Alexa, and the quality is not up to the mark. You can get a smart or non-smart TV with a better display panel and plug in the Fire TV Stick to get all the features and Alexa voice assistant.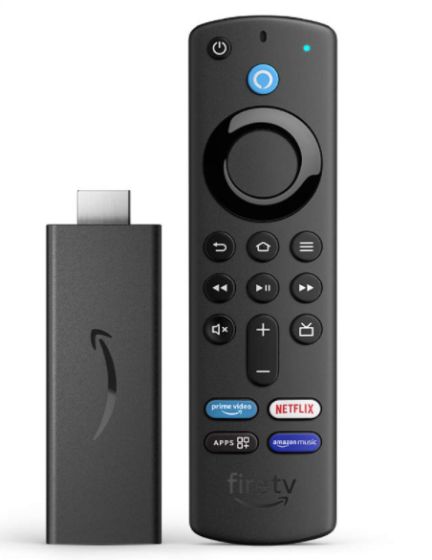 This way, you will not be locked to a TV and can upgrade to better hardware in the future by replacing the old Fire TV Stick at a fraction of the cost. I use the Fire TV Stick at home, and my experience with Alexa has been quite pleasant. It picks up my voice well and comes up with smart suggestions tuned to my preferences. So instead of buying an Alexa-powered TV, I would suggest getting a Fire TV Stick for using the Alexa voice assistant.
Get Started with Alexa on Speakers, TVs, and More
So these are the best speakers, TVs, and smart devices that offer Alexa voice assistant support, and you can get a lot of things done with just a voice command. As we noticed above, currently, India does not have a wide range of reliable third-party products with Alexa built-in. However, things will change as more and more users adapt to Amazon's ecosystem of products.
Besides, if you choose to get any of the products mentioned above, you first need to change these Alexa settings to get the most out of your smart speaker or TV. We also recently shared a guide on how to make Alexa swear, along with the 10 best Alexa games you should play, so check these out as well. Anyway, that is all from us. If you found the article helpful, do let us know in the comment section below.