iPhones have always been the top choice for mobile photographers. And with its much-improved camera setup, the iPhone 12 series continues to lead the show. If there is any department where Apple's phones struggle, it's the below-par performance in dimly-lit environments. Considering how huge a role light plays in videography, a solid lighting system has become the need of the hour for online creators. It has made ring lights an essential commodity as they come in handy while shooting Instagram Reels or TikTok videos. So if you are a creator and want to step up your game, check out these 10 best ring lights for iPhone 12, 12 Pro, and 12 Pro Max.
Best Ring Lights for iPhone 12, 12 Pro, and 12 Pro Max
So, what sort of ring light do you want to buy for your iPhone 12, mini, 12 Pro, or 12 Pro Max? Are you looking for a premium ring light complete with a pro-grade tripod stand and 360-degree rotatable mount? Or, do you want a compact clip-on selfie ring light for your iPhone? Keeping in mind different needs, I have listed both full-fledged ring lights as well as pocket-sized lights that you can comfortably use during outdoor shoots. So without further ado, let's check out the best right lights you can buy to use with your iPhone 12.
1. Neewer Ring Light Kit
If you are looking for a complete ring light kit for your iPhone 12, 12 Pro, or 12 Pro Max, give serious consideration to Neewer's offering. What separates Neewer's ring light from the rest is the 18-inch/ 48cm outer 55W 5500K 240 pieces LED bulbs that feature a wide dimming range from 1% to 100%. Times when you wish to have better control over lighting, the flexibility to have a wide dimming range will come in handy.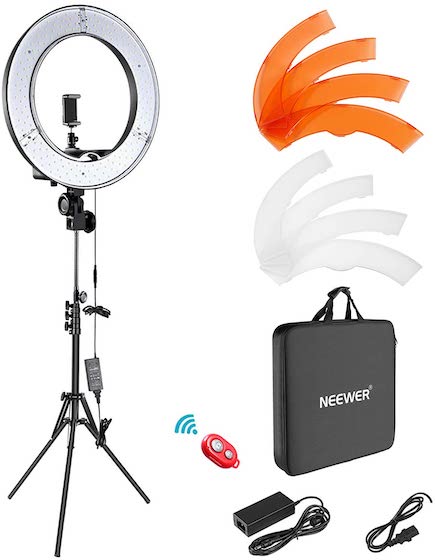 Neewer ring light keeps ultraviolet and infrared light radiation at bay. And with low heat output, it's designed to be secure for use at home. Moreover, it also comes with a 61-inch light stand made of high-grade aluminum alloy to step up your content creation game.
With the soft tube, the ring light can also rotate freely. The white and orange color filters play a key role in offering steady color temperature. Moreover, as the phone holder is compatible with most smartphones, you can use it with not only iPhone 12 series but your Android smartphone as well.
With a tiny remote control always at your disposal, you can capture shots without even worrying about the last-minute shake. Additionally, the kit also comes with a hot shoe adapter that's compatible with most DSLR cameras, which is yet another plus from a photography perspective. Overall, this is one of the best ring lights for iPhone 12 users in the market right now.
Pros: 
18-inch/ 48cm outer 55W 5500K 240 pieces LED bulbs
Provides steady color temperature 
61-inch light stand
A hot-shoe adapter
Remote control 
Cons: 
Locking/ unlocking smartphones is a bit inconvenient 
Buy from Amazon: $76.49
2. Tonor TRL-20 Large Selfie Ring Light for iPhone 12
Whether you are an emerging TikTok creator, a passionate YouTuber, or a normal joe who wants to enhance the quality of Zoom calls, go check out the Tonor TRL-20 selfie ring light. The Tonor TRL-20 is well-built and comes with a high-quality light board, and 160 LED bulbs, enabling you to increase brightness by up to 30%.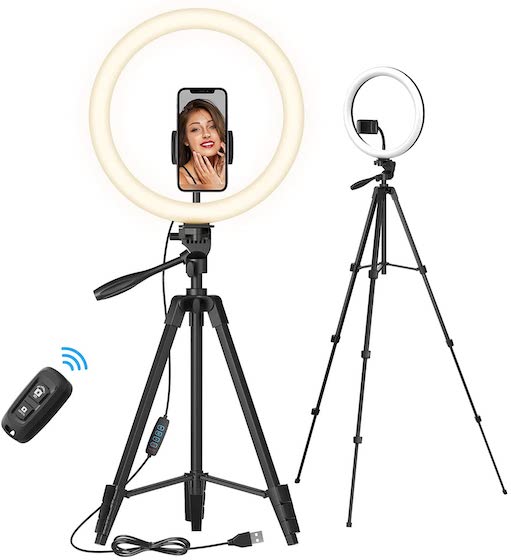 Tonor TRL-20 light ring features 3 color modes, including cold, warm, natural, and 10 brightness levels. That makes it fully equipped to let you shoot high-quality videos and photos. With the included remote shutter, you can keep the unwanted shake away from spoiling the quality of your shots. Moreover, it also comes with a capable tripod stand with four retractable sections so that you can adjust the height from 16-inch to 52-inch depending on your needs.
Thanks to the triangular structure and anti-slip rubber, TRL-20 provides much-needed stability to the light ring. As for the ring light's phone holder, it features a secure clamp to keep your iPhone 12 steady during shoots. Taking everything into account, it is an impressive mid-range ring light for iPhone users.
Pros: 
160 LED bulbs
3 color modes (cold, warm, natural)
10 brightness levels
Remote shutter 
Cons: 
Removing the phone from the phone holder feels inconvenient 
Buy from Amazon: $49.99
3. GVM 600S LED Ring Light
If a high-end ring light with all the pro features is what you are after, the GVM 600S LED ring light deserves a close look. It comes with as many as 6 detachable light bars that you use to shoot pro-grade videos for YouTube and TikTok. Courtesy of the 480pcs SMD lamp beads and 90W high power, it can deliver up to 2x brightness than a standard ring light.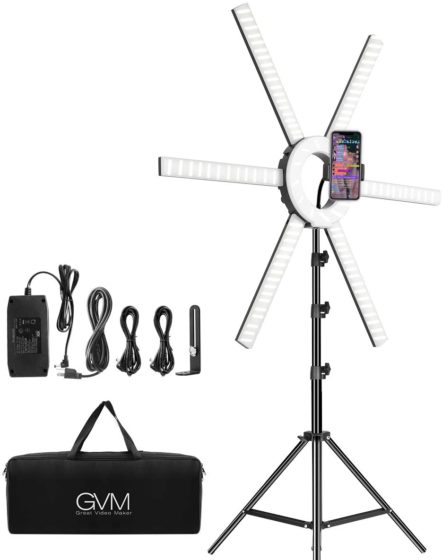 Furthermore, the GVM 600S ring light is also dimmable. That means you can create a unique atmosphere for your photos/ videos. As for the tripod, it is made of aluminum alloy and boasts a secure locking mechanism. Since the tripod looks pretty sturdy, the ring light will remain stable while holding your iPhone 12.
The sturdy aluminum alloy tripod allows you to adjust the height from 32-inches to 87-inches which can help shoot high-quality videos or capture celebrity-style images. While the $169 price tag makes it look slightly overpriced, you can't go wrong with the top-tier specs.
Pros:
480pcs SMD lamp beads
Can deliver up to 2x brightness
The tripod is extendable from 32 inches to 87 inches.
Secure locking mechanism
Cons:
Buy from Amazon: $169.99
4. IVISII 18-inch Ring Light
With a promise to deliver high color reproduction, the IVISII ring light seems like a good choice for creators with an iPhone 12. The ring light kit includes an 18-inch LED ring light, 78.4-inch light stand, white and orange color filter, tripod head, and hot shoe adapter, among other things. So essentially, it has about everything you need to start your TikTok or YouTube Shorts journey.
The LED ring light is up to the mark in terms of providing natural color. Besides, it also supports a dimming range from 1% to 100%, offering you the needed flexibility to control the light.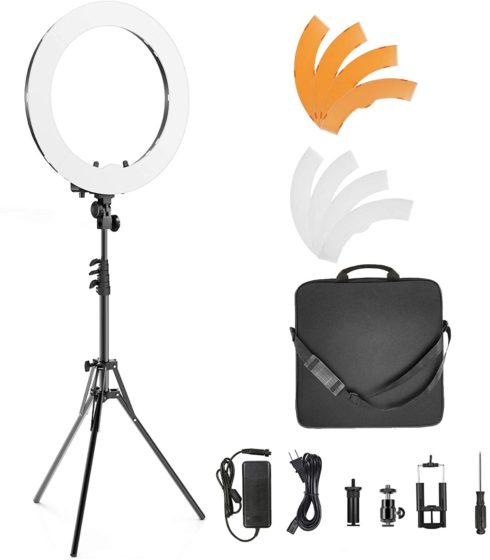 Moreover, you can also adjust the ring light (up to 180-degree) to meet different needs like live streaming, studio shoot, and more. The phone holder has a safe locking mechanism to keep your smartphone steady. Since it supports 360-degree rotation, you can prop up your iPhone in a preferred orientation. Apart from supporting iPhones, this ring light also works with Android devices, which is a big plus if you are looking for versatility. With the rugged aluminum alloy construction, the stand is designed to last long.
The IVISII ring light comes with a cold shoe adapter that is compatible with most DSLR cameras. Besides, there is also a carry bag to let you comfortably lug it around. To sum up everything, this is a premium ring light designed to let you get the most out of your iPhone 12's cameras.
Pros:
Option to adjust ring light up to 180-degree
The phone holder comes with a secure locking mechanism 
Cold shoe adapter
Works with both Android and iPhone
Cons:
The cold shoe ball head adapter is not well made
Buy from Amazon: $77.95
5. UBeesize Selfie Ring Light with Tripod
Boasting a highly efficient ring light along with a capable tripod stand, this offering from UBeesize has got everything covered to be a top pick. The 12-inch ring light delivers up to 20W of power from 240 LEDs. Thanks to its ability to provide natural brightness, the UBeesize ring light can easily fit your various needs, including video conferences, recording trendy TikTok videos, and more.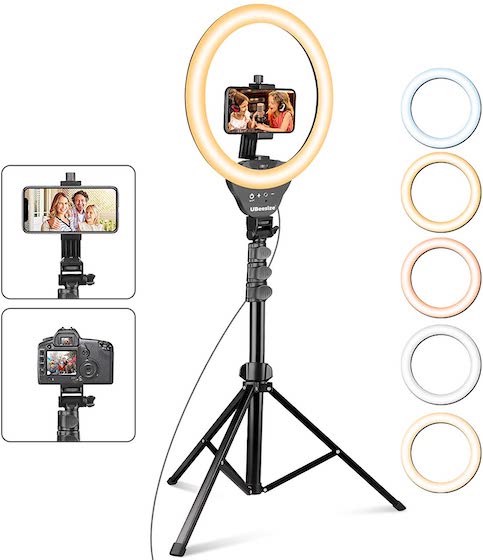 Another feature that makes UBeesize's ring light a great choice is the 10 levels of brightness and 5 color temperatures (3000K-6000K). They can play a vital role in letting you customize brightness settings as per your needs. Plus, there is also the flexibility to adjust luminance from 10 to 100%, making it ideal for vloggers.
What's more, you can convert the 67-inch stand into a full-fledged tripod for shooting videos or a selfie stick to click stunning selfies for sharing on social networking sites like Facebook or Instagram. Add to that an adjustable phone holder, and you have a ring light that seems to check all the boxes.
Pros: 
5 color temperatures (3000K-6000K)
Delivers up to 20W of power from 240 LEDs
67-inch stand with rotatable head 
Adjustable phone holder
Cons: 
The built quality seems to be cheap 
Buy from Amazon: $36.99
6. GerTong RGB Ring Light with Stand
If you are on the lookout for a capable ring light with a stand and a secure phone holder at an affordable price point, GerTong's RGB ring light could be the right pick. The 12-inch ring light has 168 LED lamp beads and boasts a 2800k to 6500 color temperature range. The curved LED light cover makes sure the light remains softer and wider to enhance the video/ photo quality.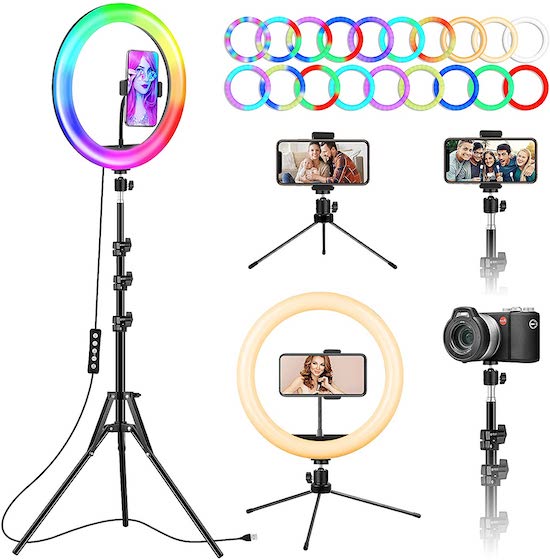 That's not all, though. The GerTong ring light features more than 150 settings and 10 colors for a fully customizable experience. Each mode here also consists of 13 brightness levels with a 1%-100% dimming range.
Moreover, the tripod extends from 15.4-inch to 59-inch and offers a hassle-free locking mechanism for improved stability. The phone holder features a secure clamp to keep your device safe and steady. Taking everything into account, you can trust this to be your all-in-one lighting ninja for both indoor and outdoor shooting.
Pros: 
168 pieces of advanced LED lamp beads
2800k to 6500 color temperature
7 RGB colors
13 brightness levels
Solid tripod 
Cons: 
The phone holder's clamp seems to be less durable 
Buy from Amazon: $37.99
7. Keayeo 12-inch Selfie Ring Light
For folks who want a cheap yet reasonably good selfie ring light for iPhone 12, 12 Pro, and 12 Pro Max, Keayeo appears to meet that criteria. The ring light comes with 160 capable LEDs, 3 light modes, and 10 brightness levels. As for the color temperature, it ranges from 3000 to 5800K. Depending on your needs, you can fine-tune the brightness levels and light modes to ensure shadows do not spoil the quality of your videos.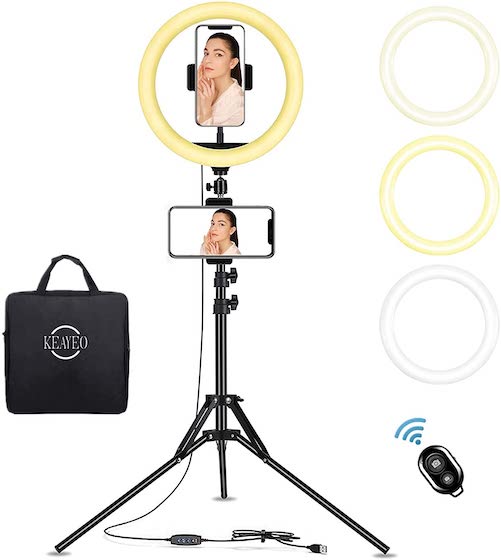 Apart from offering decent brightness, it also works well in keeping ultraviolet and glare at way. The ring light comes with a well-built tripod stand that you can extend from 13 inches to 47 inches. It can help you keep your phone stable while shooting your videos or social media photos.
Interestingly, this ring light has two rotatable phone holders that are universally compatible. Besides, there is also a remote shutter that you can use to take high-quality pictures by keeping annoying shakes away. Long story short, Keayeo is a reliable ring light for indoor and outdoor shooting and you can get it even if you are on a tight budget.
Pros:
160 capable LEDs
10 brightness levels.
3 light modes
Color temperature ranges from 3000 to 5800K
Cons: 
Tripod stand needs stability improvement
Buy from Amazon: $19.99
8. Bcway 10.2-inch Selfie Ring Light
There is a lot to like in Bcway's ring light. First and foremost, the 10.2-inch ring light provides three light colors, including white, warm, and daylight, to meet different shooting demands. Also, there are 10 levels of brightness in each color, so you can control the light with ease.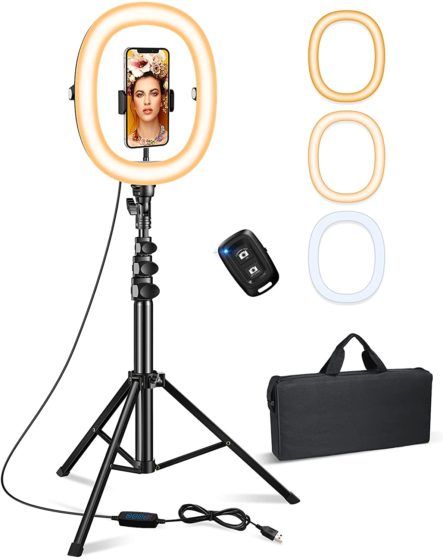 The Bcway ring light is foldable so that you can comfortably carry it to outdoor shoots or hectic travels. The aluminum alloy constructed tripod is extendable from 18-inch to 50-inch and features a quick-flip lock mechanism. With 360-degree rotation, the phone holder allows you to hold your smartphone both horizontally and vertically. Notably, the phone holder is spring-loaded and extends up to 7.5-inch, making it compatible with not just an iPhone 12 but most phones in the market.
Moreover, when you may want to prevent the last-minute shake from affecting your nearly perfect shot with the detachable remote control (works at a maximum distance of 10 feet). Add to that a useful bag for carrying your ring light, along with all other accessories, and Bcway seems like a steal at under $25.
Pros: 
3 light colors
10 levels of brightness
Phone holder allows 360-degree rotation 
Detachable remote control
Cons: 
10.2-inch dimmable light is comparatively below par 
Buy from Amazon: $22.99
9. Qiaya Portable Selfie Light Ring Light
If all you need is a lightweight ring light for your iPhone 12, Qiaya's portable ring light is the one I would recommend. It provides three levels of light settings for different uses, such as selfies, makeup, and shooting in dark environments. While it can't go head to head against the more powerful ring lights in terms of brightness, you can count on this ring light to let you capture punchy, eye-grabbing selfies with your iPhone. Also, you can use it with your MacBook or iPad during video calls on Zoom and at night.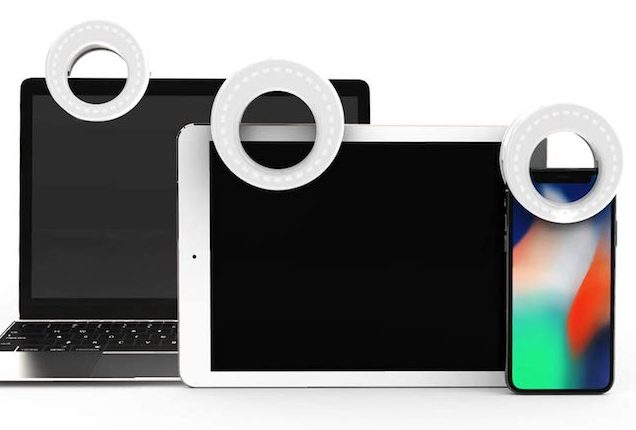 Qiaya's ring light comes with a built-in rechargeable battery, which you can juice up using a USB cable. Moreover, the clip-on design makes it universally compatible. So, it doesn't matter whether you use iOS or Android or want a reliable light to enhance your video calling on a Windows laptop, well, this ring light can fit into your needs with ease.
Pros: 
Pretty compact form factor
Built-in rechargeable battery 
Compatible with both iPhone and Android
Cons: 
Lacks durable construction 
Buy from Amazon: $12.99
10. Xinbaohong Rechargeable Portable Clip-on Selfie Ring Light
Xinbaohong is a neat clip-on ring light that works with both iPhones and Android devices equally well. Sporting a high diffusion permeable light mask design, the ring light is going to enable you to snap stunning selfies with your iPhone. Thanks to the LED multi-source dense distribution, it's able to fill light evenly. To let you capture different types of shots, it features three optimized lighting modes such as low, normal, and white.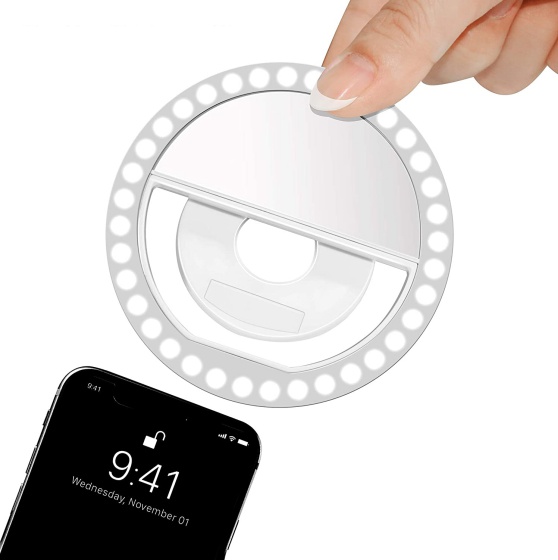 With the silicone gel, Xinbaohong can also safeguard against scratches. Notably, you can attach the ring light to your smartphone, backpack, bicycle stand, tent, and even glass surface. The ring light includes a built-in rechargeable battery which you can power up using a USB cord. Apart from all these impressive features, the $11 price tag makes it a hot deal, especially for folks who want a decent ring light for their iPhone 12, 12 Pro, or 12 Pro Max at a low price point.
Pros: 
Lightweight and compact design
Three light modes 
Built-in rechargeable battery 
Cons: 
The function button feels stiff 
Buy from Amazon: $10.99
Buy a Best-Selling Ring Light for Your iPhone 12!
So yeah, that's it. These are the best ring lights you can buy to use with your iPhone 12, 12 Pro, and 12 Pro Max. Having explored the roundup, I hope you have found the perfect ring light for your needs, be it video calling or TikTok/ Instagram Reels shoots. Again, as to which ring light should you choose, well, it comes down to your photography needs. If you want to capture pro-grade shots, go for ring light kits with a stand and all the essential accessories. And if you want a compact ring light for capturing attractive selfies, the clip-on lights would be the ideal way to go. Let us know which one you picked and why in the comments section below.
---
Load More