Everyone loves racing games because they offer a very competitive and fast paced action without the need to learn any specific moves. Racing games are simple to play and easy to master yet extremely exciting at the same time. There are numerous racing games available out there for the competitive gamer in you, however, we only bring you the best racing games for your android. If you want to go against your friends or even strangers from around the world then download any racing game from the list below and hit the road in your super car.
Below is the list of 10 best racing games for Android:
1. Reckless Racing 3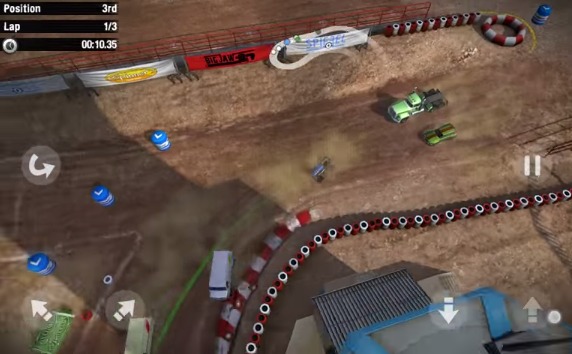 The third instalment in the Reckless Racing franchise is a solid racing game. This over-the-top racing game created waves in the genre when it first came out. Similar to its name, the game lets you drive as recklessly as possible for you. In this game you can pit trucks against cars or even buggies and get ready to smash things around the race track. The game features the most authentic physics, and very impressive graphics for a mobile game. 28 different trucks and cars for you to choose from and get on the race track. The all new drift mode in the game tests your skidding skills, just drift around every corner to score big points and become the champion of drifts. Be a big bully with a powerful but slow truck or be a sneaky little racer with a quick and speedy car, it all depends on how you like to race.
Availability: Paid ($2.99)
2. Real Racing 3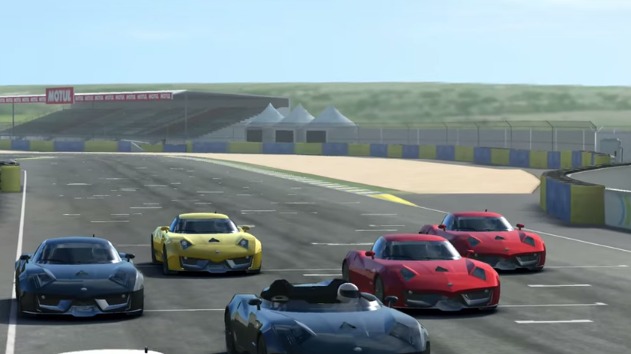 Get ready for the most realistic and authentic racing academy game on your android smartphone. The game has received several awards and it's considered one of the top racing games for mobile devices. Real Racing 3 offers various officially licensed cars and tracks from all around the world. The game includes more than 100 super cars from top manufacturers like Lamborghini, Mercedes, Ferrari, Porsche, etc. Best thing about the game is that it offers multiplayer races with your friends online, up to 8-players can go against each other in heated races across beautiful race tracks around the globe. You can also play against your friends who are on other platforms because Real Racing 3 offers cross-platform multiplayer gaming which makes it a great multiplayer racing game for smartphones. This game requires an additional 1.5 GB of data to be downloaded on your android device.
Availability: Free
3. Asphalt 8: Airborne
Car racing doesn't mean that you can't perform insane tricks and breathtaking flips in the air, not when you are playing Asphalt 8: Airborne at least. This game lets you take your cars up high in the air and perform the most amazing and awesome looking tricks in the air to score big points. Perform flawless rolls in the air or pull the best stunts while airborne, it all depends on how you want to finish the race. The game features nearly 13 most exotic and beautiful locations from around the world where you can test your might in the world of racing. You can also race against your friends in online multiplayer or even race against ghost players and beat their high scores without even having them online. You need a minimum Dual Core device to enjoy this game with smooth gameplay.
Availability: Free
4. Beach Buggy Blitz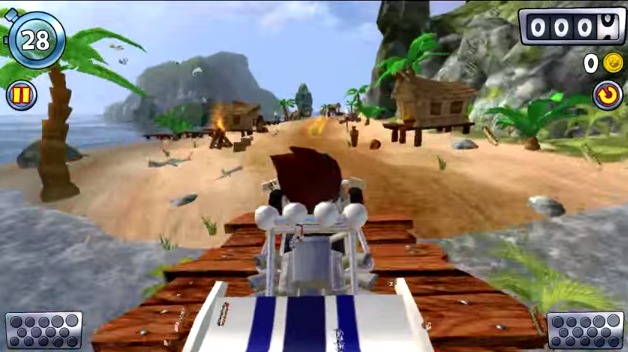 Customize your buggy and get ready to race against different players in this cute yet exciting beach racing game. Beach Buggy Blitz lets you race on a beautiful island with amazing view. The game packs the most beautiful and mesmerizing graphics for a mobile game with authentic physics and realistic effects. The more you race, the more content you can unlock. Unlock different new cars with amazing power ups and use them against your opponents to gain an edge during races. Customize your buggies by painting them or upgrading different parts to boost their overall performance. If you have a Quad-core device then the game will feature even more graphics and amazing effects on your device. If you have a Quad-core device then the game will feature even more graphics and amazing effects on your device.
Availability: Free
5. Need for Speed No Limits
Need for Speed No Limits is exclusively a mobile game that has only been released for mobile platforms like Android and iOS. The game features the most realistic and aesthetically pleasing graphics ever with the most exciting and adrenaline-pumping gameplay. This game gives you the ability to customize your car to the fullest by tweaking every little part in the car. You can make a lot of different combinations with different parts of the car. Collect exotic cars and customize your car to make it stand out and feel special. Race through different tracks at different times of day, race in the broad daylight or race at night, the main goal, however, is to become the street champion in car racing. Need for Speed No Limits requires a Quad-core device to run flawlessly.
Availability: Free
6. CSR Racing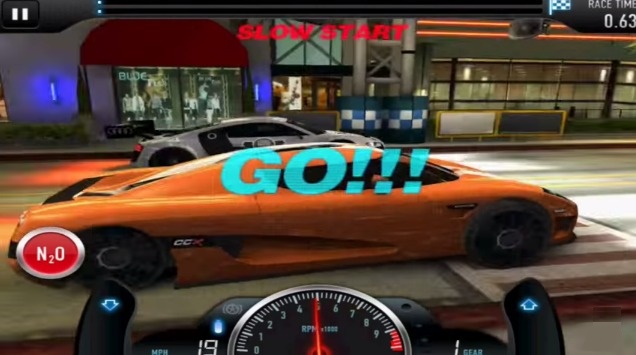 If regular racing games with their standard controls are not what you are looking for then you don't have to worry because we've got your back. You can enjoy the CSR Racing drag racing game with the most minimalistic controls and a fun gameplay factor. This is the best drag racing game with more than 200 millions downloads across different platforms. The game features more than 85 completely licensed cars including Ferraris, Lamborghinis, etc. The gameplay is simple just shift the gear at the specific time to boost your car and win the race. You can also compete against other players from around the globe in online multiplayer and the winner gets amazing rewards and perks for their cars. Unlock all the cars and become the drag racing king in this exciting game.
Availability: Free
7. Smash Bandits Racing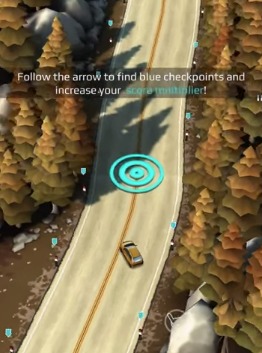 Who doesn't love explosions? Who doesn't like smashing through everything and anything that comes in your way? If you love explosions and smashing through everything with your car then you are going to fall in love with Smash Bandits Racing. This is not your average racing game where you race against other players instead it's a hot pursuit game where you are on the run from the cops. Nothing can stop you in your way, not even the walls, and the houses even the fences around such houses. You can smash through almost anything and nothing can stop you because stopping means you're busted. If you want the cops off your tail then race like it's your last day and smash through anything and everything that comes between you and your freedom in this high octane action racing game.
Availability: Free
8. MMX Racing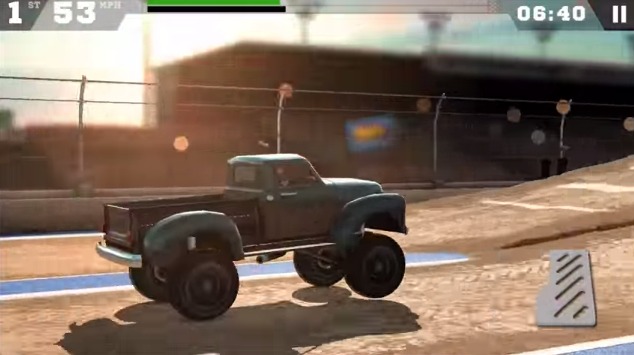 If you're not content with just smashing the fences or houses then you can create your own monster truck in the MMX Racing game and smash your enemies in this race for power. Go head to head against your friends or other strangers from around the world in destructive races online. The courses are filled with jumps, and obstacles, you have to overcome all these obstacles and finish first in order to be crowned as the champion monster trucker. You can now customize your trucks and go head to head against popular WWE wrestlers and divas in this monster truck racing. Each superstar has their unique trucks and you have to beat them in order to become the world heavyweight monster truck champion, that's a mouthful. Play an amazing single player campaign or go against other players in exciting multiplayer races, the choice is actually yours. A Dual-core Android device is required to run MMX Racing smoothly without any lag.
Availability: Free
9. Trial Xtreme 4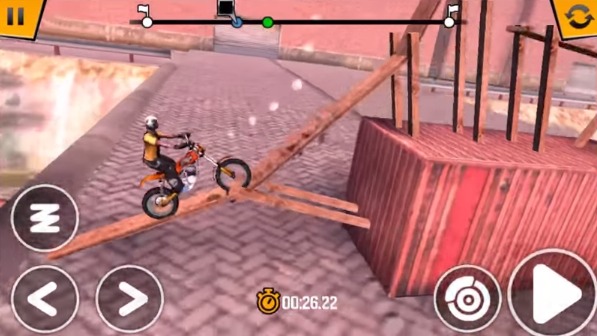 If you've had enough of all the car racing games then you can hop on a super fast bike and perform some insane stunts in the amazing Trial Xtreme 4 game for your android device. Earn the top spot and cash prizes in exciting bike tournaments, use the cash to upgrade your bike and make it even more powerful and cool than before. The game offers one of the best physics and all your stunts will feel almost realistic when you pull them off successfully. You can go head to head against other riders from your own country or even anyone from around the world to win amazing prizes and rewards for each win that you score. You don't just have to go fast to win, you also have to perform insane and amazing stunts on your bike to score some huge points. The game lets you try out some amazing tricks and stunts in the air with your super bike.
Availability: Free
10. Riptide GP 2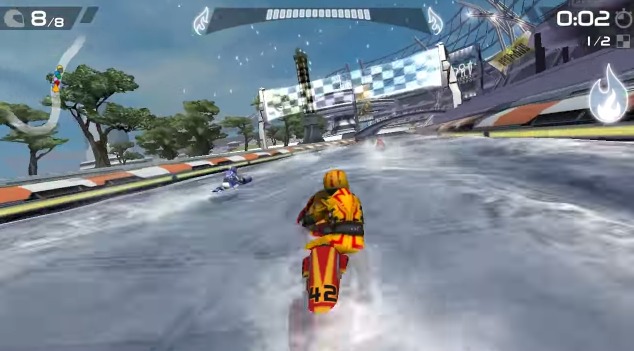 Get ready to splash some water all over your screen in this breathtaking jet ski racing game. Your powerful hydro jets are ready to fly over water and leave your enemies behind in Riptide GP 2; a fast paced jet ski racing game. If you don't want to go head to head against others in the exciting multiplayer mode then you can even try to beat their high scores in the all new VR mode. The more you win, the more you collect. Get hold of the 9 amazing hydro jets and upgrade them to make them even more powerful and invincible. Perform more than 20 insane and gravity defying stunts on your hydro jets and score big points. The game features very realistic and amazing graphics that take the whole racing to a whole new level with water splashing all over your screen and beautiful environments rendered in an all new engine. The game works smoothly on at least dual-core devices, having a quad-core device will give you even more details in graphics and gameplay.
Availability: Paid ($2.99)
All the above mentioned games have amazing graphics and require a decent amount of storage space and resources on your android smartphone. If you are just a casual gamer and want something lightweight yet fun in the racing genre then check out the 2 games below to provide you a casual racing entertainment on your android device.
Hill Climb Racing
In Hill Climb Racing you are in control of a car climbing on a hill. The game is based entirely on physics and you have to make sure that you never lose balance otherwise you risk getting your car flipped over.
Availability: Free
Racing Moto
Drive really fast on a track filled with incoming traffic in Racing Moto. Take your bike on a spin on the three lane road while avoiding traffic. Get as far as you possibly can without falling or colliding with the traffic at all.
Availability: Free
SEE ALSO: Best Multiplayer Games For Android
Let us know what are your favorite racing games for Android in the comment section below.