Football (or soccer) is the world's most popular sport. The only thing that is as satisfying as football is a football video game. While there are great games available for video game consoles, if you have an Android smartphone or tablet, you do not have to feel left out. The Play Store is filled with hundreds of great football games. Most of these games are free to play but come with various in-game purchases and micro-transactions. So, here's our list of the 15 best football games for Android:
The Best Football Games for Android
1. PES 2018 Pro Evolution Soccer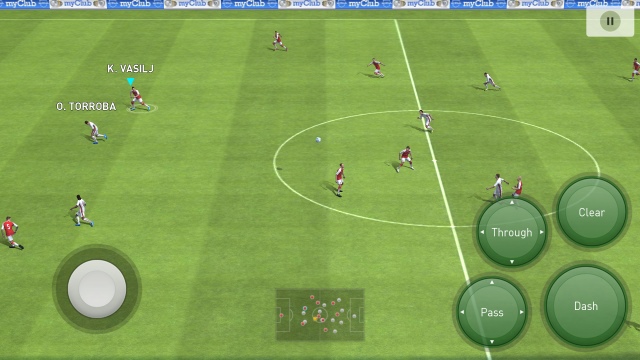 FIFA might be the best game for gaming consoles and PCs, but PES definitely leads the race when it comes to mobile games. Pro Evolution Soccer or PES offers the best mobile graphics coupled with a superb performance in a package that is not so heavy on your resources. You get the complete feel of a football game, from controlling the players on the pitch to managing your team. There are also online multiplayer battles, so you can compete with your friends, or on a global level.
PES 2018 also has mobile specific gesture-based controls, along with the standard button-based controls, to give the user choice on how to play the world's most famous sport.
Download: (Free, with in-app purchases)
2. Dream League Soccer 2018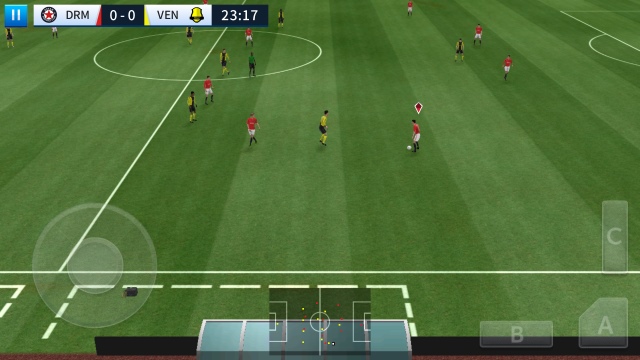 In Dream League Soccer, you manage your own team called Dream FC. But apart from the manager mode, you also get to control your players during actual games. The gameplay is similar to FIFA's career mode, but there are no player contracts or club transfers. You can sign any player from the transfer market for a set amount of coins, based on the skill level of the player you are looking to sign. You can collect coins from playing and winning matches, completing achievements, or watching advertisements.
Dream League Soccer 2018 also saves your progress on the cloud, so you pick up your storyline from any different device as well.
Download: (Free, with in-app purchases)
3. FIFA Soccer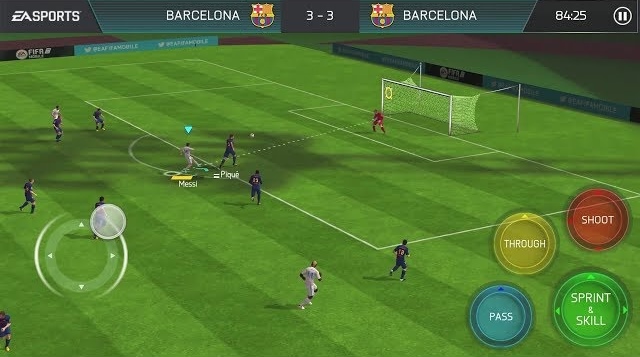 How could we have a list of best football games and miss out on FIFA's own port for the mobile platform? FIFA Soccer is one of the most intensive and feature-rich mobile football games out there for Android. Being the official game, FIFA Soccer features licensed players from over 550 real teams, including stars from past and present. The game also features the Ultimate Team option, allowing to make your dream team and compete with players worldwide for the best player cards and FUT coins.
FIFA Soccer also features Leagues, a truly social experience that allows you to join forces and strive for glory with friends and gamers around the globe.
Download: (Free, with in-app purchases)
4. Real Football
Real Football is another mobile football game that boasts of a huge number of licensed football players and teams, coupled with beautiful graphics. There is a wide range of game modes on offer, such as Exhibition matches, League, and International Cup modes. In addition to that, you can always practice your skills in the training mode. Additionally, there is a ton of customizability on board, allowing you to customize your team kits, team formation, upgrade your stadiums and choose different tactics.
Additionally, Real Football also lets the players interact with other players by uploading pictures and sharing videos of that "one amazing free kick goal" you may score.
Download: (Free, with in-app purchases)
5. Top Eleven 2018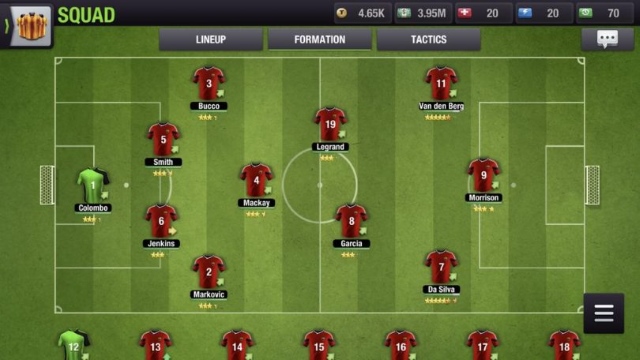 Are you one of those players who prefer Football Manager to FIFA or PES? Well then, Top Eleven is the game that you're looking for on your mobile device. Top Eleven is a game that solely focuses on letting you be a football manager, allowing you to build your own ultimate dream team. Featuring over 5000 real players with the same abilities and attributes as their real-life counterparts, you get to choose the players and buy them in the transfer window section. There's a superb simulation engine within the game, so you get to deal with a realistic environment.
Master your team's tactics and formations, while dealing with victories, losses, and injuries, in your conquest to become the best football manager in Top Eleven.
Download: (Free, with in-app purchases)
6. Score! Hero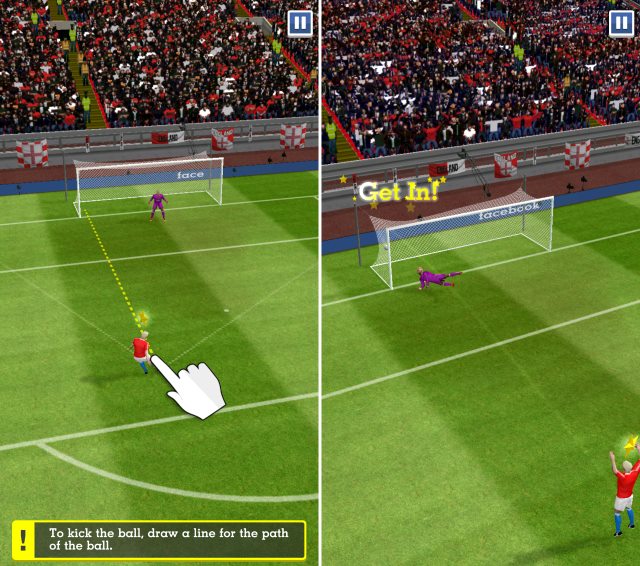 Similar to other First Touch Studios' offerings, Score! Hero is a 3D gesture-based football game offering a great storyline coupled with eye-candy graphics. The user plays from a young footballer's perspective, who is trying to become a major star in the football world. To do so, he must succeed different challenges in different levels. The game offers over 580 levels, with each level in high-quality 3D graphics. There's an online multiplayer mode, with integration to Google Play Achievements and offers Leaderboards.
Furthermore, Score! Hero also supports and syncs progress, so the player no longer has to worry about losing progress.
Download: (Free, with in-app purchases)
7. Real World Soccer League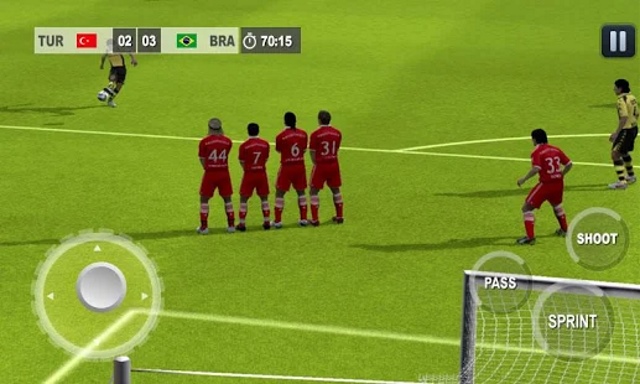 Real World Soccer League is one of the greater football games on the Play Store that allows the user to enjoy the feel of the game on their mobile devices. It is one of the most intense and addictive football games offering smooth gameplay, realistic physics, astonishing atmosphere and tons of replay value. You are going to pass, sprint and going to show skill move around opponents. You get to create your ultimate team and play against national soccer teams with your favorite players.
Real World Soccer League offers smooth and easy controls along with mind-blowing background sound effects and thrilling actions.
Download: (Free, with in-app purchases)
8. Football Strike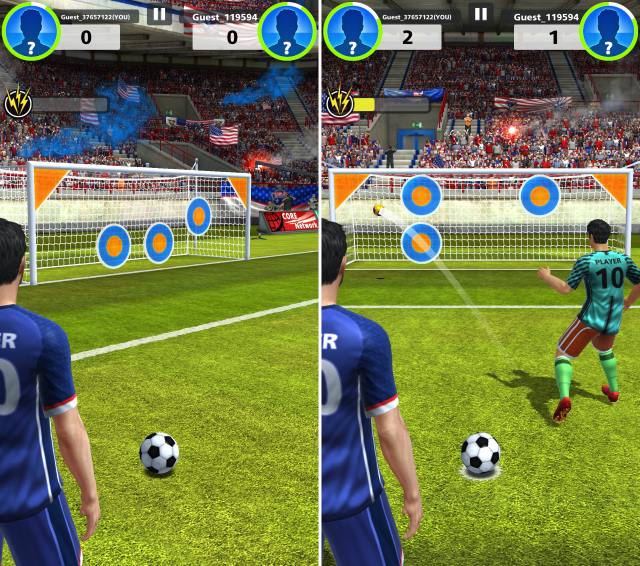 One of the best single-handed football games out there, Football Strike is a game loved by millions of Android users out there. Also the Editor's Choice on the Play Store, the game boasts of different online game modes such as hitting the targets in a fast-paced, time-limited battle for points in Shooting Race mode, or take turns as both striker and goalkeeper in the one-on-one Free Kick mode!
With simple, fast gameplay, Football Strike by Miniclip is easy to play and offers endless competitive football fun!
Download: (Free, with in-app purchases)
9. World Soccer League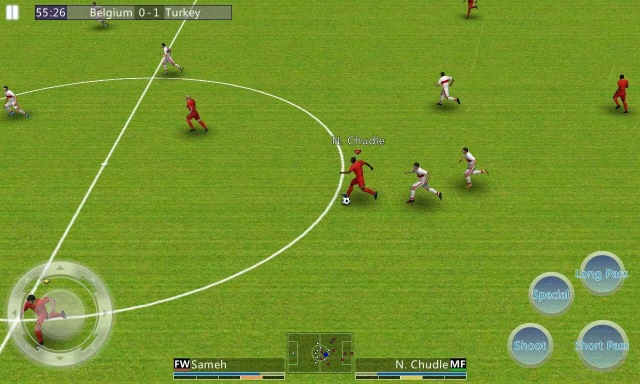 World Soccer League offers similar gameplay to PES and FIFA, at a much lesser footprint. Coming in at just 37MB, the game offers 60 national teams, 60 clubs and a total of 2000 players. There is a total of 4 modes provided: Exhibition, Cup, League, and Training for you to enjoy splendid dribble and thrilling shooting! World Soccer League also saves great images of all your achievements and allows you to share them with your friends.
While the game does not have licensed players, the gameplay along with the mini size of the game more than makes up for it.
Download: (Free, with in-app purchases)
10. Flick Shoot 2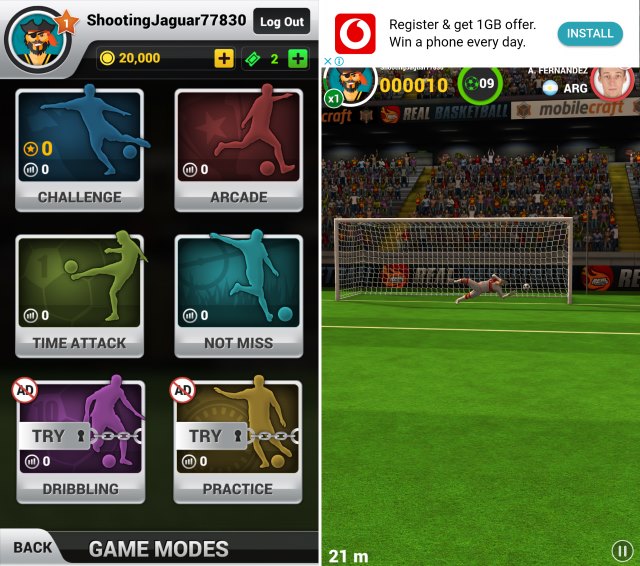 Flick Shoot is a high-quality football game, developed by MobileCraft, is also known as "the most fun football game" on Play Store. Flick Shoot 2, the sequel to Flick Shoot, is a physics-based football game that features lots of exciting game modes such as Arcade, Tournament, One Ball, Multiplayer, Time Attack, Goal Post, Targets. Furthermore, you can also play one on one matches in Multiplayer or join the Online Tournament for the ultimate challenge against real users from all around the world.
Flick Shoot 2 offers 3D graphics but the game shines for its smooth and realistic animations when it comes to shooting curl shots, goalkeeping, and its ball physics.
Download: (Free, with in-app purchases)
11. Ultimate Soccer – Football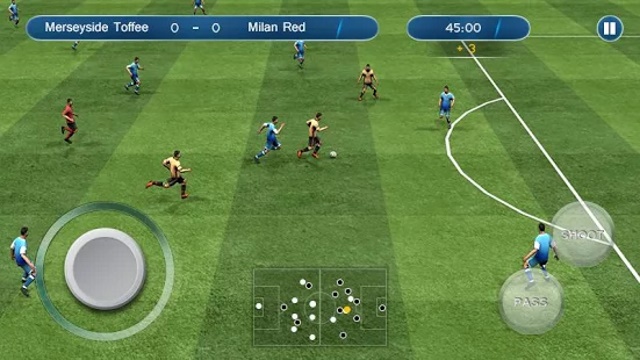 Ultimate Soccer lets you build a squad with the best footballers you want and encourages you to come up with the best offensive or defensive formations, based on your play-style, and choose the best tactics for the team. Apart from that, the game offers different modes such as League or World Cup tournament, where the players can enter with their created team.
Much like the real league football transfer window seasons, Ultimate Soccer Football allows you to buy or sell players in the transfer marketplace, to make your squad better.
Download: (Free, with in-app purchases)
12. Head Soccer La Liga 2018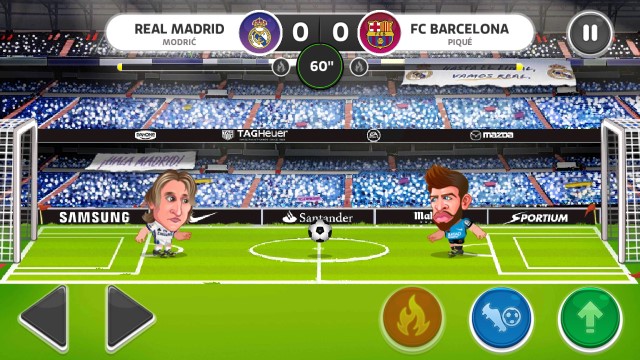 Even if you're not a fan of the Spanish football league, Head Soccer La Liga is game you'll definitely enjoy. The comedic and cartoonish style of the game really sets the light tone of the game, where your character is a caricature of a real LaLiga football player from different clubhouses. This game is a 2D football game, where you go one on one against an opponent. The rules are simple, you have to protect, defend and attack at the same time. The game plays similar to a fighting game like Mortal Kombat, only here you are required to defend well, score goals, show off your skill and win the league.
In addition to the league, you can also play friendlies, or participate in cups and even challenge people from around the world.
Download: (Free, with in-app purchases)
13. Soccer Kicks (Football)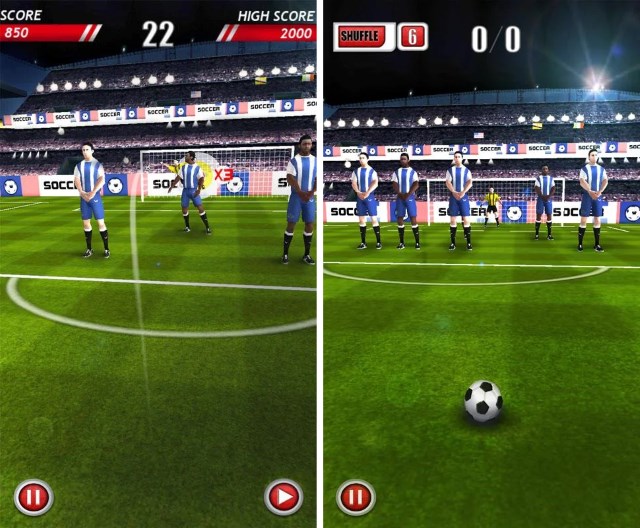 The best free-kick game available for Android devices, Soccer Kicks (Football) allows you to experience the free-kick action of your favorite 3D soccer game like no other. The gameplay is quite simple – you just have to flick the ball to kick it out and swipe to adjust the direction of the ball while it is in the air. Furthermore, you can gesture a curve on the screen to curve the ball. Soccer Kicks comes with three intense game modes: Target, Tournament, Timed, and Practice, along with a 2 Player Mode as well.
With easy to use on-screen controls and amazing 3D visuals and immersive sound, Soccer Kicks Football is one football game to definitely try out.
Download: (Free, with in-app purchases)
14. Final kick: Online football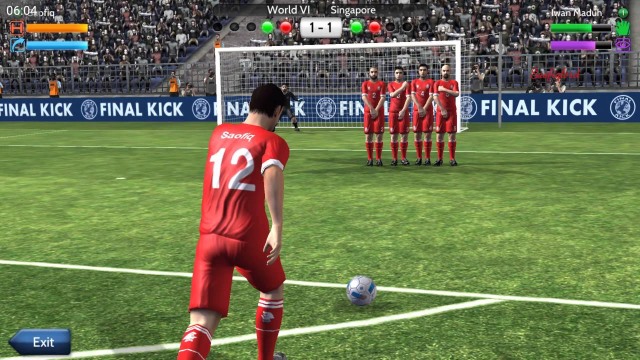 Final Kick is basically a penalty shootout game, developed by Ivanovich Games. The game is based on shooting penalties and blocking penalties as the goalkeeper. The game offers 20 local offline tournaments for the players to play, however, the meat of the game is its multiplayer mode, where players can challenge their real-life friends on Penalty Shootouts. In addition, the game also features a free kick mode, as well as team customization.
Final Kick also offers its players with over 20 local offline tournaments along with a new free tournament every weekend for you to measure your skills against the world, and win prizes if you are among the top 100.
Download: (Free, with in-app purchases)
15. Soccer Star 2018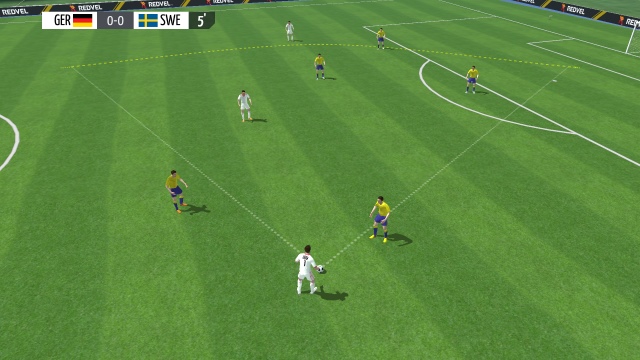 One of the most feature-rich games on the Play Store, Soccer Star thrives to deliver realistic football gameplay along with sublime graphics. You can play in the most important soccer competitions in the world: UEFA League, Cup, League, Champions League, and lead your team to the top of the worldwide football. As a manager, you also have to take control of contracts and sponsors. There are also different training modes such free kick, penalty shootout, assist the striker which allow you to level up your soccer skills to be the new star of football.
Soccer Star comes with simple controls allowing you to flick to shoot as well as flick to assist. Just one finger is all you need to master this game.
Download: (Free, with in-app purchases)
SEE ALSO: 30 Best Multiplayer Games for Android (Free and Paid)
Ready to Have Fun with these Android Football Games?
Get ready to shoot the ball to the back of the nose tackle and celebrate your favorite club or country's victory in these amazing football games for Android. Well, that was our list of the best Android football games but feel free to suggest any other football games for android that you think deserves to be on this list.