Craving some real action and want to dive into it? Well, you don't have to go out and be violent because you can actually shoot as many people as you want on your android device in these amazing action games that we bring you today. If you want some really explosive shooter action on your android device then check out these great action games. Below are the 10 best action games for android.
Best Action Games for Android Device
1. Edge of Tomorrow (Free)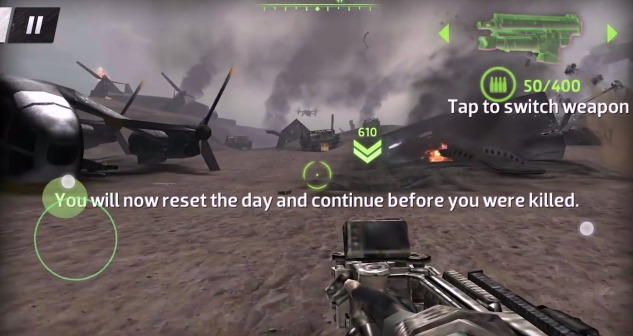 Remember Tom Cruise's death rewinding hit movie that made you wish for similar powers and the cool exoskeleton war machine? Well, you can finally fight those aliens in your personal war machine, however, you can only do it in the game on your android smartphone. Get right in the middle of the action and the all bulletstorm in this action packed game on your android device. The game is a bit on the shorter side but if you're really interested in fast paced action, explosions, and bullets flying around the field then you're going to fall in love with this game because it brings exactly all that to your android smartphone. The best thing is the fact that when you die, the game doesn't make you restart from the beginning like the movie, so you can continue from where you just died. Happy alien shooting!
2. The Amazing Spiderman 2 ($6.99)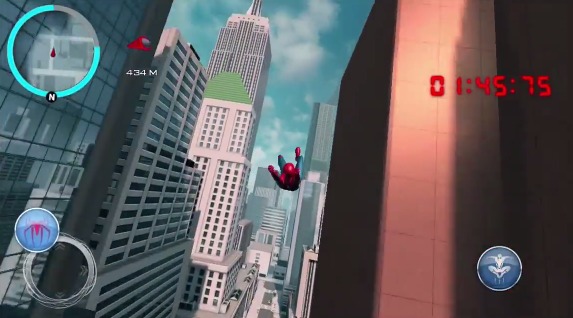 The friendly neighbourhood Spiderman is back in another action packed web slinging game loosely based on the movie. In this game you are one of the most favorite superhero of all time, and your job is to keep the city of New York safe from evil villains like Electro and Goblin. You will also face off against other popular and dangerous spidey villains like Venom, Kraven, etc. If you are a fan of the comics then you will love the storyline of the game because it dives deep into the comic book storyline. Swing from building to building, and crawl up anywhere because the game offers open world gameplay so you can enjoy every bit of it before going ahead to face off with your nemesis. The graphics will remind you off the console counterpart of the game and the fluid combo movements will definitely give you a thrilling experience. If you're a big spidey fan and looking for more web slinging action then you are going to love Spider-Man Unlimited on your android, or if you want to get inside the boots (or armor) of another famous Marvel hero then you can download Iron Man 3 for some explosive action.
3. Hitman: Sniper ($4.99)
Agent 47 is back and he's out for blood. This time you are not going to blast in there and shoot everyone instead you have to take out all your targets with stealth and you have your trusty sniper rifle to carry out your missions. Make it silent and make it deadly, that's what your missions are all about. You can play nearly 150 missions and take out the most notorious criminal from the Hitman universe. Playing the missions again will reveal even more secrets and adds to the overall replay value of the game. Unlock all new and powerful sniper rifles to make your contracts a bit more easier. Go against your friends and buddies on the leaderboards to see who is the best silent killer in this game. You're the angel of death in this stealthy android action game.
4. Dead Trigger 2 (Free)
If you are a fan of The Walking Dead or any other zombie-infested game/movie/Tv show then you are going to automatically fall in love with the amazing Dead Trigger 2 game because it brings you the most amazing and always evolving zombie apocalypse storyline. There are more than 35 zombie killing weapons that you can choose and wreak havoc upon the undead who are out for your brains and meat. Travel all around the world fighting and killing zombies and use your skill to make the world a better place for other humans. You can also compete against other players from around the world in the arena to see who is the best zombie killer in this shoot'em up game for android. You can also win amazing real prizes for taking part in the tournaments and winning them with your hero. Try out the most weird and fun weapons in your war against the undead army.
5. Modern Combat 5 (Free)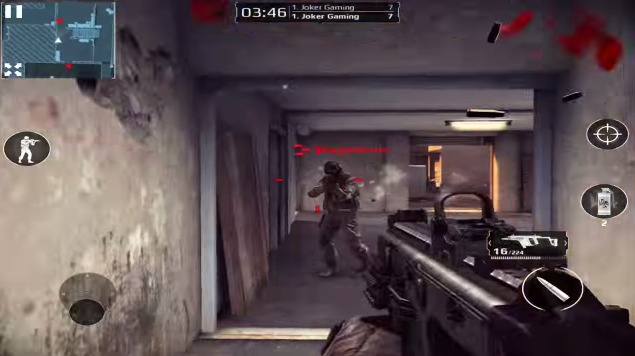 Get ready to hit battlefield in this army inspired action game and one of the best shooter series on the android platform, Modern Combat 5. The high octane explosive action is back and you are the super soldier who's going to lead your team towards the victory. Go all out attack as the assault class or play a stealthy gameplay with the recon class, you can choose from up to 5 classes that suit your gameplay. If you have played Call of Duty before then you are going to love this game on your android phone because it's like Call of Duty on your android device. You can play in 5 vs 5 game modes against other people from around the world. You can also voice chat with your squad to co ordinate your strikes and win the battles. The game requires a lot of quick reflexes and skill, if you want to see your name on top of the leaderboards. If you are a big fan of shooters and prefer the battlefield then you will find more action and explosions in Brothers in Arms 3 for android.
6. Max Payne ($1.99)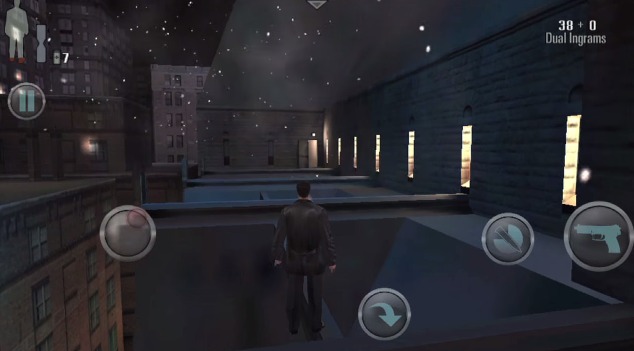 The most popular and hit action game from the old days has made its way onto the Android platform and Max Payne is looking for revenge on the criminals that took away his baby and his wife from him. You are a tough as nail cop caught between a carefully woven web of deception, you have already lost your family and now they are after your life. You have to stop them from damaging your city and you are the one final hope. Get in the game, choose your favorite weapons, and start shooting your enemies left and right. The bullet time technology makes the game awesome so you can shoot your enemies in slow motion giving the overall gameplay a whole new level of excitement.
7. GTA San Andreas ($6.99)
The classic GTA installment that introduced us to swimming, cycling, jet packing our way to anywhere in the world. GTA San Andreas was the first in the series that introduced so many new features and cool things to give the whole game a new experience. You could even call a fighter jet and fly it around like a total thug. The game is now available on the android platform and you can get back in CJ's shoes and relive the old days of oddly shaped characters and a bit crazy graphics. The game is still fun and highly optimized for the android devices, you will feel very comfortable with the new control scheme available for the android platform. The game looks and runs better and you can have plenty of fun snatching cars and looting elderlies, if that's your thing.
8. Shadowgun ($4.99)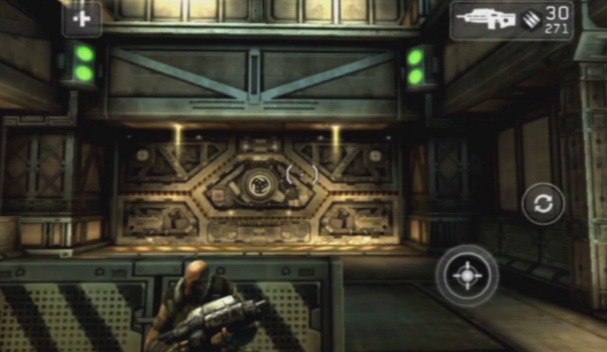 If you are a fan of highly explosive action games then you will feel right at home with the amazing Shadowgun game on your android device. This game takes action to a whole new level with its console quality graphics and fast paced shooting gameplay. The game offers one of the most amazing and immersive storylines so you don't just go around shooting everything that moves instead you take your time and explore the whole story to enjoy the game even further. The game brings the feel of Gears of War to your android smartphone and the 3rd person view compliments the overall gameplay of this amazing and action packed game. Unlock new guns, play new levels, and you can do so much more in this interesting yet highly explosive game.
9. Avengers Alliance (Free)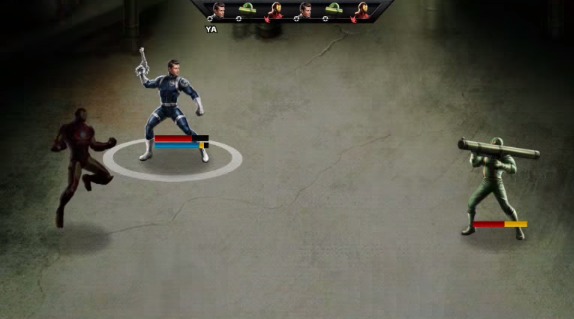 If spidey is not your favorite Superhero from the Marvel universe and you want to play as someone else then we've got you covered because now you can enjoy playing as one of the popular avengers, whichever you like. You start off as an agent of the S.H.I.E.L.D and partner up with avengers, the mutants from X-Men, and even the friendly neighborhood spiderman at times. The story is captivating and you have to play through more than 60 missions in this amazing game. Get help from your favorite superheroes and fight your enemies with raw power and sheer intelligence, the choice is yours. The boss battles in this game are epic and will definitely make you fall in love with this game if you are looking for some serious superhero action.
If you are not into making superheroes fight with each other then we have something else that might interest you. What about fighting each other as the most popular and iconic WWE superstars? Check out WWE Immortals to play as the most popular legends from the WWE.
10. Contract Killer: Sniper (Free)
You are a master assassin and you are true to your words. Your word is your contract and you always honor your contract. Take your favorite killing weapon and go out there to take out high-profile targets provided to you by different bidders. How you finish the mission is entirely up to you. You can kill the entire enemy gang, blow up their base, or just take out that single target that matters the most, your choice. There are more than 250 missions that you can play and each mission brings a completely new target and a whole new set of rules for you. You can also go against other players from around the world and infiltrate their bases and loot their resources to become the master assassin on the leaderboards. Go around the world and take out targets in this breathtaking action game for android.
SEE ALSO: 10 Best Racing Games For Android
Your love and obsession for some fantastic action games on your android device should be satisfied by the above mentioned games. These games will make sure that you get the highest quality action and adrenaline pumping gameplay on your device. If you have some other explosive android action games to add to the list then don't forget to leave them in the comment section below. We'll definitely like to play the games that you suggest.