iOS 10 brought a number of cool changes but if you love widgets, the best feature on iOS 10 is the cool new widgets panel. The new widgets page is available a swipe away from the home screen as well as the lock screen, making it much more useful than what it used to be. So, if you are looking for some cool iOS widgets, look no more, here's our list of the 12 best iOS 10 widgets that you can use on your iPhone or iPad:
1. Launcher
Launcher is one of my favorite widgets for iOS 10 and chances are, you are going to love it too. The app lets you add several widgets to contact people, launch apps, play music, open webpages or even set up your own custom launcher. That's not it, you can add detailed contact shortcuts, like call someone, email someone, send a WhatsApp message to a particular contact etc. The same goes for apps too, you can either open an app or jump directly to a specific section of the app. There's a lot more to the app and it's definitely one of the best iOS 10 widgets.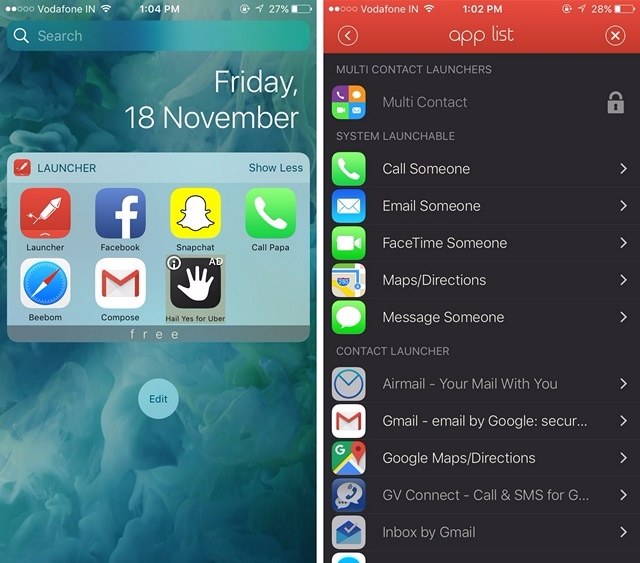 There's a free version, but you will have to make in-app purchases for the Pro version (more customization options) and unlock more widgets.
Install: (Free with in-app purchases)
2. Google Maps
Chances are, you already have Google Maps installed on your iPhone but did you know that the Google app has a pretty cool iOS 10 widget? Yes, that's right. If you've set up the home and work addresses in the app on iOS, the Google Maps widget will show you the travel times. It comes in pretty handy, when you quickly want to check out the travel times to your home and work.
Install: (Free)
3. Alto
Alto is a beautiful email client for iOS that categorizes emails and makes sure that you don't ever miss out any timely or important information from the emails. Along with its beautiful interface, some very intuitive features, Alto brings a pretty great widget. The Alto widget shows you cards, which contain info about any purchases, travel reservations, packages etc. Basically, it's anything important and when you expand the widget, it shows you all the pictures you've received on your email account. Alto is one cool email client that you should definitely check out.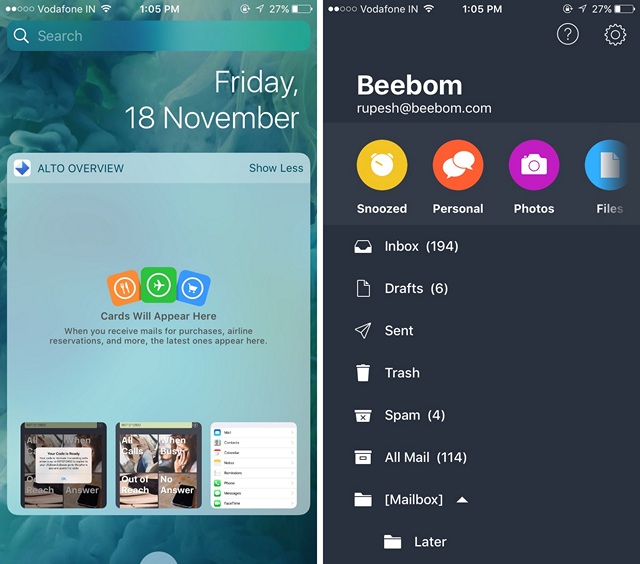 Install: (Free)
4. Shazam
You must have heard of the music identification app Shazam and you might even be using it. While Siri does recognize songs, it does not save the songs you have identified, which is a shame. Shazam is arguably the best app to identify music and it offers a very handy widget for iOS. The widget lets you directly get the app to listen the music you want to identify, which is very handy, when you want to identify a track quickly. In the expanded view, the widget even shows you your recent "Shazams".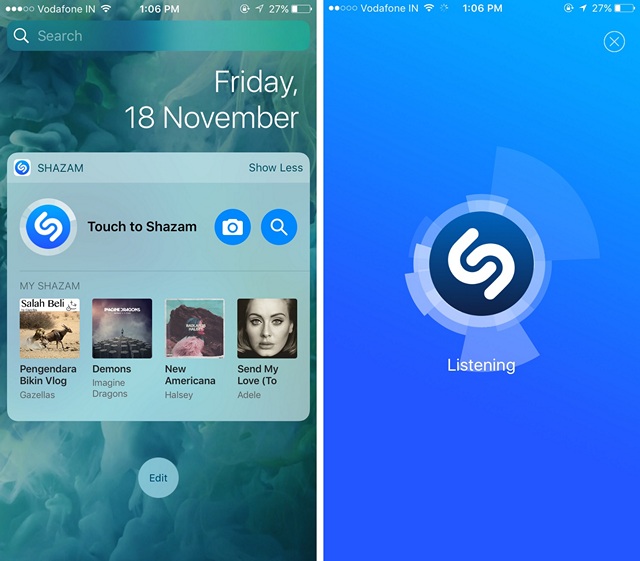 Install: (Free)
5. Cheatsheet
Cheatsheet is a great little app that you can use to save all the things you don't want to forget, like your ID numbers, unimportant passwords, hotel room number etc. It also includes various hint icons, to help you out with recognizing the info you've saved. As you might have guessed, all the info is available through a cool widget, so no more searching for the Notes app for such info. The free version of the app includes the small widget and if you want to unlock the full widget, you will have to make an in-app purchase for the Pro version.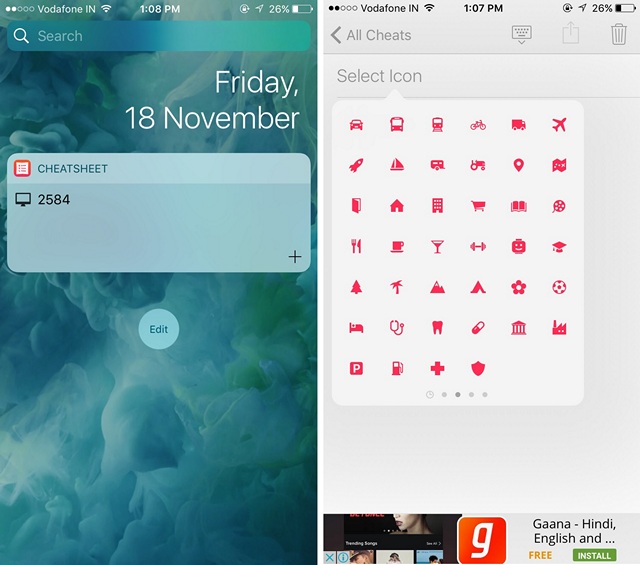 Install: (Free with in-app purchase of $1.99 for Pro)
6. Copied
Copied is a pretty great clipboard manager for iOS, which brings a handy widget. Unlike clipboard manager apps in Android that automatically save whatever you copy, with Copied, you will have to manually save whatever you copied but the app lets you do it with a tap. You can find everything you copied in the Copied widget. The app also offers a keyboard, which lets you enter things from the clipboard quickly. While the free version of the app should be good enough for most people, if you want to sync your clipboard to your Mac along with more features, you can get Copied+.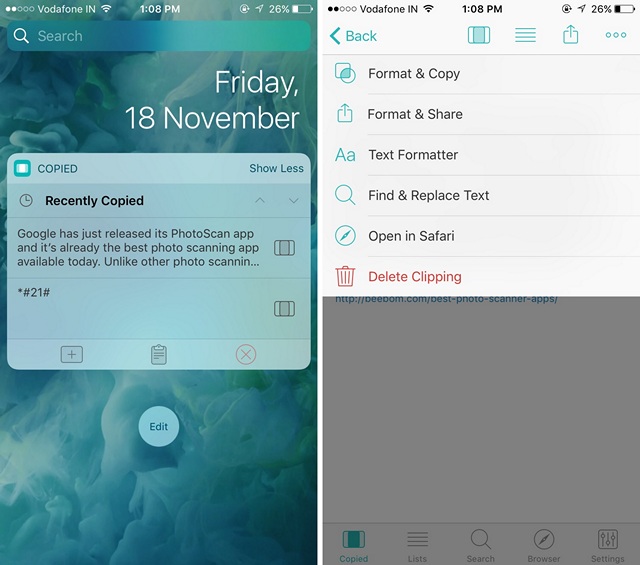 Install: (Free with in-app purchase of $2.99 for Copied+)
7. ESPN
If you are a sports fan, you might already have the ESPN app installed on your iPhone or iPad but not everyone is aware of the very cool ESPN widget. Once you've selected your favorite teams in the app, you can use the ESPN widget to keep track of all the latest scores from your favorite teams right from the lockscreen. It's that simple and comes in really handy when you want to quickly check the score.
Install: (Free)
8. Steve
Have you played the T-Rex game in Google Chrome? If yes, you will feel right at home with the Steve widget. Steve brings the dinosaur game right to the widgets pane, so you can get playing on the go. While the game is simple, you can choose to change the character from the T-Rex to an angry cat, pixman etc.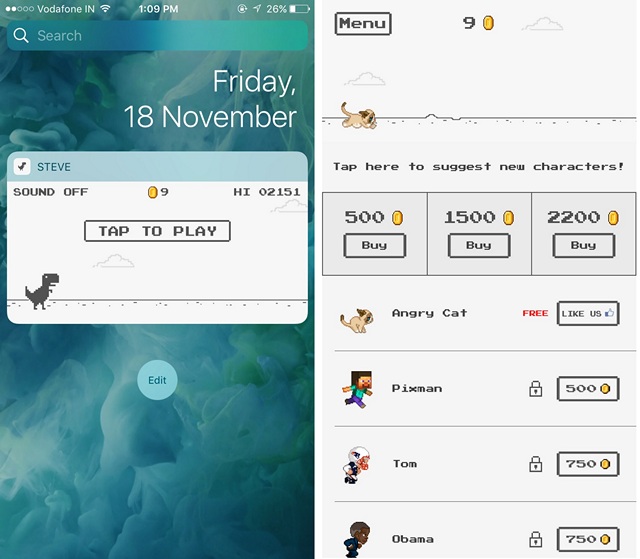 Install: (Free with in-app purchases)
9. PCalc Lite
PCalc is a highly feature rich calculator app, which brings a number of advanced features like support for RPN mode, engineering and scientific notation, hexadecimal, octal, and binary calculations. Contradictory to these features, PCalc offers a pretty simple widget, which lets you do the basic calculations on the widgets page. While PCalc is a paid app, you can get the PCalc Lite app if you just want the widget.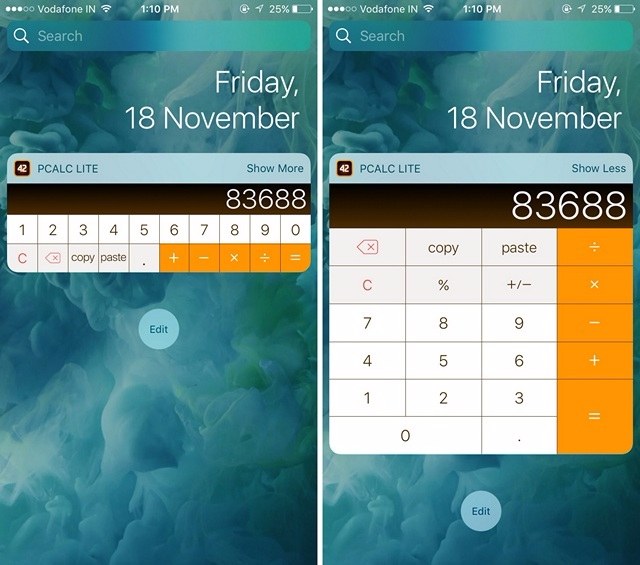 Install: (Free with in-app purchases)
10. Fantastical 2
Fantastical 2 is arguably the best calendar app on iOS and while Apple offers a simple calendar widget, the Fantastical 2 widget is simply too awesome to pass out. The widget in its compact view shows you the upcoming events from your calendar. The expanded widget shows you a full month view, where you can tap on a date to see any events on the day. Along with the great widgets, Fantastical 2 is a gorgeous calendar app that you will love.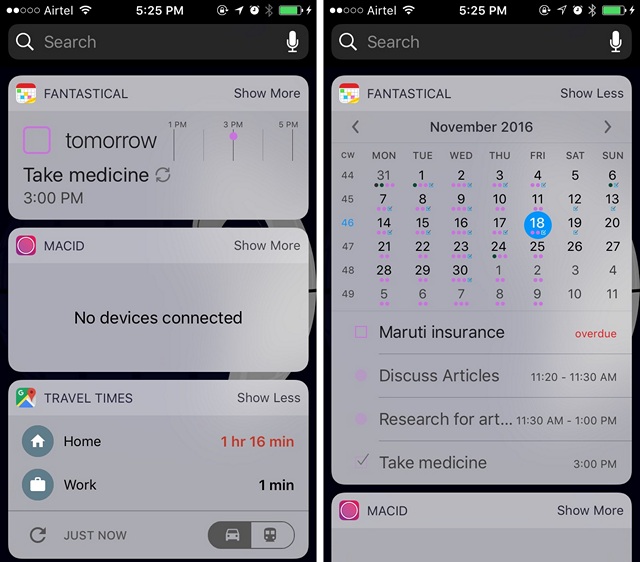 Install: ($4.99)
11. Countdown
As the name suggests, the Countdown app is a simple countdown widget app. You can add countdowns for special events like birthdays, weddings etc. and it offers cool icons to go along with the widget. The app lets you add as many countdowns as you want but there are only a few options to play with and all of them are available only in the Pro version of the app.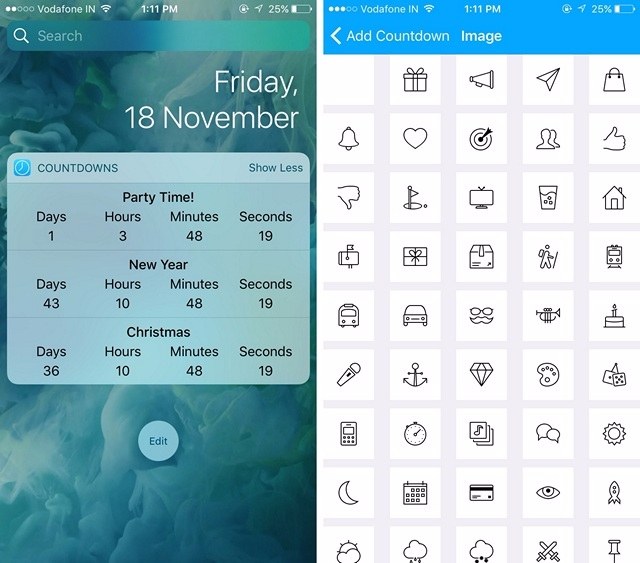 Install: (Free with in-app purchase of $0.99 for Pro)
12. gTasks
gTasks is a great app that syncs your tasks from Gmail and Google Tasks to your iPhone, iPad and Mac. It lets you view your tasks as well as calendar events in a unified interface, which is great. The app offers a simple yet cool widget that shows you all the tasks and lets you add a new task quickly. While the app is available in a free version, it's limited when it comes to number of tasks, lists etc. You can get the Pro version to get unlimited tasks and more features.
Install: (Free with in-app purchase of $5.99 for Pro)
SEE ALSO: 11 Best iMessage Apps That You Should Try in iOS 10
Try out the best iOS widgets on your iPhone or iPad
So, those were the 12 best iOS 10 widgets you can use on your iPhone or iPad to do certain tasks quickly, without even unlocking your device. Do try out these widgets and let us know how you like them. Also, if you know of any other cool iOS widgets that we might have missed out on, sound off in the comments section below.